British GP 2009
JUNE 21, 2009
Race Notes - Vettel dominates Red Bull 1-2 in British GP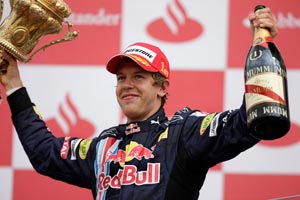 © The Cahier Archive
The British Grand Prix provided the Renault-powered Red Bull team with a crushing 1-2 result, Sebastian Vettel leading team-mate Mark Webber home by a comfortable 15.1 seconds. These two together led the entire race. For once, the Brawn team's fortunes were in the hands of Rubens Barrichello, albeit 26 seconds behind the charging Bulls. Felipe Massa salvaged a good fourth place for Ferrari, with Nico Rosberg taking an excellent fifth for Williams-Toyota after successfully holding off Jenson Button, who had started from the third row of the grid and never made up the handicap.
Button still comfortably leads the drivers' championship from Barrichello with 64 points to 41. Vettel with 39 points is now much closer to Barrichello, with Webber fourth on 35.5 points.
Under bright but cloudy skies, 19 cars lined up on the grid intently watched by the spectators packing the grandstands. There were 105,000 people here yesterday, the permitted maximum, and there are certainly no fewer today. Sutil's Force India starts from the pitlane after its chassis, damaged yesterday in qualifying, was changed. Most drivers have chosen to start on the softer Bridgestone tyre. Vettel gets away cleanly from pole and holds the lead from Barrichello and Webber. Trulli loses four places and Alonso also makes a poor start. Raikkonen also has an off-road moment. At the back, Sutil goes on to the grass by himself at Copse.
On lap 2, Button boldly passes Massa into 8th place. Hamilton, battling Alonso for 13th place, runs on to the grass.
On lap 4, Vettel has pulled out an advantage of 4.4 seconds over Barrichello. Webber closely follows the Brazilian's Brawn, followed by Nakajima, Raikkonen, Rosberg, the close-fighting Trulli and Button, with Massa and Glock completing the first ten.
On lap 10 the fleeing Vettel has 10.8 seconds in hand over Barrichello, who is 0.5 second in front of Webber. Nakajima is 4th (at 2.5 secs), followed by Raikkonen ((0.9 sec), Rosberg (1.7 sec), Trulli (0.8 sec), Button (1.7 sec), Massa (0.8 sec) and Glock. Fisichella is 11th, with a long 18 second gap to 12th man Heidfeld, who is vigorously repelling attempts to pass from Alonso. Kubica and Hamilton are fighting for 14th place ahead of Piquet.
First stopper is Nakajima, on lap 15.
On lap 16 Raikkonen stops for fuel. Hamilton radios in to report that his McLaren is short of grip and later requests an early stop. This is rejected by his engineer.
On lap 18, Rosberg, Trulli and Button make their first stops. Trulli leaves the pits narrowly in front of Raikkonen, followed closely by Button.
On lap 18, Barrichello makes his first stop from 2nd, resuming in 3rtd. Vettel leads from Red Bull team mate Webber by 19.4 seconds.
Glock stops on lap 19.
On lap 20 Webber makes his stop, rejoining inches in front of Barrichello.
On lap 21, Vettel and Hamilton stop. Like most of the stoppers, Vettel stays on the soft Bridgestones. The leaders' stops promote Massa briefly to the lead. The last man now is Hamilton ...
On lap 24 the pits receive Massa, last of the leading runners to stop. He rejoins 6th, behind the promising Rosberg. Button, who has taken the harder tyre, complains to his engineer about high-speed understeer.
On lap 25 Vettel, with 21.5 seconds in hand over Webber, has ceased setting his impressive series of fastest laps in favour of his team mate. Vettel has been advised by his pit to be easy on his tyres.
On lap 28, there are still no retirements. Buemi (20th) and Heidfeld have been lapped. The last two unlapped drivers (Alonso and Hamilton) have three championships between them ... On the following lap, Hamilton scrapes past Alonso at Copse, to the delight of the crowd.
On lap 30, the order is Vettel 19.0 secs ahead of Webber, then Barrichello (7.8 seconds behind), Rosberg (1.5 seconds), Massa (2.5 secs), Trulli (8.3 secs), Raikkonen (2.1) and Button (1.4 secs). Nakajima and Fisichella complete the top ten and Hamilton has been lapped by the leader.
On lap 34, in a hotly contested battle for 18th place, Bourdais collides with the rear of Kovalainen's McLaren approaching Vale corner and runs wide. Both cars are damaged and head for the pits, while the track is covered in light debris. Despite repairs, Kovalainen pulls in to retire four laps later.
On lap 38 the two Red Bulls are securely in front, but there is a keen battle developing for 3rd place between Barrichello, Rosberg and Massa, who are separated by less than two seconds. Bourdais pulls in to retire.
On lap 42, Raikkonen is the first driver to make his second stop. He takes on fuel and the harder Bridgestone tyres. Button radios in to say that his car is now grounding.
On lap 43, Rosberg also stops, rejoining 9th. At the back, last year's winner Lewis Hamilton goes off road for a moment at Luffield. He heads for the pits and his second stop.
On lap 44, Vettel makes his second stop, elevating Webber briefly to the lead.
On lap 45, Massa stops (hard tyres), followed by Fisichella, now in 8th place. After Raikkonen's stop on the following lap, Massa gains a place (now 4th) at the expense of Rosberg.
On lap 47, Webber makes his second scheduled stop (hard tyres), followed by Barrichello and Heidfeld. Barrichello's crew get him out after just 6.5 seconds, which puts him a bit closer to the Red Bulls
On lap 48, Glock makes his second stop.
On lap 49, Button (3rd) arrives for his final stop. Unlike most, he has done his second stint on the harder Bridgestone and is now able to resume on the softer tyre.
On lap 52, Button's crew inform him that the two Red Bull drivers are struggling on their harder tyres. He is now lapping one second per lap faster than 5th-placed Rosberg in front of him.
On lap 54, Button is lapping faster than anyone. He has closed the gap on Rosberg to 2.5 seconds.
On lap 55, Vettel has 20.7 seconds over Webber. Third man Barrichello is another 23.1 seconds adrift, with Massa 1.7 seconds behind. Rosberg in 5th is only one second behind the Ferrari, but visibly losing ground to Button.
On lap 60, Vettel takes a majestic victory, his second of the season. At 21 years old he is the youngest driver ever to win the British GP. Webber completes the Red Bull 1-2, 15.1 seconds behind. Barrichello is 25.9 seconds behind in 3rd place, with Massa 4th (3.8 seconds back) and Rosberg (0.8 seconds) holding on to 5th place from Button, who has failed to catch the German by 0.3 second. The top eight are completed by Trulli and Raikkonen. Lewis Hamilton performs an illegal doughnut to console himself and his fans for 16th place.