British GP 2008
JULY 6, 2008
Sunday Team Quotes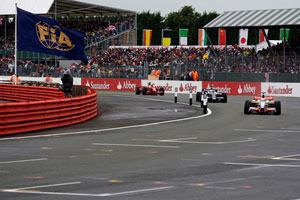 © The Cahier Archive
Ferrari
Kimi Raikkonen (4th): "I am disappointed, but I am equally aware that things could have been much worse. We had the possibility to win the race but we made a mistake at the first pit stop, keeping the same set of tyres, because we expected the track conditions to improve. It was a joint decision: we are a team and we win or lose together. Things are not going too well for me at the moment, given all that happened in the last few races, but I am leading the championship, even if it is on equal terms with Felipe and Lewis. We know we have a great potential, but we have to put everything in place to get the most out of it."
Felipe Massa (13th): "This Silverstone weekend is one to be wiped out. On Friday I had an accident, yesterday there was the problem in qualifying and today a series of mistakes at all levels. We have to look ahead, because there is still a very long way to go in the championship and once again, we've seen that it only takes one result to turn the situation around. After nine races I am in the lead in the classification and I have every chance to fight for the title all the way to the end. Today, I could hardly keep the car in a straight line and it was always very difficult to drive. Only after the last pit stop did things improve a bit, but by then I was a long way back. We have to do a good job in the forthcoming Hockenheim test to be as well prepared as possible for the German Grand Prix that takes place on the same track."
Stefano Domenicali, Team Principal: "A Sunday to forget as quickly as possible in terms of the result, although we must remember certain elements of this weekend, as there were mistakes made that we cannot afford to repeat. We could have won this race with Kimi but we made a key mistake at the first pit stop, choosing to stay on the same set of tyres. The rain did not ease off and lasted longer and our drivers - Felipe had also gone for the same choice - found themselves in difficulty. With hindsight it's easy to say we should have changed tyres, but Formula 1 is not an exact science: sometimes strategic choices pay off and sometimes they don't. All the same, we have to admit that, this weekend, we did not operate to our usual standard. We made mistakes at every level and even our performance did not match our expectations and now we have to work out why, but calmly without panicking. We have reached the mid-point of the season: both our drivers are on equal points in the lead with one other driver in the Drivers' classification and we head the Constructors' Championship. We have lost a few opportunities to pick up a greater number of points, but we always knew this would be a very closely contested championship. Now we will concentrate on the coming rounds and will try and do better."
Luca Baldisserri, Head of Trackside Operations: "We are very disappointed with the way things went today. Kimi was having a great race and he had every chance of fighting for the win, but we made a wrong choice at the first stop. We had banked on the weather getting better and it didn't and in fact the rain actually intensified for a while, which put our drivers in great difficulty. Clearly, looking back, one could say we should not have made this decision, but it was not just a shot in the dark, as seen from the fact that we were not the only ones to make this choice out of all the drivers who stopped around this time. Felipe was struggling right from the start because of a lack of grip and his race was immediately compromised, and then it is very difficult to drive in these conditions in the middle of the pack. We are all very disappointed because once again, we have lost valuable points. Now we have to stay concentrated and must work even harder to improver our performance and to make sure we don't make any more of these mistakes."
BMW Sauber
Nick Heidfeld (2nd): "It was a good race. I am happy with second place because today it was the best I could achieve. Qualifying went well and in the race we did everything right. Obviously it was crucial to make the right tyre decisions. At the first stop we were wondering if we should stay with the used set of inters, but luckily we then decided on new tyres. We were expecting a small shower, but when I drove down Hanger Straight and saw a black wall in front of me I thought I should expect more than that! The most difficult moments in the race were when cars were overtaking me who had been lapped, but were just on better tyres for the conditions at that time. There was so much water and I couldn't see where it was lying. Once before Abbey I almost spun, but just managed to keep the car on the track."
Robert Kubica (DNF, Spin): "I was already aquaplaning for many laps and unfortunately in a straight line I just lost the car completely and went off. Here in Silverstone it was a crazy race in difficult conditions. Everything was running pretty well as I was having quite a good race and gaining positions. But when it rained and there was a lot of water on the track I was just struggling. I couldn't keep the car in a straight line, was losing power, the rear wheels were losing contact with the tarmac and that was it."
Dr. Mario Theissen, BMW Motorsport Director: "It was a very dramatic race which was dictated by the weather conditions. In some periods of the race the lap times varied by as much as ten seconds depending on the tyre choice. With Nick our strategy worked out perfectly. He performed very strongly and carried out some spectacular overtaking manoeuvres. After things have not gone his way recently, I am very happy for him he climbed from fifth on the grid to second with a good mixture of intelligent racing and fighting spirit. For him it is the third second place so far this year, and for our team the seventh podium. Robert was doing well, having climbed up to third, but then went off during a rain shower. Compliments to him as well as it was a strong team performance under these difficult conditions."
Willy Rampf, Technical Director: "That was a tyre lottery, as there was a permanent question over which ones we should use. The critical period was when the drivers were fighting very hard to keep the cars on track after the heavy rain. Nick managed to do this very well. Unfortunately Robert was aquaplaning and went off. Nick deserved his place on the podium as he drove a very smart race. Congratulations on a great performance and compliments to the pit stop crew, because we made the tyre choice decisions at very short notice."
Renault
Fernando Alonso (6th): "I had said that when it rains, anything can happen, which was the case today as we had a difficult race with a very wet circuit. I used up my tyres very quickly and I finished the race virtually with slicks, which meant I lost a lot of time in certain parts of the track. We could have probably had a better result today, but in the end I scored three points, which is important for the championship."
Nelson Piquet (DNF, Spin): "I'm obviously extremely disappointed with today's retirement. The car was very good, our strategy was perfect, and we were on course for a very good result. However, when the rain came down very heavily, the track was completely flooded. It wasn't just in the turns that the car was out of control, it was even on the straights. It was impossible to control. We have to take positives in that the car was good and we showed how competitive we could be, so we have to take that to Hockenheim now."
Pat Symonds, Executive Director of Engineering: "Our pace at the start of the race seemed reasonable, but it was obviously a mistake to leave the tyres on Fernando's car at the first stop. Later in the race we were clearly uncompetitive and we need to find the reason why."
Flavio Briatore, Managing Director: "Once again it was a race (that) looked promising, but we were not able to make the most of our chances. The first part of the race showed that Fernando and Nelson were very competitive and we must make sure that we build upon this potential in the second part of the season."
Williams-Toyota
Kazuki Nakajima (8th): "It was good to score a point again, but it was a shame to lose seventh place to Jarno (Trulli) on the last lap. His tyres were in a better condition than mine, though, and he was just a bit quicker than me in the final laps when the track was drying out. It was enjoyable out there today, although a little hard to control the car in the opening and closing stages. The team made a really good decision to put me on the extreme wets at just the right time and so I was able to manage the car well in such wet conditions."
Nico Rosberg (9th): "It was pretty difficult out there today. When the rain started, there were just rivers of water everywhere which, on wets, caused everyone to aquaplane all over the place. Circuit conditions were continually changing as well which caused the water to move around the track making it quite hard to tell where the best line was. It wasn't an easy race, but we definitely had the strategy right and came in for the extreme wets at precisely the right moment. After that, it was going well until I unfortunately ran into the back of Timo (Glock). He was going much slower than me and I had planned to overtake him on the inside but my vision was limited by the rain and I misjudged it. All of a sudden, I was in the back of him. A big disappointment. I am now looking forward to Hockenheim. It's my home Grand Prix and I expect us to go better there because the track is more suited to our car."
Sam Michael, Technical Director: "It was a mixed race for us, really. After a difficult first part, the pitwall made some good calls on the tyres in the changing weather conditions, which enabled us to progress up the field in the middle of the race, certainly enough to get both cars into the points. Unfortunately, we only managed to get one car into the points, so at the end of a difficult weekend, we will now look to the next race to a better job than here."
Red Bull-Renault
Mark Webber (10th): "Unfortunately I dropped it on the entrance to Becketts on the first lap. I was quite close to Kimi (Raikkonen) and just got on the white line. I lost the car on the exit and had to let the field go past, so it was clear to spin back round. After that it was about making the right call for the right conditions. It was a difficult day to go car racing and it just didn't go our way today. The guys did a good job all week and it's a shame we couldn't convert our good qualifying performance."
David Coulthard (DNF, Accident): "The visibility was incredibly bad as you can imagine. I was very close to Sebastian after Abbey, as he had a wobble coming out of there. There was a clear gap down the inside, but unfortunately it was closing as I made the move. I'm sorry for him that we made contact and went into the gravel, I'm sorry for Red Bull too, as it was two cars out in one hit. I'm extremely disappointed for this to happen at my last British Grand Prix."
Christian Horner, Sporting Director: "A hugely disappointing day. Mark unfortunately spun on the first lap, but thereafter had very good pace. At his first stop we opted for him to stay on the same set of intermediates, as the rain had not yet arrived, and then fuelled him to the finish at the next downpour. Unfortunately a further spin left him outside of the points today. For David, not much to say, he went for a gap that closed on him, which finished his race prematurely. All in all, a lost opportunity."
Fabrice Lom, Renault: "We are very sad that we didn't put into points the performance that we showed yesterday. Mark did a great qualifying performance and had good pace in the race, but today wasn't our day. We'll have to wait until next time."
Toyota
Jarno Trulli (7th): "It was a good race and it's good to take two points but I hoped for more. Throughout the race I was very strong and I'd made it up to third place when the heavy rain came. At that point the track was really bad, I was aquaplaning everywhere and losing 15 seconds a lap. We should have gambled on switching to the extreme wet tyre but unfortunately when it came to take the decision we knew it wasn't going to rain any more. It was just a question of making a difficult decision in difficult track conditions but in hindsight we should have gone for it. It's a pity because I was driving so strongly that we could have made the podium. Nevertheless after yesterday's qualifying, two points is not bad. We've scored at the last three races and we have a good chance to keep up the momentum. Now we must keep pushing to develop the car and then we have to take our chances at each race."
Timo Glock (12th): "That was really difficult for me today. I concentrated on looking after my tyres during the first stint and everything was fine until the first stop. After that it was much harder. When the heavy rain came, I had no traction and the car was sliding around. There was massive aquaplaning and I had no chance to hold the car on the track. That was a pity but we will try for more at the next race. The guys in Cologne are working hard and the car is improving so we will push again in Hockenheim."
Tadashi Yamashina, Team Principal: "Jarno showed excellent spirit again today and came away with a good result given his grid position. He stayed out in very difficult conditions on the standard wet tyre and he kept the car on the track doing good lap times. It was very important for him to score points because we have struggled in the past in this type of race. Today we stayed out on the standard wet tyre rather than switch to extreme wets because we felt the weather was going to improve. That choice worked out reasonably well in the end. We must still analyse how to make the best use of the tyres in changing conditions but you have to make an instant decision. Timo struggled to keep the car on the track when it was at its wettest but Jarno's settings were better for these conditions. The pit crew also did a great job for the whole of practice, qualifying and the race. This result moves us up to 4th in the constructors' championship but we are still looking to make further ground. Next we head to Hockenheim, where we have a major new aerodynamics package so we are expecting a good result."
Toro Rosso-Ferrari
Sebastien Bourdais (11th): "It was very tough at the start as I couldn't see because the water wasn't clearing off my visor. It's the first time I've encountered this problem. In the early stages I had a lot of understeer which ruined the tyres. Putting the extreme wets on was a good call and the car was pretty quick but it was too late to do very much and eleventh was the best I could do. We must continue to work hard, starting with the up-coming Hockenheim test and try and do better at the next race."
Sebastian Vettel (DNF, Accident): "Massa spun going into Bridge which caused a lot of confusion and meant the cars were all running very close. Then in Turn 14, I got hit on the rear left and it spun me around. I tried to save it, but I got stuck in the gravel. I thought there might have been a chance of being pushed out, but when I got out of the cockpit I saw the gravel was much too deep."
Franz Tost, Team Principal: "Both drivers had bad starts, losing places from their grid positions, obtained in a very good qualifying session yesterday. Vettel didn't even complete one lap after being clipped by Coulthard and ending up in the gravel. Bourdais survived a spin and we made the right decision to switch to full wets to bring him home eleventh, even if he could have finished a bit higher. We have reached the mid point of the season and we can approach the second half with confidence, having seen our pace here in qualifying. I am convinced that, in the right circumstances, we can put ourselves in the points scoring positions."
Honda
Rubens Barrichello (3rd): "It's a great feeling to be back on the podium today after such an exciting race where the weather conditions really helped us to get the best out of the car. The most important decision of the race for us was switching to the extreme wet tyre when the heavy rain started to fall at half distance. I had a real moment at Club, going off at high speed and almost hitting the wall, and that made me realise that we needed to make a quick decision. After fitting the extreme wets, I was able to overtake the cars in front easily which was a great feeling. Making such a crucial decision at a key time comes from experience and from the team having the confidence in me to make the call. I would like to say a big thank you to the team today - to everyone back at the factory and also in Japan. Life is about learning from your experiences, and we have been through some tough times over the last couple of years. But I always had faith that there were good times ahead and I know there are plenty more to come."
Jenson Button (DNF, Spin): "It was a crazy race today with the conditions changing all the time. We had some good pace on the wet tyres for the first part of the race before the heavy shower which brought both Rubens and I into the pits for extreme wets on lap 35. Shortly after that stop, I hit standing water at Bridge which caused the car to aquaplane off the circuit. I tried to spin the car round but there was another car coming so I had to get out of the way, couldn't get the car round far enough and ended up trapped in the gravel. There's always a bit of luck involved in this type of race and unfortunately it wasn't my day for luck today. Congratulations to Rubens on his third place and first podium for the team."
Ross Brawn, Team Principal: "We are delighted with the result from today's race and Rubens' first podium for Honda is very well deserved. He did a magnificent job out there, providing great information to help put together exactly the right tyre calls and strategy today. Without the fuel rig problem that we had at the second pit stops, he would certainly have finished one position higher in second place. We were aware that rain was forecast for today, and we had compromised our qualifying settings yesterday to be better prepared for the wet conditions, a decision which fully paid off in the race. Scoring our first podium of the season is a huge boost for the morale of the entire team, everyone here at the track today and all the people who work so hard back at the factory. It is doubly rewarding to have achieved this result at our home race, so close to both of our UK facilities at Brackley and Bracknell. Additionally, we have secured six extremely valuable points which opens up the potential to chase for sixth place in the Constructors' Championship over the rest of the season."
Force India-Ferrari
Giancarlo Fisichella (DNF, Spin): "I just lost control going through the complex because there was a lot of graining on the tyres as a result of the heavy fuel load we were carrying to be as flexible as possible with the weather. Even two laps earlier, the track was starting to dry out and there was some more graining. The grip level was absolutely zero and I spun."
Adrian Sutil (DNF, Spin): "At the time of my spin, the track was starting to dry and it was tricky to tell where the wet patches were. This is what happened in my case - I just went on one of these puddles and aquaplaned off completely. It was a shame as considering how the race turned out, we could have had a chance of moving up the order some more, but this is racing and you never know how it will turn out. I'm now looking forward to the test next week where we can try out some more new parts and then we go onto my home race in Germany."
Dr. Vijay Mallya, Team Principal: "What a race today. It is the first time in many years that the winner - a very deserving Lewis Hamilton - lapped all up to third position. It is also astonishing that a car that qualified just two tenths away from us has finished on the podium. If we had finished then who knows what would have been possible? Of course we didn't, but the conditions were extremely difficult and, as we saw, most drivers experienced some sort of problem. We should not dwell on this too much though, but rather move on to the next test in just two days' time and then the German Grand Prix, where I am sure Adrian will want to put on a good show in front of his home crowd."
Mike Gascoyne, Chief Technical Officer: "A very disappointing end to the weekend. It is important in these sort of conditions to get cars to the end and pick up whatever places are available but unfortunately both drivers got caught out by the conditions. On a positive note though, our pace certainly seems better with the modifications we made and we have some further updates for Hockenheim, so we need to move forward and have a better weekend there."
McLaren-Mercedes
Lewis Hamilton (1st): "This was the toughest race, but also one of the best ones I have ever driven. It was so extreme and slippery out there, very similar to the Japanese Grand Prix in Fuji last year. I had troubles with my visor and tried to clean it a couple of times. I thank my team for a great job; they did fantastic work and we always made the right decisions with the tyres in the difficult conditions. When I came round the last time, I saw the crowd standing up and I prayed: 'Just finish, just finish.' It was a very emotional moment to win my home Grand Prix and I want to dedicate this victory to my family. As everybody knows I had some troubles over the past few weeks and they have been always there for me and supported me. To pull on another Vodafone McLaren Mercedes rocket red victory T-shirt feels awesome."
Heikki Kovalainen (5th): "Congratulations to Lewis on his superb home win. I had a good start and, for a few laps, Lewis was really pushing hard - which meant he eventually managed to overtake me on lap five when I ran a little wide. It was an extremely difficult race with lots of things happening. It was so easy to get caught out today by aquaplaning and slippery conditions: I spun twice but I was not the only one. At least I scored four points and helped to increase our constructors' points total."
Ron Dennis, Team Principal: "To win your home Grand Prix is always special, and so today is indeed a special day for Lewis. It's also a special day for all at Vodafone McLaren Mercedes. But above all it was a magnificent grand prix, full of drama, and it was won by a man who mastered the treacherous conditions faultlessly. Lewis's was one of those drives that will live in the memory for a long time - but it should be remembered that, fabulous though Lewis's performance was, it was also the result of brilliant teamwork by our engineers and mechanics. As for Heikki, he qualified superbly yesterday and clearly showed that he too is truly world-class. He shouldn't feel too disappointed today because he demonstrated once again that his racing skills are beyond question. His time will come."
Norbert Haug, Mercedes Motorsport Director: "Lewis managed a superb and most impressive win and over the 60 laps, he was on average more than one second per lap faster then Nick Heidfeld in second place and he lapped all drivers behind third place. We are back in the title fight and that's great! Unfortunately Heikki suffered from understeering throughout the longest part of the race. It's a pity because he had a very good set-up in qualifying which helped him to achieve his first Formula 1 career pole position. Lewis is back in the lead with 48 points; he is tied on points with Felipe Massa and Kimi Raikkonen. We are now focusing on our second home Grand Prix in Hockenheim in two weeks' time. Please come there to the Mercedes grandstand and watch Lewis and Heikki there will be a first class programme for all the visitors behind the grandstand. To all team mates my sincere thanks for achieving this result today - let's try to do the same at Hockenheim when our next home Grand Prix takes place."