British GP 2008
JULY 6, 2008
Race Notes - Hamilton dominates British GP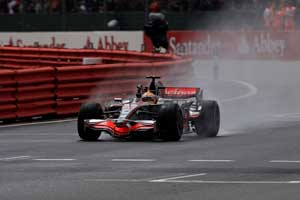 © The Cahier Archive
Mixed wet-and-dry conditions added excitement to the British Grand Prix, but sailing through to win his most impressive F1 victory yet was McLaren-Mercedes star Lewis Hamilton. The British driver survived one minor mistake to beat Nick Heidfeld's BMW by 68.5 seconds, reclaiming the joint lead in the world championship, with Rubens Barrichello's Honda the only other car to complete the full distance after a canny mid-race tyre choice.
Ferrari had a thoroughly unhappy race, with poor pit stop decisions and both Kimi Raikkonen and Felipe Massa making multiple driving errors. Raikkonen managed fourth place, a lap back, with Massa trailing in two laps back.
The lead in the Drivers Championship is now a three-way tie between Hamilton, Raikkonen and Massa - all at 48 points - followed two points behind by Robert Kubica at 46.
Pole sitter Heikki Kovalainen in the second McLaren in fifth, Fernando Alonso in the Renault in sixth, Jarno Trulli in the Toyota in seventh, and Kazuki Nakajima in the Williams-Toyota in the final points paying position.
Pre-race: Although the morning rain has abated before the start, the track surface remains wet. As the field completes the reconnaissance lap, it appears that all 20 drivers are running on intermediate tyres.
At the start, Lewis Hamilton charges through from the second row and challenges team mate Hamilton into the first corner, making wheel-to-wheel contact. Before the end of the first lap there have been numerous spinners, the first of whom, Mark Webber, was in fourth place. Other drivers to lose control include Coulthard, Vettel, Rosberg and an embarrassed Massa. Vettel and Coulthard go no further, stuck in gravel traps.
On lap 2, Kovalainen is still narrowly ahead. Alonso passes Heidfeld into fourth place. Nakajima runs wide and Massa spins again.
Lap 4 is completed with Kovalainen 0.4 second ahead, with Raikkonen trailing by one second in third and Alonso another two seconds behind in fourth.
Lap 5 sees a change of lead as Hamilton easily finds his way past Kovalainen at Becketts.
On lap 6 Hamilton, lapping half a second faster, has pulled out an easy 2.4 second margin on his team mate. Back in 5th place, Heidfeld is struggling a full 8 seconds behind Alonso, with Piquet, Trulli and Kubica keeping him well in sight.
At lap 6 Hamilton led Kovalainen by 2.4 seconds followed by Raikkonen (4.0s), Alonso (6.4s), Heidfeld (14.7s), Piquet (15.9s), Trulli (18.0s), Kubica (18.8s), Glock (22.9s), and Barrichello (25.1s) in tenth place - Webber in 15th place and Massa in 18th.
On lap 9 a charging Webber finds his way past both Bourdais and Sutil into 12th place.
On lap 10 Kovalainen spins smartly at Club corner, losing six seconds and yielding second place to Raikkonen, who completes the lap six seconds behind race leader Hamilton. Barrichello also has an off-track moment: he is 11th.
On lap 12 Sutil loses control on the straight. His Force India is damaged in several high jumps over the gravel trap. Bourdais only narrowly misses getting involved.
At the end of lap 13 race leader Hamilton's lead over Raikkonen is down by half a second, to 4.5 seconds, with Kovalainen a further 6.6 seconds behind. Alonso follows, 3.3 seconds back, with Heidfeld, Piquet and Trulli following. Kubica in 8th place is continuing to harry Trulli.
On lap 14 Raikkonen sets a new fastest lap, 1m 33.526s. His team mate Massa, 17th, is still making no progress on Rosberg.
On lap 15, Hamilton responds with a new fastest lap, 1m32.817s. The track is drying but there are warnings of more rain on the way. Webber has now passed both Honda drivers and is up to 10th.
On lap 18 Hamilton's lead is down to 2.3 seconds, with Kovalainen 11.7 seconds back in third. Massa is at last making progress. Having already taken Rosberg, he manages to dispose of a twitchy-looking Fisichella and claims 15th place.
Lap 19 sees the first planned pitstop, with Kovalainen taking fuel and a fresh set of intermediates. It has started to rain lightly again and Hamilton's lead is 1.3 seconds.
On lap 20 Alonso takes fuel but not tyres.
On lap 21 Hamilton and Raikkonen arrive for fuel: only Hamilton takes fresh tyres. They return to the race without changing position relative to each other. Massa arrives for both fuel and tyres.
Lap 22 finds (brief) race leader in the BMW pit for fuel and tyres. Piquet follows him in for the same service schedule.
The rain is falling hard again on lap 24 and Nakajima is the first to spin. Hamilton, lapping almost two seconds faster than anyone else, leads Raikkonen by 9.8 seconds, with Kovalainen another ten seconds back in third. Heidfeld is fourth followed by Trulli, who has not yet made his first stop.
On lap 26, Alonso briefly passes Renault team mate Piquet, who resists strongly. The drivers like Raikkonen and Alonso who failed to take on fresh tyres at their first fuel stop are now suffering badly.
At lap 26 Hamilton leads Raikkonen with the rain increasing the gap growing to 21.8 seconds followed by Kovalainen (23.2s), Heidfeld (27.4s), Piquet (48.7s), Kubica (53.7s), Trulli (56.3s), and Alonso (58.4s) in eighth - Webber in 12th, Massa in 15th.
On lap 27 Kovalainen passes Raikkonen, but Heidfeld -- immediately behind -- passes them both and moves smoothly into 2nd place. Fisichella spins madly when he resists being lapped by Hamilton.
On lap 30, with everyone having made at least one stop, Hamilton leads Heidfeld by 25 seconds, with Kovalainen fourth, but Raikkonen makes an out-of-sequence stop for tyres. Piquet is just holding off Kubica in 5th. Behind the returning Raikkonen, Barrichello and Glock complete the top eight. It has stopped raining again.
On lap 34, after a brief chase, Kubica takes 3rd place from Kovalainen. He is now a full 50 seconds behind race leader Hamilton. Kovalainen arrives for his second step, taking both fuel and tyres and yielding 4th place to Piquet. A sudden heavy shower of rain drenches the track, catching out both Glock and Kubica.
On lap 37, under increasingly heavy rain, both Honda drivers manage to arrive in the Honda pit simultaneously. Piquet spins lightly then aquaplanes into retirement one corner later. Kubica has another jolting off-road moment.
On lap 38, Hamilton has an on-off-road moment, while Massa also spins madly, followed shortly by Raikkonen. Glock disappears. At the end of the lap, Hamilton pits to take on fuel and fresh rubber: intermediates.
On lap 39 Heidfeld takes on fuel and fresh intermediates, followed by team mate Kubica, who does the same. Raikkonen spins spectacularly at Woodcote and Webber also spins. Both are able to resume.
On lap 41 Barrichello, on full sets, takes 3rd place from Alonso. Kubica spins out and fails to re-start: Rosberg rams Glock and loses his car's nose wing. He stops to replace it and takes on fuel and tyres.
At lap 41 Hamilton leads Heidfeld by 42.6 seconds, followed by Barrichello (48.7s) the fastest car on track on extreme wets, Trulli (57.3s), Alonso (64.5s), Kovalainen (70.8s), Raikkonen (77.8s), Glock (98.9s), Nakajima (1 Lap), and Webber in 10th place.
On lap 42, running 15th, Button runs wide at Bridge. Glock has a spin and makes for his pit.
At the end of lap 43, with sunshine breaking through the clouds, Hamilton is running five seconds a lap faster than anyone. Barrichello is still moving up on his full wets: he leads a close group comprising Heidfeld, Trulli (now the only runner on one stop), Alonso and Kovalainen.
On lap 46, 2nd place man Barrichello arrives to take on fuel and intermediate tyres. Kovalainen goes round the outside of Alonso to grab 5th place.
On lap 48 there are two spinners at the approach to the pits: Massa and Webber. Both escape undamaged. Trulli at last makes his second pit stop.
On lap 49, Kovalainen spins wildly, losing places to Barrichello and Alonso. His example is followed by the increasingly dizzy Massa, who makes for the Ferrari pits and some fresh rubber.
On lap 50, having slowed his pace, Hamilton is 63 seconds ahead of second man Heidfeld. He also laps his team mate Kovalainen. Barrichello has been able to hold on to third place, closely followed by Raikkonen, now the last driver on the lead lap.
At lap 50 Hamilton leads Heidfeld by 63.0 seconds followed by Barrichello (71.9s), Alonso (96.8s), Raikkonen (97.5s), Kovalainen (1 Lap), Nakajima, Trulli, Rosberg and Webber in tenth place.
On lap 54, a determined Raikkonen finds a way past Alonso. Their battle has allowed Kovalainen to close up. Nakajima in 7th place is only 2.8 seconds behind the Finn, with Trulli 8th.
On lap 59, after several feints, Kovalainen manages to sneak past Alonso into 5th place. The Spaniard's Renault is now closely pursued by Nakajima and Trulli.
Lap 60 and the capacity (90,000) crowd rises to cheer Hamilton to a convincing 68.5 second victory over Heidfeld and Barrichello. Raikkonen is fourth, one lap behind, ahead of Kovalainen and Alonso. Trulli passes Nakajima within sight of the flag to claim 7th place.