British GP 2008
JULY 6, 2008
Race Incidents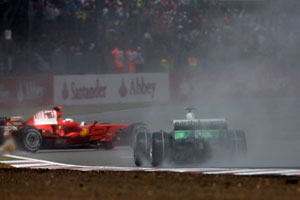 © The Cahier Archive
Lap 1: On pole position for the first time in his Formula One career, Heikki Kovalainen leads the intermediate-shod field away. Lewis Hamilton makes a fantastic start from fourth and almost passes his team-mate at Copse, but after a brief loss of control he settles into second. Kimi Raikkonen lies third and Mark Webber drops from fourth to the tail of the field after spinning at Chapel. Nick Heidfeld is fourth from Nelson Piquet, Fernando Alonso, Jarno Trulli, Robert Kubica, Timo Glock, Rubens Barrichello, Adrian Sutil, Jenson Button, Sebastien Bourdais, Kazuki Nakajima, Giancarlo Fisichella, Nico Rosberg (who starts from the pits following a series of set-up changes), Felipe Massa (who spins at Abbey) and Webber. David Coulthard and Sebastian Vettel spin into retirement at Priory.
Lap 2: Kovalainen leads by 0.1s. Hamilton is barely visible in his spray. Alonso passes Piquet.
Lap 3: Alonso passes Heidfeld. Button passes Sutil. Massa spins at Woodcote and drops to the tail of the field.
Lap 4: Alonso sets fastest lap: 1m35.500s.
Lap 5: Hamilton takes the lead into Stowe. The new leader posts a 1m34.907s but Alonso is 0.003s quicker. Webber passes Rosberg.
Lap 6: Hamilton posts a 1m34.445s to lead by 2.4s. Webber passes Fisichella.
Lap 7: Hamilton ups his pace: 1m34.358s. He leads by 2.8s.
Lap 8: Hamilton laps in 1m33.869s. Webber passes Nakajima.
Lap 9: Webber passes Bourdais and Sutil.
Lap 10: Hamilton leads by 6.0s. Kovalainen spins at Abbey and loses second to Raikkonen. Webber sets the fastest lap: 1m33.34.810s. Button passes Barrichello.
Lap 11: Raikkonen posts a 1m33.635s. Sutil spins into retirement at Abbey. Nakajima passes Bourdais.
Lap 12: Webber passes Barrichello.
Lap 13: Raikkonen closes to within 4.5s of Hamilton.
Lap 14: Raikkonen posts a 1m33.526s: the gap is 3.8s.
Lap 15: Hamilton sets a 1m33.268s. Webber passes Button.
Lap 16: Hamilton laps in 1m32.817s. He leads by 4.2s. Massa passes Rosberg.
Lap 17: Hamilton: 1m33.104s. Raikkonen: 1m32.259s. The gap is 3.3s. Massa passes Fisichella.
Lap 18: Raikkonen laps in 1m32.150s and closes to within 2.3s. Webber pits.
Lap 19: Raikkonen laps in 1m32.264s. Kovalainen pits. Kubica passes Trulli.
Lap 20: Alonso pits.
Lap 21: Hamilton and Raikkonen pit: McLaren fit fresh tyres. Massa pits, too.
Lap 22: Heidfeld and Piquet pit. Hamilton leads Rosberg by 3.1s.
Lap 23: Hamilton leads by 4.6s. It starts to rain. Kubica pits. Nakajima spins at Abbey.
Lap 24: Glock passes Alonso. Piquet passes Barrichello and Rosberg pit.
Lap 25: Glock, Button and Nakajima pit. Kubica passes Barrichello.
Lap 27: Heidfeld passes both Raikkonen and Kovalainen before the two Finns swap places. Fisichella spins at Becketts and retires. Bourdais pits. Rosberg passes Nakajima.
Lap 28: Webber pits. Rosberg passes Massa.
Lap 29: Hamilton leads Heidfeld by 23.7s. Nakajima passes Massa.
Lap 30: Kubica passes Piquet. Both pass Raikkonen, who pits. Massa pits, too.
Lap 32: Hamilton leads Heidfeld, Kovalainen, Kubica, Piquet, Barrichello, Glock, Trulli, Alonso, Button and Raikkonen. Rosberg, Nakajima, Webber, Bourdais and Massa are lapped.
Lap 34: Kubica passes Kovalainen at Stowe. Kovalainen pits.
Lap 35: It rains heavily now. Glock spins. Barrichello and Button pit. Button has to wait. Rosberg and Nakajima pit.
Lap 36: Hamilton and Kubica run onto the grass. Piquet spins off at Abbey. Massa spins again.
Lap 37: Raikkonen hits the grass and continues.
Lap 38: Hamilton pits and opts for fresh intermediates. Heidfeld and Kubica pit. Raikkonen spins at Woodcote. Webber spins at Abbey.
Lap 39: Button goes off at Bridge.
Lap 40: Kubica spins off at Abbey. Barrichello - on extreme wets - passes Alonso for fourth. Rosberg touches Glock and pits for a fresh front wing.
Lap 41: Barrichello passes Trulli for third. The Brazilian is the quickest driver.
Lap 43: Barrichello passes Heidfeld for second. Glock spins at Club and heads for the pits.
Lap 46: Barrichello pits for intermediates. Kovalainen passes Alonso for fifth.
Lap 47: Hamilton leads Heidfeld by 62.7s. Trulli pits. Massa spins for the fourth time.
Lap 48: Hamilton leads Heidfeld by 62.9s.
Lap 49: Kovalainen spins at Brooklands and drops to sixth. The twice-lapped Massa spins again. He continues before pitting on the 51st race lap (his 49th).
Lap 53: Hamilton laps fifth-placed Raikkonen.
Lap 54: Raikkonen passes Alonso for fourth.
Lap 56: Kovalainen is putting pressure on Alonso - and Nakajima (on extreme wets) is catching both.
Lap 58 (their 57th): Kovalainen passes Alonso. Nakajima is right behind the Spaniard and Trulli is in close pursuit.
Lap 60: Hamilton wins by 68.5s from Heidfeld and Barrichello - the only other drivers to go the distance. Raikkonen is fourth from Kovalainen and Alonso. Trulli passes Nakajima for seventh.