British GP 2008
JULY 4, 2008
Friday Team Quotes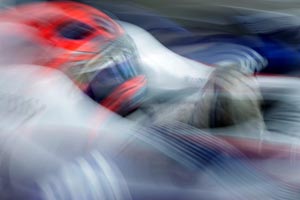 © The Cahier Archive
Ferrari
Felipe Massa (8th, 1:20.943): "It was a big crash, but that's part of the game and I have had much worse accidents in my career. I didn't see any flags and I had approached the corner in the usual way and then I totally lost control of the car under braking. I tried to slow down, but the impact was still pretty violent. The most important thing is that we were able to fix the car and in the end we didn't lose that much time as it wasn't planned for me to do many laps in the morning. I want to thank all the lads for the work they did: they were fantastic and they didn't stop for a moment right up to the very end of the second session. We came to Silverstone with a good starting point after the tests we did here last week and I think we are going in the right direction. I am pleased with the balance of the car and its performance on both types of tyre we have here from Bridgestone."
Kimi Raikkonen (12th, 1:21.275): "This morning things were not so bad, while in the afternoon I had a bit of a struggle to find the best settings on the car, which was not working as well as it had done at last week's test. We have to look at the data to understand why. Obviously, the order in the second session is not representative of the relative strengths in the field. But I am still reasonably confident and if we manage to find a good set-up, then we can fight for the top places."
Stefano Domenicali, Team Principal: "First and foremost I want to praise our mechanics, who did an extraordinary job in repairing Felipe's car. Given the amount of damage and the short time available they were really great. On the technical front, it was not a totally satisfactory day. Of course, we lost some time with Felipe, who despite everything said he was reasonably happy with the handling of his car, while the same could not be said for Kimi, especially in the second session. Now we must study the data very carefully to be sure we make the right choices for the rest of the weekend, keeping in mind the weather, given that rain is forecast for the next two days."
Luca Baldisserri, Head of Trackside Operations: "We struggled a bit today. This morning we had Felipe going off the track which did serious damage to his car. Fortunately, thanks to an exceptional job from the team, we managed to put the car back together and get the driver out on track with an hour remaining of the second session. Kimi was unable to find the best set-up on his car, so we can expect a bit of work now to be as well prepared as possible for tomorrow. From what we saw today, and from the data we gathered last week, we have a significant amount of information to study to be ready for qualifying and for the race, while keeping in mind the fact the weather could be bad."
BMW Sauber
Robert Kubica (11th, 1:21.023): "There is nothing special to report from today, as it was just a normal Friday with us testing almost everything we had planned. Now we shall see how the weather is tomorrow and what we have to do to improve the car. As always in Silverstone, the balance of the car is changing with the weather conditions, especially the wind. I have never driven here in the rain, yet, but for me whether it rains or is dry makes no difference."
Nick Heidfeld (13th, 1:21.453): "I'm not happy yet. For last week's test the balance of the car was better. I think this is due to the stronger winds we now have, which cause the balance to change every lap. I had difficulties with the softer tyres, as for me they didn't even last for a single lap."
Willy Rampf, Technical Director: "Robert had a rear suspension problem on his first run in the second session, and this cost him some time for set-up work. However, we almost managed to do the planned programme with both cars, and completed the long-runs for race preparation. Now we shall analyse the data to see where we can improve for tomorrow."
Renault
Fernando Alonso (15th, 1:21.511): "It was a usual day of practice, except for a problem this morning which cost me a little track time. My mechanics did a remarkable job to fix the car and I was able to continue normally with my programme in the afternoon. I mainly concentrated on evaluating the tyres and set-up work based on the information we collected last week. We must now try and make the most of the final practice session tomorrow morning, but we are going in the right direction."
Nelson Piquet (18th, 1:21.642): "My day went well as I was able to do lots of laps and complete my programme. So we end the first day of work with lots of information, which completes the work we had already started last week. Our times today were not especially significant as the main priority was to complete the programme, which we did. Overall, I am rather optimistic as we approach the weekend."
Pat Symonds, Executive Director of Engineering: "Having tested here recently, we were aware of what areas of our investigations needed completing, and looking at the times of some of our competitors, it seems that they were in a similar situation. Our focus has obviously been on race preparation, and the balance of the cars is normal for a Friday."
Denis Chevrier, Engine Operations Manager: "Our test engines today had a similar risk to the one that broke at the last race in Magny-Cours. So the engine problem for Fernando is something that we were already aware of and had identified, and that is going to help our understanding of the problem that is affecting us at the moment. However, for the race engines, we have already taken a number of precautions and we are therefore not particularly worried for the race this weekend."
Williams-Toyota
Nico Rosberg (5th, 1:20.748): "After today, I think we can definitely say we had a productive test here last week as we seem to have made good progress. Our main objective for free practice was to focus on tyre comparisons and we seem to have collected some positive results from that. In terms of performance, we should be a step ahead of where we were in Magny-Cours, but we really will have to wait and see."
Kazuki Nakajima (9th, 1:20.985): "It was going fairly well before the accident. I lost the rear at the exit of turn 12 and just spun into the wall. It's annoying to make such a mistake because it cost me important track time. We'd been having a good run before that, and making good progress for tomorrow, so I also apologise to the team. I will now just keep my head down and look ahead to qualifying."
Sam Michael, Technical Director: "We worked through our normal checks on tyres and also carried out some set-up tests after feedback from the test here last week. We didn't experience any mechanical problems on the cars, but Kazuki unfortunately had an excursion in the second practice session and that meant he missed about twenty minutes of running. We now have some work to do overnight to be ready for qualifying tomorrow."
Red Bull-Renault
Mark Webber (2nd, 1:20.520): "Not a bad afternoon session. We had a look at a few different settings, as conditions were not the same as at the test, but that's normal. After a small electronic problem this morning, we had some better running this afternoon when I was much happier with the car. Now we'll wait and see what the weather will do tomorrow."
David Coulthard (4th, 1:20.589): "A normal Friday. It was good to get some more running time, after missing a lot of track time at the test due to various problems we had there. I didn't have a chance to run the option tyre during the test, so that was my first look at it today."
Toyota
Timo Glock (14th, 1:21.472): "That was a difficult afternoon for both cars. The problem with the clutch meant we missed out on most of the second session. In the end the mechanics did a fantastic job to get the car ready again for the last ten minutes and we did another two runs. The car had felt okay this morning, just as it did at the test last week. But we will now be playing catch-up for the rest of the weekend. Still, after the team's results at the last two races, we will push for further success on Sunday."
Jarno Trulli (20th, 1:22.196): "Things clearly haven't gone well for us today. It's difficult to say what happened, I just lost the rear wing and went off. After that I was taken to the medical centre for a routine check but I am fine and cleared to return to the cockpit tomorrow. This means we have a busy weekend's work ahead but we will push to make up ground. After our recent results the team is really fired up. We can still try to get both cars into the top ten and then aim for points."
Dieter Gass, Chief Race Engineer: "This was obviously almost the worst case scenario for us today as we missed most of the second session with both cars. Timo had a clutch problem and the mechanics did a very good job to fix that in time to get the car back out and give him a chance to try the option tyres at the end of the session. With Jarno we had a problem on the rear wing. He was running with a new part so we reverted to the standard spec with Timo and we will continue with that for the rest of the weekend. Prior to that this morning was reasonable apart from the break for the red flag and we went through most of what we had planned. But the afternoon session was the important one and now we have clearly lost a lot of running time. Luckily we were here for the test last week so we have good data to base our decisions on for tomorrow."
Toro Rosso-Ferrari
Sebastian Vettel (6th, 1:20.805): "Last week's test was the first time I drove this track and I like it, especially the first part with very fast corners and combinations of them. It's good fun and today we had a very productive session, ending up with clear answers on all the things we had on our test list. Therefore we can be quite happy, but now we must analyse what the others did to get a better idea of how quick we are... or how slow! I think we are in a good shape, the balance feels good and I'm happy with that."
Sebastien Bourdais (17th, 1:21.634): "This morning I had a lot of understeer in the high speed corners and this afternoon we dialled a lot of it out, but that has made the car worse in other areas, so our lap time is no quicker. We will need to look at the data, which we had some issues with also. The track got more slippery as the temperature went up so it was difficult to read what the car was doing, especially as it would change from run to run, maybe partly because the wind was gusting occasionally. We need to look at everything we did today and pick the best set-up. But it might be raining tomorrow, so that will be an additional factor to consider when planning for tomorrow."
Honda
Jenson Button (7th, 1:20.929): "We achieved some useful information from our test programme today, even though the wind has moving been around all afternoon and we lost the majority of our running time this morning. We have a good understanding of the tyres, both the prime and the option, but there is still a lot of work to do as we are not entirely happy with the balance. We may be seventh on the timesheets today but that doesn't necessarily reflect our level of competitiveness, and we have a lot to achieve overnight to set ourselves up for qualifying."
Rubens Barrichello (10th, 1:21.002): "I love the Silverstone circuit, so I was disappointed not to have run the first session today due to the problem that we had with the rear suspension. The second session this afternoon was positive with some good feedback from a well-balanced car. We don't know where our performance puts us in relation to our competitors yet, however I am confident of a much better weekend than in Magny Cours."
Steve Clark, Head of Race & Test Engineering: "Rubens had a rear suspension failure at the start of the first practice session. We therefore took the precaution of keeping Jenson's car in the garage until we had fully investigated the issue. The part in question is not a new design nor is it a high mileage component so the failure was quite unusual. Whilst tests are ongoing back at the factory, we have confirmed that the design has a generous safety margin. For the second session, we fitted new parts to both cars which have undergone a repeat of the quality control processes at the factory. We are confident that the new parts that we have on the car following last week's test have improved our performance. It is difficult to assess this against our competitors today as different fuel strategies will have been in place, therefore we would need a dry qualifying to really provide the answer. However, having both cars in the top ten at the end of today would suggest that we have made a genuinely positive step. The latest information is that rain is certain for Saturday and Sunday. Qualifying in the wet is a challenge as the track conditions are constantly changing and it opens up the possibility that quicker cars may fall out in the early sessions, creating a mixed-up grid which would make for an exciting race. A wet race would be good for our team as both Jenson and Rubens relish driving in the wet. As you would expect more cars to drop out over the course of a wet race, we would hope to take advantage of the conditions."
Force India-Ferrari
Giancarlo Fisichella (16th, 1:21.520): "It was a normal Friday for us. We have made a small step forward with the new package and over the longer runs there seems to be a more consistent balance and under braking the car feels more stable. We're getting there, but the other teams have also made some improvements and there is still some work to do. We will have to see what happens tomorrow with the predicted rain."
Adrian Sutil (19th, 1:21.756): "Overall not such a bad day. We did some positive work this morning with the damper, it feels quite good and now we have to decide whether we use it or not for the race, but I feel pretty confident when we do run it. Aero wise there was an improvement carried over from the test, about two or three tenths, but overall I think I can improve everything a little bit more for tomorrow. I saw the potential today and on different laps I've had sectors that have looked quite good, now we just have to put it all together."
Mike Gascoyne, Chief Technical Officer: "A very productive day, with no real problems on either car, really just working through tyre comparisons and set up options for the weekend. We ran the front inertial damper for the first time on both cars, and the performance seemed positive. Overall the package of improvements we've got here seem to be working well and we appear to be closer to the midfield group. We just have to see what the weather brings for the next two days."
McLaren-Mercedes
Heikki Kovalainen (1st, 1:19.989): "We seemed to find a nice balance almost immediately and waited for the track to come to us throughout both sessions. The trick here is to balance the set-up between the high- and slow-speed corners and I feel that we're getting closer to achieving that. We shouldn't get carried away with being fastest on Friday afternoon, but we've got a good basis for Sunday."
Lewis Hamilton (3rd, 1:20.543): "It was good to see so many fans at the circuit so early this morning! Although we'd only tested here last week, the track felt quite different today. The car's balance felt very good despite my having a little grassy moment at turn eight (Club). Into the afternoon, the car felt increasingly consistent, and I feel we've got a good benchmark for the weekend ahead."
Ron Dennis, Team Principal: "The British Grand Prix is the home race for all the hard-working people at Woking and Brixworth and, as such, it is a particularly important event for everybody at Vodafone McLaren Mercedes. Today's practice performances look encouraging and neither driver reported any major problems - but we remain mindful that there is still much work to complete and are fully aware of the threat of wet weather for the remainder of the weekend."
Norbert Haug, Mercedes Motorsport Director: "A productive first test day with good and consistent lap times by Heikki and Lewis. However, the weather forecast for tomorrow and Sunday predicts heavy rain, therefore today's findings will be only of limited help."