Brazilian GP 2014
NOVEMBER 7, 2014
Friday Team Quotes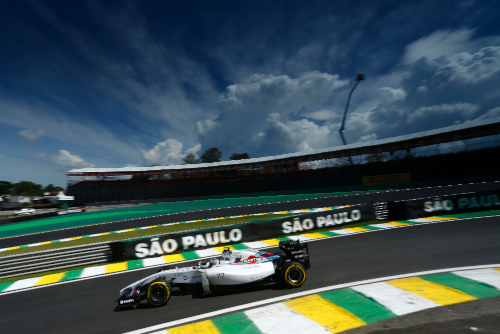 © Active Pictures
Red Bull-Renault
Daniel Ricciardo (4th, 1:12.956): "It was a really good Friday for us and I think we learnt a lot, so a positive day. It's a lot smoother on the track now, it was slippery this morning, but once it cleaned up the grip is really good and it's a good surface. In dry conditions, I think we're good enough for the second row and if it rains, then who knows - maybe the front row can be possible."
Sebastian Vettel (9th, 1:13.333): "The day overall was okay, I had some issues and we didn't get that much running today, but that was mostly due to the red flags which was the same for everyone. The grip seems fairly high on the new asphalt and they made the track smoother apart from the main straight. If it's wet then I think it brings things closer to us, but even in the dry if we get everything right we should be in a reasonable place, it's a short lap so it will be quite tight."
Mercedes GP
Nico Rosberg (1st, 1:12.123): "That was a good day and we are very quick again at this circuit. The track has a new surface which made it quite tricky. It's smooth and not quite so bumpy as it has been in the past - but the tyres were blistering because of the high temperatures and the new asphalt. That was a bit worrying, but we are expecting it to be a bit cooler over the weekend. I'm looking forward to tomorrow - it should be a great battle."
Lewis Hamilton (2nd, 1:12.336): "The car felt good today. There are a few improvements we can make but I just didn't manage to put a lap together out there. That's not a big issue, though. It's just practice so that's what we're out there trying to do. I'm not sure how many laps we'll get out of the tyres as there were quite a few red flags at the end so we didn't get the best opportunity for long runs but that's the same for everyone. It's hard to tell where the tyres are compared to 2013 with the different compounds as we didn't have any dry running until the race last year. Otherwise the circuit felt good. It's nice and smooth and the grip is good. It's different every time we come here and you never know what the weather is going to do. But that's what makes this such an exciting race."
Paddy Lowe: "We managed to follow our normal programme today, running two sets of prime tyres in the first session on low and high fuel, followed by the prime and option in second practice, also on low and high fuel loads. Mechanically, it was a trouble-free day and the newly resurfaced circuit proved much quicker than expected and, although the tarmac was dirty early in the day, it soon cleaned up. The tyre behaviour shifted during the day: in the early runs, they were not really in their working window, while towards the end of the afternoon, when we saw some of the highest track temperatures of the season so far, we saw some heavy blistering. The major difficulty now will be that the weather predicted for tomorrow and Sunday is much cooler than what we saw today, so our long runs will not have been particularly representative. That will make it all the more important to anticipate the evolution in conditions and make the correct set-up decisions this evening."
Toto Wolff, Mercedes Motorsport Director: "It looked like a pretty normal day in terms of performance, with Nico and Lewis trading fastest times during the two sessions, but the temperatures were much higher than we are expecting for the rest of the weekend. So we will have to anticipate how to develop the set-up in the right way. It was also an interrupted day, with several red flags, which made it a challenge for the boys to get into their rhythm. I would like to compliment the promoters on the job they have done with the new track surface. We have heard good feedback, likewise on the safer pit entry, and the higher grip level has also cut lap times to levels we have not seen for a number of years, which is great for the fans here in Brazil."
Ferrari
Kimi Raikkonen (3rd, 1:12.696): "This was a better Friday than past ones and thanks to the work we did on the car, we got a good response from the changes we made in both sessions. In the first session we concentrated on set-up work and aerodynamic measurements. Because of my usual problems with the front end, we tried to eliminate anything that might have been causing them. In the afternoon, on the Soft tyres, the lap times were good and I'm sure that, without traffic, I could have done even better. Because of the red flags, we were unable to do a race simulation, but everything can change over the next days, because the weather forecast is very uncertain. In the dry, the car is going quite well, but we know that, if it rains, the track conditions could change things around."
Fernando Alonso (7th, 1:13.122): "Today we knew that the power unit had reached the end of its cycle. So there was a risk we wouldn't finish the second session, but this was part of the programme we have been on for a few races now. It's always a shame not being able to use all the time available, even though I don't think it affected our work too much. The new track surface produced a lot of grip and it was extremely difficult to put together a good lap, because tyre behaviour changed from corner to corner. With a new surface, what effect the rain will have is always an unknown factor, so it's impossible to make predictions. That would have been the case at Sochi too, but it didn't rain there, so it means we have to be ready for every eventuality."
Pat Fry: "The new track surface meant that understanding tyre behaviour was immediately the main focus of our attention and so, in both sessions we tried to do as many laps as possible. In the first session, the weather gave us a lot of room to manoeuvre and the times came down lap after lap as the track improved. In the morning we did some testing and worked on car balance, then in the afternoon, evaluating the consistency of the two compounds was complicated by the rising temperatures, with the asphalt almost 20 degrees higher than in the morning. On the one hand, we got a reasonably clear picture of where we stand in these conditions. Now we have to bear in mind that, if it rains, we would have to start again from zero, but in dry conditions it will also be very important to understand to what extent graining will affect performance. Fernando's power unit had done a very high mileage and we were well aware that this would have been its last Friday on track, although it's a shame to have lost the final 20 minutes of track time."
Lotus-Renault
Pastor Maldonado (11th, 1:13.497): "The car felt pretty good today, like it did in Austin so that gives me a positive outlook ahead of the rest of the weekend. The new surface is quite slippery so we had the usual battle to find grip but I'm happy that the tyre allocation was changed. It was good to end FP1 in the top ten so that has to be the target for qualifying tomorrow."
Romain Grosjean (12th, 1:13.714): "There was quite a lot to think about today and conditions weren't the easiest to make progress as the temperature changed a lot during the day. There were also quite a few red flag interruptions to the afternoon session. Looking at the timesheets, we seem to have reasonable potential here so I'll be working very closely with my engineers to see what improvements we can make ahead of tomorrow."
Alan Permane, Chief Race Engineer: "We had a reasonably busy day trying to learn the best set-up for this new track surface with the added challenge of the surface being around 20žC hotter in the afternoon than it was in the morning. We completed a good number of laps today, with positive aero work in the morning and solid tyre work in the afternoon. We have a lot of data to analyse plus the potential for rain tomorrow so it will be a busy engineering team ahead of FP3."
McLaren-Mercedes
Kevin Magnussen (10th, 1:13.479): "The car doesn't feel too bad around here, but it's been difficult to set competitive times because we're lacking a bit of top speed compared with some of the others. We need to look at why that's happening. In today's high temperatures, we struggled with the tyres a bit more than we'd expected, too. If we experience similar conditions on Sunday, we might see a bit of degradation across the field. But it'll be the same for everyone, so won't be too much of a problem, and it may possibly rain anyway. If it's dry on Saturday, I think we can still improve the set-up and make some progress. We should be able to find some more pace, in fact, and hopefully get a decent result in qualifying tomorrow."
Jenson Button (16th, 1:14.209): "This morning was a bit problematic - I only managed to get an install lap under my belt just before I had a problem with the ERS unit. But things were better this afternoon. The new asphalt changed the character of the circuit quite a lot, which is a shame. What's also strange is that our maximum speed is quite a way off that of the front-runners - our downforce levels don't look too dissimilar, but we wouldn't have been able to match the best top speeds without taking the wing off. There's a lot of work to do overnight, but I think we understand where the issues lie. Tomorrow looks like it's going to be colder and wetter - which will mix it up for everyone - so it's important for us to find the right set-up, because the forecast says Sunday will probably be dry. Even if qualifying is wet, we really need a dry FP3 to refine the set-up. The car is definitely better than we showed today."
Eric Boullier, Racing Director: "A difficult day. Kevin was able to make the most of the morning session to carry out some important aerodynamic tests, but Jenson was sidelined almost immediately by an ERS failure. He was then forced to sit out the entire session while his mechanics and engineers rectified the problem. Jenson was able to get back on track this afternoon, but was running behind schedule, missing out on the important running that's needed to familiarise oneself with the brand-new asphalt that's been laid for this year's race. The abundance of red-flag stoppages during the session didn't help his progress, either. We need to understand why our straight-line speed is lacking compared to our rivals'. On such a short circuit - and one where the two long straights play a dominant role in determining lap-time - we are losing out significantly. With wet weather expected tomorrow, it could be a tricky weekend for us. But, with some hard work tonight, we should be able to make significant improvements."
Force India-Mercedes
Nico Hulkenberg (13th, 1:13.882): "Most forecasts said it would be cloudy and wet, but the opposite was the case and it was very hot and sunny. We even saw track temperatures of 58C, which made it a challenge to manage both tyre compounds this afternoon. It might be cooler over the weekend, so we need to be careful about what conclusions we make tonight and the approach we take tomorrow. Apart from that it was a pretty straightforward Friday on my side of the garage and we just need to make the usual performance tweaks overnight."
Sergio Perez (18th, No Time): "It's disappointing not to run today and what happened with Daniel is bad luck. This is how things are in Formula One and sometimes you just have to accept that it's not going to be your day. Final practice will be even more important now but hopefully I can get up-to-speed before qualifying."
Daniel Juncadella: "It's always good to be back in the car, but it's a shame to end the session with an accident. It was the strangest crash I ever had and I was not expecting it at all. The track was evolving very quickly because there is new asphalt and there was only one racing line with grip. On that lap I went a bit wider on the kerb, which was a bit too optimistic because I had a moment and had to catch the car. There was no room in the run-off area so I damaged the front of the car. I've apologised to the team and I'm sorry that it caused Sergio to miss track time, but hopefully he can still have a strong weekend."
Dr. Vijay Mallya, Team Principal: "It was quite a testing day on Checo's side of the garage. Daniel drove the car this morning, but made a mistake coming through turn seven and ended up in the barrier. It was not a heavy impact, but the car experienced a lot of heat soak, which damaged some engine hydraulic components. The decision was taken to replace them as a precaution, which unfortunately deprived Checo of running today. With only one car available this afternoon, we adjusted our run plan to ensure we gathered all the data we needed prior to the race, although with several red flags during the session it was not easy to complete a long run without disruption."
Sauber-Ferrari
Esteban Gutierrez (14th, 1:13.902): "For me it was an unfortunate day, because we were having trouble the whole day. On the other hand, I was able to run for at least a few laps to get a feeling for the track and the new surface. It was also important to see how the tyres behaved and to see how the car's balance was. We did not have a lot of time to find the best set-up today. We will try our best to catch up tomorrow."
Adrian Sutil (15th, 1:14.204): "It was a good day. We chose a different set-up to Esteban in order to make a comparison. In the morning everything went well due to the lower temperatures, whereas the weather conditions changed completely during the afternoon session. The asphalt temperatures were quite high, so the grip got less and, therefore, the lap times were in general slower. We had to choose another set-up for the car, which was not easy. Tomorrow it will depend on the weather. We will probably have cooler conditions, which means we need to find a different set-up. It will not be an easy weekend."
Giampaolo Dall'Ara, Head of Track Engineering: "For Adrian it was a good day. He was quite happy with the car in the morning. However, in the afternoon things were significantly more difficult with higher temperatures. Nevertheless we believe it should be easier tomorrow, because the forecast predicts colder condtions. But today was definitely challenging, especially with the softer compound. Otherwise no problems for Adrian, and he was able to complete his planned programme. Esteban on his side had a very difficult day. He lost most of the morning session due to what we initially thought was an MGUK issue, and which we were not able to fix. In the afternoon we at least managed to drive by using some extra procedures, but then towards the end of the session Esteban had to stop out on track due to what we think was an electrical problem. However, we need to investigate this issue further."
Toro Rosso-Renault
Daniil Kvyat (8th, 1:13.254): "Mixed feelings today. In the morning we looked quite competitive, while in the afternoon our performance was not that good. The track conditions between the two sessions changed a lot, making it difficult the get the best out of the tyres. It looks like conditions are going to be changeable this weekend, so we have to be ready for everything. The positive is that we know in which direction we have to move. We have some homework to do overnight, but I'm confident we can improve for tomorrow."
Jean-Eric Vergne (17th, 1:17.171): "After just a few laps in this session, I suddenly suffered a loss of power, a complete black out on the electrical side, which we will have to investigate now. Unfortunately it was not possible to get the car back to the garage to have a look and see if we could fix it in time and go out again. Not driving on Friday doesn't help us to set up the car properly but this won't stop me from having a good weekend."
Max Verstappen: "At the beginning the track was quite slippery, especially when you went off the racing line, so I think the tyres will be a key factor this weekend. I enjoyed today as always and this track is very nice to drive. Every time I get in the car I feel more comfortable, lap by lap I get a better understanding of its behaviour. We have made a few changes from Austin to here, for example in the steering, which I now feel is more to my liking. This meant I could try and find the limit a bit more than in the past weekends. I'm quite satisfied with my job and I like working with this team very much. We are starting to know each other better and they understand better what I want from the car, my driving style, and the set up becomes easier. I think I had a good practice session and it's great to see that both our cars were very competitive."
Phil Charles, Chief Race Engineer: "It's been a really difficult day for the tyres, because of the very high track temperature of over 50 degrees. The long runs do not look as competitive we would like but I'm sure it's the same for many others. This is something we have got to tackle overnight to understand what we have to do to try and address that. We're very sorry for Jev. He missed FP1 this morning with Max running and then he had a problem very early this afternoon. That's very unfortunate and it's certainly a tricky start to the weekend for him. Nevertheless, there are some positive aspects. Daniil's car looks not too bad, we just need to be a bit more sympathetic with the tyres, even in the short runs, but overall we are satisfied. Max did a very good job in FP1."
Ricardo Penteado, Renault: "Daniil was quick in both sessions and didn't have any problems with his car's Power Unit, despite Interlagos being one of the toughest tracks on the calendar for the ICE. Jean-Eric was less lucky though, completing just two laps before his ERS encountered a problem. Obviously that's not ideal for him, but at least we can use a lot of the data from Daniil, who worked on cooling and turbo mapping - both important here due to the high temperatures and altitude - as well as energy management.
Williams-Mercedes
Valtteri Bottas (5th, 1:13.035): "It was an interesting day; the track felt quite different with the new surface but it seemed to have a decent amount of grip and was cleaning up quickly. There was a bit of graining on the option tyres but not nothing major and they seemed to be lasting better than last year because of the smoother track surface. We still have work to do with the car balance but the initial feeling is pretty good. In dry conditions we seem competitive and on the pace, but the weather is looking very variable over the weekend so we need to be good at adapting to it."
Felipe Massa (6th, 1:13.099): "Today was about understanding the car and its balance on the new asphalt. The grip was actually pretty good and felt better than it has been in recent years, but because it is brand new, quite dirty and the temperatures were very high, it was difficult to get a real understanding of the car's balance on the long runs. The car is feeling pretty good so we are starting from a good base, and as the track keeps improving I hope we can follow that progression with the handling to make sure we are in the hunt for tomorrow's qualifying."
Felipe Nasr: "The track has a new surface so there was quite low grip available at the beginning of the session, but as normal it started to improve and on the whole I think the car is looking good around this circuit so the team should be optimistic that it can have a good weekend. The medium compound tyres were lasting fine, but the softer compound were not lasting very long and you could only get one big lap from them, so making sure you look after the tyres will be very important this weekend."
Rob Smedley, Head of Performance Engineering: "We had two fairly busy sessions today with three red flags interrupting the running, but I'm optimistic for the weekend with the car responding well on low and high fuel loads. We found that the rear option tyres were graining but this is normal in these very high temperatures and seemed to affect everyone, with no such issues with the prime tyre. We expect the weather to be very different over the weekend so we need to take what we have learned today on board but be completely prepared for a very different track tomorrow. This was Felipe Nasr's last FP1 session for us and he did another good job, providing very good feedback and completing the test programme diligently so a thank you to him for his hard work this year."