Brazilian GP 2011
NOVEMBER 26, 2011
Saturday Team Quotes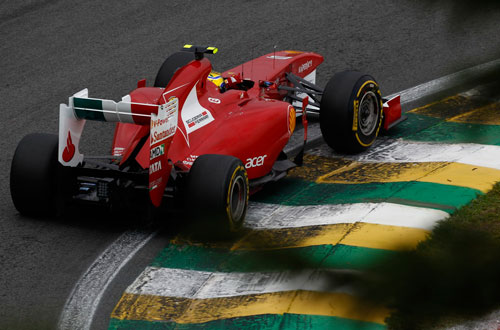 © Active Pictures
Red Bull-Renault
Sebastian Vettel (1st, 1:11.918): "It's pretty special to get the record. Nigel obviously took three or four races less to achieve it, but nevertheless it's been an incredible year for us and an incredible journey and it's not yet over, we've got another chapter tomorrow and I'm very happy. It's hard to believe. I didn't feel that happy yesterday, but this morning I was much happier with the car and how it felt, it was much more to my liking and I was able to go from there and improve to get the pole. You know what you can do and the time you should be able to get ahead of the lap, but when you cross the line - you know if you have done it or not, without looking at the time. There wasn't much left today and that gives extreme satisfaction - and it gets even better when the engineer comes on the radio and tells you you've done it."
Mark Webber (2nd, 1:12.099): "Qualifying was a good effort today from the whole team. It was very close with Sebastian, he did a great lap again, but there wasn't much between us. It was a good session today and we know there's going to be some weather coming in, which will mix things up a bit. That's very good for the people at home watching on TV, but it means a few grey hairs for us sitting in the cockpit. I'm looking forward to the race, it's a good challenge here and it would be great to finish the season with a good result."
Christian Horner, Sporting Director: "An awesome achievement by Sebastian and the team today. It's a new record in Formula One, which is a small piece of history for Sebastian and is thoroughly deserved. He shared the record with Nigel for two weeks and he now has some fairly illustrious names behind him, so a great performance. A great performance also from Mark Webber today to lock out the front row ahead of what I'm sure will be a really exciting final Grand Prix of 2011."
Cyril Dumont, Renault: "So another record today for Sebastian with fifteen pole positions. He broke the last record from Mansell, which is fantastic. It's also fantastic for Mark to lock out the front row and for the team to finish it's Saturday season with a one-two - it reflects the performance of the car, which was been amazing. I hope that tomorrow we will transform it into a strong finish, it would be great to finish the season with a one-two."
McLaren-Mercedes
Jenson Button (3rd, 1:12.283): "All in all, Q2 was a bit nerve-wracking for me - but enjoyable in the end because I haven't managed to get past Q2 here in Brazil since 2005! So, as I say, it was satisfying to get into the top 10. In Q3, the car was working well too: balance-wise, I think the car was as good as we were going to get it. My quick lap was pretty ragged. I was pretty aggressive on the throttle, which you have to be to be fast around here. That's not normally my style, but it was definitely quick and in fact I crossed the line thinking I'd be farther up the grid than I eventually was. But that was because the two guys in front of me did a great job too. If it rains here tomorrow, as we're told it may well do, then it'll almost certainly pour down - and that's bound to make things very tricky. Still, this place lends itself to good overtaking - over the years there have been some great moves into Turns One and Four for example - so I think everything is well set for Formula 1 to put on a fantastic show tomorrow."
Lewis Hamilton (4th, 1:12.480): "Jenson was massively quick today. I ended up a couple of tenths away from him, so clearly I could have gone a bit faster, but the fact is that although I didn't make any mistakes on my best lap I just wasn't quite quick enough on the day. While that's inevitably a little disappointing for me personally, Jenson's pace is very encouraging for the team. We have reason to be optimistic about tomorrow too: we're both on the second row, and we can definitely mount a strong challenge from there. I don't think we're quite there in terms of race pace in the dry, but hopefully we'll be there if it's wet. Whatever happens though, it's going to be a tough, long race; and if the weather is wet or changeable, as predicted, then it's going to be very interesting indeed. Interlagos is a place that makes you feel inspired as a racing driver: it's Ayrton Senna's homeground, and the Brazilian fans are unbelievably passionate. I've started fourth here a few times before [in 2008 and 2010], so I hope four is a good number for me. Let's hope we can turn it into something even better tomorrow!"
Martin Whitmarsh, Team Principal: "Perhaps we didn't quite get the best out of the Option tyre in Q3 this afternoon - it could have been a tyre pressure issue although we're not yet sure about that - but we still put both our cars on the second row which is a pretty decent result. Jenson nailed a particularly impressive lap to end up in third place - his best qualifying performance ever at Interlagos. Lewis delivered a very good lap too, just two-tenths shy of Jenson's best. He experimented with driving two flying laps in Q3 - a fast-ish one followed by a really hot one in an attempt to get more out of the Option - but in the event it didn't appear to confer any benefit over the conventional one-flying-lap approach adopted by Jenson. Looking forward to tomorrow, it may well rain - and, if it does, the race will surely be incident-packed and therefore unpredictable. We geared both our cars with the probability of a wet race in mind, in fact. But, rain or no rain, Jenson and Lewis are both hungry to notch up Vodafone McLaren Mercedes' seventh victory of the season, and we're confident that both their race cars will be fully competitive on the day."
Ferrari
Fernando Alonso (5th, 1:12.591): "My subscription to fifth place has been extended for one more Saturday! This time however, getting to my classic starting place on the grid was a bit more of a struggle than usual. We are not very pleased with the balance of the car and we were expecting a very competitive Mercedes. However, in Q3, we got much closer to the McLarens than we could have expected, while the first of the Mercedes was left a few tenths back. What this means is that we managed to get a little bit more out of it than our potential would indicate. I certainly can't say the way qualifying went was much of a surprise. If it really rains tomorrow, it will be a very exciting and open race: no one really knows how competitive they can be in the wet and then it requires next to nothing - one lap more or less out on track at a time when the conditions change - to turn around a situation that looks set in stone. It's true that for us, the problem of getting the tyres up to temperature are more acute in the wet, but then it's equally true that when the track does dry, we are quicker than our rivals: the various stages of the race at Silverstone demonstrated this to be the case. If however, we were to race in the dry, then maybe there will be a lot of stops because today the tyres seemed to degrade more than yesterday. The perfect recipe for the last race of the year? The four in front of us stop and me and Felipe are ahead of the rest!"
Felipe Massa (7th, 1:13.068): "I was expecting more from this final qualifying of the year and I definitely cannot be happy with this seventh place. Unfortunately, we were unable to find the right balance throughout the weekend. In some corners I was locking up the front and in the slower ones I suffered with understeer, in others I lacked traction: all in all, the car was rather difficult to drive. On top of that, it was a rather complicated day. I had to use two sets of Softs in Q2 and I paid for that in Q3, as I could only do one run. Tomorrow it's supposed to rain so the situation could change. It's difficult to make predictions on the relative strengths: this year in the wet, sometimes we have seen a very strong Red Bull, other times McLaren have been very quick, but it's also true that anything can happen in these conditions. The important thing is to be prepared for all situations. For me, it's always a fantastic feeling racing at this track, in front of my amazing home crowd: I will try my all to do well and to finally make it onto the podium at the end of such a difficult year. It would be a nice way to end my tenth season in Formula 1 and to celebrate in a worthy manner my hundredth race with Scuderia Ferrari."
Stefano Domenicali, Team Principal: "If the numbers and the equation are always the same, there is no reason for them to deliver a different sum! We ended development on this car several months ago and everything we are doing now is aimed at next year. In the meantime, we are trying to squeeze out the maximum from what we have got, in order to finish this season in the best way we can. The outcome of that therefore is that today it was difficult to expect anything more than a fifth place, don't you think? Fernando gave it his all on his final lap, getting very close to the McLarens. Felipe probably paid the price for having only one set of new tyres left to run in Q3: if he'd had one more, he would have also managed to make it onto the third row. We go into this final race of a very long championship in the same way in which we have tackled the others: with concentration and determination aimed at getting the best possible result. The weather forecast for tomorrow is for a high chance of rain: in that case, anything can happen and it will be crucial to react properly to any eventualities that might arise."
Pat Fry: "Honestly, there's nothing much new to say at the end of the final qualifying session of 2011. We are aware we have the third best car in the pack: the consequence of this is that, if nothing strange happens, then fifth place is the most logical result. Then, taking into account that we did not manage to find a perfect balance on the two cars and that here we have seen a Mercedes very much on the ball, we must look at this result as a glass that's half full, considering the gaps to Fernando of those directly ahead and behind him in the classification. Felipe had to use an additional set of softs in Q2, which definitely penalised him in Q3. Given the weather forecast, we can expect an eventful race. However, if it is run in the dry, then it will be interesting to see how the tyres behave, considering that the track conditions seem to change significantly even when there is not much of a big change in temperature. Our aim will be the same as ever: to fight for a place on the podium, while trying to help Fernando to reach second place in the Drivers' Championship."
Mercedes GP
Nico Rosberg (6th, 1:13.050): "That was a good qualifying session today. We saved a set of option tyres for the race, and we qualified ahead of one of the Ferraris which has always been my goal during the season. So I'm quite pleased to be starting from sixth place tomorrow. I was maybe a little too slow on my out lap in Q3 so my tyres didn't work perfectly on my fast lap, and that's why I wasn't as quick as in Q2. I will push to gain a good result tomorrow for the team who have done a great job over the whole season."
Michael Schumacher (10th, No Time): "The forecast says there is a high probability for rain during the race. With this in mind, we have kept all of our options open for tomorrow and we had a strategic approach to qualifying today. Still we need to find out why we weren't able to match our times from this morning. There will be a lot of data checking now, so that tomorrow it will be very different and we can attack for some points."
Ross Brawn, Team Principal: "We had a reasonable final qualifying session of the season today. There was a threat of rain throughout, which meant we ran slightly earlier than we ultimately needed to in some of the sessions to be on the safe side. Nico's run in Q2 was very impressive, and that performance potential augurs well for the race. Michael took a measured approach to Q3, in order to save a new set of tyres, and he is in a good position strategically. We know how good he has been on the first lap this year, so we're looking forward to finding out what will be possible in the race. Rain is still forecast for tomorrow but the same was true of today, so we are working with a measure of uncertainty. I'll know it's raining when the top of my head gets wet..."
Norbert Haug, Mercedes Motorsport Director: "Nico looked strong in Q2 when he set the second fastest time, which was about half a second quicker than his Q3 time later on. The second row of the grid, instead of the third, could have been possible today for him. Nevertheless, we should be in good shape for the race tomorrow when rain is predicted, which could mix up the field a bit. We still need to investigate what happened to Michael, as he was not happy with his car and tyre combination after looking strong during all three practice sessions. In tomorrow's final race of the season, both Nico and Michael will be aiming for a respectable result, similar to what we achieved in recent races."
Renault
Bruno Senna (9th, 1:13.761): "I'm very happy with that. It was not what I was expecting when the weekend started but it's good news. We knew the car had good potential here, but we just weren't sure the level of that potential - the R31 behaved very well today! In qualifying 2, the team put a good car together and we did a great job. It's a shame we had used tyres going into Q3 because we could have had an even better result. Having said that, being in Q3 was a victory in itself."
Vitaly Petrov (15th, 1:14.053): "I'm naturally disappointed with my position because we have been improving the car step by step throughout the weekend and we thought there was more to come from it. We changed the car set-up quite a lot to accommodate for the change in temperature between FP3 and qualifying. As for qualifying itself, I didn't actually feel I made many mistakes; I had quite a quick lap at the end of Q1 but then I lost some grip on my lap in Q2, which left me where it did."
Alan Permane, Chief Race Engineer: "We are pleased for Bruno as that was a strong qualifying performance for him during his home race weekend. He put in a couple of good laps when it mattered and he's deserving of that position. It was unfortunate for Vitaly; he didn't get his lap together when it counted, but generally we are happy with the performance of the team and are now looking forward to tomorrow's race. We altered a few things on Bruno's car, including some camber and front wing changes. The car obviously felt better for him in qualifying than it did in this morning's session. The forecast for tomorrow suggests there are likely to be some thundery showers so that will give us all something to think about and could make it an interesting race to finish off the season."
Williams-Cosworth
Rubens Barrichello (12th, 1:13.801): "I feel great! I'm so glad that I put in a good lap because I have lots of family here this weekend. Also for the team and for the fans, it really felt like they were pushing me on which was an amazing feeling. I have to drive 71 laps like that tomorrow but we have the best chance now so let's hope for a good one!"
Pastor Maldonado (18th, 1:14.625): "We're a bit on the back foot with P18. We didn't find the best balance on the option tyre and so didn't get a clean lap in. I will need to make up lots of ground in the race but after doing that in Abu Dhabi, I'm optimistic I can do it again here."
Mark Gillan, Chief Operations Engineer: "This morning's final practice went well and with further set-up work the general balance and pace of the car improved steadily through the session. Going into qualifying, the threat of rain increased pushing us to run earlier than we normally would have done. Rubens progressed into Q2 but unfortunately Pastor didn't get a clean lap and finished P18. Rubens had a good, clean lap on his new set of soft tyres in Q2 to finish a credible P12."
Force India-Mercedes
Adrian Sutil (8th, 1:13.299): "Another good qualifying session for me to carry on a strong weekend. I had a good feeling all afternoon and I really enjoyed the session because the balance of the car felt great. The only real issue was the fact that it was quite windy, but I was able to adjust my driving and it didn't catch me out. Eighth is a good place to start and I'm feeling confident for tomorrow - whether it's wet or dry. We just have to wait and see what the weather does, but I hope we can come away with a lot of points because I'm targeting ninth place in the drivers' championship. That would be a nice way to end the season."
Paul di Resta (11th, 1:13.584): "I knew it was going to be quite a tough session because I was suffering with a top speed delta compared to Adrian's car and we've not been able to fully understand why that's the case. It meant I was giving away some time on the straights, which is a little frustrating. On the other hand, I have to be reasonably satisfied with P11 and the fact that I only just missed out on Q3. There's rain forecast for tomorrow and we know the car has been competitive in the wet so hopefully we can capitalise on that. And if it's dry we should be strong because our pace during long runs has looked pretty good."
Robert Fernley, Deputy Team Principal: "I think overall we can be pleased with today's qualifying result. We were confident of getting both cars in the top ten, but Paul has been suffering with a top speed issue since this morning, which we are still investigating. Without that issue we could well have seen both cars in Q3. As for Adrian, he delivered another excellent qualifying performance, setting consistent lap times and squeezing the maximum from the car. For tomorrow we're all looking at the weather forecast because there's a high risk of rain. Whatever happens we are well placed to come away with points for both cars to hopefully secure sixth place in the championship and get Adain in the top ten of the drivers' championship."
Sauber-Ferrari
Kamui Kobayashi (16th, 1:14.129): "Overall, the weekend here is a bit tricky for us. We worked on improving the car's balance in every practice session and it got better, but it wasn't a big enough step to find the proper grip to be able to attack. I was really fighting on every lap. It was tight to get into Q2 because already in Q1 it was difficult to warm up the tyres. However, tomorrow a lot will depend on the weather conditions and we will see what we can do."
Sergio Perez (17th, 1:14.182): "It was a disappointing qualifying with the outcome that the Toro Rosso cars, our direct competitors, are in front of us. The main problem for me was that the car was so inconsistent: every lap was different, and I couldn't get temperature into the tyres. However, we will not give up. If we get mixed weather conditions tomorrow, anything can happen."
Peter Sauber, Team Principal: "After qualifying, Toro Rosso is in front of our cars, but the race is tomorrow and we will fight hard in the race to turn this around."
Giampaolo Dall'Ara, Head of Track Engineering: "This is obviously not the result we wanted, but it looks as if this was the limit today. In the end, both our drivers were at the same level. We had a trouble-free session, but the performance just didn't allow us to finish higher up on the grid. For tomorrow there is a high chance of rain, and we will definitely be ready to make up ground in the race."
Toro Rosso-Ferrari
Jaime Alguersuari (13th, 1:13.804): "P13 and P14 on the grid is not so bad for the team. I am pleased to be ahead of Sauber on the grid, but the points are only given out tomorrow, when we can expect a chaotic race because it is meant to rain. The key in those conditions will be not to do anything stupid, nor take too many risks, stay calm and then finish the race. The track conditions have changed a lot even from this morning to this session, but if it rains that evolution won't continue and it should be an interesting race."
Sebastien Buemi (14th, 1:13.919): "I am not happy with the result, even if I feel I did the best I could this afternoon. However, we did not have a good preparation for qualifying, as I was unable to run in the morning. Added to the fact I did not drive in FP1, because Jean-Eric was in my car on Friday morning, I've really had very few laps so far this weekend. We must learn from these mistakes to ensure we don't make them again. As for tomorrow's race, anything is possible, because I think our car is quite competitive, so I am hopeful of having a good afternoon."
Laurent Mekies, Chief Engineer: "The day did not start well for us, as Sebastien was unable to complete a single timed lap in the morning, because of an hydraulic problem. It meant that, in qualifying, he had to adapt immediately to quite a different car to the one he drove yesterday, because of the choices we made since then from a set-up point of view. He tried to get into a rhythm as quickly as possible, but with the field being so tight, everything matters and clearly he paid the price for us not having done a better job this morning. Jaime's position is a fairly accurate indication of our level of competitiveness, as he is three thousandths of a second away from twelfth place, which is where the car belongs here today. He also did a good job so far this weekend in adapting to the car, as we changed his set-up quite a few times. The threat of rain which was falling two kilometres from the track added to the sense of urgency in the session, making it quite exciting. I think we are in a decent enough position to do a good job tomorrow, when it will be up to us to make it happen."
Lotus-Renault
Heikki Kovalainen (19th, 1:15.068): "That is a great way to end qualifying for the season, one of the really good laps. I've had a lot of good sessions this year but that really stands out as one of the best. Jarno has been strong here all weekend and I was just behind him after the first runs so I had to really pull out everything to beat him. We made a couple of adjustments to the tyres and it paid off with that final lap with seconds left on the clock. We've also finished here closer to the opposition than we have all season, and even though it's a shorter lap here it's still a very good sign that we've found quite a bit of time with the new rear wing and I think that will help us again tomorrow. The forecast looks like rain and that always makes it interesting around here, so I think whatever happens it'll be a good Sunday, and hopefully a great way to end the season."
Jarno Trulli (20th, 1:15.358): "I'm reasonably pleased with how it went today. The second set of tyres weren't as good as the first and even though I improved my time I still couldn't really push - I've had a pretty good weekend so far but still haven't found a balance I'm really happy with, but the main thing is we've increased the gap to the cars behind us and moved closer to the teams directly ahead."
Tony Fernandes, Team Principal: "What a great way to end the last qualifying session for Team Lotus. We were within a second of cars right up to 11th place, and just over 0.4 off Williams, so to bring to an end our qualifying for 2011, having made up that amount of time, is a real achievement. People forget that we do not have KERS this year. If we had KERS, as we do next season, would clearly be fighting in the midfield, so I am very happy with how far we have come in such a short amount of time. Our next qualifying session will be as Caterham F1 Team and that is a whole new chapter for us, something we are all very excited about and if we can maintain the progress we have shown in our first two years we will be right on course to achieve our long-term goals."
Mike Gascoyne, Technical Director: "That was a strong end to qualifying for this season. This morning we were having some issues getting the pace out of the soft tyres but this afternoon we turned that around and Heikki in particular got everything he could out of the car. Jarno was a little less happy with the balance but for me this is a good way to finish qualifying this year. Throughout the second half of the season we have moved closer to the group in front and that was particularly evident today, so the aim for tomorrow is clear - have a strong race and give ourselves a successful last race of 2011."
Thierry Salvi, Renault: "The challenge for us here has been to help maximise the potential of the new rear wing and DRS system on the cars. The update is a big step forward for the team and it means we have had to work on the ratios and find the right balance between the settings we use for qualifying and the race. That is what the top teams ahead have had to do all year and for us that is the first time we really had to work in that area this season, so it has been a good challenge, and a sign of how far the team has come. It looks like it has worked out because the feedback from the drivers has been positive and the result today is what we were hoping for, so this goes down as a good result for the whole team."
HRT-Cosworth
Vitantonio Liuzzi (21st, 1:16.631): "The car was a lot better than yesterday, especially the balance. That was a good way to finish the season, in terms of qualifying, ahead of the Virgins. It's also a good result for me after all the problems we had in Abu Dhabi, so it's a great feeling to be back in business with a car that is working a hundred per cent allowing us to fight with the others. We showed that when things are working we can perform and that's what we're here to do. It could be a crazy race tomorrow as there is a chance of rain so we'll look forward to that."
Daniel Ricciardo (22nd, 1:16.890): "In the morning we improved the overall setup and the qualifying session started quite well. With the first set of tyres and I was pretty happy with the balance. I thought we could really improve with the second set and made some changes to help try and achieve this but for whatever reason it didn't happen. We're in front of the Virgins which is good but I didn't improve on the second set of tyres which is frustrating because we could've achieved an even better result. Now we have to look ahead, think of tomorrow's race and try to do a better job."
Colin Kolles, Team Principal: "Both drivers did a very good job today in qualifying. It has been our best qualifying session this season. I think we could have done even better if the cars would have been released in the right time frame in order to avoid traffic and to give the drivers the maximum laps. We are ahead of both Virgins and closer than ever to Lotus which is very positive and this reflects the improved performance of the car in the last races. It seems that the chances of rain for tomorrow's race are quite high so we have to be ready for that too and try to finish the season on a good note."
Virgin-Cosworth
Jerome d'Ambrosio (23rd, 1:17.019): "It wasn't a bad qualifying but honestly it wasn't the best one either. I had a better feeling with the car this morning - I lost performance between this morning and qualifying. We need to have a look and see what is happening. I lost a bit of time in sector two on my best lap. As I say, it wasn't perfect but it's not bad and we'll push hard tomorrow to try and fight with the HRTs. If it rains tomorrow, the most important thing will be to stay on track as anything can happen in Brazil when it's wet."
Timo Glock (24th, 1:17.060): "A bit of a disappointing Saturday I would say. The car was bad to drive this morning - suddenly from one run to another it had no stability any more. So it was difficult to go into qualifying with confidence, even though in the first run the car felt okay. I got a safe lap in then I tried to push on the second set of tyres. I had a very good first three corners but then one of the Toro Rosso's came out of the pits right in front of me and just stayed there during his out lap, so I couldn't go quicker and lost some time. It's a shame as I had to cool the tyres down before doing another lap, but the tyres are never as good as they are in the first lap, at least for me this weekend. So we have to start last, which is very disappointing, but we have to see what we can do tomorrow. Maybe the weather helps us a bit but in general it's a shame."
John Booth, Team Principal: "A disappointing afternoon for the team and not what we hoped for going into this weekend. Timo had struggled with the balance of his car this morning and so needed to do some significant changes for qualifying, which is far from desirable although his balance did improve as a result. Unfortunately Timo's second run was disturbed by Buemi on what would have been his quickest lap and this was unfortunate. Jerome had a good morning and he was very pleased with his lap in FP3, which even before correcting for fuel was much better than his lap in Q1 which was plagued by oversteer. At some points today the weather did look like it would play a part in the proceedings, however this was not the case. Looking to tomorrow again, the threat of rain is there and we will be looking to gain back the places on the grid to finish the season as strongly as we can."