Brazilian GP 2011
NOVEMBER 28, 2011
Race Report - Webber wins at last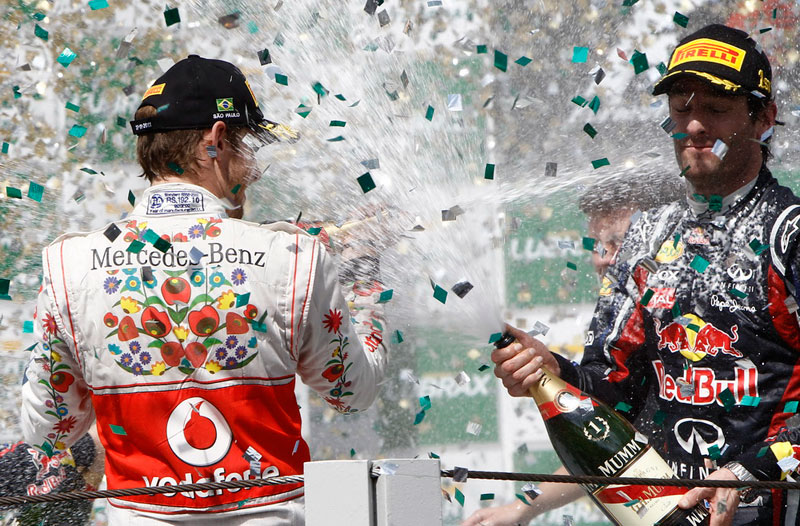 © Active Pictures
Mark Webber scored his first victory of 2011 in the season-closing Brazilian GP after pole position man and early race leader Sebastian Vettel encountered a gearbox problem that caused him to short-shift in second and third gears.
Vettel and Webber converted their front row grid positions to lead through the Senna Eses and it soon became apparent that Red Bull was going to have more race pace as well as more qualifying pace then its significant rivals.
Jenson Button ran an early third, while Fernando Alonso's Ferrari jumped Lewis Hamilton up into fourth place, with Nico Rosberg, Adrian Sutil, Bruno Senna, Michael Schumacher and Paul Di Resta completing the early race top 10.
Ten laps in, Senna and Schumacher had a coming-together going into Turn 1 as Schumacher dragged past across the start/finish line and Senna resisted as the Mercedes tried to turn into the Esses named after Bruno's uncle.
The Renault suffered a damaged right-hand wing endplate and the Mercedes a puncture that required Schumacher to complete a long lap back to the pits. The stewards ruled that Senna had caused the collision and gave him a drive through penalty.
The incident had a direct bearing on what initially looked like an unbelievable pass of Button's McLaren for third place by Alonso's Ferrari round the outside of Turn 6.
But Jenson explained: "Leaving Turn 5 I knew Fernando was close and glanced in the mirror. I saw he was coming up on the outside going into Turn 6, which is normally easy to defend, but when I looked back at the road there was a load of debris from Michael's tyre on the normal line. I couldn't go left because Fernando was already there and I couldn't brake deep on the debris, so I just had to back out of it and tuck in behind him, which was a bit frustrating."
Vettel had done his customary ballistic opening couple of laps and was out of DRS range by the beginning of the third. Soon though, it became apparent that this was not to be another straightforward Sebastian demonstration run.
On lap 12 Vettel radioed in that there was evidence of shoulder blistering to his right rear Pirelli and, two laps later, with just 20% of the race distance completed, his engineer, Guillaume 'Rocky' Roquelin was informing him of a gearbox problem and the need to short-shift.
Despite that, Vettel and Webber continued to pull away from Alonso's Ferrari and it was Button's McLaren that was the first of the leaders to pit for a new set of option Pirellis after 17 of the 71 laps.
Alonso and Hamilton were in a lap later, Vettel a lap after that, and then Webber on lap 19. Massa did not stop until lap 22, hinting that Ferrari was perhaps looking at a two-stopper. Further back, Sutil passed Rosberg's Mercedes for eighth.
The first round of stops did little to alter the status quo but traffic on Webber's out-lap meant that Alonso was 3s closer. Webber soon opened that out again and his prospects looked a whole lot better with more radio traffic to his team mate, this time warning of a 'serious' gearbox problem.
Vettel made it clear that he was not going to defend and, on lap 29, Webber took the lead.
A conspiracy theorist could easily form a case for this being a Red Bull stage-managed production. Vettel had his title defence safely locked away, Saturday had been about Seb beating Nigel Mansell's pole position record and today was about making sure that Mark Webber did not suffer the ignominy of a winless season in an RB7, and projecting the Australian as far up the final championship table as possible.
If that was the script, it was well done, the team insisting that Vettel's car finished the race practically out of gearbox oil and the engineers expressing amazement that Sebastian was able to maintain the pace he did to finish second.
At one point, Vettel even came on the radio and said it reminded him of Senna in '91. In that race, the great Brazilian's first win in front of his own people, Ayrton drove the last part of the race with just sixth gear and was physically exhausted by cramp.
Vettel explained away the relatively small drop-off in lap time by pointing out that he was able to compensate in the middle section of the lap and that it was in the third sector, the long acceleration phase out of Juncao corner, where short-shifting hurt him most.
Webber said that the closer he'd gotten to his team mate, the more he could smell that there was an issue. Fluid was also being emitted by Vettel's car.
Any scepticism over the real seriousness of the problem was further allayed by transmission problems elsewhere. Lewis Hamilton, for instance, retired from the race after 47 laps when gearbox problems worsened, and Senna was similarly afflicted.
There were two potential explanations. The first was that gearboxes, with this being the final race of the season, were coming to the end of their five-race life requirement. That was not true in the case of Vettel, however, who'd started with a brand new one.
There had obviously been problems though, as Webber mentioned in victory.
"I had mixed feelings about Seb's problem," he said. "There was the chance to win, obviously, but I also knew how hard the guys had worked on Seb's gearbox on Saturday night, and something had let them down."
When the chequered flag brought down the season's final curtain, Webber had almost 17s in hand over Vettel and Button had snatched the final podium place from Alonso with 10 laps to go. In the process, Jenson ensured that Webber finished the year third in the championship, just pipping the Spaniard.
The McLarens had not proven well balanced on the softer option tyre. When Jenson made his second stop on lap 32, he bolted on a set of primes (medium compound) rather than options (softs). It made you suspect that he was trying to get through on just the two stops.
Although Button was lapping quicker on his primes than Hamilton was on newly fitted softs when he stopped two laps later than Jenson, the wear rates on the two tyres were not significantly different and Jenson was in again for a third time on lap 52. Having already run both tyres he was free to choose and it was telling when went for the medium tyre again.
"We'll have to look into why things were as they were today," he admitted.
He quickly chased down Alonso again and, with intelligent use of KERS, exited the Senna Esses right on the Ferrari's tail and went comfortably down the outside into T4 with 10 laps to go.
Massa trailed home fifth in front of his public, half a minute shy of Alonso, and one place clear of another fine drive from Adrian Sutil, who, in securing ninth place in the championship and beating the Mercedes pair home, has given Force India a rather embarrassing problem if they are intent on running Paul Di Resta and Nico Hulkenberg next year.
Rosberg's Mercedes finished seventh, and Di Resta's eighth place in the second Force India meant that Vijay Mallya's team finished the season just three points shy of fifth-placed Renault in the constructors championship - a fine effort.
Kamui Kobayashi's point for Sauber was enough to keep Toro Rosso at bay and maintain seventh in the championship, with Vitaly Petrov getting the first Renault home 10th to take the final point.
Despite the predictions of rain, the race was run in the dry throughout, which legislated against the likes of Timo Glock and Marussia Virgin from using a chaotic race to trip up Team Lotus at the last hurdle in their bid to finish in the championship top 10 two years running.
It would have taken just a 12th place to do that, so it was a relieved Tony Fernandes and Mike Gascoyne who could contemplate mission accomplished and the relative financial luxury of becoming a 'column one' team - worth around an additional $30m in distributed prize funds from FOM apparently!
The latest ending F1 season since the sixties means that time for winter preparation is reduced. Red Bull's rivals will leave Brazil fervently hoping that prescribed exhaust exits for 2012 will rob Adrian Newey's new cars of much of their downforce advantage. Don't bet on it though...