Brazilian GP 2008
NOVEMBER 2, 2008
Race Incidents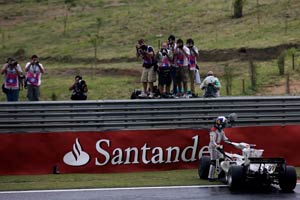 © The Cahier Archive
Pre-race: Torrential rain begins to fall four minutes before the scheduled start. Formation lap delayed by 10 minutes. Kubica attempts to go to the grid on dry tyres but pits at the end of the final warm-up lap.
Lap 1: From his third consecutive Interlagos pole, Felipe Massa leads away cleanly from Jarno Trulli, Kimi Raikkonen and Lewis Hamilton. Heikki Kovalainen drops from fifth to seventh, behind Sebastian Vettel and Fernando Alonso. Sebastien Bourdais lies eighth ahead of Timo Glock, Mark Webber, the fast-starting Rubens Barrichello and Nick Heidfeld. Nico Rosberg taps David Coulthard into a spin at Turn Two and the Scot retires from both the race and Formula One. His wayward car knocks Kazuki Nakajima into a spin but the Japanese driver continues. Rosberg presses on in 13th ahead of Jenson Button, Adrian Sutil, Giancarlo Fisichella, Nakajima and Kubica. Nelson Piquet crashes at Turn Three. Safety Car deployed.
Lap 2: Fisichella pits for dries.
Lap 5: Restart. Massa leads Trulli by 0.9s. Hamilton is fourth, 2.1s behind the leader and 0.5s clear of Vettel.
Lap 6: Massa pulls 1.8s clear. Heidfeld passes Barrichello for 11th.
Lap 7: Rosberg and Button are in for dries. Button passes Rosberg in the pit exit lane.
Lap 8: Bourdais, Glock, Sutil and Nakajima change tyres.
Lap 9: Vettel, Alonso, Webber and Barrichello pit.
Lap 10: Massa, Kovalainen and Kubica pit. Glock passes Bourdais.
Lap 11: Trulli, Raikkonen and Hamilton pit.
Lap 12: Massa leads Vettel, Alonso, Raikkonen, Fisichella, Trulli, Hamilton, Glock, Bourdais, Heidfeld, Webber, Kovalainen, Barrichello, Button, Rosberg, Sutil, Kubica and Nakajima.
Lap 13: Hamilton passes Trulli for sixth at Turn One. The Italian then loses time when he has a slide at the bottom of the hill. He drops to ninth.
Lap 17: Fastest lap to Alonso, 1m15.416s.
Lap 18: Hamilton passes Fisichella. He's now fifth. Vettel posts a 1m15.160s and trails Massa by 0.9s.
Lap 19: Massa laps in 1m14.772s. He's 1.0s clear. Kovalainen passes Webber.
Lap 21: Vettel laps in 1m14.565s to reduce Massa's lead to 0.6s. Trulli nudges Bourdais off the track at Turn One. The Frenchman drops to 13th. Glock passes Fisichella.
Lap 22: Masses extends the gap to 0.8s.
Lap 23: Fastest lap to Massa: 1m14.541s.
Lap 24: Massa laps in 1m14.406s but Vettel almost matches him. The gap is 0.9s.
Lap 25: Vettel laps in 1m14.214s.
Lap 26: Massa hits back: 1m14.161s. He leads by 1.0s.
Lap 27: Vettel pits and drops to sixth. Kovalainen passes Trulli and Fisichella to move up to seventh.
Lap 28: Massa leads Alonso by 4.2s.
Lap 31: Fastest lap to Hamilton: 1m14.159s.
Lap 32: Glock goes faster: 1m14.057s.
Lap 33: Button pits.
Lap 34: Massa laps in 1m13.735s and leads by 5.0s.
Lap 35: Approaching half-distance, Massa leads by 5.8s.
Lap 36: Massa posts a 1m13.736s. His lead extends to 6.5s. Glock pits.
Lap 38: Massa pits, as do Fisichella and Bourdais. Alonso leads.
Lap 40: Alonso and Hamilton pit, as does Barrichello.
Lap 41: Raikkonen leads by 12.5s from Massa, Vettel, Alonso, Kovalainen and Hamilton. Rosberg pits.
Lap 42: Kovalainen and Heidfeld pit.
Lap 43: Raikkonen pits, Massa leads. Trulli pits, too. Button passes Barrichello.
Lap 44: Sutil pits.
Lap 45: Massa leads Vettel, Alonso, Raikkonen, Hamilton and Webber.
Lap 46: Kubica pits.
Lap 48: Webber pits. Fisichella moves over for blue flags and loses a place to Kubica.
Lap 51: Vettel pits, as does the lapped Nakajima.
Lap 56: Massa leads by 11.1s. Button pits.
Lap 62: Status quo at the front. Nakajima pits.
Lap 63: It starts to rain. Fisichella pits.
Lap 64: Heidfeld, Barrichello, Rosberg, Bourdais, Kubica and Sutil pit.
Lap 65: Kovalainen and Button pit.
Lap 66: Alonso, Raikkonen, Hamilton and Vettel pit.
Lap 67: Massa pits. He rejoins in the lead from Alonso, Raikkonen, Glock (still on dries), Hamilton and Vettel.
Lap 69: Vettel passes Hamilton. The Englishman drops to sixth. Massa now has the edge in the title race.
Lap 71: Massa wins by 13.2s from Alonso and Raikkonen. Glock slows in the increasing rain. Vettel and Hamilton pass the German and Hamilton recovers the point he needs to become the sport's youngest champion. Glock, Kovalainen and Trulli complete the top eight.