Brazilian GP 2008
NOVEMBER 1, 2008
Qualifying Report - Felipe chases the dream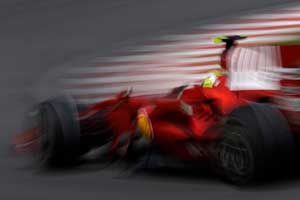 © The Cahier Archive
Felipe Massa took pole position for the Brazilian Grand Prix, giving the Brazilian fans the opportunity to use up soem of their energy cheering and dancing with joy. Felipe was in about as good a position as he could have hoped for. Second on the grid was Jarno Trulli, a man who qualifies brilliantly but often races with less vigour and enthusiasm. He tends to have cars queued up behind him and in recent years a concept known as "The Trulli Train" has developed with cars stuck behind Jarno for long periods. To make things even better for Felipe, his Ferrari team-mate Kimi Raikkonen was third on the grid and happy to play tail-end Charlie for Massa.
But when all was said and done Massa knew that all he could do was to win the race, for Lewis Hamilton to lose the World Championship will take intervention from others - or a mistake from Hamilton himself.
The other thing which seemed a little odd was that Massa was so far ahead of the rest. Taking pole by four-tenths of a second is quite an achievement in F1 these days and that suggested that Felipe is probably running with a very light fuel load. Lewis Hamilton's fourth place suggests that McLaren has a more conservative approach that will be less vulnerable to Safety Cars and other such disruptions. Lewis needs to finish fifth or better no matter what Massa does so a conseravtive approach is obviously the way to go.
So the joys of the fans may be seen again on Sunday but even a dominant win for Massa will guarantee him nothing.
"I am not thinking about the championship," he said. "I am thinking about winning the race. After that there is nothing that I can do. I am just concentraing on my job. The title is the dream for everyone. We are drivers. We love to do what we are doing. We drive to win and if you win then the dream comes true. My dream was always to become a Formula 1 driver. I can still not imagine if I can win the championship at home. I grew up in this area: on the other side of the wall at the kart track. The memories we have around here are so huge. It is nice to be back and remember all the poeple who saw you growing up and helped. They are here now together, praying and supporting me. It's a fantastic feeling. I know the track very well. I love to race here and I am always very competitive here."
For Lewis Hamilton there was obviously a mountain to climb, but he too seemed calm and collected.
"Its going to be a tough race," he said. "You need to look after your tyres here, but I am confident in our fuel strategy. OK, there are three guys in front of me, and our strategy could be good or bad for them. Of course Felipe needed to be on pole and Im not worried about that, all the best to him. I dont need to do anything spectacular. Theres no extra pressure on me. Starting fourth, if I finish there Im champion. But I think out strategy is quite good."
The logic was explained by Ron Dennis.
"There may be rain tomorrow - and, if there is, we may well see the deployment of the Safety Car," he said. "That being the case, it's possible that aggressive race strategies may be affected by those unpredictable variables. We've therefore opted for a race strategy that ought to allow us to protect against such interventions. Now, our focus is to avoid any trouble at the start, after which both our drivers should be in a position to put in strong, competitive performances."
So there you have it. McLaren is aiming for win the Drivers' title with Hamilton. To win the Constructors' title is a much harder target but there is no harm in trying for it without taking too many risks.
For the rests there was little hope of a victory unless something goes wrong for the big two teams (as it sometimes has this year). The two Toyotas were in the ballpark all weekend. Trulli was sick as a dog on Thursday but recovered well and his second place was a surprise. He said he had always believed that this was a track whether the TF108 would do well and he was right. Timo Glock was also well placed in 10th place, and looking like a man with a bit more fuel on board.
Fernando Alonso was sixth in his Renault and with Nelson Piquet 11th the team was in a decent place to add more points.
Scuderia Toro Rosso was looking strong as well with Sebastian Vettel in seventh place and Sebastien Bourdais ninth.
"Two cars in Q3 again is excellent," said the team's Giorgio Ascanelli. "Both drivers did a good job and the car, while not perfect is in reasonable shape. Obviously, we are on two very different strategies to cover all the options for tomorrow, because of the uncertainty concerning the weather. Therefore its equally obvious that the car on the fastest strategy is ahead of the other one. But definitely a very good job from the whole team."
There were fewer smiles down at BMW Sauber but Nick Heidfeld was happy enough to have been Robert Kubica, a rare thing these days.
Kubica struggled all weekend to find grip and was bemused as to what was going on. Nick was seventh and Robert 13th.
Red Bull Racing did pretty much what one would expect to see with Mark Webber a disappointed 12th and David Coulthard 14th in his last F1 outing.
The two Hondas were 15th and 17th with local hero Rubens Barrichello doing better than Jenson Button but neither being very delighted by the lack of pace of the cars. At the end of the session Button's car stopped out on the track and so a pitlane start must be considered a possibility.
Williams had a poor weekend and Nico Rosberg was embarrassed by Kazuki Nakajima (again). Kazuki ended up 16th with Rosberg 18th.
At the back were the two Force Indias with Giancarlo Fisichella this time managing to outqualify Adrian Sutil.
The stage was thus set for a good battle on Sunday. A strategic battle perhaps but one that is sure to keep everyone amused and excited.