Brazilian GP 2008
OCTOBER 31, 2008
Friday Team Quotes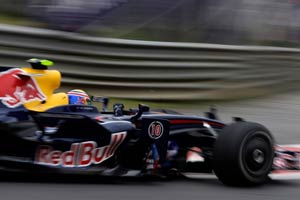 © The Cahier Archive
Ferrari
Felipe Massa (2nd, 1:12.353): "It might only be Friday, but it's important to get off to a good start on such an important weekend. We found a good set-up for the car, which seemed to be well balanced in both sessions. The track here offers a lot of grip and so, even with today's low temperatures, that was not a problem, especially given the tyres we have available to us here. My aim? To be in front of everyone, both tomorrow and on Sunday. Then we can do the maths when it's over. Racing at home, with the crowd on your side is a great motivation for me: it's a fantastic feeling, but difficult to put it into words."
Kimi Raikkonen (4th, 1:12.600): "It was a generally positive day for us, although it is still only Friday, which means it's too early to draw any definite conclusions. We worked through our usual programme and tried various settings on the car. The only difficulty was linked to the weather, with the rain coming down occasionally. My aim? To do my own race and help the team reach its objectives and I know what I have to do for that to happen. It will be a tough race on Sunday and you never know what could happen: we have to be prepared for every eventuality."
Stefano Domenicali, Team Principal: "I would say we can be satisfied with the work carried out today. It was important to get off on the right foot on the weekend that will decide the outcome of both world titles. First impressions seem positive, even allowing for the fact that an accurate assessment of the results of Friday practice involves several unknown factors. Furthermore, the weather, with some occasional drizzle, added a additional variable. Now we will concentrate on being as well prepared as possible for the rest of the weekend."
Luca Baldisserri, Head of Trackside Operations: "We have started this final round of the season in positive fashion. We got through our programme with both drivers, with no particular problems, which is always important. The F2008 seems to be competitive, both on the first timed lap and over a distance, on both types of tyre that Bridgestone has brought here. The only complication was the rain which, falling intermittently, sometimes complicated our work on track. Now we must prepare scrupulously and with great attention for qualifying and the race. The weather forecast is very uncertain, so we need to be ready to tackle changeable conditions, with all the unknowns that involves."
BMW Sauber
Robert Kubica (12th, 1:12.971): "This was a usual Friday and we finished our scheduled programme. We did some basic set-up work and evaluated the different tyre compounds. At the end of both the sessions there was drizzle in some of the corners. However, the few drops did not really influence the grip. We shall now analyse the data we collected today."
Nick Heidfeld (13th, 1:13.038): "After being really unhappy with the balance of the car in the first session, we improved it for the afternoon, but I still find the car difficult to drive. Because of the weather the programme was a little bit different to normal, but we have enough information to work on further improvements. The track isn't as good as it was after it was freshly resurfaced last year, but it is still far better than it used to be! I would say it is on the same level as other Grand Prix circuits."
Willy Rampf, Technical Director: "It was a normal first practice day. Although the light rain started at exactly the moment we did the tyre comparison, despite this we collected enough data for us now to be able to analyse. We presume the weather could give us some surprises throughout the whole weekend."
Renault
Fernando Alonso (1st, 1:12.296): "The day has gone well. We have been able to complete our programme without any problems and we have recorded lots of interesting data. We still need to work hard to improve the car in time for tomorrow, but I'm pleased with my day."
Nelson Piquet (7th, 1:12.703): "I did lots of laps today, which was what I wanted as I needed to find the limits of the circuit. The initial information we have is interesting, but the track was very slippery today and so I think I can still find some more speed and I can still improve the setup of the car with my engineers. But on the whole the result from this first day of practice is encouraging."
Pat Symonds, Executive Director of Engineering: "It was a typical Friday for us. We covered lots of laps and have been able to complete our usual programme, which included set-up work and tyre evaluation. The data looks encouraging, although the general balance of the car is not yet where we would like it to be."
Denis Chevrier, Engine Operations Manager: "We achieved our objective for today, which was to run as much as possible and to complete our technical programme. It's difficult to understand the pecking order from today's sessions, but we are satisfied with the work we've done and we're in a good position heading into the qualifying session tomorrow, which will determine the rest of our weekend."
Williams-Toyota
Nico Rosberg (8th, 1:12.761): "I think we've shown ourselves to be a little bit more competitive here than we have at other tracks. That doesn't necessarily mean we'll be further up the grid tomorrow, but we might be a little bit closer. We carried out some productive set-up work today which has given us some interesting results. In terms of tyres, it's pretty clear which way we'll go, which is positive as well. The direction we'll go with other variables like rear wing level will depend on the weather forecast and the likelihood of rain."
Kazuki Nakajima (10th, 1:12.886): "Today went quite well. We made some good progress on the set-up of the car, which is positive, but we still need to find some more performance as we have to improve before qualifying tomorrow."
Sam Michael, Technical Director: "A fairly standard day for us during which we worked through our scheduled tyre tests and set-up work for the race. There was a bit of light rain in the afternoon session which affected the long runs but only for ten minutes or so. We'll now spend the evening preparing for tomorrow's qualifying."
Red Bull-Renault
Mark Webber (5th, 1:12.650): "We had a pretty productive day. I was happy with the car quite early on in the session as we got the balance right, which is always a good start. Getting on top of the tyres is not easy and we had quite changeable conditions, but overall that was a good start to the weekend."
David Coulthard (11th, 1:12.896): "There were changeable conditions out there. It was spitting with rain in the second session, so we took the decision to run a fresh set of tyres early on, just in case it rained towards the end. We haven't achieved the ultimate lap time, but I think we made progress during the day to stabilise the car."
Toyota
Jarno Trulli (3rd, 1:12.435): "I was ill with the flu yesterday so I took the time to rest in order to help me recover. Today I have been feeling better and I was able to drive with no problems. We had a good Friday session in general, going through the set-up work and looking at tyre choice for the race. We worked on balancing the car and we had some success. We still have some areas to improve but in general I'm happy and we have shown a good level of competitiveness so far. It's only Friday and ideally we would like higher track temperatures but all in all this has been a good day."
Timo Glock (14th, 1:13.041): "It was a pretty difficult day for me. This is one of the races I did for Jordan in 2004 so I have experience of this track. That was a tricky race for me but the track surface is not as bumpy this year. Still, the car felt a bit strange so it's hard to understand where we are at the moment. We will have to analyse the data and see what we can do to make it right for tomorrow. Hopefully we can find a good direction, otherwise I will hope for rain! Whatever the weather, we should aim to make the points again as we did in China."
Dieter Gass, Chief Race Engineer: "We can be pleased with today's two sessions, which were trouble-free from a technical perspective. We smoothly ran through our programme and gained a clear picture over what we will do for the rest of the weekend with the tyres. We still have some work to do on the car balance, especially for Timo, who is struggling mainly with the braking. So that's something we have to look into overnight to give him a better balance for tomorrow. But overall this is a good start to the weekend and we are looking forward to a strong performance in the final race of the season."
Toro Rosso-Ferrari
Sebastian Vettel (6th, 1:12.687): "Free practice was mainly dry, but conditions were tricky in the drizzle: you would see the drops on your visor and wouldn't know how far you could go. We made a big step, improving the car from the morning to the afternoon. I think here it will be quite tricky to get the tyres working well over a long run and you could see several people struggling with that. Towards the end, you could see the grooved tyres become slick tyres, so maybe we're already getting ready for 2009!"
Sebastien Bourdais (17th, 1:13.273): "I know this track from having raced here in F3000 in '01 and '02 and it's less bumpy now, although it still seems to have quite a slippery surface, especially when we had a bit of rain. Those conditions made it a bit difficult to evaluate how the car was reacting and how the track was evolving and therefore it was tricky to assess whether any performance gains came from changes on the car or on the track surface. Generally, it's been a decent day, even if I didn't get the balance right on the Option tyre. Most of the day me and Seb were fairly evenly matched until the big gap came when I made a mistake on one quick lap at the last corner. But we have plenty of data to analyse to prepare ourselves for the race."
Honda
Rubens Barrichello (16th, 1:13.221): "It's a real pleasure for me to be racing at Interlagos this weekend, especially in front of the Brazilian fans and my family. We had two straightforward practice sessions with no real issues today however, as we expected, the car is lacking performance. We will do our best to maximise the data that we were able to achieve today but it will be a big ask to progress into Q2 tomorrow."
Jenson Button (18th, 1:13.341): "It's been a busy day and the conditions have provided some challenges with light rain in both sessions. Our main focus was trying to get the option tyres to work. Everyone seems to be having a problem with graining on the options so we tried various things to improve their performance over one lap and the long runs. I had an electrical problem this morning which cost me some time and set-up work, however with the information that we gathered this afternoon, we have plenty of data to help us move forward before tomorrow."
Steve Clark, Head of Race & Test Engineering: "It has been quite cold today, along with intermittent bouts of light rain, so the weather has certainly impacted upon the programme. The level of grip has been variable and the track did not evolve through the day as we would usually expect. The tyres were also graining and this combination of factors means we have to be very careful analysing the changes we have made to the car during the two sessions. The forecast is for hotter conditions on Sunday and that is likely to improve the performance of the tyres."
Force India-Ferrari
Adrian Sutil (19th, 1:13.428): "We didn't have any problems today so we could get through our schedule as planned. I was quite happy with my performance and we can see how the tyres are working now. The soft ones seem to be better compared to the medium tyre at the moment. We'll study the data and work on it for tomorrow."
Giancarlo Fisichella (20th, 1:13.691): "The whole day we struggled with the grip, when it was dry or wetter. We seem to have problems in particular with graining, even after a couple of laps. My speed on the straight is also relatively low, which means we aren't able to take advantage of the long straight. At the moment we don't know why or what the problem is but we have another practice tomorrow before qualifying so we'll try and get it better for that."
Mike Gascoyne, Chief Technical Officer: "A normal first day with no real mechanical issues on either car. Both drivers were able to run through their programmes of set up and evaluating the tyres. On the longer runs we had a lot of graining on the tyres and understeer, but overall a productive day to set us up for the weekend."
McLaren-Mercedes
Lewis Hamilton (9th, 1:12.827): "Our car was blindingly quick this morning despite the cold weather, which made the track feel quite slippery. This afternoon we focused on our race pace - but we were interrupted by the threat of rain and the changeable wind direction. I flat-spotted my tyres on a couple of runs, but I'm positive that the changes we've made will put us in a good position for tomorrow."
Heikki Kovalainen (15th, 1:13.213): "A decent Friday practice session and we now have a good understanding of tyre performance following our comparison work and evaluation. We were fine-tuning the balance of the car all the time and the outcome makes me happy, although this isn't reflected in the fastest lap times. So we've found a good baseline to work on for the rest of the weekend."
Ron Dennis, Team Principal: "Today was a slightly tricky day for many of the teams - with graining, particularly of the option tyre, a particular problem with the less-than-optimal track temperatures caused by the inclement weather conditions. In fact, we suspect that some teams may have dropped their fuel loads in an effort to nullify that problem, but we didn't. Instead we adhered to a disciplined programme, all the while assessing our raceable options. We made steady progress with our understanding of the available downforce levels, tyre choices and brake materials, and we feel confident that the lessons we learned today will pay dividends on Sunday."
Norbert Haug, Mercedes Motorsport Director: "This (was) certainly not one of the better 2008 Friday's rankings for McLaren Mercedes. But I doubt whether today's order represents Sunday's competitive situation. We had a conservative approach to the afternoon session to simulate extremes that can take place during the race on Sunday. But of course we still have to optimise both cars. I am confident we can qualify tomorrow in positions that enable us to score the necessary points on Sunday."