Brazilian GP 2007
OCTOBER 21, 2007
Race Incidents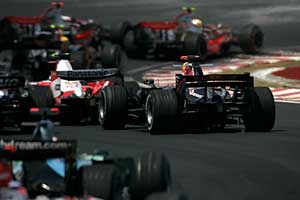 © The Cahier Archive
* Pre-race: Adrian Sutil does not appear on the grid. He'll start from the pits.
* Lap 1: On pole for the sixth time this year - and the second consecutive season in Brazil - Felipe Massa leads cleanly into Turn One. Kimi Raikkonen gets the jump on Lewis Hamilton - as does Fernando Alonso at the bottom of the Senna S. Hamilton attempts to retaliate at Turn Four but runs wide and drops to eighth. Mark Webber moves up to fourth ahead of Robert Kubica, Nick Heidfeld, Jarno Trulli, Hamilton, Nico Rosberg, David Coulthard, Rubens Barrichello, Sebastian Vettel, Takuma Sato, Jenson Button, Giancarlo Fisichella, Kazuki Nakajima, Anthony Davidson, Sakon Yamamoto, Ralf Schumacher (who collided with Heikki Kovalainen at the first turn, sending the Finn off the track) and Sutil. Kovalainen pits for repairs - as does Tonio Liuzzi who also sustained first-lap damage. Massa leads by 0.8s.
* Lap 2: Massa leads by 0.6s. Hamilton passes Trulli. Yamamoto slams into Fisichella. Both cars retire to the pits.
* Lap 5: Raikkonen posts a 1m14.165s to close to within 0.6s of the leader.
* Lap 7: Hamilton passes Heidfeld as the German runs wide at Turn One.
* Lap 8: Hamilton slows to a crawl, then picks up speed again... He slumps to 18th. Kubica passes Webber.
* Lap 9: Massa laps in 1m13.909s. Barrichello serves a drive-through for jumping the start.
* Lap 11: Massa goes faster again: 1m13.887s. He leads by 1.8s. Hamilton passes Barrichello.
* Lap 12: Hamilton passes Sutil.
* Lap 13: Button and Nakajima pass Sato.
* Lap 14: Another fastest lap to Massa: 1m13.118s. Sato repasses Nakajima.
* Lap 15: Both Ferraris are in the 1m13.0s... and 0.7s apart. Webber pulls off to retire. Hamilton passes Schumacher, Davidson and Sato. Nakajima repasses Sato again, too.
* Lap 17: Massa posts a 1m12.954s. Hamilton passes Nakajima: he's now 11th.
* Lap 18: Massa clips his best to 1m12.932s.
* Lap 19: Massa extends his lead to 2.1s. Kubica pits. On a clear track, Hamilton is running at a similar pace to the leaders.
* Lap 20: Massa pits. Raikkonen leads - and sets a new fastest lap, 1m12.665s.
* Lap 21: Raikkonen pits. Alonso leads. Button pulls off.
* Lap 22: Alonso, Trulli, Vettel, Hamilton, Davidson and Sutil pit. Hamilton is the only one to opt for super-soft tyres. Massa leads.
* Lap 23: Rosberg and Coulthard pit. Sutil hits Davidson at Turn One and both cars spin.
* Lap 24: Davidson pits... and is delayed behind team-mate Sato, a lap ahead.
* Lap 25: Heidfeld and Sato pit.
* Lap 26: Sutil pits. He remains stationary for a while, pits again one lap later and eventually rejoins for a while.
* Lap 29: Hamilton passes Barrichello to take 12th.
* Lap 30: Barrichello and Liuzzi pit.
* Lap 31: Nakajima pits and knocks down two crew members.
* Lap 33: Kubica passes Alonso. Hamilton passes Vettel. Schumacher pits.
* Lap 34: Massa leads by 2.5s. Kubica is another 20.5s adrift in third. Vettel pits to retire.
* Lap 36: Hamilton is back in for softs. Kovalainen crashes.
* Lap 38: Kubica pits.
* Lap 40: Barrichello pits in a cloud of smoke.
* Lap 42: Coulthard pits. Hamilton is eighth.
* Lap 43: Trulli pits.
* Lap 44: Massa runs wide and loses two seconds. The gap is 0.7s. Sato pits.
* Lap 48: The gap at the front is 1.5s. Alonso is almost 40s adrift in third.
* Lap 50: Massa pits for super-softs. Raikkonen leads.
* Lap 51: Heidfeld pits.
* Lap 52: Alonso pits.
* Lap 53: Raikkonen peels in... and resumes in the lead.
* Lap 54: Raikkonen leads by 1.9s. Rosberg pits, as does Liuzzi.
* Lap 56: Hamilton pits.
* Lap 57: Kubica pits.
* Lap 58: Hamilton laps in 1m12.506s - the race's fastest yet.
* Lap 61: Rosberg tries to pass Heidfeld at Turn One, sending both of them wide. Kubica passes both. Coulthard spins while trying to pass Nakajima. Nakajima and Schumacher pit. Hamilton is about 22s away from the fifth place he needs, with 10 laps to go.
* Lap 63: Trulli pits. Hamilton moves up to seventh.
* Lap 66: Raikkonen laps in 1m12.445s. Rosberg and Kubica cross the line as one...
* Lap 67: ...and come within inches of a collision at Turn One. Kubica stays ahead - just.
* Lap 69: Rosberg passes Kubica at Turn One.
* Lap 71: Raikkonen wins the race by 1.4s - and with it the championship. His team-mate Massa comes second with Alonso a distant third. Rosberg finishes fourth, Kubica fifth and Heidfeld sixth. Hamilton is seventh - and second in the world title race, beating Alonso on a countback. Trulli takes the final point. Raikkonen becomes Formula One's third championship-winning Finn, after Keke Rosberg (1982) and Mika Hakkinen (1998/99).