Brazilian GP 2007
OCTOBER 20, 2007
Qualifying Report - Massa on pole, Lewis poised for the title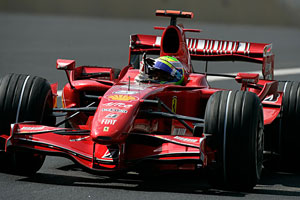 © The Cahier Archive
There was much interest in the qualifying for the Brazilian GP although the Interlagos track means that overtaking is possible in the race and so the grid is not necessarily as important as it is at other races of the year. Things got under way at a warm and sunny Interlagos and there soon something for the locals to cheer as Felipe Massa ended the Q1 session as the fastest driver in his Ferrari. Fernando Alonso was next up for McLaren with a time that was more than half a second slower than the Brazilian.
Kimi Raikkonen was third, just ahead Lewis Hamilton. The fight was going to be between the big four.
It was interesting to see the pace of Mark Webber who was right up with Hamilton as was Robert Kubica's BMW. The top 10 was completed by David Coulthard, Jarno Trulli, Nick Heidfeld and Giancarlo Fisichella. There was bad news for Renault with Heikki Kovalainen missing the cut along with Takuma Sato, Kazuki Nakajima, Anthony Davidson, Adrian Sutil and Sakon Yamamoto. The only incident of note was Sutil pulling off with a mechanical problem.
In Q2 Raikkonen and Hamilton were leading the way with Massa and Alonso suddenly behind them and Robert Kubica joining the party. These five were sufficiently confident that they had done enough that they did not venture out again leaving 11 drivers to scrap for the remaining five places. It was a classic qualifying scramble with small mistakes being heavily punished. In that scramble it was Mark Webber who emerged at the front to grab the sixth slot ahead of Nico Rosberg, Jarno Trulli, David Coulthard and Nick Heidfeld.
It was close but knocked out were Rubens Barrichello, Giancarlo Fisichella, Sebastian Vettel, Tonio Liuzzi, Ralf Schumacher and Jenson Button.
And so to Q3 with Felipe Massa looking suddenly like the man to beat, an indication perhaps that he was on a different fuel strategy to the others. Massa was well clear until the final minutes. He had taken his best time down to 1m11.931s. That was not going to be beaten by anyone.
Or that was how it seemed until Lewis Hamilton set off on his final run. He was slower in the first sector but quicker in the second and as he swept across the finish line the clocks stopped with Felipe one and a half tenths clear. It was clear by then that Hamilton was going to be a safe second as Fernando Alonso was slower through the split times and Kimi Raikkonen slowed down dramatically in the first part of the lap indicating that he had either made a mistake or had a technical problem.
The Brazilians began to celebrate as the others came across the finish line to complete their runs with Raikkonen holding on to third thanks to his earlier laps and Alonso a rather disappointing fourth. But what was his fuel load?
Fifth was a good effort from Mark Webber who put his Red Bull ahead of Nick Heidfeld and Robert Kubica in their BMW Saubers, Jarno Trulli's Toyota, the Red Bull of David Coulthard and Nico Rosberg's Williams-Toyota.
"It is a fantastic feeling to be back in Brazil in front of my own people and to take pole position is fantastic."
Felipe admitted that he had made a small mistake on his final lap and was a bit worried that he would be beaten but when Hamilton crossed the line the crowds went wild.
Hamilton was delighted as well. He might not be on pole but he was two places ahead of his major championship rival and that was fine by him.
"It was very close," he said. "I really enjoyed the qualifying session. We seem to have a very good pace and the tream did a good job getting us in a good space. I lost a bit of time in the last corner. I did not want to lose what I had up to that but I lost a tenth. It was close to a perfect lap and I am very very happy. I am just buzzing really. I am excited. I feel very relaxed. I love the circuit. The food is great. The fans are extremely enthusiastic. I have seen quite a few British flags out of there and I am hapoy to see I have some support."