Belgian GP 2016
AUGUST 27, 2016
Qualifying Report - Points Position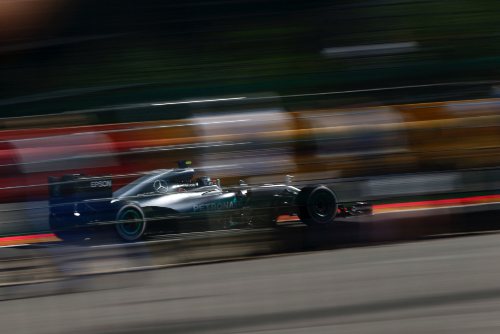 © Active Picturres
By Dan Knutson in Spa-Francorchamps
By winning the pole position for the Belgian Grand Prix, Nico Rosberg put himself in position to grab a lot of points in the race in which his Mercedes teammate Lewis Hamilton, who has a 19 point lead in the world championship, will have to start at the back of the grid after penalties because he is using a new engine.
The ambient temperature at the start of qualifying was 88 degrees Fahrenheit (31 degrees Centigrade) and the track temperature was 106 degrees Fahrenheit (41 degrees Centigrade.)
The line-up for the weekend was: Mercedes - Lewis Hamilton and Nico Rosberg. Ferrari - Sebastian Vettel and Kimi Raikkonen. Williams Mercedes - Felipe Massa and Valtteri Bottas. Red Bull TAG Heuer - Daniel Ricciardo and Max Verstappen . Force India Mercedes - Nico Hulkenberg and Sergio Perez. Renault - Kevin Magnussen and Jolyon Palmer. Toro Rosso Ferrari - Daniil Kvyat and Carlos Sainz. Sauber Ferrari - Marcus Ericsson and Felipe Nasr. McLaren Honda - Fernando Alonso and Jenson Button. Manor Mercedes - Pascal Wehrlein and Esteban Ocon. Haas Ferrari - Romain Grosjean and Esteban Gutierrez.
QUALIFYING 1
Q1 lasted 18 minutes, but with a lap taking nearly two minutes, the drivers would not be making very many runs. They also had to be careful of exceeding track limits at Turn 4 - Eau Rouge - because that lap time would be deleted.
Vettel and Raikkonen put their Ferraris out in front in the early going. Ericsson was 16th and just above the cut line with six minutes to go.
Things did not go well for Alonso who had to park his McLaren on the inside of Turn 4.
Hamilton, who will start the race at the back of the grid, did one slow lap and pitted as he had no need to put any mileage on the car.
With just two minutes remaining, it was Kvyat in 16th and on the bubble because a number of drivers were out on track putting in their fast laps. Sure enough, the order got bounced around. When it was over, Massa was quickest.
The six drivers who were eliminated at the end of FP1 were: Nasr, Ocon, Kvyat, Ericsson, Hamilton and Alonso. Two world champions knocked out, therefore, but not by anything they did but rather car woes.
The fastest 16 drivers who moved on to Q2 were: Massa, Vettel, Raikkonen, Rosberg, Hulkenberg, Perez, Verstappen, Ricciardo, Wehrlein, Bottas, Button, Gutierrez, Grosjean, Magnussen, Sainz and Palmer.
QUALIFYING 2
Q2 lasted 15 minutes, so the drivers had even less time to play with. Rosberg and Wehrlein headed out early while the other 14 drivers remained in the pits for a short while.
Rosberg used Pirelli's soft compound tires to clock a 1:46.999. The top 10 drivers on the grid for the race would start the race with the tires they used to set their fastest lap time in Q2. So Rosberg, Ricciardo and the Ferrari drivers opted for the soft rather than the super soft, as it would have better tire life in the race.
Verstappen, however, used the super softs to go into second place with a lap of 1:47.163.
With four minutes remaining, Magnussen was 10th and on the cut line, but several drivers had yet to do their flying laps. He soon got dropped out of the top 10, and now Gutierrez was on the bubble with Ricciardo 10th and Button 11th.
In the final seconds Button grabbed 10th
The six drivers who were eliminated at the end of FP2 were: Grosjean, Magnussen, Gutierrez, Palmer (14th - his best qualifying of the year), Sainz and Wehrlein.
The fastest 10 drivers who moved on to Q3 were: Rosberg, Verstappen, Hulkenberg, Perez, Raikkonen, Massa, Bottas, Vettel, Ricciardo and Button.
QUALIFYING 3
Q3 last 12 minutes. All the drivers, of course, were using the super soft slicks. And all but Massa and Button headed out immediately.
Bottas set the first time - 1:47.612, but Perez beat that with a 1:47.481. Then Rosberg clocked a 1:46.744 and Verstappen slotted into second while Ricciardo was way down in seventh. Raikkonen slid wide into a gravel trap and was now eighth.
So the order was: Rosberg, Verstappen, Vettel, Perez, Hulkenberg, Bottas, Ricciardo and Raikkonen with four minutes to go.
Now Massa and headed out for their first runs. And soon the rest would try their second fast lap. All 10 were soon on track.
Ricciardo moved up to third place only to be demoted by Raikkonen and Vettel.
So Rosberg held on to the pole, while local hero Verstappen lined up second. Raikkonen, Vettel, Ricciardo, Perez, Hulkenberg, Bottas, Button and Massa rounded out the top 10.