Belgian GP 2016
AUGUST 27, 2016
Practice 3 Report - Eau Rouge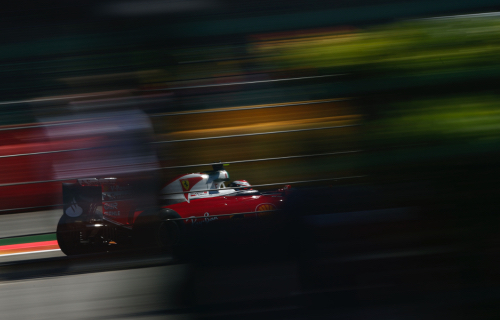 © Active Pictures
By Dan Knutson in Spa-Francorchamps
Eau Rouge is the name of the fabulous corner at Spa that is located near the river called Eau Rouge because its water looks red because of the red rocks it runs over. In Free Practice 3, it was all about red as well, with the red Ferrari of Kimi Raikkonen out in front, and the Red Bull of Daniel Ricciardo second quickest ahead of the red Ferrari of Sebastian Vettel. And they set their times using Pirelli's super soft compound tires with the red sidewalls.
The ambient temperature at the start of the 60-minute session was 84 degrees Fahrenheit (29 degrees Centigrade) and the track temperature was 86 degrees Fahrenheit (30 degrees Centigrade.)
The line-up for the weekend was: Mercedes - Lewis Hamilton and Nico Rosberg. Ferrari - Sebastian Vettel and Kimi Raikkonen. Williams Mercedes - Felipe Massa and Valtteri Bottas. Red Bull TAG Heuer - Daniel Ricciardo and Max Verstappen. Force India Mercedes - Nico Hulkenberg and Sergio Perez. Renault - Kevin Magnussen and Jolyon Palmer. Toro Rosso Ferrari - Daniil Kvyat and Carlos Sainz. Sauber Ferrari - Marcus Ericsson and Felipe Nasr. McLaren Honda - Fernando Alonso and Jenson Button. Manor Mercedes - Pascal Wehrlein and Esteban Ocon. Haas Ferrari - Romain Grosjean and Esteban Gutierrez.
Gutierrez was the first driver out and the first to set a time - 1:49.923 - which his teammate Grosjean beat with a 1:49.676.
Gutierrez also drew the wrath of Wehrlein, who believed that the Haas driver got in his way. Wehrlein had to move onto the grass to get by. "Idiot!" Wehrlein radioed. "Even if it's just free practice that should get a penalty. Unbelievable!"
The stewards said they would investigate the incident after the race.
Meanwhile Rosberg topped the times with a 1:48.880.
Several drivers including Bottas and Hulkenberg did runs on the super soft Pirellis tires, but they could not beat Rosberg's time. Others didn't even bother to go out and set a lap time in the first 20 minutes.
The fans, of course, were ready to cheer for Verstappen, but his car was undergoing repairs in the Red Bull garage.
FP3 was 25 minutes old when Vettel went out on the super soft compound slicks and grabbed first place with a lap of 1:48.502. Moments later Raikkonen beat that with a 1:48.406.
Hamilton and Rosberg were running the soft compound tires at this stage and not worrying about fast laps. Hamilton would have to start the race from the back of the grid because of various engine change penalties.
Vettel was worrying about the Renault Magnussen of who blocked him.
"What an idiot, honestly. What an idiot. It's called free practice, who gives a ****," Vettel radioed.
Once again the stewards announced that they would investigate after the race.
Ricciardo was not blocked when he turned a 1:48.189 to grab first place with 25 minutes remaining in the session. His teammate Verstappen remained stuck in the garage.
With about 15 minutes to go, Massa moved into fourth behind Ricciardo, Raikkonen and Vettel.
Hamilton continued to work on his race set-up and was doing long runs. He was one of the few drivers on track with 10 minutes remaining in FP3. One of the guys out there was Ricciardo who was on the super softs again. But it was a used set so he was unable to improve his lap time.
Next, Raikkonen headed out on the super softs. His lap of 1:47.974 was 0.215 of a second faster than Ricciardo's.
Now, with five minutes remaining, it was Vettel's turn along with just about everybody else as most drivers were now on track.
Rosberg was finally on the super softs, and his first lap was only sixth quickest. Hamilton got up to fifth on the same tires.
And so FP3 ended with Raikkonen in front and Ricciardo second. Vettel, Bottas, Hamilton, Hulkenberg, Rosberg, Massa, Perez and Grosjean rounded out the top 10.