Belgian GP 2012
SEPTEMBER 3, 2012
Race Report - Button dominates Spa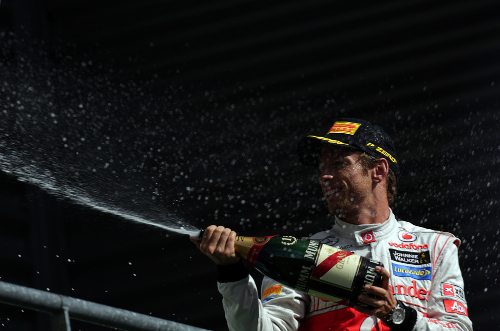 © The Cahier Archive
Jenson Button took a lights to flag victory in a Belgian GP that saw championship leader Fernando Alonso's amazing run of points finishes brought to an end by a first corner accident.
The short run to Spa's La Source hairpin is always 'busy' and today it was very busy. Pastor Maldonado could have been considered unfortunate to receive a three-place grid penalty for impeding Nico Hulkenberg in Q1 but there was no doubt about his culpability at the start.
The Venezuelan appeared to attempt making back those three slots before the lights had gone out, earning a shake of the head from the FIA's somewhat bemused Charlie Whiting on the starting gantry as well as a Monza penalty for that and a separate incident with Timo Glock upin the restart (see separate story)
Maldonado's optimism meant that he was clear of the landing zone when Romain Grosjean, starting eighth, got a strong getaway before moving over on Lewis Hamilton's McLaren.
Hamilton was already in hot water for tweeting an overlay of his and Button's qualifying laps, which gave away a considerable amount of McLaren data for which rival engineers were grateful! Now, his day went from bad to worse as his race lasted no longer than Turn 1.
Of even more significance to the championship picture was Grosjean cannoning into Alonso's Ferrari as he came down, the Spaniard fortunate to escape serious injury as the vulnerability of drivers' heads in exposed cockpits was clearly demonstrated once more. Alonso looked a little unsteady as he was helped from the Ferrari but escaped with a sore shoulder.
"The pain is only from whiplash," Alonso confirmed. "I had no idea what happened. I had overtaken the two Saubers when I felt as if I had been run into by a train!" For the first time since Montreal last year, when Button took him out, Alonso failed to score points.
The start chaos was a disaster for Sauber, who had Kamui Kobayashi on the front row and Sergio Perez on the second row after their best ever qualifying performance. The Mexican was eliminated straight away and Kobayashi pitted at the end of the lap with a damaged C31 and was back seven laps later with a slow puncture.
"It's very dsappointing that factors beyond our control have ruined another race," said Monisha Kaltenborn.
When the dust settled the order behind the deployed Safety car was Button; Raikkonen, the Force Indias of Hulkenberg and Di Resta (from 11th and ninth on the grd respectively!); Schumacher; Ricciardo; Vergne; Webber; Senna; Kovalainen; Massa; Vettel; Rosberg.
When the official car pulled off after four laps, it was clear that Button's McLaren had the pace to win, helped by Hulkenberg jumping Raikkonen's Lotus which, in high downforce trim, struggled for straightline speed at the end of the long run up to Les Combes.
Button's lead was 2.8s at the end of lap 5 and went out to 3.6, 4.6, 5.2, 5.6 and 6.3 on successive laps.
The question was always going to be about whether or not the leading contenders could make a one-stop race work. There had been evidence of inside shoulder blistering in Saturday morning practice but Button, under no undue pressure, was able to baby the tyres through the twisty second sector where he was most likely to be hurt by a low doenforce set-up.
When Jenson took his opening set of option tyres to lap 20 of the 44 it was pretty clear that a one-stop was likely to work for him and he was comfortable.
Sebastian Vettel, after a fine race, adopted a similar approach to take a second place with which he was more tahn happy, having started 10th.
The Red Bulls were quick at the top of Eau Rouge but ran up against the rev limiter on the run to Les Combes, compromising their ability to both attack and defend.
Vettel, however, was dynamite on the brakes into the chicane at the end of the lap, where he was able to despatch a number of rivals, including team mate Mark Webber.
Having missed out on Q3, Vettel had also been able to start the race on new Pirelli medium (option) tyres, which meant he was able to run as far as half distance before pitting.
By that stage he was perhaps fortunate not to have lost his front wing in a battle with Michael Schumacher at the chicane, which the stewards investigated. Vettel attempted to go around the outside of his childhood hero but as Michael locked up in defence, Sebastian jinked back outside in an attempt to get a better exit onto the straight, but was somewhat bemused as Schumacher cut across his bows to enter the pitlane.
"It was just a misunderstanding, nobody's fault," Vettel said, endorsing the stewards' ultimate decision to take no further action."
Once clear, Vettel demonstrated strong pace and came home to collect 18 points, putting him back second in the championship and within a single victory of Alonso's 164 point total.
A keenly contested battle between the two-stoppers for the final podium place involved Raikkonen, Hulkenberg and Webber, but the Australian, in trouble for straightline speed, had to cede a place to Felipe Massa's Ferrari and could manage only sixth.
"I think Mark would have been very quick in clear air," Red Bull team principal Christian Horner said, "but he was in traffic for most of the race."
In the end the place went to a delighted Hulkenberg who achieved his best F1 finish in the Force India.
Team mate Paul Di Resta was also impressive in claiming the final point after starting the race with a non-working KERS -- a big penalty at Spa.
Schumacher had to abandon a potential one-stop race and eneded up with a seventh place on the occasion of his 300th start, while Jean-Eric Vergne won the battle of the Toro Rossos, which finished eighth and ninth.
Alonso's misfortune meant that the title battle closed up, Fernando on 164 points, from Vettel, 140, Webber, 132, Raikkonen, 131; Hamilton 117 and Button 101.
But, as Fernando said, it could have been worse: "We lost a bit of the advantage we had over Vettel, Webber and Raikkonen, but we have lost nothing to Hamilton who, given how McLaren went, is possibly our most dangerous rival."
Although Button's performance was excellent all weekend, it means that any thoughts of him assisting a Hamilton title challenge will have to go on the back burner for now...