Belgian GP 2012
SEPTEMBER 2, 2012
Race Notes - Button victorious at Spa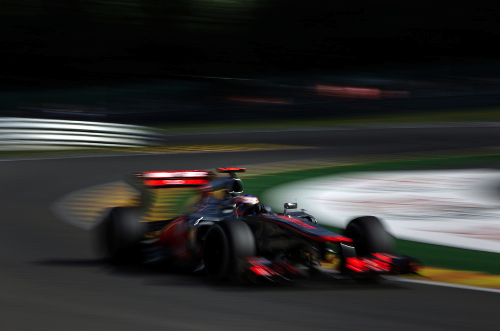 © The Cahier Archive
Jenson Button won the the 2012 Belgian Grand Prix at Spa-Francorchamps in a McLaren-Mercedes, flag-to-flag from pole position, after escaping a dramatic first corner incident which took out many front runners. Sebastian Vettel came in second at 13.624 behind the winner in his Red Bull-Renault followed by Kimi Raikkonen in his Lotus-Renault at 25.334.
The incident on the first lap was caused by Romain Grosjean veering to the right, and making contact with Lewis Hamilton's McLaren on the approach to La Source. This led to a chain reaction which took out Grosjean, Hamilton, Fernando Alonso and Sergio Perez, and provided some drama as Grosjean's Lotus-Renault came flying over the top of Alonso's Ferrari. Hamilton confronted the Lotus driver after the crash before proceeding back to the garage carrying a piece of his McLaren-Mercedes' front wing with him.
Jenson Button dominated the race from start to finish after switching to a one-stop strategy after the initial safety car period, and finished the race in 1h29:08.530. Raikkonen was followed by Nico Hulkenberg in his Force India-Mercedes, Felipe Massa in his Ferrari and Mark Webber in his Red Bull-Renault in sixth. Michael Schumacher finished seventh in his Mercedes, Jean-Eric Vergne was eighth in the Toro Rosso-Ferrari, Daniel Ricciardo finished ninth in his Toro Rosso-Ferrari, and Paul Di Resta rounded-out the top ten in his Force India-Mercedes.
As a result of the first lap incident, the gaps in the World Championship standings after the twelfth round have tightened-up considerably behind leader Alonso. He remains at 164 points, but is now followed by Vettel at 140, Webber at 132, Raikkonen at 131, Hamilton at 117 and Button jumping up to 101 points after the win. Red Bull-Renault continues to lead the Constructors championship at 272 points, followed by McLaren-Mercedes at 218, Lotus-Renault at 207 and Ferrari at 199.
Button's win is the 14th of his career, and his second in the 2012 season.