Belgian GP 2011
AUGUST 28, 2011
Race Notes - Red Bull 1-2 as Vettel wins at Spa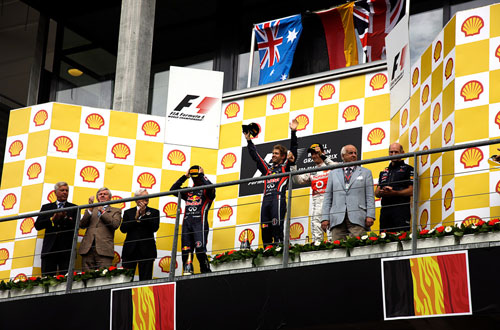 © The Cahier Archive
Sebastian Vettel won the Belgian Grand Prix at Spa today in his Red Bull-Renault, 3.7 seconds ahead of his team mate Mark Webber. Jenson Button charged up through the field to finish in third place in his McLaren-Mercedes, 9.6 seconds behind.
The victory is Vettel's 17 career win, and his seventh this year. Vettel now extends his championship lead to 92 points over his team mate Webber. Red Bull-Renault continues to dominate the constructors' championship, 131 points ahead of McLaren-Mercedes. Lewis Hamilton was out early after coming together with Kamui Kobayashi while passing the Sauber, ending up in the barriers.
Fernando Alonso, after challenging Vettel earlier in the race on soft tyres, faded during the final stint on the harder tyres, falling back to fourth place in his Ferrari, 13.0 seconds behind the winner. He was followed by Michael Schumacher (47.4s), celebrating 20 years since his first F1 start, came from last place on the grid to finish fifth in his Mercedes GP, his team mate Nico Rosberg finished sixth, Adrian Sutil (59.7s) in the Force India-Mercedes finished seventh, Felipe Massa (66.0s) in the second Ferrari was eighth, Vitaly Petrov (71.9s) in the Renault finished ninth, Pastor Maldonado (77.6s) finished in the Williams-Cosworth in the final points paying position.
With very little dry running during the weekend there were concerns before the start about the condition of the tyres blistering on the top ten runners, who will start on the same soft compound tyres they qualified on. The soft tyres estimated to be 1.2 seconds quicker than the medium compound tyres.
Cloudy skies before the start - there was some speculation that there might be some rain at some point during the race.
Button and Schumacher starting on the medium tyres, the rest of the runners on the soft tyres.
At the start, Rosberg's Mercedes smoking, Webber gets a slow start, Vettel takes the lead, Rosberg rockets into second on the first corner with a lot of minor contact in the pack behind - Rosberg passes Vettel on the long straight to Les Combes. Alonso up to fifth.
Jamie Alguersuari pulls off with damage from contact at the first corner.
At the end of the first lap, Rosberg leads from Vettel, Massa, Hamilton, Alonso, Sebastien Buemi, Sergio Perez, Webber, Kobayashi and Petrov.
On lap 2 Alonso passes Hamilton into Les Combes to take fourth place. Bruno Senna pits. Schumacher up to 13th place.
On lap 3 Vettel passes Rosberg for the lead into Les Combes.
On lap 4 Webber pits for medium tyres, Button pits for a new nose and rejoins 19th. Alonso pushes his team mate. Massa challenges Rosberg.
On lap 5 Alonso forces his way past Massa. Hamilton takes advantage and gets by Massa.
On lap 6 Vettel pits from the lead for another set of soft tyres - he rejoins in seventh. Perez pits as well. Buemi limps around with a broken rear wing and pits at the end of the lap.
On lap 7 Alonso passes Rosberg in the DRS zone to take the lead. Hamilton complains that his front tyres are starting to blister. Hamilton pressuring Rosberg.
On lap 8 in the DRS zone on the run to Les Combes Hamilton passes Rosberg for second place. Vettel passes Kobayashi for fifth place.
On lap 9 Alonso pits from the lead for soft tyres. Alonso rejoins in front of Webber, who passes Alonso into Eau Rouge - the two nearly touching. Vettel sets fastest lap at 1m53.9 seconds. Senna serves a drive-through penalty for the first corner incident.
On lap 10 Massa pits. Alonso passes Webber in the DRS zone to take seventh place. Hamilton pits from the lead the next lap - Vettel retakes the lead, complaining to the team about blistering.
At lap 10 Hamilton leads Vettel by 0.7 seconds, followed by Rosberg (1.3s), Kobayashi (7.9s), Petrov (8.2s), Alonso (8.4s), Webber (9.0s) Sutil (10.7s), Paul di Resta (14.1s) and Maldonado (15.5s) in tenth place.
On lap 11 Alonso charging up the order, passing Petrov and Kobayashi. Rosberg pits from second place. Webber passes Kobayashi. Alonso sets fastest lap at 1m53.3s. The next lap Hamilton passes Petrov. Petrov pits.
On lap 13 Hamilton passes Kobayashi in the DRS zone, Kobayashi comes back as Hamilton cuts back across the track - the two touch in the braking zone and Hamilton spears into the outside barrier - he gets out of the car, his day is done.
The safety car is deployed. Vettel, Sutil, Barrichello, Schumacher and Button, Daniel Ricciardo, Jarno Trulli and Jerome d'Ambrosio all pit. Kobayashi and Di Resta pit the next lap. Ricciardo pulls off the track and retires.
Behind the safety car the order is Alonso, Webber, Vettel, Massa, Rosberg, Sutil, Perez, Petrov and Schumacher.
At the end of lap 16 the safety car is in and the race resumes. Vettel passes Webber into the hairpin for second place. Rosberg passes Massa up the hill for fourth place.
On lap 18 Button passes Petrov and Perez through the hairpin. Petrov gets past Perez. Vettel passes Alonso on the run up the hill to take the lead - having made one more stop than the other front runners. Schumacher up to seventh.
On lap 19 Barrichello passes Perez into the hairpin for 10th. Perez retakes the position up the hill. Vettel stretches out a 2.7 second lead and sets fastest lap at 1m51.9s -running a second faster than Alonso. Ferrari looking to make one less stop than Red Bull - Alonso having an extra set of soft tyres than Vettel.
On lap 20 Button pressures Schumacher.
At lap 20 Vettel leads Alonso by 3.5 seconds, followed by Webber (4.9s), Rosberg (7.7s), Massa (8.4s), Sutil (10.6s), Schumacher (11.5s), Button (11.8s), Petrov (13.6s) and Perez (18.0s) in tenth place.
On lap 22 Senna pits. Button passes Schumacher for seventh place.
On lap 23 Button now challenging Sutil. Perez pits to serve a drive-through penalty. Button passes Sutil in the DRS zone. Button starts to close on Massa.
On lap 24 Button passes Massa into the bus stop chicane to take fifth place. Vettel reports that his front tyres are once again starting to blister.
On lap 26 Button passes Rosberg in the DRS zone to take fourth place. Alonso reports he is starting to blister his left front tyre. Button, 16 seconds behind the leader, started on the medium compound tyre, so can run soft tyres for the rest of the afternoon.
On lap 28 Vettel continues to stretch his lead out to 5.6 seconds. Perez pits with suspension damage and retires.
On lap 30 Alonso pits from second place switching to the medium compound tyres - he rejoins in fourth. Maldonado and Kobayashi pit.
On lap 31 Vettel pits from the lead, matching Alonso's move - taking medium tyres. Rosberg, Massa, Petrov and Di Resta all pit.
On lap 32 Webber pits from the lead for another set of medium tyres. Alonso sets fastest at 1m51.8s. Sutil, Schumacher, Rubens Barrichello and Trulli pit.
On lap 33 Button pits from the lead for another soft set of tyres. Vettel responds and sets fastest lap at 1m51.0s. Massa pits for medium tyres and rejoins in 12th.
At lap 33 Vettel leads from Alonso by 6.5 seconds, followed by Webber (10.7s),Button (17.4s), Rosberg (32.4s), Sutil (35.7s), Schumacher (36.2s), Petrov (38.4s), Maldonado (48.9s) and Di Resta (53.0s) in tenth place.
On lap 33 Webber sets fastest lap at 1m49.8s. Massa passes Kobayashi for 11th.
On lap 35 Schumacher passes Sutil for sixth place. Webber closing to under a second behind Alonso.
On lap 37 Webber passes Alonso in the DRS zone to take second place. Schumacher closes in on his team mate Rosberg. Massa passes Maldonado for ninth place. Button is closing on Alonso by a second a lap.
At lap 40, Vettel leads his Red Bull team mate Webber by 6.1 seconds, followed by Alonso (10.5s), Button (12.0s), Rosberg (41.0s), Schumacher (41.6s), Sutil (51.0s), Petrov (51.9s), Massa (62.5s) and Maldonado (67.9s) in tenth place.
On lap 41 Mercedes tells Rosberg that he needs to save fuel. Barrichello makes contact with the rear of Kobayashi and then pits for a new nose.
On lap 42 Button passes Alonso in the DRS zone to take third place. Schumacher passes Rosberg for fifth place.
The order remains the same to the line, Vettel taking with win over Webber and Button.