Belgian GP 2011
AUGUST 26, 2011
Friday Team Quotes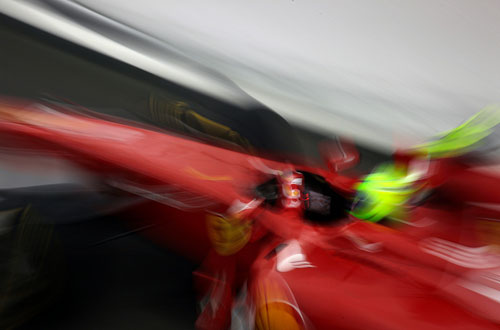 © The Cahier Archive
Red Bull-Renault
Mark Webber (1st, 1:50.321): "The weather was a little bit up and down today - we got some dry running in, but only around four laps: two laps on the soft tyre and two on the medium. Otherwise we were just doing general housekeeping, looking at ride heights, brake balance and all that stuff before we get the car to the limit. We need to get out there and get the mileage in, but on the other side of the coin we need to save tyres for Saturday and Sunday. The kerbs are the hardest thing here when it's wet, it makes the white lines like ice and it's very easy to make a mistake."
Sebastian Vettel (10th, 1:51.790): "It was quite tricky because the weather changed all the time and it's a shame that in wet conditions we only have one free set of intermediates for the rest of the weekend, as you want to save tyres for Saturday and Sunday. We had a little bit of running in the dry and tested some updates; I think we got a decent result on those. It was difficult to judge lap times and the overall pace today, but the car feels okay. Let's see what we can do tomorrow."
McLaren-Mercedes
Jenson Button (3rd, 1:50.770): "Despite the changeable weather, I think we learnt quite a bit today. We didn't get quite as many laps' running in the dry as we'd have liked, but we still made some reasonable progress. I tried a couple of different rear-wing combinations today - and each had their positives and negatives. The wet weather didn't make it easy to draw many meaningful comparisons, and it'll be a bit of a challenge to decide which way to take the car's set-up direction, but I'm sure we'll get there. Speaking personally, I think it might have been more fun to race with DRS through Eau Rouge - but on the other hand I suppose you'd have to say that, on balance, the FIA has made the right choice: you lose so much downforce by activating the DRS that it's safer to keep it closed through the corner. I'd definitely prefer it to be dry on Sunday. I reckon we'd still do a very good job in the wet, but I think we're looking very strong in the dry. The Red Bulls are very strong in the middle sector too, but we're definitely in good shape overall."
Lewis Hamilton (4th, 1:50.838): "We got a couple of laps in the dry during P2, but we didn't do too much because of the changeable conditions. In fact, we spent most of the day running installation laps to test wings and to find out which downforce levels to use. We look pretty good in the wet, but I think the car is pretty solid in the dry too. It's also difficult to get the car set up to be competitive both with and without DRS, so it's going to be really close - although it looks as though the same cars as usual are going to be up at the front. I had a big moment on the approach to Blanchimont in P1. I drove across a small river on the track - I must have been doing around 150mph - and I had a huge tank-slapper. I'm glad I was alert enough to correct it, otherwise we could have ended up with all four corners and both wings knocked off the car! The top three or four teams all look competitive; now our challenge is to make the right choices with the wings and downforce levels."
Martin Whitmarsh, Team Principal: "It's always fun to watch the Spa micro-climate once again defy the best efforts of the weather forecasters and produce a pair of typically unpredictable sessions! Nonetheless, we did our best to avoid the persistent rain showers in order to collect data on a variety of different rear-wing packages. We'll analyse that data tonight and pull together the optimal components for the remainder of the weekend. Both Lewis and Jenson are happy with the balance of their cars, but, of course, we need to thoroughly analyse the data in order to find the perfect trade-off between drag and downforce for a tricky circuit such as this. The unpredictable weather doesn't make doing our sums any easier, but I'm confident that our engineers will once again do a fantastic job."
Ferrari
Fernando Alonso (2nd, 1:50.461): "Even if I only managed a few laps in the dry, my initial feeling is positive: the car is well balanced and there are no major changes needed for the rest of the weekend. Sure, it's always difficult to get a complete picture after a day like this, but as I said at the start, we have got off on the right foot. That is important because it's never nice to have to make a major set-up change from Friday to Saturday, thus tackling the second day almost in the dark. Our main opponents were also very strong, from the little we could see: the Red Bull had a great top speed and was still quickest in the second sector, which shows good all-round performance and McLaren also looked good. Michael? I don't know him well enough to be able to talk about him as a person, but he has left a significant mark at Maranello and this means a lot. As a driver, he is a legend: maybe these days he comes in for criticism in the press, but wherever we go, he is still a major attraction and the people shout his name, which shows how popular he is."
Felipe Massa (5th, 1:51.218): "It's hard to make much sense of such a strange day: first it was dry, then wet and then it repeated itself. Luckily, at least we managed to try both types of slick tyre brought here by Pirelli, even if just for a few laps. Along with the engineers, we will have to try and interpret the data in the best way possible to make the right choices: in any case, first impressions, from what I can tell, are positive. We have some new parts and I think we will use them for the rest of the weekend, because they have allowed us to improve our performance. Where we are compared to the others, we will only know tomorrow in qualifying. I really like this track a lot: maybe it's lost some of its excitement in some corners, such as Eau Rouge, which is now practically a straight, but it is still great to drive a Formula 1 car on a track like this."
Pat Fry: "We had a lot on our plate, in the form of a packed work schedule, evaluating new components and we tried to get through it as efficiently as possible, even though we were up against less than ideal weather conditions. Obviously, if the track had been dry it would have been better, however we still managed to gather a substantial amount of data which we can now work through calmly. But this is Spa, so we were hardly expecting stable weather! Some of the solutions we brought here seem to deliver positive results, while we need to look at others in more detail and that's what we will do between now and tomorrow morning, when we will make our final choices for this race weekend. At the moment, it's difficult to give a verdict on the tyres, because we managed so few laps in the dry."
Mercedes GP
Nico Rosberg (6th, 1:51.242): "It was quite difficult out there today in typical Spa conditions, but we still managed to have two good practice sessions. We learned a few things in both the dry and the wet, and managed to do some tests for both the race and qualifying, so I'm quite positive ahead of tomorrow."
Michael Schumacher (11th, 1:51.922): "It was a special feeling to be out on track today for the first practice sessions of this anniversary weekend in Spa. A lot of things have changed here in the past twenty years, but the weather certainly hasn't! Today was another typical Spa day, with mixed conditions and very little dry running. The conditions meant that we couldn't do much work on the set-up, although we made the most of the limited time when the circuit was dry. Even so, it will be tricky to find the right set-up compromise for Sunday, because the weather here is always so unpredictable."
Ross Brawn, Team Principal: "We had a very mixed day in terms of weather conditions; however, the team did a good and comprehensive job. We managed to run well in the limited dry windows and learned a lot about the balance of the car in dry conditions. The challenge for Sunday will be whether to favour a wet or dry set-up, so we will need to see how the weather develops tomorrow. We will then focus on what we expect to experience in the race, rather than the qualifying conditions. This is a track which responds very strongly to high downforce in the wet but it can be quite a disadvantage in the dry. Overall, today has seen a good day's work with the cars functioning well."
Norbert Haug, Mercedes Motorsport Director: "It was a typical start to a Spa weekend, just like we've known it for many years - partly dry but mostly wet. Both Nico and Michael did quite a lot of laps and our basis for the weekend on this unique and challenging circuit seems not too bad. The forecast predicts rain for tomorrow, so we need to be prepared for a very challenging qualifying session and we want to make sure we get the best possible results out of it."
Renault
Bruno Senna (17th, 1:53.835): "Obviously it was disappointing for my first practice session to be cut short when I slipped off the track, but I was much happier to get a good amount of track time this afternoon. Despite the difficult conditions, it was much more productive in the second session. I managed to get some dry running too, which was crucial for understanding which direction to go with the car. We also managed to fit in a number of procedures such as pit stop practices and pull aways. I'm making up for all these sessions that I've missed in the past by getting more miles on the clock. One thing's for sure - I'm excited about getting back in the car tomorrow."
Vitaly Petrov (24th, 2:02.234): "FP1 was a difficult session with too much water on track, which meant it was difficult to understand how the car's new parts were working. The grip from the intermediate tyres was okay, both when there was a lot of standing water early on in the session and when the track dried. All in all, it was a normal morning at Spa and we had no problems. In the afternoon, we evaluated the setup for intermediate tyres and the car worked well in those conditions. I am happy with the handling of the car and would be quite happy driving it in the same conditions again. When I went out for my first afternoon run on the slick tyres, I felt a problem with the steering in the high speed corners on my first lap. As a result, I returned to the pits so the team could investigate it. The steering did not feel good, so it made sense for me to pit so the team could work on it."
Williams-Cosworth
Pastor Maldonado (12th, 1:52.750): "Conditions were quite difficult today because it wasn't completely wet or completely dry. But I think it was a positive day and I'm looking forward to tomorrow. We need to improve more in the wet but in the dry the car felt well balanced. There is still much we can improve."
Rubens Barrichello (16th, 1:53.156): "It was good to be back in the car after what feels like a long time. The only problem I had today was the KERS not working in the afternoon session. Apart from that, it was a pretty straight forward day working through our development parts."
Sam Michael, Technical Director: "With plenty of rain here today, both cars went through a series of wet set-up tests throughout the two sessions. The limited dry running still allowed us to check rear wing level, brake cooling and engine cooling."
Force India-Mercedes
Nico Hulkenberg (8th, 1:51.725): "Classic Spa weather today, but we still managed to do some valuable work by evaluating an aero part at the start of the session. By the time the track was dry I managed to do one lap on the medium tyre and a few on the softs, which is about as much as anybody managed today. The car felt okay and we just made little tweaks to the set-up, so I think things look promising for the rest of the weekend - whether it's wet or dry."
Paul di Resta (9th, 1:51.751): "Despite not completing a massive number of laps, I don't think we're in bad shape because I've managed to do running in both the wet and the dry. In the morning session I did laps on the intermediates and just made a small mistake towards the end of the session. During the lunch hour we took some precautionary steps and changed some parts on the car, which meant we were a little delayed getting out for the start of FP2. But I don't think it cost us too much because we were on track when we needed to be and did the dry running. So I'm reasonably happy going into tomorrow, but it looks like this unsettled weather could hang around and make things tricky for the weekend."
Adrian Sutil: "We knew it was going to be wet today, but hoped the rain would not arrive until the afternoon, which is why I drove FP1 and Nico drove FP2. As it happened the morning was wet with quite a heavy shower early on, which made the track wet for nearly the whole session. I started on wets, but quickly changed to intermediates and worked on improving the balance. There was a lot of understeer to begin with so we addressed that and made some changes to the aero balance. The track dried up towards the end of the morning, but there was not enough time to do a run on dry tyres. We seemed quick in the rain and P6 is a clear sign of where we want to be this weekend."
Dominic Harlow, Chief Race Engineer: "By all accounts we got off quite lightly with the rain today: both sessions were affected but there was a brief dry window this afternoon. For the morning session we felt the forecast gave us justification to run both race drivers, with Nico in the car in FP2, but as it turned out there was a slightly drier window in that session. We managed to test a few aero items and generally the car seems to be performing okay in all conditions with just a little understeer to dial out. We will also hope to carry out some more dry running in FP3 before qualifying. It's good to be back after the summer break and Spa has of course lost none of its unpredictability."
Sauber-Ferrari
Sergio Perez (7th, 1:51.655): "It was a very difficult day for everyone with the changing weather conditions. Nevertheless I enjoyed driving a Formula One car here for the first time, and at least we managed to do some work with the soft tyre compound in the second session. Now we have to carefully analyse the data for both wet and dry conditions as it could rain tomorrow."
Kamui Kobayashi (13th, 1:52.780): "Due to the mixed track conditions it was obviously difficult. For quite a while I stuck to the medium compound when it was dry in the second session, but then unfortunately I only got one lap on the soft compound, and at the end of that the rain started again. Overall there is a lack of clear information, but this will be the same for everybody and it doesn't come as a surprise here in Spa."
James Key, Technical Director: "We had pretty unpredictable conditions today, so it is difficult to know what to read into exactly where things stand. I think in FP1 it was really just a case of running the car in the wet conditions, and learning a little bit about the full wets and the intermediates crossing over and how the car feels on them. The track was improving a lot towards the end of the session, so that kind of made it a little bit difficult to see exactly where the car was because the track conditions were changing a lot, but we still got some useful data. In FP2 it was destined to be wet, but surprisingly started damp so we ran the intermediate to begin with and did some set-up work. On Kamui's car in particular we seemed to be going in a good direction. Then we ran Kamui on the medium tyre and Sergio on the soft. Again the track was improving a lot on each lap, so we have not had consistent conditions, but fundamentally it was okay. Kamui just tried the soft right at the end before the rain came. We have got a lot of data to look at tonight and assess how to deal with the car in the various weather conditions we could encounter."
Toro Rosso-Ferrari
Jaime Alguersuari (14th, 1:52.911): "It's always nice to come to Spa, a track that all the drivers like as it's a great feeling pushing the car to the limit here. Of course the changeable weather made life difficult, but we still got through a lot of work and acquired plenty of data to look at tonight. The car feels fast and I am sure there is more to come, as we did not run the softer, faster tyre in the dry today. I enjoy driving in the wet, even if it can make life complicated in the race. But, for ourselves, these types of unpredictable race can often be the ones where we get a good result. I am optimistic for the rest of the weekend and my aim will be to push hard and get in the points again on Sunday."
Sebastien Buemi (15th, 1:53.009): "I think this was a good day overall, as we were able to run in the wet, which is actually nearly always the case in Spa and also got a bit of dry track time. We ran the Medium slick which will be important for the race, although I did not drive on the Soft. As for some new elements we had on the car here, of course it is always difficult to assess on a wet track. So we still have a lot to do before tomorrow and the engineers will have to do their best overnight to analyse the data and decide which parts worked well. The forecast for tomorrow is for more rain, but with a dry Sunday predicted, choosing the right car set-up for tomorrow will not be an easy choice. Whatever the weather, driving at Spa is always a great experience and at least we got a little bit of time in the dry, which is always better in terms of getting a feeling for how the car is behaving."
Laurent Mekies, Chief Engineer: "The weather made it difficult to evaluate some new components we were running today, but that is to be expected in Spa. Nevertheless, we had a good day, completing many laps on the intermediates and extreme wet tyres. We also did some decent runs on the Medium tyres with both cars. The rest of the weekend is certainly going to be interesting as the forecast for tomorrow is wet, while for Sunday, believe it or not, a dry race is predicted. The window for dry tyre use was limited to around 15 minutes today and the track was only completely dry for 5 of those, which is why we chose to concentrate on running the Medium tyre, rather than running two very short stints on both types of slick tyre."
Lotus-Renault
Jarno Trulli (18th, 1:55.051): "Despite it being a typical Spa day it was still pretty positive for me. We obviously knew what the conditions would be and had a plan to work around that, so we managed to get through most of what we wanted on the tyres, engine and setup and I think we're ok for quali when it looks like it'll be similar weather. One good point is that we were trouble-free in all the runs today so I think it's important we keep that up all weekend and give ourselves a chance to be in the mix if anything happens in qualifying or the race."
Heikki Kovalainen (20th, 1:56.202): "It's always difficult in weather like this to get anything meaningful done, but we did get out on both the mediums and the softs and have a bit of data from those runs that'll be useful for Sunday. Tomorrow should be interesting - it looks like rain but we've always done pretty well in qualifying in the changeable conditions so let's see what we can do with strategy tomorrow afternoon - whatever happens I'm sure it'll be a good session for the fans!"
Karun Chandhok: "It's good to have been back in the car and despite the weather I enjoyed my time out there today. I had traffic on what would have been my quickest lap, but the chance to spend more time in the cockpit is always useful and as it was a bit of a stop-start session for everyone I pretty much did as much as I could today."
Riad Asmat, Chief Executive Officer: "It is good to be back racing and to see that the whole team has come back from the break raring to go. There is a good spirit in the garage and everybody is determined to make sure we work as hard as we can to consolidate tenth place and take whatever opportunities present themselves, particularly on a track like Spa where the weather conditions may mean we can use strategy and a bit of luck to take the fight to the cars ahead."
Mike Gascoyne, Technical Director: "An interesting day with fairly typical weather conditions for this track. This morning Karun did a solid job for us and ran some aero checks early on, but then the rain brought an end to any meaningful running in his session. This afternoon, although Heikki wasn't able to complete his run on the softs we still managed to complete a run on the mediums for him and Jarno did get through some laps on the softs so at least we have banked some time on track on both compounds. Now we will have to see what the weather decides to do in qualifying and the goal for Saturday and Sunday is the same as it has been all season - see if we can push the cars directly ahead and make sure we have a problem free race."
Thierry Salvi, Renault: "As Spa is one of the most demanding tracks of the season on the engines we always have to achieve as much as we can here on Friday, whatever happens with the weather. The drivers spend a lot of the lap at full throttle, particularly on the run down to Eau Rouge and along the back straight, so we had a runplan for today that was based around the weather conditions that we had and we were able to complete most of the goals we had set ourselves for both sessions. Obviously we could not complete as much mileage as we would have liked, but we were able to work on the wet setup we may well have to use tomorrow, and the dry setup that hopefully we will be using on Sunday so despite the rain it has been a pretty good day for us."
HRT-Cosworth
Vitantonio Liuzzi (22nd, 1:57.450): "It is good to be back although we haven't had the sessions we were hoping for. Today was a typical day at Spa with unpredictable weather and it is a shame that we couldn't test as much as we wanted. We understood a few things about the car under wet conditions but, of course, we would have liked to have a lot more information on the dry. We were only able to do five laps in these conditions but I am sure we could have gone quicker with a few more. We have some ideas about which direction to go and we appear to be quite strong in wet conditions. We have to be ready for any conditions but tomorrow and Sunday could be the same."
Daniel Ricciardo (23rd, 1:57.612): "The first day here at Spa had the typical weather, what it usually produces. We were expecting it to be a bit wet but it would have been nice if it was either wet or dry, not in between. At least we were able to complete runs in the afternoon with soft, intermediate and extreme wet tyres, which was quite positive although they were very short runs. When we wanted to do a change to the set-up the weather always changed too, so that was a bit frustrating. But it wasn't a bad first day and we'll see how it goes tomorrow."
Colin Kolles, Team Principal: "It's Friday practice as usual, and with this rain, we could not make as good progress as we wanted. The rain made us change and we adapted our working program from lap to lap. This afternoon we managed getting some more running time for the drivers to optimize our preparation for qualifying. The weather is often hard to predict here, but it looks like we seem to be on the wet side for qualifying. I am satisfied with what we have achieved here so far. We learned a bit in all conditions."
Virgin-Cosworth
Timo Glock (19th, 1:55.494): "It's been a typical Friday in Spa and we could say that the weather dictated the day today. We were able to drive in wet and dry conditions and the car felt good. The morning session was not too bad and in the afternoon we tried to do some running in dry conditions, which was okay. The tyres are not perfect at the moment so we still have some work to do."
Jerome d'Ambrosio (21st, 1:56.816): "It's great to finally drive here at my home track and in front of all my Belgian fans. I had been waiting for this moment for a long time. Unfortunately, the typically Belgian weather made it a difficult first day as we would have liked to have completed some more laps in dry conditions. We have to continue working hard but I feel good in the car - it's great to be at home."
John Booth, Team Principal: "A slightly frustrating day in some respects, as most of our planning as usual was based around a dry session and we had plenty of items we wanted to evaluate, in particular in P1. But at least we have furthered our knowledge of the Pirelli Intermediate tyres. Most of the day was centred on trying different rear wing levels, as well as trials of some different front wings. The tests of these components are perhaps not as scientific as we would like due to the changeable conditions but we have gained some useful information which we will use overnight. There is a chance of rain tomorrow in Qualifying so both drivers have had a reasonable amount of time to prepare their wet set-ups. However, with the race looking almost certain to be dry, we will have to take some decisions and compromises overnight."