Belgian GP 2010
AUGUST 29, 2010
Sunday Team Quotes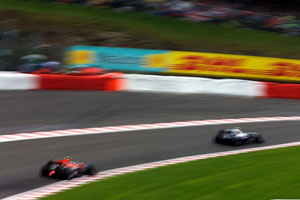 © The Cahier Archive
McLaren-Mercedes
Lewis Hamilton (1st): "After the DNF in Hungary, this last push in the championship couldn't have started better for me; this victory was the perfect way to bounce back. Spa is always one of the most challenging races on the calendar, and I'm ecstatic that I'm now able to tick it off and say that I've won here. At the start, I was able to pace myself and maintain the gap - every time the cars behind increased their pace, I was able to answer. Then, when the conditions changed, I had a wide moment at Turn Eight - and I was on the edge of my seat! Fortunately, I got out of it, took a step back, regained my focus, and took control again. I was so relieved to cross the line at the end of the race - it was an overwhelming feeling! I feel really sorry for Jenson, though. He did a great job. I got around Turn One, looked in my mirrors, saw him picking up places, and thought, 'That's good, that's good.' Then he got up to second, and I thought, 'That's fantastic - another opportunity for a one-two.' Then, cruelly, he was taken out through no fault of his own - which was really unfortunate for him, and for the team, because he did everything he could to get us the most points in the constructors' championship today. But he'll bounce back even stronger. It may sound an obvious thing to say, but I'll say it anyway: I love racing. It's in my blood, and I missed it so much during the summer break. So to finally get a win here at Spa - in the trickiest of conditions - is fantastic. I couldn't have done it without the team though. Without them putting in such a great effort, we wouldn't be here today. It almost feels like this is my first win - it's just phenomenal!"
Jenson Button (DNF, Accident): "It was looking really good this afternoon. I got up to second easily enough, but my left-hand front-wing endplate had been damaged on lap one, which meant I had to dial maximum angle into it, and that made the rear twitchy without giving me any more front. As a result, it was pretty tricky to keep the others behind, but I was having a good fight in the wet conditions, and I seemed to be able to find grip better than the other people around me. I was doing a decent job of keeping my position, and doing it fairly. Then, as everyone knows, I had an incident with Sebastian [Vettel]. I certainly didn't brake any earlier than usual. All I know is I suddenly felt a big bang in the sidepod, which ripped the radiator out, and then I lost drive. I've watched it on TV now, and I'd say it was a very strange incident. Clearly, he didn't do it on purpose, and I gather he's now apologised, but I have to say I've got no idea what he was doing. It's a massive blow to my world championship hopes. All I can do now is look forward to Monza. I love that track, and I'll be doing my best to score a lot of points there."
Martin Whitmarsh, Team Principal: "There's no doubt about it: today we saw a truly fantastic race and an utterly brilliant victory. Apart from one heart-stopping excursion, Lewis was in command of things from lights to flag, and drove prodigiously well all afternoon - all weekend, in fact. From the moment he went out on Friday morning, he was palpably excited about being here at Spa, and it was clear that he always felt confident that a win was on the cards. He really is at the top of his game at the moment. He's back at the head of the drivers' world championship standings too - and, but for Sebastian, we'd be leading the constructors' world championship as well. Clearly, had Jenson's race not been ended by Sebastian's error, Jenson would have scored a hatful of world championship points - and today is therefore a deeply frustrating day for him. He drove superbly - he's so good in changeable conditions such as we saw today - but he's very mature and I know he won't let this setback get to him. Finally, I want to say a big 'well done' to everyone at McLaren Racing in Woking and at Mercedes-Benz HighPerformanceEngines in Brixworth, without whose relentless efforts we wouldn't be back where Vodafone McLaren Mercedes belongs: at the front of the field, on the top step of the podium, in rocket-red victory T-shirts, spraying champagne. Monza? Bring it on!"
Mercedes GP
Nico Rosberg (6th): "My rain set-up finally worked out towards the end there and I made up two places on the re-start. Sixth place today is ok and it really is the most that we could have hoped for from this weekend. Michael and I had a couple of battles out there which was fun. We respect each other and you just have to be careful and it all worked out ok. It was a good recovery today but we really need to continue to try and improve our car to have a stronger end to the season."
Michael Schumacher (7th): "I am reasonably happy with today's race, especially for the team. Coming where Nico and I started, I think we can all be pleased with the result, sixth and seventh places from 14th and 21st on the grid is not too bad, and it is important points for the Constructors' Championship. For some reason, the number seven is somehow connected with me in Spa, so there is a further special feeling here. Without the weather being even crazier, we could not have achieved more today in my view. I 'met' Nico twice out on the track today. The first time, I had the better go in a nice racing duel and the second time was right after the re-start where I had to lift a little up into Eau Rouge due to the car in front which Nico used to fly past me. All in all, Spa turned out to be nearly as enjoyable as I had hoped for."
Ross Brawn, Team Principal: "We are obviously very pleased with the result today, and particularly with our strategy, which enabled us to achieve a strong points finish which looked difficult after qualifying. Nico and Michael both drove extremely well in testing conditions and kept us entertained on the pit wall although sometimes a little too entertained! But it was all done in good spirit and both drivers brought their cars home to give us as good a weekend as we could have hoped for. The result is very pleasing considering the relative performance of the car at the moment and a morale boost for the team."
Norbert Haug, Mercedes Motorsport Director: "Nico, Michael and the team all did a good job today. Starting from 14th position like Nico and coming home in sixth place is very impressive and even more impressive when you start in 21st place like Michael and are in seventh position at the finish line. We adapted to the typical Spa weather circumstances as best we could which was the baseline for scoring points with both cars from very difficult grid positions. It is obvious that we are still lacking speed but this was a much better result than in the previous two races where we didn't perform as well as we did with Nico's podium finish at Silverstone. We are now looking forward to Monza which will be a very special race due to the unique high-speed nature of this circuit. Thank you to everybody in the team for the recovery after qualifying yesterday. These points show that never giving up and being measured and focused are always the right things to do."
Red Bull-Renault
Mark Webber (2nd): "The start was a mess, it wasn't ideal to lose that many positions, but fortunately it's not Monaco or Barcelona where the positions often don't change during the race. I was able to overtake a few guys on the first few laps and get some of the positions back - I knew the race would be quite long after that and to get second place was a good result. It was very challenging in the last part of the Grand Prix and it was difficult to keep the car on track. I can't believe the top three qualifiers finished on the podium with all the changing conditions! It was a good day for me. It was unfortunate for the team that we didn't get some more points, but we're still leading the Constructors' Championship and hopefully we will do in Monza."
Sebastian Vettel (15th): "What happened, happened and we can't change it now. Obviously I'm not proud of it, I lost the car going over the bump as I was braking and unfortunately hit Jenson, so he couldn't continue. I'm sorry for him. We'll have to see what we can do at the next races."
Christian Horner, Sporting Director: "A great drive by Mark today, it was a very mature drive after a bad start. He recovered fantastically well and drove with great maturity at a track that we always knew would suit the McLarens. To come away with second place was a great result for him today - and it was great pit-work by the guys to get Mark out ahead of Kubica. For Sebastian, unfortunately everything that could happen today did happen. He got pushed on to the grass on the first lap and then when he was coming back through the field was racing with Jenson. I think Jenson took him by surprise with how early he braked for the bus-stop and trying to avoid him Sebastian got into a bit of a moment and collected Jenson. He was then unlucky with Liuzzi, so not a great weekend for Sebastian."
Fabrice Lom, Renault: "What a hectic race with a lot of action in mixed conditions. It was a solid race for Mark, who took no extra risks and did whatever he could to bring the car home for a well deserved second place. Hamilton was too strong for us today and I think second was the best we could achieve. Sebastian had an accident and I think his race was over after that. Congratulations to Kubica, I think to have two Renaults on the podium at this circuit is a great result for us."
Ferrari
Felipe Massa (4th): "I think this is a positive result and, given the way the race went and the accidents that put Vettel and Button out of the game, we can even say we were a bit lucky. This weekend, Red Bull and McLaren were stronger than us, but we worked well as a team, making the right choices before and during the race. Our set-up was a bit more efficient in the dry, while we suffered a bit in the wet, especially in the middle sector, while in the first two we were reasonably competitive. Now we go to Monza, for our home race: we hope to do well at a track where speed and stability under braking count for a lot. We will continue to fight right to the end, even if the situation in the championship is ever more compromised."
Fernando Alonso (DNF, Accident): "The first of the seven "finals" went badly for me and for two of the other five finalists, while the remaining two got the maximum results: that means we will have to make up the ground lost today somewhere else. At the start, I immediately made up some places and the signs were that I could have a good race. Then, I found myself in the wrong place at the wrong time, when Rubens could not control his car under braking and crashed into me. I came straight back to the pits to change the tyres and to check the car was alright, when we fitted intermediate tyres, expecting more persistent and harder rain, but that was not the case. Yesterday we were hoping for rain, but when it came it was already too late to be of much use to me; on the contrary it prevented me from getting the chance to overtake the cars which would have had to stop to fit the soft tyres. Then I went off the track, when I went over a kerb and that was my race over: a shame even if the points I could have brought home would not have been a lot. It is very disappointing, because this is a bad result, but it does not mean I have given up on my chances of winning the title."
Stefano Domenicali, Team Principal: "This weekend definitely did not end well for us, even if Felipe's fourth place, at the end of an impeccable and error free race in conditions that were far from easy, is an important result. Fernando saw his race compromised right from the first lap, the unwitting victim of an accident and then, despite fighting his way up the order, he ended up off the track in the sort of incident that can easily happen in a rain-affected race. Apart from that, and any other considerations, we must recognise that our performance in this Grand Prix did not match our expectations and interrupted a positive trend that began a few races ago: we have to understand why immediately and take the necessary countermeasures. The situation in both championships is certainly more difficult, but it is still not impossible for us to reach our targets: for those with short memories, I remember that three years ago, we found ourselves in a much worse situation and we all know how it went in the end."
Chris Dyer: "Felipe had a good race, always keeping out of trouble and he made the right choices, bringing home a good result, given our performance level in this Grand Prix, which definitely did not live up to our expectations. However, on the other side of the garage, the mood is one of great disappointment, because the lack of points seriously complicates Fernando's chances in the title fight. His race was immediately an uphill struggle, because of the collision with Barrichello, which meant he had to pit immediately. At that point we took the gamble of fitting intermediate tyres, given that we had nothing to lose, but then we had to bring him in again for dry tyres. It was a good climb up the order, but in the end he went off the track in the wet which ended any last chance of scoring points. Clearly there is much work to do in order to tackle the remaining six races of the season in the best way possible."
Williams-Cosworth
Nico Hulkenberg (14th): "Pretty early on in the race I had a throttle control problem which made the car very difficult to handle, so we made an unscheduled stop, but the engine died in the box and had to be re-started. As a result I dropped position and then had to cope in the rain without the full engine control, which caused some spins. We took some tyre gambles at the end to try and recover something."
Rubens Barrichello (DNF, Accident): "Despite my experience, it was very difficult to know how wet the track was on the opening lap, but it was fully wet when I came into Blanchimont. I was closing the door on Rosberg and when I touched the brakes, even though it was quite early, it wasn't sufficient to stop the car. The car went straight on into Alonso, for which I'm sorry. It's also sad for the team. We've had such a positive weekend that a good result would have been a nice conclusion. Despite not having a good outcome in my 300th race, I'm confident we will go well in the 301st!"
Sam Michael, Technical Director: "Today was not a good day with Rubens out on the first lap and Nico had a control system problem that compromised the driveability and caused the engine to cut in his pitstop. So looking forward, our pace is improving and we will perform better in the forthcoming races."
Renault
Robert Kubica (3rd): "This is a great result for the team after a weekend when we were competitive in every session, and we were racing with McLaren and Red Bull. Nobody was expecting us to be at this level in Spa, so I think we can be pleased with the work we have done. The conditions were very difficult at the start, and the track was damp before and after the Safety Car came out. I was running in fourth place when Button and Vettel collided, and I think I could have gone quicker than Jenson during that part of the race. When the track was clear, I was able to push to the limit and the car felt really good. Webber stopped before me to change onto the prime tyre, but the mechanics did a great job to get me out in front of him and, although it was very close up the hill after Eau Rouge, I held onto the position and then even pulled away a little bit. When the rain came again, the circuit was very slippery, but I was catching Lewis on the lap when we stopped. As I came into the pit lane, I told myself to take it easy because it was so slippery, but there were a number of controls I had to change on the steering wheel. I was distracted doing this and that was my mistake: when I looked up, it was past the braking point, I locked up the front wheels and collided with some of the mechanics - fortunately without hurting anybody. That cost me one position, but it was a race in which mistakes were very easy to make, so we can be happy that I maintained my position from the start and that our pace was very competitive."
Vitaly Petrov (9th): "Scoring points was the target today, so it's good to finish ninth. My start was okay and I then tried to push hard and come through the field, which is what I did. The race was nice, but the conditions were very difficult and it was hard to choose which tyres to use. The team made some good decisions and I stayed a long time on the slicks, so I think we made the best of it. After my mistake yesterday in qualifying, I showed that we have the pace to always be in the top ten and I hope next time I can qualify much better so I don't have to overtake so many cars. We also had the f-duct this weekend, which gave me good speed on the straights and helped me in my battle with Rosberg, so it looks good for the coming races."
Eric Boullier, Team Principal: "Robert's third podium of the season is a great result for the team. Also, it was a strong performance from Vitaly to recover from the back of the grid to score points. Overall I think we can be very satisfied with this weekend, especially because we brought our latest updates, including the f-duct, and managed to get it working properly straight away. This weekend has shown us that we have taken a good step forward, which is very promising for the rest of the season."
Alan Permane, Chief Race Engineer: "A fantastic result for the team. Both drivers did an excellent job and it's great to see Robert finish on the podium, which was our target. And it was nice to have the pace to race with the Red Bulls and beat Ferrari, although unfortunately Hamilton was just a bit too quick for us today. Vitaly also drove really well and did well to score some points having started from the back of the grid. So it's a very good day all-round."
Remi Taffin, Head of Engine Operations: "Both drivers had great races today and Robert's podium is a good reward for the whole team. Vitaly also drove very well and did a nice job to recover from his disappointing qualifying performance yesterday to score points. This was the last race for these particular V8s and all went well. They didn't miss a beat and the wet conditions this weekend made their life a little bit easier than it might otherwise have been."
Force India-Mercedes
Adrian Sutil (5th): "Another fifth place so I am very pleased as I started in P8. I think that was the best we could do. It was very tricky conditions out there and you never knew what would happen with the weather. When the rain came it was sometimes light in places and heavy in others and I had to really concentrate to drive it home safely. Of course I was racing closely so I had to keep pushing, particularly after the safety car periods when the field bunched up, so we had some great racing and overtaking. The upgrades worked well and we can still improve - it was just the start of the development, which looks good for the next race in Monza as well."
Vitantonio Liuzzi (10th): "It was a tough race and it was a shame we couldn't get any points here today. We had a good start but I suffered a lot of front and rear graining on the soft compounds early on and also some damage to the front wing. We decided to pit earlier and do a long stint with the hard tyres and it was a pretty good decision as we had a good pace on this set and were in P11, not that far from getting into the points. But then Vettel tried to overtake me at the last corner and took my front wing off and that cost us points in this race. We lost more than 30secs changing the wing and without this I am pretty sure we could have finished in eighth or higher. But the race pace was still good, the car has been consistent and better than it has been all weekend so we could be proud of that. I'm now looking forward to my home race in 15 days time in Italy."
Following Alguersuari's penalty: "I'm really pleased to be back in the points again this race for the first time since Canada. We've always been pushing really hard so to get a point here, and to make it a double points scoring finish for the team, is a really good reward for all the hard work we've done over the past few weeks."
Otmar Szafnauer, Chief Operating Officer: "We're obviously very pleased to be back in the points again today. Both drivers demonstrated a strong race pace and we worked well as a team monitoring the changeable weather conditions. Tonio was unlucky to miss out on the points due to losing his front wing when Vettel ran into him. The points are crucial for the championship at the moment and the pace also bodes well for Monza in a couple of weeks' time."
Toro Rosso-Ferrari
Sebastien Buemi (12th): "I managed to get a very good start, but then at the first corner, someone ran into me, which cut my left rear tyre and damaged the diffuser, so I tried all sorts of things like locking the differential and changing the front wing settings to compensate, as I was oversteering a huge amount. It cost me a lot in terms of pace, because at times the car was undriveable. So unfortunately, I could not do better than this, which is a shame, as this was a race where I could have been in the hunt for points. That's racing."
Jaime Alguersuari (13th - Dropped from 10th place after receiving a 20 second penalty after the race): "I have had a good weekend and already I was happy with my performance in qualifying yesterday while today, I had the most exciting race of my career. It was very difficult to make the right call on tyre choice. I think that within our team's potential, today's performance was not too bad and I am delighted to have picked up another point. I can't wait for Monza now and the chance to put on a good show for all the people from our factory who will be there to watch the race."
Franz Tost, Team Principal: "A fantastic Formula 1 race from start to finish, with some great battles throughout the field and then, as usual in Spa, the rain played its part, coming and going, causing some interesting scenarios. Both our drivers made a good start, but unfortunately, Buemi was hit by someone which damaged his left rear tyre and he had to pit and then he lost more time coming in for the intermediate tyres. We assume that the collision also damaged his floor, which compromised his performance for the rest of the race. Jaime drove a good race, however his first stop for intermediates was unnecessary, but everyone can be clever with hindsight. Without this extra visit to the pits, he could have finished higher up the order, securing a really good result, because his pace was fantastic, with good lap times. In the closing stages, he also did a very good job of defending his position against Liuzzi, who had the advantage of being on extreme rain tyres, while Jaime was on the intermediates. It's nice to pick up a point, generally our performance level was not bad, so now let's see what we can do at our home race in Monza."
Lotus-Cosworth
Heikki Kovalainen (16th): "I had a bit of a problem at the start when the engine bogged down, and I activated the anti-stall, but I was already being passed by the time I could get up to speed. The rain had started and unfortunately I damaged my front wing in the last turn so I had to pit. We took a gamble with the inters but the rain stopped, so I had to come back in and I lost out to the group ahead of me. After that it was a question of doing the best job I could, and keeping us in with a chance of taking advantage of the rain at the end, and as it turned out we managed to pick up a few places at the end and finish 16th."
Jarno Trulli (19th): "It was pretty exciting out there, an eventful race where lots of things happened, but that's normal for Spa! At the start I went wide to avoid Heikki and unfortunately was overtaken by a couple of other cars. After that I was struggling a bit in the early stages with my rear tyres overheating - fortunately they came back so I could started pushing and managed to pull away from the guys behind, so that was a good stint until the rain came. I had quite a big margin over my nearest competitor so I was looking pretty good, but then the safety car came out. At the restart I was following the other cars but obviously the visibility was very poor and I made a bit of an error on a high speed corner, touched the white line with the rear end of the car and it just slipped away from me, which meant I lost places. I continued, but then the race was over from there. I'm glad we got both cars home, and it's good to see we've still got an advantage over our nearest rivals, so bring on Monza!"
Riad Asmat, Chief Executive Officer: "I feel great. I think we achieved what we wanted to do - we got both cars home and we're still ahead of the other new teams. It's a bit unfortunate that Jarno spun out, but it's all part of racing. He recovered well and I think we'll all move on from this point and feel confident we can put in a good performance in Monza, and the remaining races. I think the team did great today and there was maximum effort involved, so well done to everyone. The rain of course threw everything out of sync, but we survived it today and we're really happy."
Mike Gascoyne, Technical Director: "An exciting race and a typically eventful one here in Spa. Neither driver had a great start which meant we lost a few places, and Heikki had a problem when the rain started. We changed him onto intermediates, but were then a little slow in changing him back, but he drove a great race, and was quick at the end in the wet conditions, and he again brought us home best of the new teams. Jarno drove a strong race. He struggled initially with the tyres, but in the middle part of the race his pace was very strong, and it's just a shame that he had a spin in the difficult wet conditions as it would have been nice to have had both cars finish ahead of the other new guys. But despite that, both cars finished and overall this has been a good weekend for the whole team."
HRT-Cosworth
Sakon Yamamoto (20th): "A lot happened in the race, where I had a good start and I could win some positions. It was difficult to push on the option tyres, so we changed on the primes. At the end of the race, the rain came back and we needed to change the tyres and played it as a gamble and changed to wets. With the low intensity in the beginning of this rain shower, the tyres got used too hard and started to grain. So, I lost a bit of performance when the rain was heavy. But I am happy and I want to thank the team for being able to finish the tough race again."
Bruno Senna (DNF, Suspension): "It was a bit of an unlucky race for us unfortunately. We had a really good start, probably the best we've done. But then into the first corner it got a bit tight, they got my front wing broken. So we came in and put the intermediate tyres which we need to change back after one lap as the rain stopped. One lap later, the rear left suspension failed. So we had everything going against us today. But this is how it goes in motor racing, we just have to look forward to Monza and hopefully it will be better there."
Colin Kolles, Team Principal: "It was a turbulent and difficult race today with changing conditions. We started on dry tyres and Sakon Yamamoto was in 13th position in the first laps. Bruno Senna got his front wing damaged in the first lap and so we had to change it in his pit stop, when he also went on intermediate tyres. Unfortunately, his rear left suspension failed and he had to retire early in the race. Later, heavy rain was expected and Sakon changed to wet tyres in his second pit stop. I want to thank the mechanics, who did a good job this weekend, especially in the pit stops. Now, we have to focus on the next round in Monza and we hope to show a good performance again."
BMW Sauber-Ferrari
Kamui Kobayashi (8th): "It was a very difficult race, but for me everything worked out fine. The team made very good decisions in choosing the right tyres at the right time, and the pit stops went well. For parts of the race the track conditions were changing every lap, and that was not easy. Especially after yesterday's qualifying, I am very happy I made no mistakes, brought the car home and scored four more points after starting the race 17th."
Pedro de la Rosa (11th): "It was a very interesting race. After I had to start last I should not complain about finishing 12th, but two laps before the end I was tenth and just in the points. I was on full wet tyres, the rain was not heavy enough and there was not enough water on the track to stop destroying those tyres. They went off quite quickly and when I tried to catch Vitaly Petrov I made a mistake. I went into the gravel and lost two places. Nevertheless for me it was the right move to go for full wet tyres. We had to take our chances today. It was more or less the same at my first pit stop when we fitted intermediates, but then had to change back to slicks. But, as I said, we had to take our chances."
Peter Sauber, Team Principal: "It was another strong and mature performance by Kamui in very difficult conditions after starting from way down the grid. Also compliments to the team for choosing the right tyre strategy and executing it very well during the pit stops."
James Key, Technical Director: "I'm very pleased we scored some points today after a very difficult day yesterday. It was a race with a lot of changing weather conditions, and the right calls had to be made at the right time. We had three spells of rain all together. The team made the right decisions, and Kamui did an excellent job by controlling the car in these difficult conditions and bringing it home in eighth. He came from a long way behind and made up a lot of positions. With Pedro we tried a slightly different strategy at the end of the race with full wet tyres, because there was a chance of heavier rain. This seemed to work initially, but it looks as if the tyres went off quite quickly, and Pedro couldn't hold on to tenth. All in all a reasonable recovery given the situation we faced yesterday."
Virgin-Cosworth
Lucas di Grassi (17th): "A very good race overall. I'm very pleased with my drive and the team did a great job. They were very difficult driving conditions due to the weather changing so much from dry to half wet to full wet during a whole race. The team did a great job calling me at the correct moment and choosing the correct tyres. From my point of view it is very clear that Kovalainen cut the chicane at turn 5 and we have brought this to the attention of the race officials. Hopefully we will know more about this soon."
Timo Glock (18th): "Quite an eventful race, I have to say. I got a good start but again someone pushed me off the track and I lost two places. Then when Barrichello and Alonso had their incident I had to go wide and I went through the 50 metre board and damaged my front wing. I had to pit straight away and I lost quite a lot of time to the others. I then had to catch up to Trulli and Lucas again and at the end I took the gamble of having wet tyres which didn't pay off and the rain came just too late - I've been too unlucky in the races this year. They were difficult conditions over the weekend, which made for quite an interesting race. It paid off for us in qualifying but not in the race."
John Booth, Team Principal: "I'm very pleased with how the whole team worked over the weekend. We had a massive effort to get Timo's car ready yesterday, and to have both cars run so strongly to the finish demonstrates how far we have come and that we have earned our right to be on the grid. Both Lucas and Timo drove great races, the pitstops went perfectly and I'm very proud of our teamwork. We leave here in a very positive mood and looking forward to a good result in Monza."
Nick Wirth, Technical Director: "An exciting and eventful race for us. We had gambled on a high downforce strategy hoping for a very wet race, but ultimately the rain didn't fall in sufficient quantity for our gamble to fully pay off. Timo was unlucky to lose his front wing and we were forced to pit, but a replacement was not to the same specification because his spare wing was broken in his crash on Friday. Despite this he did a good job catching up with Lucas and Jarno. Unfortunately when the rain came Timo gambled to come in early and fit full wets which just didn't work out for him. On the other hand Lucas's race was smooth and it was another great performance for a rookie in very tricky conditions. We're pleased to get both cars to the finish strongly and let's hope for better luck in the final European race in Monza."