Belgian GP 2010
AUGUST 29, 2010
Race Notes - Hamilton wins action packed Belgian GP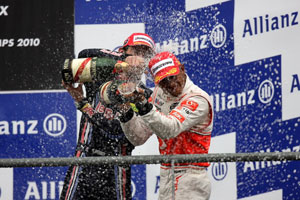 © The Cahier Archive
Lewis Hamilton won the Belgian Grand Prix, at Spa-Francorchamps, in his McLaren-Mercedes, in fine form after surviving two Safety Car periods and a run through a gravel trap as the rains started. Mark Webber recovered from a bad start to finish second in his Red Bull-Renault, 1.5 seconds behind, followed by Robert Kubica in third place in his Renault, 3.4 seconds behind.
Felipe Massa (8.2s) in the Ferrari was fourth, followed by Adrian Sutil (9.0s) in the Force India-Mercedes in fifth, Nico Rosberg (12.3s) in the Mercedes GP in sixth, his team mate Michael Schumacher (15.5s) in seventh, Kamui Kobayashi (16.6s) in the BMW Sauber-Ferrari in eighth, the second Renault of Vitaly Petrov (23.8s) in ninth, and Jaime Alguersuari (29.4s) in the Toro Rosso-Ferrari finishing in the final points paying position. Sebastian Vettel finished 15th and Fernando Alonso and Jenson Button both failed to finish after separate incidents.
Hamilton takes his third win of the season (winning previously in Turkey and Montreal), and McLaren-Mercedes' fifth win.
With the victory, Hamilton retakes a narrow lead in the Drivers' championship with 182 points over Webber with 179 points, followed by Vettel with 151, Button with 147 and Alonso with 141 points. Red Bull holds a one point lead in the Constructors' championship with 330 points to McLaren's 329, followed by Ferrari with 250 points.
Before the start the conditions were dry, although there was a shower earlier and dark clouds and changeable weather loomed ahead - as often seems to be the case at Spa-Francorchamps. The top ten runners all running the harder tyre - except for Rubens Barrichello on softs, starting his 300th grand prix.
Webber starting from pole - Red Bull's 12th of the season. Schumacher dropping to 21st on the grid due to his penalty from the Hungarian GP, Rosberg dropping to 14th for a gearbox change, Pedro de la Rosa, dropping to 24th for an engine change, and Sebastien Buemi dropping to 16th for blocking during qualifying.
At the start Webber gets off the line slowly, Hamilton taking the lead from Kubica, Button, Vettel, Massa, Sutil, Webber down to seventh, Alonso, Barrichello and Nico Hulkenberg.
At the end of the first lap with rain sprinkling, many drivers go wide into the final chicane. Barrichello running the back of Alonso - Alonso pitting for intermediates, Barrichello out.
On lap 2 Kubica runs wide out of Eau Rouge, Button passing him for second. Webber passes Massa for fifth. The Safety car is deployed at the end of the lap. Kobayashi, Alguersuari and Bruno Senna pit.
At the end of lap 3 the Safety Car comes in and the race resumes. Vettel passes Kubica at La Source for third place. Heikki Kovalainen, Senna, Buemi and De la Rosa pit again, with a mainly dry track.
On lap 5 Alonso pits again for dry tyres.
At lap 7 Hamilton leads his team mate Button by 4.8 seconds, followed by Vettel (5.5s), Kubica (6.9s), Webber (7.6s), Massa (9.2s), Sutil (11.1s), Hulkenberg (12.8s), Vitantonio Liuzzi (14.6s) and Rosberg (15.1s) in tenth place - Schumacher in 12th, Alonso in 17th place.
McLaren inform Button that he may have front wing damage - after coming together with Kubica on the first lap. It appears the weather will remain dry for a while - the teams forcasting for at least the next 20 minutes.
On lap 8 Alonso passes Timo Glock and Sakon Yamamoto.
On lap 9 Alonso then passes De la Rosa and Jarno Trulli to take 14th place.
On lap 10 Trulli is passed by De la Rosa for 15th at the final chicane.
On lap 11 Liuzzi pits. Petrov passes Rosberg for ninth place - Rosberg is forced wide and Schumacher takes advantage and passes his team mate, the two making minor contact between Schumacher's rear tyre and Rosberg's front wing endplate - bits flying off of Rosberg's car.
The stewards of the race announce that they will investigate the incident between Alonso and Barrichello after the race.
On lap 13 Liuzzi and Alonso battle over 13th place.
On lap 14 Yamamoto pits at the back of the field. Kobayashi tried to pass Rosberg, but runs wide and the German keeps 11th place.
At lap 15 Hamilton continues to lead Button by 9.8 seconds, followed by a string of cars led by Vettel (10.3s), Kubica (11.1s), Webber (11.8s), Massa (12.9s), Sutil (16.4s), Hulkenberg (23.5s), Petrov (27.3s) and Schumacher (30.1s) in tenth place.
Alonso passes Liuzzi for 12th.
On lap 17 Vettel makes a run on Button on the approach to the final chicane, loses control and runs into the McLaren. Vettel pits for a new front wing and rejoins, while Button is out. The stewards will investigate the incident.
Kubica now runs second, while Vettel rejoins in 12th place.
Vettel is given a drive-through penalty by the stewards for causing the collision with Button.
At lap 20 Hamilton leads Kubica by 11.2 seconds, followed by Webber (12.8s), Massa (14.7s), Sutil (20.4s), Schumacher (33.3s), Rosberg (35.6s), Kobayashi (37.3s), Alonso (45.1) and Petrov (47.1s) in tenth place.
On lap 20 Vettel dives to the pits to serve his drive-through penalty and rejoins in 14th. Sutil pits from fifth on the next lap - he rejoins in eighth.
On lap 22 Webber pits from third place, switching to hard tyres and rejoins in fourth. Sutil passes Kobayashi for seventh.
On lap 23 Kubica and Massa, in second and third, pit for tyres, Kubica rejoining ahead of Webber, Massa behind the Australian. Webber tries to make a run on Kubica up the hill to Les Combes, but the Pole keeps second.
On lap 24 Hamilton pits from the lead, switching to hard tyres and rejoins still up front. Sutil makes a run and passes Schumacher for fifth place - Schumacher giving up the position without any blocking. Vettel passes De la Rosa for 12th, then Alguersuari to take 11th place.
Of the front runners, only Schumacher and Rosberg yet to make a stop.
On lap 26 Vettel and Liuzzi make contact at the final chicane - Liuzzi pits for a new front wing, while Vettel suffers a left rear tyre puncture and limps all the way around the circuit back to the pits and changes to soft tyres, rejoining in 20th place.
At lap 30 Hamilton continues to lead Kubica by 11.2 seconds, followed by Webber (13.5s), Massa (21.4s), Sutil (28.2s), Schumacher (35.0s), Rosberg (37.4s), Kobayashi (40.6s), Alonso (40.8s) and Petrov (44.9s) in tenth place - Vettel 1 lap down in 20th place.
The teams expecting rain in the next 10 minutes.
On lap 34 Hulkenberg battles with De la Rosa for 12th place. Rain drops start to fall lightly. Glock pits for rain tyres - Buemi pits as well.
On lap 34 Sutil, Schumacher, Kobayashi, Alonso Rosberg, Petrov Alguersuari, De la Rosa, and Kovalainen pits for rain tyres.
Hamilton, staying out for another lap, runs wide through the gravel at Rivage but manages to get back on the track.
On lap 35, Hamilton, Kubica, Webber, and Massa pit for intermediate wet tyres - Kubica overshoots his pits and as a result Webber gets ahead of the Pole to take second place.
At lap 36 Hamilton leads Webber by 2.8 seconds, followed by Kubica (7.2s), Massa (14.0s), Sutil (21.4s), Schumacher (26.5s), Kobayashi (27.6s), Alonso (31.3s), Rosberg (39.8s) and Petrov (41.8s) in tenth place - Vettel in 16th.
Vettel and Alonso are under investigation for a pit lane incident.
On lap 37 Vettel pits for full wet tyres. Liuzzi, Buemi and Hulkenberg pit.
Out of the Malmedy corner, Alonso slips on the outside kerb, spins to the inside of the corner, hits with tyre wall and is stranded in the middle of the track with a broken right front suspension. Alonso jumps out of the car and the Safety Car is deployed. The rain appears to be getting a bit heavier.
Under the Safety Car Hamilton leads Webber, Kubica, Massa, Sutil, Schumacher, Kobayashi, Rosberg, Petrov and Alguersuari.
The Safety Car comes in at the end of lap 39 with four laps to go. Hamilton leads the field. Rosberg and Schumacher battle into Les Comes, Schumacher giving way and runs over the inside kerbing. Trulli has a high speed spin in the middle of traffic at Pouhon, but continues. Hulkenberg runs wide at the final chicane. Liuzzi and Alguersuari battle for 11th place.
On lap 42 De la Rosa runs through the gravel but continues.
With the rain slowing, the order remains the same, and Hamilton takes the win, his third of the season.