Belgian GP 2009
AUGUST 29, 2009
Qualifying Report - Fisichella on pole!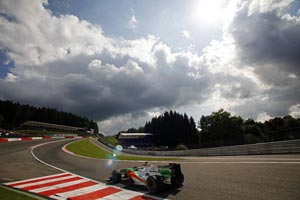 © The Cahier Archive
It is easy to be wise after the event. If one had been mad enough to put $1000 on Giancarlo Fisichella for pole position at Spa, one would be going home tonight with $150,000 in one's pocket. How did it happen?
"I don't know," said Fisichella. And you believed him.
No-one could work figure it out. The only real explanation was that the low temperatures at Spa had caught out all the big teams. Yes, Force India has improved the car; Yes, Fisichella has suddenly found that he has a great deal more motivation as there is a Ferrari drive up for grabs and he is the favourite to get it. Probably the cars were not hugely fuelled. But it was still a wildly strange result.
There was a theory, expounded by third placed Nick Heidfeld, that Spa is the first race at which the cars have run in such a specification this year and perhaps if every track was like Spa we would have seen Force India and BMW winning races this year.
Second fastest was Jarno Trulli in the Toyota and third was Nick Heidfeld's BMW Sauber. It was all most unlikely.
The only name that made any real sense was Rubens Barrichello in fourth place. The Brazilian was ahead of Robert Kubica's BMW, Kimi Raikkonen's Ferrari, Timo Glock's Toyota and the two Red Bulls of Sebastian Vettel and Mark Webber. Nico Rosberg was 10th.
Out in Q2 were some serious luminaries: Adrian Sutil was 11th ahead of Lewis Hamilton, Fernando Alonso and Jenson Button with Heikki Kovalainen in 15th.
Knocked out in Q1 were the two Toro Rossos of Sebastien Buemi and Jaime Alguersuari, the Williams of Kazuki Nakajima, Romain Grosjean's Renault and Luca Badoer's Ferrari, which ended the session in the gravel.
Much will depend on Sunday on the weather. If the temperatures rise one would assume the usual frontrunners will be back on top. At Spa you can overtake and so there is still the possibility that we will see some great drives through the field.
All things considered this was just an odd result.