Belgian GP 2009
AUGUST 28, 2009
Friday Team Quotes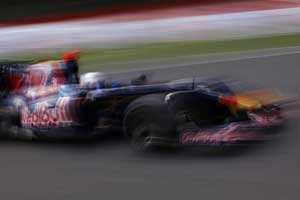 © The Cahier Archive
McLaren-Mercedes
Lewis Hamilton (1st, 1:47.201): "I'm happier today than I expected. We don't have as much downforce as some of the other teams, so we're not as quick as we'd like to be, especially in the middle sector. Fortunately, however, we have KERS and can use it to our advantage in the first and third sectors. The car didn't feel fantastic today - but we only really had one session to find a set-up so we've got some changes to make overnight. Still, this is a massive improvement compared with Turkey or Silverstone, and we look competitive, which is important, so we're not unhappy."
Heikki Kovalainen (12th, 1:47.743): "I think slower speed corners suit our car better than high-speed stuff. So I guess we are still losing a bit of time in the high-speed corners compared to the fastest cars. But we've definitely made some good improvements in this area and the car feels positive to drive and seems to be working quite well around here. We're in the hunt again, which is encouraging, and we're working on a strong strategy for the race. We should be able to fight for a good starting position in qualifying tomorrow."
Martin Whitmarsh, Team Principal: "As always at Spa, the weather played a prominent role in our preparations for the race - but the local micro-climate is one of the idiosyncrasies of the place, and the reason why it so often throws up an unusual result. As an example, this morning's rainfall initially looked like a passing shower but ended up rendering much of P1 useless for practical evaluation. Into this afternoon's practice, the blue skies enabled us to complete some more meaningful running as we crammed a busy set-up evaluation and a tyre analysis programme into a single session. The lack of running means there's still scope for further improvement, and there's plenty of work to be done overnight, but we end the first day reasonably encouraged by the speed of our overall package."
Norbert Haug, Mercedes Motorsport Director: "Today was a positive start to our weekend. Having said that, the top 10 is only separated by 0.4s and there are 18 cars - including the top two in the world championship in 17th and 18th spots - within less than a second of each other. This shows just how mega-competitive Formula 1 is these days and today was probably the Friday with the closest lap times in the history of this demanding traditional 7km circuit. However, things will probably look different tomorrow. I'm definitely not expecting the four guys fighting for the world championship to be in positions four, 10, 17 and 18 on the grid. Neither Lewis nor Heikki have been completely happy with the set-ups of their cars so there will be some work to be done before tomorrow. But, all in all, Spa has started off better than I would have expected, and everybody in the team has been working flat out to make sure we are continuing in that direction."
Ferrari
Kimi Raikkonen (3rd, 1:47.285): "I am pleased with the work we have done today and the overall feeling is a positive one. The car seems to be quick, even though we know it's only Friday and therefore we cannot be entirely sure where we are compared to the others. We had a few technical problems, although they didn't have a significant effect on the way we got through our planned programme for the day."
Luca Badoer (20th, 1:49.211): "In the wet this morning I was reasonably happy with my performance, even if I would have preferred to have run all the time in the dry, to increase my understanding of the car. In the afternoon, we made some modifications to the set-up, but I still haven't managed to find the ideal settings for my driving style and so, I didn't have the right feel for the car to attack all the corners. We still have a session available to us to work on the car tomorrow morning. My aim for qualifying is very simple: to make the cut at the end of Q1."
Stefano Domenicali, Team Principal: "The results of free practice always have to be looked at with a pinch of salt, as we don't know what programmes the other teams are running. For our part, we can be satisfied with the performance of the F60, which showed itself to be competitive both in the dry and in the wet. Kimi was very quick and I think that he can be a major player this weekend. Furthermore, we have seen how close it is, with nineteen drivers all within just over one second of one another: clearly, all you need is to have around ten litres of fuel more or less on board to change the look of the time sheet. In twentieth place, Luca has made a step forward compared to Valencia, showing that what he needs most is to do more kilometres on track. This morning's rain definitely did not help him, even if he was more competitive in these conditions than in the afternoon. We expect to see him continue to improve throughout the weekend."
Chris Dyer: "The changing weather conditions, typical of this Grand Prix, meant we were able to test for a long time in the rain and I have to say that both drivers reckoned they were pleased with the performance of their cars in the wet and were competitive compared to the others. In the afternoon, we had a few niggles with both cars (a failure in the hydraulic system meant Kimi couldn't get back to the pits at the end of the second session) which did not really affect our programme. Kimi proved to be very quick: now we will analyse the data to decide in which direction we should go with the car in order to improve still further the performance of his F60. Luca continued to gain experience with the car and we hope he can also improve his performance bit by bit, as he gets more mileage under his belt."
BMW Sauber
Robert Kubica (8th, 1:47.578): "The conditions today were quite changeable. We started the first practice session on dry tyres, but it started to rain pretty soon as actually we were only able to do one timed lap on dry tyres at the start of the session. We took advantage of the weather conditions and did a couple of laps on full wet tyres just to see how the car behaved in case of rain. We had to squeeze quite a lot into the second free practice session, and on top of that we evaluated the tyres and worked on the set-up. It was quite difficult as we had to cram several things into a very tight programme. We even had to mix several evaluations in one run. We also have a couple of new components on the car."
Nick Heidfeld (16th, 1:48.017): "It was quite okay. In the first session the rain disrupted our programme. In the afternoon we made the usual tyre compound comparisons, with a somewhat surprising result as I found the harder compound the better one."
Willy Rampf, Technical Director: "In the afternoon we concentrated mostly on the tyre comparisons, after we failed to gather any relevant information on the dry tyres in the morning. We still have quite a lot of work to do on the set-up of the car, because it is particularly important for the drivers to feel confident on this demanding track. The second sector, with its quick corners, is the most important one and this is what we have to focus on. Once again the field is very close with 18 cars classified within one second."
Renault
Romain Grosjean (5th, 1:47.333): "Today was very interesting as we had wet and dry conditions as is quite normal for Spa. Once again Fernando has been very helpful and comparing my data with his data really helped me today as I could see where I needed to improve. In the afternoon session we concentrated on testing the two types of tyre and I managed to do over 30 laps so I think we are quite well prepared for tomorrow."
Fernando Alonso (14th, 1:47.862): "We did quite a few laps today, especially in P2. In P1 we were affected quite a lot by the rain, but in the afternoon we were able to concentrate on evaluating the tyres and we are happy with the balance we have with the car. Tomorrow it will be an important qualifying session because we are all determined to get a good result this weekend, so most importantly we would like a good grid position tomorrow."
Pat Symonds, Executive Director of Engineering: "It was a productive day. This morning of course was interrupted by rain, but it gave us a chance to look at the car in wet conditions and it gave Romain a chance to drive an F1 car in the wet. In the afternoon, we concentrated on evaluating the tyres which are so important here in Spa. I'm pleased with the progress we have made and happy with the balance of the car. All in all, it has been a successful Friday."
Toyota
Timo Glock (2nd, 1:47.217): "Whenever you come back to Spa it is a nice experience to do your first laps of the weekend and that was the case again today. It's a great circuit and very satisfying for a driver, especially when you have a competitive car. It's hard to draw any conclusions from the wet session this morning but I am pleased to be second in the afternoon; that is very encouraging. The car felt pretty good and the lap times show that. Still, there are a couple of areas to improve so we will work on those before qualifying and try to find the perfect aerodynamic balance. I am happy with how things went today and I'm interested to see where we are tomorrow."
Jarno Trulli (7th, 1:47.559): "It was a good Friday for us. Obviously there is still work to do to get the most out of the car and I need to find a bit more grip at the rear end but all in all I am very happy with the results today. I have a good feeling from the car so I hope it will be a competitive weekend for us. The track was wet this morning which meant we couldn't do all of the tests we had planned but we did some laps to better understand the car in those conditions. In the afternoon, when it was dry, the track just got quicker and quicker. I was working mainly on race pace today, getting the car set-up in race trim so we have a good balance for Sunday, and it seems to be reacting well."
Dieter Gass, Chief Engineer Race and Test: "Overall it has been a positive day for us. It was a bit unfortunate that the first session was disrupted by wet conditions because dry weather is forecast for the rest of the weekend, so we lost some time to work on the car. In the afternoon we were mainly concentrating on assessing the revised aerodynamic package we have brought to this race. We also looked at the tyres and both specifications seem to be behaving okay. We anticipated some warm-up issues but that doesn't seem to be the case. In general we are quite happy with what we have seen so far so we are looking forward with optimism to the rest of the weekend."
Toro Rosso-Ferrari
Jaime Alguersuari (9th, 1:47.579): "In the past I've been competitive here in Formula 3 and other series and I think today went quite well. It's nice to drive a Formula 1 car on a track where you feel at ease. I'm getting a better feeling for the car now and we made some good improvements to it during the two sessions, even if there is a little bit more still to come. My pace is improving, as I get more confident with the car in the fast corners."
Sebastien Buemi (11th, 1:47.702): "This is a beautiful circuit and we had a very good car, so I am happy with the way things went today. We managed to improve the car lap after lap and we are working in the right direction. I think we have good speed, although we won't get the full picture until qualifying tomorrow. There is not that much difference between the two types of tyre, but as always we are a little bit faster on the Option."
Red Bull-Renault
Mark Webber (4th, 1:47.329): "I think that's the most we could have hoped for during today's session. You always expect to lose a session in Spa due to the changeable weather conditions and that was the case this morning. We had a pretty productive afternoon with plenty to go through. We didn't always move in the right direction, but that's not always a bad thing as we learn from it. So, that's today and now we'll put it all in focus for tomorrow - not a bad start for us."
Sebastian Vettel (10th, 1:47.602): "We didn't have so much running time today, especially in the morning, but that was actually quite good for us. We knew we would face a difficult Friday as we don't have that much mileage available because of my engine situation, so it was a little bit lucky to have the rain this morning. In the afternoon, I felt comfortable with the car, we didn't have any problems and I'm quite happy with the performance. We need to see exactly where we are tomorrow, but I think it's been a good start to the weekend. I love this circuit, it has excellent corners and is a lot of fun."
Williams-Toyota
Kazuki Nakajima (15th, 1:47.961): "It was a difficult day for us. The balance of the car was not too bad but we just need to find some more performance from the car from the other aspects we can change."
Nico Rosberg (19th, 1:48.360): "It was not a good day today. The car was a long way from the pace and with the weather this morning, we only had one session to try and make a difference, which was not enough given how far behind we were. We made some big changes and we got some answers back, but we need to have a think tonight and try to find a solution."
Sam Michael, Technical Director: "The weather was mixed this morning, so it was a little difficult to see where everybody was. What the rain in the morning did mean was the afternoon was compressed in terms of getting all of our work done. The running we have done shows we are not in our normal competitive position. However, we have tested lots of things today and we have got some direction, so we will look into this tonight and do all we can to take a big step tomorrow."
Force India-Mercedes
Giancarlo Fisichella (6th, 1:47.506): "We had a lot of understeer at the beginning of the afternoon but we improved the balance of the car and made a good step forward for the last run of the day. My last lap was good and I'm happy I could record a quick time. We still need to work on the amount of understeer we have but apart from that today was not too bad. It's difficult to say where we will be tomorrow, but top 15 is realistic and of course we will try our best to get in the top 10 but it is going to be very difficult."
Adrian Sutil (13th, 1:47.790): "It's great to be back at Spa this weekend. I really enjoy driving here, even in the wet. I'm quite happy with today. We had a lot of work to get through in the afternoon and trying to get the balance and the tyres to work took some time. We had quite a lot of understeer but when we understood it I felt much more comfortable in the car and with our pace. Unfortunately I got traffic on my last lap so the time isn't a true reflection of what we could do but I'm confident for tomorrow and maintaining our recent performance."
Dominic Harlow, Chief Race Engineer: "It wouldn't have been Spa without the wet session, and that meant our afternoon practice was slightly condensed in order to try and fit in all the work we had planned. Obviously here we need to evaluate wing levels and the effect that this has on speed and set-up, and also the Bridgestone medium and soft tyres that are available. The drivers reported some understeer, and there is still a bit of work to do on setup. It looks close again, and we will have to work hard to maintain our level of competitiveness from Valencia."
Brawn-Mercedes
Jenson Button (17th, 1:48.125): "It was a tough session this morning as we weren't able to get much done apart from some wet running at the end. However that experience is good here just in case it rains over the weekend which is always possible at Spa. The second session this afternoon was much more useful. We worked through a few aero and downforce comparisons as well as looking at the tyres. We collected a lot of information but obviously at the moment we're not as quick as we would like to be. There are a few areas that we do need to improve on with the balance but the potential is there to do that ahead of qualifying."
Rubens Barrichello (18th, 1:48.130): "We got through a lot of work today which sets the weekend up nicely. There is still some way to go to realise the full potential of the car but as always on a Friday, the lap times don't tell the whole story. It was pretty useful to get some wet running in this morning just in case the weather plays a part in qualifying or the race. The car doesn't feel as competitive as it did in Valencia last weekend but we're going to be in a good position to fight hard in qualifying tomorrow."
Ross Brawn, Team Principal: "A good start to the weekend and we were able to achieve much of our planned testing programme despite the interruptions from the weather this morning. We're not experiencing any issues with tyre temperatures so far which is positive and it's good to see our hard work in this area starting to pay dividends. There is still some way to go to maximise the set-up of the car to the requirements of both drivers so it will be a busy hour of practice tomorrow morning to get ready for qualifying."