Belgian GP 2007
SEPTEMBER 16, 2007
Race Notes - Raikkonen dominates Belgian GP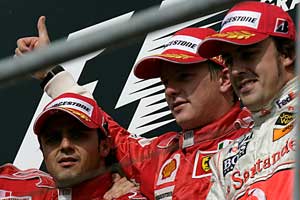 © The Cahier Archive
Kimi Raikkonen won the Belgian Grand Prix, at Spa Francorchamps, in dominate fashion in a Ferrari 1-2 with his team mate Felipe Massa finishing second 4.6 seconds behind. Fernando Alonso in the McLaren-Mercedes finished third, some 14.3 seconds behind.
The win is Kimi Raikkonen's third straight win at the Belgian race, the previous two victories while driving for McLaren. With the penalties handed out in Paris this week, Ferrari clinches the 2007 Constructors' Championship. In the Drivers Championship Lewis Hamilton now leads Alonso by just two points, with Raikkonen 13 points behind with three races remaining.
Fourth place went to the McLaren-Mercedes of World Championship leader Lewis Hamilton, Nick Heidfeld in the BMW Sauber in fifth, Nico Rosberg in the Williams-Toyota in sixth, Mark Webber in his Red Bull-Renault in seventh, and Heikki Kovalainen in his Renault in eighth.
Before the start, Robert Kubica starts in 14th, after an engine change, while Giancarlo Fisichella and Anthony Davidson will start from the pitlane.
At the start Raikkonen leads Massa with Alonso and Hamilton battling it out for third and fourth into Eau Rouge - Heidfeld losing two positions to fall to 8th, Trulli falling from 8th to 12th, while Fisichella retires in the pits.
On lap 3 Webber squeezes Kovalainen going up the hill, overtaking him to take sixth place.
On lap 5 Heidfeld passes Kovalainen into the final chicane for seventh place, while Adrian Sutil in the Spyker with the softer compound tyres moved from 19th at the start, up to 12th place.
At lap 5, with the gap between the front runners stretching out, the order was Raikkonen leading Massa by nearly two seconds, followed by Alonso, Hamilton, Rosberg, Webber, Heidfeld, Kovalainen, Kubica and Schumacher in tenth place.
On lap 7 Vettel pits, and then pits again the next lap the team working on a steering problem.
On lap 12 Kubica passes Kovalainen into the chicane to take 8th place.
At lap 13 the gaps among the frontrunners continues to grow, Raikkonen leading Massa by 5.0 seconds, Alonso by 10.1 seconds, Hamilton by 12.8 seconds, Rosberg by 26.3 seconds, followed by Webber, Heidfeld, Kubica, Kovalainen and Ralf Schumacher in tenth.
On lap 14 Rosberg and Webber are the first to make pitstops, followed the next lap by leader Raikkonen, Alonso and Kubica. Massa and Hamilton pit on lap 16, Heidfeld on lap 18, Ralf Schumacher on lap 20,
On lap 22 Kovalainen on a one-stopper pits from fifth place.
At lap 23, just after half distance, Raikkonen continues to lead Massa by 4.8 seconds, Alonso by 16.6 seconds, Hamilton by 19.6 seconds, Heidfeld by 38.1 seconds, followed by Rosberg, Webber, Coulthard, Kubica and Kovalainen in tenth place.
On lap 24 Jenson Button and Vitantonio Liuzzi pit, followed by David Coulthard on lap 25 and Rubens Barrichello on lap 26.
On lap 30 Rosberg made his second stop, followed by leader Raikkonen the following lap, and Webber and Trulli on lap 31, and Massa on lap 32.
On lap 31 David Coulthard pulls his Red Bull-Renault off the track at the final chicane and retires.
On lap 33 Alonso and Kubica make their final stops, followed by Heidfeld on lap 44.
On lap 37 Wurz retires in the pits, while Hamilton makes his final stop - returning to the track behind his McLaren team mate, while Button also retires.
At lap 38 the order was Raikkonen leading Massa by 3.1 seconds, Alonso by 17.2 seconds, Hamilton by 23.6 seconds, Heidfeld by 47.7 seconds, followed by Rosberg, Webber, Kovalainen, Kubica and Ralf Schumacher in tenth.
Meanwhile, Kovalainen and Kubica continue to battle for the final points paying position to the finish.