Bahrain GP 2014
APRIL 4, 2014
Friday Team Quotes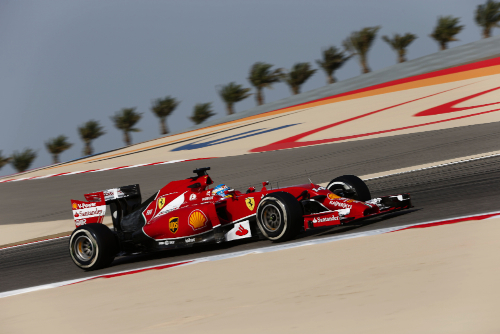 © Active Pictures
Red Bull-Renault
Daniel Ricciardo (4th, 1:35.433): "We had a better run in P2 today than in P1. In P1 we played around a little bit with a few things on the car, but this evening was better and we made a step forward. We've still got more to go through - so overall not a bad day, but still room for improvement."
Sebastian Vettel (7th, 1:35.606): "It was a solid day for us and we didn't have any problems with the car. We're still learning a lot in terms of reliability and car set up, so it's important to do laps and not to have any problems."
Mercedes GP
Lewis Hamilton (1st, 1:34.325): "It's been a pretty decent day for us. The car felt good from the outset which allowed us to spend time getting to grips with the tyres. The softs in particular seem to be working well and we saw a fair difference in lap time between them and the mediums. The focus today was on the second session as the timing and conditions reflects that of the rest of the weekend and the difference in temperature between the sessions was quite large. The key was to not react too much to that change in terms of our approach to set-up and we seemed to manage that well. It was great driving under the spotlights here: the circuit looks even better at night and you don't really notice a difference in terms of visibility. It's actually quite nice to be driving in cooler conditions too. As always there are still some tweaks we can make to improve the car, but overall I'm feeling good. I heard the update about Michael after P2 and we are all thinking of him and his family."
Nico Rosberg (2nd, 1:34.690): "Today was a good day of testing for us. It seems that we are quick in terms of outright pace and I also had a good long run in the second session, so I'm quite confident about the weekend ahead. Driving in the evening is very different, as the track temperatures are much lower than during all the test sessions we've had so far during the day. We learned a lot in the new conditions and it worked out quite well. It was also great to hear some encouraging news about Michael today. The whole paddock was happy to hear this and I hope his progress continues."
Paddy Lowe: "We've conducted a lot of testing here in conditions similar to those of today's first session, however this is not representative of the timing and conditions we will encounter during qualifying and the race. We therefore opted to run a reduced programme in P1 and focus our efforts on P2 later in the day. During P1, both drivers completed a pair of short runs at the beginning and end of the session. P2 took a more normal format of short and long runs using primarily the option tyre and assessing potential strategies for the race. Both cars ran trouble-free throughout and the drivers were pleased with the balance. We're pleased with our day's work and looking forward to qualifying tomorrow."
Toto Wolff, Mercedes Motorsport Director: "Today was a good day for the team. It's impressive to see the cars running under floodlights for the first time in Bahrain. The important thing, however, was that we dealt with the change in temperature having become very familiar with running during the day here. The car looked competitive and reliable in the hands of both drivers, so we clearly handled the situation well. As always, though, we must keep our feet on the ground and make sure we maintain this level throughout the weekend: starting with qualifying tomorrow. We have also heard some positive news today from Grenoble. All of our thoughts are with Michael, his family and friends and we hope to hear of more encouraging signs moving forwards."
Ferrari
Fernando Alonso (3rd, 1:35.360): "After many daytime races, it was really strange to be running here in the dark even if it was not very different to the other night time races, so we just have to get used to it. From this aspect, today was very useful, especially FP2, to learn about the behaviour of the tyres and the car. Even if we did a lot of running here in winter testing, now it's like starting from scratch and one has to adapt to the new indications coming from the differing track conditions. We know our strong points and the areas we must focus on to improve, but we must not overreact in trying to close the performance gap. At the moment we must make steady progress while still keeping an eye on reliability, which has brought us a good points haul in the first couple of races, which is always very important."
Kimi Raikkonen (14th, 1:36.366): "Overall, this was a difficult day, because I didn't feel comfortable with the car in either session. In the first one, I damaged the floor on the kerb at turn 4 and this meant I had to pit. The team did a super job, because they got me back out on track in a short time, but then, because of a problem with the brakes, I was unable to complete the programme. In the second session we concentrated on looking at the two Pirelli compounds and with the Soft it was definitely better than the Medium. Now we will get down to analysing all today's data, especially regarding the immediate change in the track from day to night and we will try and improve for qualifying and the race."
Pat Fry: "Today's two sessions were very different to one another, as was predicted, partly because of the programmes we ran and partly because the track was cleaner in the second one. In general, the second session was more representative, just because the temperatures were more similar to what we can expect in the race. Work on both cars concentrated on set-up, aimed at improving stability under braking. In the earlier session, Kimi's programme was interrupted when the floor on his F14T was partly broken after he hit a kerb at turn 4, but we had no problems with Fernando. Then tonight, we did a long run test and now we must look closely at tyre performance, which is a key factor this weekend along with fuel consumption. It will be interesting to see how the hierarchy will change between tomorrow and Sunday, because the technical characteristics of this track mean the gaps between some of the teams could close up."
Lotus-Renault
Pastor Maldonado (17th, 1:37.259): "It was good to have a reliable car and we completed a lot of work today. We had a lot of parts to test and we ran through many different evaluations. I made a little mistake in the evening session and we took quite a bit of air after jumping the kerb. Fortunately, not too much damage was done and we could continue the session. I'm looking forward to tomorrow to see how well we can perform."
Romain Grosjean (18th, 1:37.599): "We have learnt a lot about the car today which can only help us to make progress. I had a bit of an issue which needed investigating in the second session, so it was frustrating to miss some time as I'm sure we would have made more improvements. It was interesting driving one session on a hot and bright afternoon then the next in darkness. We have lots of work to do for tomorrow."
Alan Permane, Chief Race Engineer: "Today was a far more normal Friday where we were able to evaluate a wide selection of new aero parts in the first session and work on set-up and tyre performance in the evening session. FP1 wasn't a fantastic experience for either driver; we kept a baseline setup on the car as we assessed many new parts. The evening was all about data collection, albeit of a different nature too. Aside from a small issue with Romain's car we have been reliable today which means we have plenty of data to be working on overnight as we look to qualifying tomorrow."
McLaren-Mercedes
Jenson Button (6th, 1:35.528): "The conditions in the evening [FP2] were very different from the conditions in the afternoon [FP1]. There was no significant difference in terms of sighting braking points and apices under lights; no, the key difference was the lower air and track temperature. As you'd expect, on cooler asphalt, in FP2, it was much more difficult to get temperature into the tyres, but on the other hand you didn't have as much degradation, so there was a trade-off there. It was the same for everyone, of course, but there's still a gap between us and the fastest cars - in fact I don't think anyone is really happy with their car except Mercedes - so we've got a lot of work to do. But we're pushing as hard as we can to do that work and close that gap."
Kevin Magnussen (9th, 1:35.662): "Today we got through our planned programme well, and our car seems to be working okay on this circuit; it feels like a pretty decent racing car here, in fact, but obviously it's still too early to say much for sure. We're quite a bit off the pace of the quickest cars, of course, but I reckon we've got a slightly better chance to make up for that here owing to the cooler air and track temperatures. Also, apart from the quickest cars, the field seems to be pretty well bunched. If it stays like that, hopefully we'll have an opportunity to qualify decently tomorrow, which should place us well in terms of scoring points on Sunday. But it's early days yet, so let's wait and see."
Eric Boullier, Racing Director: "Today was a pretty straightforward day, in which we achieved most of what we set out to do. In FP1 Jenson and Kevin ended up P5 and P7 respectively, which was a good start. In FP2, which took place in the comparative cool of the evening, we found our cars to be better balanced and possessing of more grip - as expected - but the same applied to our rivals, leaving Jenson in P6 and Kevin in P9. But Friday is all about performance development, and it's clear that our high-fuel runs still require further work. Our engineers are already engaged on the issue, however, and I'm confident we'll make progress overnight."
Force India-Mercedes
Sergio Perez (10th, 1:35.802): "Today was positive; we managed to complete our programme and we're quite happy with the car, especially on the prime tyre. I was able to complete some long runs and that will give us plenty to analyse tonight. The track temperature and conditions change a lot between the late afternoon and the evening, and it's something we were expecting. We will keep working to improve the car for tomorrow, but we can be satisfied with the amount and quality of work done today."
Nico Hulkenberg (13th, 1:35.998): "It was quite a good day for us; we did not do a lot of running but when we were out on track the running we did was quite good. First practice was not that representative because the race will be held at a completely different time of the day and with very different conditions, but the second session was a more realistic. We did some quality running in this session and we looked okay. I felt quite comfortable in the car and we just need to do some tweaks to the set-up tonight. I think we have a good starting point for the rest of the weekend."
Robert Fernley, Deputy Team Principal: "Another solid day of practice with both cars getting through our programmes without any significant concerns. It was good to see Sergio complete so many laps given the difficulties we had in Malaysia on his car and he seemed very comfortable today. Nico also made good progress and we were encouraged by the competitive long run pace. So I think we are in reasonably good shape going into the weekend."
Sauber-Ferrari
Adrian Sutil (15th, 1:36.962): "Today in the morning we were able to test different set-ups for the car, and that was ok. The medium and soft tyres are a good choice for this track. The second practice session was interesting because of the lower temperatures, which will probably be similar during qualifying tomorrow. In general, the grip was good. Because of the lower temperatures, the tyres are not over-heating, but the track is a challenge for the rear tyres. However, it is good that we have cooler temperatures, which should also be a benefit for the race. In the evening we could do our short runs with the medium and soft tyres. Later in the second practice session the engine switched off and I had to park the car in Turn 4. Because of this we missed doing the long runs. We tried to head out again, but there was no time left."
Esteban Gutierrez (16th, 1:36.975): "Overall the balance of the car is pretty much there where we want it to be, and this is a good sign. The feeling of the car is quite good and I am satisfied with the balance. We still have some work to do with the gear shift. At the moment we are missing quite a lot of straight-line speed on high fuel. However, in the corners the car does not feel too far off. We have to work on the fine-tuning and we need to get a better understanding of the track temperature, as this is very different in comparison to how it was in Melbourne and Sepang. It is a different kind of warming up of the tyres."
Giedo van der Garde: "The session was not too bad. It's been a while since I was in a car. The last race I did was in Brazil and since then I have not been in a car. I was struggling a bit at the beginning, as the car is completely different to last year. The way of driving, the feeling in the car, the sitting position, the steering wheel are all different. Nevertheless, I improved from lap to lap. With the second set of tyres I was still able to improve a lot. I am quite pleased how the session went, taking into consideration that this is also the first time I have driven the car with the new engine. I am happy so far. I hope we can work with the feedback. It was a nice warm up for next week, when I will have one full day of testing. Today I just did 20 laps. Hopefully during the test we can do more work and improve the car."
Giampaolo Dall'Ara, Head of Track Engineering: "In FP1 for the first time we had Giedo van der Garde in the car. He did a very good job, particularly considering he drove the car for the very first time. He gave some valuable feedback for the set-up of the car, which was also good. The session itself went pretty faultlessly, however, with the temperatures much higher than expected in qualifying and during the night race, it was not of much significance. With Esteban in FP2 we tried both compounds first on low and then on high fuel. Adrian was forced to stop out on the track with an empty battery, a problem we know how to solve. We cannot be happy with the performance, so we have quite a lot of work to do."
Toro Rosso-Renault
Daniil Kvyat (8th, 1:35.640): "Overall, this has been a good day for us, as I managed to do a lot of laps, with no big problems. It was the first time I have driven under the floodlights and that was fine. Comparing the two tyres, clearly the Soft is much quicker than the Medium but in general this evening all the lap times were faster because of the big drop in temperatures once the sun went down. We will now analyze all the data with the engineers and I hope we can have a strong remaining weekend."
Jean-Eric Vergne (12th, 1:35.972): "It was not a bad Friday, even though we didn't start the day with a perfect car. Overall, we improved in the second session and I'm sure we can make the same step forward for tomorrow's FP3. We certainly need to analyse all the data carefully tonight, but I'm confident that there is still more speed to come, so this was an encouraging start."
Phil Charles, Chief Race Engineer: "It was quite a good day for us and we are pleased how we were able to work through our programme today. We have done a number of chassis tests today with both cars, which worked out reasonably well and we got some interesting data from that. It's quite tricky to deal with the condition change from the hot P1 to the much cooler P2, but we've managed this quite well with both cars. There is still a bit to analyse tonight and try to get the maximum out of the car for the rest of the weekend, but overall we are quite happy and both drivers did a good job."
Ricardo Penteado, Renault: "A very busy but ultimately productive day with a lot of miles. We completed our programme and overall our energy management has improved a lot over the day, which will allow us to recalibrate our simulations overnight and come back fully prepared for Qualifying tomorrow. The only issues have been relatively small: Daniil lost some time in the morning with an oil leak and then in the afternoon with a small issue on the wastegate, but once both were identified they were easy to fix and did not impact the information we needed to get. We're happy with how the day went."
Williams-Mercedes
Felipe Massa (5th, 1:35.442): "It has been a good day for us even though we didn't do much running. We covered some good miles during pre-season testing, so today wasn't about learning, but fine tuning. Luckily the car hasn't changed too much since we were last here, but some other cars have definitely caught up. The car feels ok and I think we can be competitive, hopefully more so than in Malaysia. We still have some work to do tomorrow but we are feeling positive."
Valtteri Bottas (11th, 1:35.920): "Today has been a short day for me after sitting out of the first free practice, but Nasr did a good job and handed the car over in one piece and he managed to complete his programme. Today we opted for short stints as we have had plenty of time running throughout winter testing. The aim of these stints was to fine tune the set-up and we can still improve it for tomorrow. Overall though the feeling is positive from my side and after so few laps today I still have quite a bit of work to do tomorrow."
Felipe Nasr: "It was a really enjoyable session; it's been a long time since I was in the car here in testing so it took time for me to get back into the F1 mode. It's also new for me to have all the cars on the track at the same time. The track is still improving so we were struggling for grip but that's something everybody else would have experienced, it was quite different from testing. The track conditions also limited my time out there as there is little we can learn, the track will change so much before the race. I learnt a lot about the process, how the session works, what to expect and I also practiced a start and a pit stop so that was a great experience for me. I am looking forward for the next one."
Rob Smedley, Head of Vehicle Performance: "Today went to plan which is good. This morning was about testing aero components alongside some mechanical tests which all went well. We came here with a lot of reliable information and data that we collected from testing. This afternoon our focus was on areas that we hadn't been able to look at during winter testing, one of which was the tyres and how they would perform in the cooler temperatures. We managed to complete our programme and are very happy with how the drivers and team worked today."
Caterham-Renault
Kamui Kobayashi (21st, 1:38.257): "After sitting out FP1 I was keen to get back in the car, especially with the better reliability we had in the first session which will help us much more over the rest of the weekend. The car felt ok but we had understeer in both the low and high speed turns so we tried a different front anti-roll bar for run two and there was a small improvement, but there was more front locking so I couldn't really attack into the braking zones. On the softs the car felt better, but it was very snappy on power. On my first quick lap on the softs I had traffic and I had to lift for yellows in turn four, and then again the next time I went for a quick lap so I think with a clean run there was quite a few tenths left in the car, but we didn't have a chance to improve that as we went onto the long run for the final stint, starting on the mediums. That went ok and we finished Friday with a good number of laps for the first time for me this year. The normal long Friday night is now ahead and I'm sure we'll make some progress tomorrow."
Marcus Ericsson (22nd, 1:39.136): "FP1 was ok - we started with a rear wing change to look at some data from that, and then got stuck into the full program that was used mainly to prepare for the race. Throughout the session we kept improving the driveability of the power unit, and, balance-wise, we started with too much oversteer in the high speed corner, and understeer in the lows, but we made a couple of changes to the ride height and a few other mechanical setup changes, and by the end of the session we were heading in the right direction. For FP2 we made a few more changes to the setup and the initial feeling was that there was more grip overall, especially in the high speed sections where the balance was ok, but I was having power issues throughout most of the first run which meant I wasn't really able to push. The power was coming in and out in a way that wasn't really predictable, so I didn't know what was going to happen when I got on the throttle coming out of each corner - unfortunately I didn't get one lap without that issue so the final laptimes really weren't a clear guide to where we are performance-wise, but we'll look at that in detail tonight. We finished with a long run which started on the softs. The deg levels were pretty good but with the same power issue I wasn't really able to push, but with about five minutes left of the session I was told to stop the car as we had a power unit problem. Renault will look at that and thankfully it happened at the end of the session so, overall the main thing is we've finally had a better Friday and that means we're in a better position after FP1 and FP2 than we've been all season. We have a lot to do tonight, but I'm feeling better about the rest of the weekend than I did in Australia or last week in Malaysia, so now the aim is to build on the mileage we put in today and make some real progress tomorrow."
Robin Frijns: "It was good to get my first FP1 done, and especially good for the team that we had our first problem free first practice session of the season so far. 35 laps is exactly what we'd targeted and we completed a program that was all about preparing for Sunday, working with Renault on the power unit and not really looking at times. The car felt better balanced than the last time I drove it here in Bahrain in the pre-season test, and it's clear that Renault have made a lot of progress since then - we showed in last week's race in Malaysia that our race pace is strong and I think the work we've done today will help us build on that in Sunday's race. There's clearly performance to come from optimising the setup and more work with Renault, but I've done my bit today and I'm happy with what we did. I'm back in the car again on Tuesday for the first day of the test when we're working with Pirelli, and if we can have similar reliability then I think we can help them and us make some more good progress."
Cedrik Staudohar, Renault: "We covered a lot of miles with both cars, which is very important for the rest of the weekend. Conditions here are very different from testing, with the later session taking place after dark. It doesn't affect maps but we pay particular attention to cooling and internal temperatures since the requirements are very different. Everything worked fine with Kamui's car and we were able to run through our programme and collect a lot of information. On Marcus' car we had a couple of issues - In FP1 we picked up an ERS problem but were able to fix that in the garage and get out relatively quickly. Then in the afternoon we found an issue with the MGU-K overheating in the last few minutes of FP2 so we stopped on track to avoid further problems. We'll change both parts for tomorrow to aim for a clean day."
Marussia-Ferrari
Jules Bianchi (19th, 1:37.800): "I think we saw promising signs from our running today which suggest that we have made some good progress with understanding our package a little more since Malaysia. The run on the soft tyre looked good so we look forward to exploring the performance of the car a little more tomorrow. Of course, we did have to end the day early to look at the brake disc problem that Max experienced, but a good start and some things to look forward to over the rest of the weekend I hope."
Max Chilton (20th, 1:38.247): "It was not the straightforward day of practice and preparation we had targeted but we were making good progress nonetheless and things were looking quite promising in the early part of the second session in particular. We were just getting started on the long run work when I felt something let go on the front left and it threw me into a spin. It felt like a brake disc failure and this is in fact what happened, so it's something we need to look into very carefully this evening. It's interesting to be back here after pre-season testing at this circuit but obviously the floodlights give a different dimension to the action. I do like the night races."
John Booth, Team Principal: "This morning's programme was mainly devoted to trying to improve the overall car control system mapping, looking at both the interaction of the power unit and the other chassis side systems. While we were not particularly focused on outright lap times, we were relatively pleased with our overall performance in the session. The same is true of our reliability this morning and for the early part of the second session. The work we completed in FP1 allowed us to fine tune some more mapping for FP2 and at the start of this evening's session both drivers were much happier with the cars. The short runs in FP2 passed off without incident and we can be relatively pleased with the performance as neither lap was perfect. At the start of Max's long high fuel run he stopped on track after a large lock-up. When the car arrived back at the garage our suspicions were confirmed as a brake disc failure. Having looked at the problem more closely, we decided to bring the day to an early conclusion in order to focus on investigating the cause."