Bahrain GP 2013
APRIL 22, 2013
Race Report - Battles Galore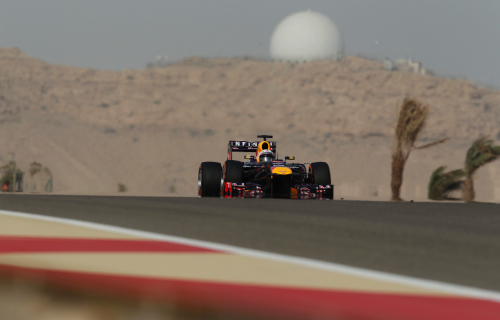 © Active Pictures
Battles, duels and fights raged from start to finish in the action-packed Bahrain Grand Prix. But Sebastian Vettel, who won the race in his Red Bull, only took part in the mªl©e for the first three laps. Then he cantered home to his second victory of the season and the 28th of his F1 career.
"The pace was phenomenal," he said. "The car was very quick and it just started to get better and better towards the end. Really, a beautiful race where you could push every single lap. We took care of the tires, so overall I'm very happy."
Lotus teammates Kimi Raikkonen and Romain Grosjean took second and third ahead of Force India's Paul di Resta. Lewis Hamilton (Mercedes) and Sergio Perez (McLaren) rounded out the top six.
"You're never really happy if you don't win, but I suppose second place is as close as you can get," said Raikkonen who started seventh and was one of the few drivers to pit only twice for new tires. "I drove to the maximum and the car had the pace that we missed in qualifying yesterday so it was a pretty good result. We didn't have the speed to challenge Sebastian (Vettel) today but we did have the pace to get both cars on the podium so I'm happy for the team."
Grosjean, who has been wrestling with a recalcitrant chassis all year, had a new chassis for Bahrain.
"It hasn't been an easy start to the season for me," he said, "but we made good progress through the weekend and are now back to where we should be. I felt much more comfortable in the car and the result today is a deserved reward for everyone after all our hard work. It was a really enjoyable race with a lot of overtaking and a couple of tense moments along the way, so to come from P11 through to the podium is really satisfying. We've had consistency already, finishing every race in the points, but now it's the big results we're chasing and this is a very good start to that challenge."
Nico Rosberg qualified his Mercedes on pole and led the first three laps, but his car, while fast on one lap qualifying pace, was slow in the race. Vettel attacked and took the lead on lap three.
"It was obviously very tight already in the first corner with Fernando (Alonso) on the outside," Vettel said. "Unfortunately I had to give way. I wanted to line it up to get Nico probably on the next straight but then Fernando squeezed in. But then I got him back which was crucial. I saved some KERS and could out-accelerate him into Turn 6. And then Nico was a tough one. I really had to think for a while because he was quite quick down the straights."
Fernando Alonso, who had gridded third in his Ferrari, also got by Rosberg on lap three.
"It was good fun at the beginning with some very tight wheel to wheel racing," Vettel said. "At the start you don't know if you will be quick or not, as everyone is a bit all over the place, including yourself! It's important to get to the front; we saw at the last race that if you get stuck behind someone then it does have an impact on tire wear and today it was important to make use of the tires we had saved from qualifying yesterday. I love to be in clean air, so I was pushing hard to get into the lead and, with the speed we had mid-race, it was quite comfortable today."
It was not comfortable for Rosberg. He held up one driver after another as he slipped down the running order to eventually finish ninth.
"A tough day for me," he said. "As nice as it was to start from pole this afternoon, it was just as hard to finish in ninth place. I didn't feel comfortable in the car today and it wasn't much fun out there really. We switched to a four-stop strategy at the end of my third stint but it wasn't enough. We were using the rear tires too much and at the end, I was really struggling and wasn't able to push hard enough. There is a lot of work ahead and we need to focus on why our race performance isn't matching the pace that we can show in qualifying."
Alonso was in for a tough afternoon as well. The DRS flap on his rear wing stuck open twice, and that required two pit stops for repairs that dropped him back to 17th. He believed he had the speed to finish on the podium, but he ended up eighth.
"After the opening laps, when I thought the rear tires had gone off, the pit wall informed that the DRS was stuck," he said. "It wasn't fixed properly at the first stop and so I had to come in for another one. From then on, the clear instruction from the pit wall not to use it affected my race. I tried to recover but it was really difficult finding places to overtake without DRS. When you are far back, in the middle of a group, tire degradation is even harder to manage. I am sure that without the problems me and Felipe had, we would have finished higher up, because the car responds very well and it is definitely our best of the last four years."
Things went even worse for Felipe Massa who had two tire failures in the other Ferrari.
"I was really unlucky in this race," he said after finishing 15th, "and even if it's true that many things can happen in this sport, I can't find an explanation for why so many of them have to be negative. At the start, I lost ground after the collision with Sutil and then I lost even more time coming back to the pits to change tires and that wiped out any chance of having a good race. At the start, I suffered a bit with understeer, but I don't believe that was the cause of my problems, while we still need to check what happened to my tires that failed in this way. In the first instance it was probably delamination on the right rear and in the second it might have been due to a puncture."
Meanwhile, di Resta had a smooth afternoon in his well-balanced Force India. He started fifth, and his two stop strategy allowed him to lead laps 11 to 13. Raikkonen was in first for lap 14, and then Vettel took over the lead for the rest of the 57 lap race.
Di Resta ran second and then third, but Grosjean, on newer tires, grabbed the final podium spot with six laps to go.
"The podium was very close, but with our strategy we were always going to be vulnerable at the end of the race as especially to Grosjean who had two new sets of medium tires," di Resta said. "I had a good start to the race, a strong opening stint and we showed our true speed today, but ultimately fourth place was the maximum that was possible."
McLaren teammates Perez and Jenson Button provided some of the best action of the race with their fierce fight that sometime involved several other drivers as well. Perez was aggressive, forcing Button off the track several times and hitting his car as well.
Button was furious. At one stage during the race he radioed the McLaren pit with a terse message about Perez: "Calm him down!"
"I've raced with many teammates over the years and with quite an aggressive teammate in Lewis (Hamilton) but I'm not used to driving down the straight and then my teammate coming along and wiggling his wheels at me and banging wheels with me at 300km/h," said Button who finished 10th. "I've had some tough fights in F1 but not quite as dirty as that. That's something you do in karting and normally you grow out of it but that's obviously not the case with Checo (Perez.) Soon something serious will happen so he has to calm down. He's extremely quick and he did a great job today but some of it is unnecessary and an issue when you are doing those speeds."
Perez realized afterwards he had overstepped the limits of what's acceptable when fighting a teammate.
"I think today was a little bit too hard; the fight between me and Jenson," Perez said. "We touched a few times but while you are there you are just fighting and you have adrenaline. You want to take the position from your teammate but definitely I think it was a little bit too much."
Another fabulous battle took place in the closing stages between Mark Webber (Red Bull) and Hamilton who passed and re-passed each other disputing fifth place. Hamilton got by on the last lap to claim the spot, and Perez got by to take sixth. Webber ended up seventh.
"My race didn't start well at all," Hamilton said. "I was looking after the tires but I really struggled on the first two stints and was falling back. But as the temperatures dropped, the car picked up and then I had the grip that I needed to push and close the gap. I had so much fun fighting with Mark at the end. We really needed that point and I was so determined to get by. It was good, clean wheel-to-wheel racing. I'm very proud of what we have achieved over the first four races and to be third in the drivers' championship is beyond any of our expectations."
Webber ran has high as second but his car was hard on its tires and he just did not have the grip.
"The beginning wasn't too bad, but we lost quite a bit of time in the second stint trying to clear people." Webber said. "We went aggressive on the first few out laps, which meant we jumped people, but the tires didn't like it. That meant the second stint was a disaster really in terms of pace at the end and that loaded the other two stints up. In the middle of the race I thought I could get on the podium, but then it was about pace management and it's a fine line between racing and saving tires.
"Others pitted a bit before me at the end, but it wasn't enough for me to get home. If you race people hard then you run out of tires, but if you don't then they come through. In the end it was a pretty good battle with Lewis for both of us; neither of us had any tires left, but we were trying to race as best we could."
There were many two, three, four and even more car battles during the race. Vettel, out front in clear air, saw little of that as he ran home alone to the checkered flag.