Bahrain GP 2013
APRIL 20, 2013
Qualifying Report - Kick Start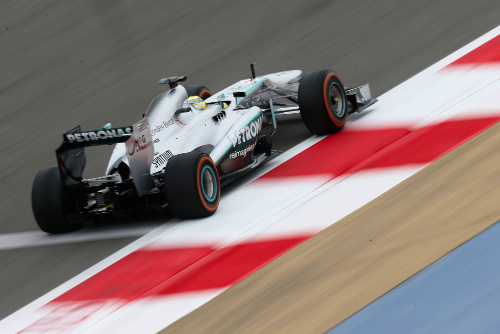 © Active Pictures
Mercedes driver Nico Rosberg won his second pole after beating out the opposition in qualifying for the Bahrain Grand Prix. His first pole came in the 2012 Chinese Grand Prix, which he went on to win.
"It is a fantastic result," Rosberg said. "A but surprised, but it wasn't clear which was the quickest car in qualifying. The team did a good job overnight. I was happier with the car this morning and I'm very happy with the lap. Tomorrow is going to be tough. (Tire) degradation is going to be a big factor."
Sebastian Vettel (Red Bull) and Fernando Alonso (Ferrari) qualified second and third.
"I am not disappointed with second," Vettel said. "Even with a clear lap (for me), Nico was unbeatable today."
As for the race, Rosberg said he wanted to kick start his season.
"I want to kick start my season now as I had a few problems in the first three races," he said. "It's difficult to say if we'll have the pace to win tomorrow, but we'll push and try to do our best."
Qualifying 1
The 20 minute Q1 session that would eliminate six drivers began with nobody waiting to leave the pits.
The ambient air temperature at the start of the qualifying was 91.4 degrees Fahrenheit (33 degrees Celsius), and the track temperature was 107.6 degrees Fahrenheit (42 degrees Celsius.)
After four minutes, Sauber teammates Nico Hulkenberg and Esteban Gutierrez broke the ice and set off. Jean-Eric Vergne (Toro Rosso) soon joined them. Hulkenberg got things rolling on the timing screens with a lap of 1:34.409. But Vergne beat that with a 1:34.314.
Only eight drivers had set times halfway through the session. The top teams were holding off and saving tires.
Nico Rosberg was the first of the big team drivers to set a time and went first with a 1:33.364 using the hard compound Pirelli tires.
With seven minutes to go, Fernando Alonso, with the hard tires on his Ferrari, turned a 1:32.878. Red Bull's Sebastian Vettel had yet to leave the pits.
McLaren drivers Jenson Button and Sergio Perez had to rely on the medium compound tires to make sure they were not eliminated from Q1.
With three minutes to go, Vettel, on mediums, jumped up to second place. His teammate Mark Webber also used a set of medium slicks.
Lewis Hamilton, with the hard tires, set a lap with just over a minute to go that put him fifth in the standings.
Daniel Ricciardo has been in 18th, but in the final seconds he managed to get his Toro Rosso into Q2.
The top six at the end of Q1 were: Alonso, Vettel, Rosberg, Romain Grosjean (Lotus) and Paul di Resta (Force India.)
More importantly, the six that would not go on to Q2 were: Pastor Maldonado (Williams), Gutierrez, Charles Pic (Caterham), Jules Bianchi (Marussia), Guido van der Garde (Caterham) and Max Chilton (Marussia.)
Drama at the end of the session: a brief fire on Bianchi's car that was quickly extinguished.
Qualifying 2
The Q2 session would last 15 minutes and eliminate six more drivers. Hulkenberg was the first to set a lap time with a 1:34.947. But Red Bull teammates Vettel and Webber beat that with laps of 1:33.471 and 1:33.907 respectively.
Eight minutes into the session, di Resta topped the times with a 1:33.335. Less than two minutes later, Alonso beat that with a 1:33.316.
Felipe Massa and Hulkenberg got in each other's way but didn't collide.
With four minutes to go, Rosberg turned a 1:32.867 to push Alonso down to second.
With two minutes to go, both McLaren drivers were out of the top 10 with Jenson Button 11th and Sergio Perez 12th.
With a minute to go, Webber moved into second. Then, with seconds to go, Vettel grabbed first place. Rosberg, Webber, Raikkonen, Alonso and di Resta rounded out the top sixth.
A number of drivers held the crucial 10th and final spot in the dying moments: Raikkonen, Ricciardo, Grosjean and finally Button.
Grosjean, Perez, Ricciardo, Hulkenberg, Valtteri Bottas (Williams) and Vergne were the six drivers eliminated.
Qualifying 3
The 10-minute 10-car shootout began with di Resta fastest with a 1:33.388, but Rosberg beat that second later with a 1:32.867. Alonso slotted into second with a 1:32.667. Hamilton was third with a 1:32.762. The other six drivers had yet to set a time with four minutes to go.
And with four minutes remaining, everybody was in the pits waiting for the last lap dash on medium tires.
Less than three minutes were left before the action began again.
Webber was the first to cross the line to begin his final run. But he could only set the fourth fastest time and would eventually be pushed down to fifth.
Rosberg improved to a 1:32.330 to claim the second pole of his F1 career. The other was in China a year ago.
Vettel managed to get into second place with a 1:32.584 and Alonso, who aborted his final run, was still third thanks to the time he had set earlier. Hamilton also relied in his earlier time of 1:32.762 to claim fourth place.
Massa, who did his lap of 1:33.207 on the hard tires, was sixth while di Resta and Sutil took the next two places for Force India. Raikkonen and Button rounded out the top 10.
The qualifying places, however, would not represent the grid because Webber had a three-place grid penalty for crashing into Vergne in China, and Hamilton had a five-place grid penalty because his Mercedes needed an unscheduled gearbox change. And Gutierrez had a five-place penalty for smashing into Adrian Sutil in China.