Bahrain GP 2013
APRIL 20, 2013
Practice 3 Report - Fernando Flies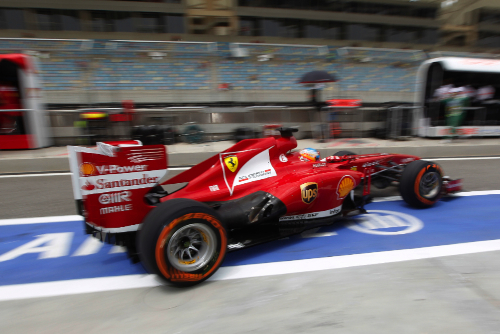 © Active Pictures
Fernando Alonso charged to the front in Free Practice 3 and set a lap time in his Ferrari that nobody could top. But the Red Bulls of Sebastian Vettel and Mark Webber were not far behind, and Kimi Raikkonen remained a threat in his Lotus.
The Marussia garage was close to pit exit, and that allowed Max Chilton to get a jump on the rest of the field and be the first driver out on the track for FP3. Adrian Sutil (Force India) made it out next.
The ambient air temperature was 87.6 degrees Fahrenheit (31 degrees Celsius.) The track temperature was 100.4 degrees Fahrenheit (37 degrees Celsius) when the session began.
Esteban Gutierrez posted the first lap time of the 60-minute session with a 1:42.573 in his Sauber. He then lowered that to a 1:39.592.
Six minutes into the session, Gutierrez was the only driver to have done more than one lap. Mark Webber, meanwhile, had yet to drive out of the Red Bull garage.
Hard compound Pirellis were the tire of choice for the first part of FP3.
Eight minutes into the session, Guido van der Garde moved to the top with a 1:37.281 in his Caterham. Three minutes later his teammate Charles Pic beat that with a 1:36.015. And Webber still waited.
13 minutes into the session, Webber went out. But a majority of the drivers were still in the garages after their single installation lap. Only three drivers had set a lap time.
17 minutes into the session, Webber went fastest with a 1:33.875. Romain Grosjean ran wide into Turn 1, but with the expansive runoff areas there was nothing to hit and he easily steered his Lotus back on to the track.
18 minutes into the session, Lewis Hamilton clocked a 1:34.073 in his Mercedes, which was .198 of a second slower than Webber.
20 minutes into the session, Grosjean, keeping his car on the track this time, went fastest with a 1:33.762. He then lowered that to a 1:33.464. Alonso set a 1:33.620 to claim second in his Ferrari. Then, 25 minutes into the session, Sebastian Vettel took over second place with a 1:33.531 in his Red Bull.
29 minutes into the session, Vettel moved up to first with a 1:33.348.
At the midpoint of FP3 the top six were: Vettel, Grosjean, Alonso, Paul di Resta (Force India), Nico Rosberg (Mercedes) and Webber. All the times had been set on the hard tire.
With 27 minutes remaining, only six drivers were out on the track. It was the quiet time before the storm of drivers going out on the medium compound Pirelli slick and trying for a fast lap time later in the session. But, meanwhile, there was more race-prep work to be done on the hard tires.
With 23 minutes remaining, Alonso made a rare mistake and spun his Ferrari at Turn 3. Nobody hit him as he gathered things up and continued.
With 17 minutes remaining, Lewis Hamilton tried out a set of medium Pirellis on his Mercedes. But the Mercedes was not well suited to the Sakhir track, and there was little chance of him topping the timing screens. He went second with a 1:33.455, but many drivers had yet to use the softer compound tire.
With 11 minutes remaining, Gutierrez and Alonso were the only drivers on the track. It was building up for a 10 minute dash on the medium tires.
Alonso was the first to have a go on the mediums in the final 10 minutes, but a steady stream of drivers were about to join him.
With seven minutes remaining, Alonso went fastest with a 1:33.247. Others, including Raikkonen, failed to beat him on their runs.
With five minutes remaining, only Vettel and Max Chilton were in the pits. But then Vettel went out, so there were 21 cars on the track.
Vettel had Pic's slow car block his fast lap and remained in second behind Alonso. But Vettel was still just a mere 0.101 of a second off of Alonso's time. Webber moved up to third and Raikkonen claimed fourth. Hamilton and Grosjean rounded out the top six. The top 12 drivers were covered by 0.870 of a second.
On the cool down lap, Vettel ran wide, and Hamilton limped in with his left rear tire in shreds because of what looked like a suspension failure.