Bahrain GP 2012
APRIL 22, 2012
Race Notes - Vettel wins Bahrain GP ahead of Raikkonen and Grosjean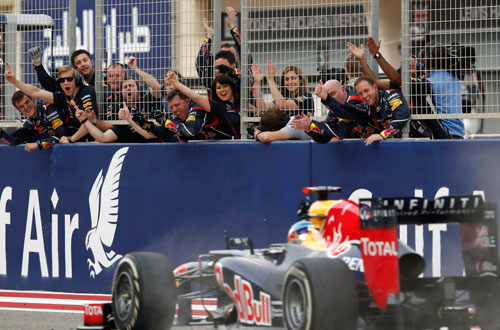 © Active Pictures
Sebastian Vettel won the Bahrain Grand Prix in the Red Bull-Renault by 3.3 seconds over Kimi Raikkonen in the Lotus-Renault in second place. His Lotus team team mate Romain Grosjean takes third place, 10.1 seconds behind the winner.
The win is Vettel's first on the 2012 season, and 22nd career win. Renault powered cars finished 1-2-3-4, the first time since 1997. Vettel now takes over the World Championship lead. F1 has now had four different winners from four different teams in the opening of the 2012 season.
Fourth place went to Mark Webber (38.7s) in the second Red Bull, followed by Nico Rosberg (55.4s) in the Mercedes GP in fifth, Paul di Resta (57.5s) on a two-stop strategy in the Force India-Mercedes in sixth place, Fernando Alonso (57.8s) in the Ferrari in seventh, Lewis Hamilton (58.9s) suffering with problems during his pit stops in the McLaren-Mercedes to finish eighth, Felipe Massa (1m04.9s) in the Ferrari scoring his first points of the season in ninth, and Michael Schumacher (1m11.4s) in the Mercedes GP in the final points paying position.
Pastor Maldonado will start 21st with a five-grid penalty for a gearbox change. Schumacher starts 22nd after an overnight change. Drivers on a projected three stop strategy on the highly abrasive track surface - the top eight starting on the soft compound.
Vettel starting on pole, Hamilton alongside on the front row, Webber and Button on row two, Rosberg and the Toro Rosso of Daniel Ricciardo on row 3, Grosjean and Sergio Perez on row 4, and Alonso and Di Resta on row 5.
At the start Vettel takes the lead followed by Webber and Grosjean jumping up to four, Alonso up to fifth, followed by Jenson Button, Raikkonen, Rosberg, Massa and Bruno Senna in tenth - Ricciardo back to 17th.
On lap 1, Heikki Kovalainen pitting with a left rear punctured tyre.
On lap 2, Vettel sets fastest lap at 1m40.2s, and is out to a 2.9 second lead over Hamilton. Schumacher up to 16th place.
On lap 3 Massa passes Raikkonen for seventh.
On lap 4 Grosjean passes Webber to take over third.
On lap 6 Raikkonen fights back and retakes seventh at turn 6. Grosjean is pressuring Hamilton for second place.
On lap 7 Grosjean passes Hamilton in the DRS zone - he is now 4.9 seconds behind Vettel in the lead. Button complains that he is struggling with his rear tyres in the high speed corners.
On lap 8 Ricciardo pits and gets a new nose and takes medium compound tyres.
On lap 9 Button, Massa and Rosberg pit.
On lap 10 Raikkonen takes fifth from Alonso. Hamilton, Webber, Alonso Perez, Senna, Schumacher, Nico Hulkenberg and Pedro de la Rosa all pit. Hamilton has a slow stop with problems on the left rear and rejoins in 12th. Jean-Eric Vergne, Vitaly Petrov and Timo Glock pit the next lap.
On lap 11 Grosjean pits from second. Vettel, Raikkonen and Maldonado pit for tyres. Raikkonen staying on soft compound tyres. Perez sets the fastest lap at 1m 39.7s. Hamilton and Rosberg are under investigation for Hamilton making a hard pass of Rosberg after they rejoined from the pits.
Di Resta leads briefly having not pitted yet, Vettel retakes the lead.
Raikkonen pressuring Webber and passes him in turn 11 to take over fifth. Vettel sets fastest lap at 1m39.2s. Hamilton passes Alonso for eighth place. Grosjean passes Di Resta for second place. Di Resta makes his first pit stop. Raikkonen sets the fastest lap at 1m39.0s. Kobayashi pits.
At lap 15 Vettel leads Grosjean by 5.2 seconds, followed by Raikkonen (8.2s), Webber (12.4s), Button (14.5s), Hamilton (16.1s), Alonso (18.1s), Rosberg (19.1s), Massa (19.8s) and Perez (22.9s) in tenth place.
Raikkonen sets fastest lap at 1m38.9s. Vettel along with the two Lotuses are the only cars lapping under 1m40s. Mercedes tells Schumacher that he needs to pass Di Resta for 12th for his strategy to work, while McLaren tell Hamilton to go to plan "B".
On lap 20 Hulkenberg pits, the first to make his second stop. The stewards will investigate the incident between Hamilton and Rosberg after the race.
Perez, Maldonado and Di Resta battle, Di Resta takes tenth. Perez pits for medium tyres. Raikkonen closes on Grosjean. Di Resta closes on Massa.
On lap 23 Button, Rosberg and Massa make their second stops, taking on medium tyres. Perez passes Ricciardo for 17th.
On lap 24 Raikkonen passes Grosjean for second. Webber, Hamilton, Alonso, Maldonado, Schumacher, Petrov and Ricciardo all pit. Hamilton has another slow stop with more problems with the left rear tyre. Alonso and Rosberg fight over ninth place, Rosberg takes the position. Raikkonen pits the next lap and comes out in third place.
Rosberg defends from Alonso.
On lap 26 Vettel and Grosjean pit from the first two positions, Vettel stays in the lead switches to soft tyres, Grosjean rejoins behind his team mate in third. Hamilton sets fastest lap at 1m38.9s. Maldonado pits with a puncture after a spin. Pic pulls his Marussia off the track.
On lap 27 Vettel sets fastest lap at 1m38.1s. Maldonado retires. Alonso complains on the radio that Rosberg pushed him off the track.
At lap 27 Vettel leads Raikkonen by 2.2 seconds, followed by Grosjean (9.3s), Di Resta (16.2s), Webber (17.1s), Button (21.1s), Kamui Kobayashi (23.6s), Rosberg (28.4s), Alonso (30.1s) and Massa (30.7s) in tenth place.
On lap 28 Webber passes Di Resta for fourth place. Vettel's lead is down to 1.8 seconds. The stewards are investigating the incident with Rosberg and Alonso.
On lap 31 Rosberg passes Kobayashi for seventh place. The next lap Kobayashi pits for medium tyres. Raikkonen has brought the lead down to 1.1 seconds Button passes Di Resta for fifth place.
Raikkonen closes up right behind leader Vettel. Di Resta pits from sixth place.
Raikkonen closes to under one second and can now use his DRS.
On lap 35 Raikkonen makes a run in the DRS zone, but Vettel defends. Red Bull tell Vettel to use his KERS system down the main straight to defend from Raikkonen.
On lap 37 Rosberg, Hamilton and Hulkenberg pit for the third time. Rosberg and Hamilton staying on medium tyres. Button and Alonso pit the next lap from fifth and sixth - Perez and Schumacher pit as well - staying on medium tyres. Schumacher getting past Perez in the pitlane.
On lap 39 Massa pits from fifth. Hamilton set fastest lap at 1m37.7s
On lap 40 Vettel, Raikkonen and Webber pit, both on medium tyres. Alonso under investigation for an unsafe release from the pits. Grosjean moves to the lead, yet to pit.
On lap 41 Grosjean pits for medium tyres, rejoining in third. Hamilton passes Kobayashi for ninth. Vettel sets fastest lap at 1m36.3s. Massa passes Kobayashi as well.
At lap 41 Vettel leads Raikkonen by 2.9 seconds, followed by Grosjean (10.3s), Webber (22.7s), Di Resta (31.4s), Rosberg (33.7s), Button (38.2s), Alonso (41.0s), Hamilton (43.2) and Massa (44.7s) in tenth place.
On lap 43 Vettel extends his lead to 3.4 seconds ahead of Raikkonen.The first three runners all lapping in the 1m37s range, the rest of the top runners in 1m38s.
On lap 45 Schumacher passes Kobayashi for 11th place. Perez passes the Japanese driver as well, on a different strategy from his team mate.
Lotus tells Raikkonen to keep pushing, the team feeling Vettel's tyres will fall off before the end.
On lap 48 the lead is down to 2.6 seconds. Rosberg closes up on Di Resta in fifth, the Force India on a two-stop strategy.
At lap 50 Vettel leads Raikkonen by 3.4 seconds, followed by Grosjean (11.0s) in third, Webber (29.0s), Di Resta (43.6s), Rosberg (44.2s), Button (47.5s), Alonso (51.3s), Hamilton (52.3s) and Massa (54.9s) in tenth place - Schumacher in 11th.
On lap 51 Kobayashi pits for a third time. Alonso has closed on Alonso in eighth place.
On lap 52 Rosberg passes Di Resta at the first corner to take fifth place. Di Resta fights back but can't take the position.
Button now closes on Di Resta on the older tyres.
On lap 54 Button pits with a left rear punctured tyre, and falls out of the points to 13th place. Vettel leads Raikkonen by 3.1 seconds.
On lap 55 Senna pits and retires.
On lap 56 Button retires with a broken exhaust. Rosberg is told on the radio that his exhaust is broken as well.
Vettel crosses the finish line to take the win ahead of Raikkonen, Grosjean, Webber, Rosberg, Di Resta, Alonso, Hamilton, Massa and Schumacher. Vettel immediately pulls over at the pit exit.