Bahrain GP 2010
MARCH 14, 2010
Race Notes - Alonso wins Bahrain GP in Ferrari 1-2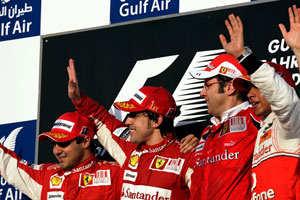 © The Cahier Archive
Fernando Alonso won the Bahrain Grand Prix today on his debut as a Ferrari driver, leading home his team mate Felipe Massa by 16.099 seconds to take a one-two finish for the Italian team.
Sebastian Vettel led for most of the race in his Red Bull-Renault, pulling out a five second lead over Alonso before the pitstops, but on lap 34 his engine lost power, and the German limped to the flag to finish fourth, his car later being diagnosed as having an exhaust problem.
Alonso had taken second place from his team mate Massa at the start into the first corner and then after the pit stops started to close on Vettel by taking on fresh tyres one lap earlier, and then worked his way to just a second and a half behind the leader, but Vettel seemed to have enough speed to keep the Spaniard behind him until he slowed on lap 34.
Lewis Hamilton benefitted from Vettel's troubles and finished in his McLaren-Mercedes on the podium in third, 23.182 seconds behind the winner. Early on in the race Hamilton ran fifth behind Nico Rosberg, but got past the German on the pit stop, and then took third from Vettel with 11 laps remaining.
The win his Alonso's first since the Japanese GP in 2008 and is the 22nd win in his career.
The Mercedes GP's of Nico Rosberg and Michael Schumacher finished fifth and sixth. Schumacher running a few seconds behind his team mate during his comeback race, and was closing followed throughout by Jenson Button in his McLaren-Mercedes and Mark Webber in his Red Bull-Renault (Button getting past the Australian at the pitstops on lap 19), to finish seventh and eighth.