Bahrain GP 2009
APRIL 24, 2009
Friday Press Conference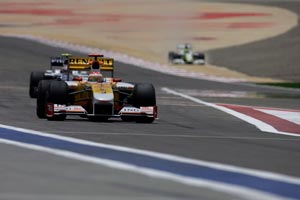 © The Cahier Archive
24 APRIL 2009
TEAM PRINCIPALS: Flavio BRIATORE (Renault), Stefano DOMENICALI (Ferrari), Christian HORNER (Red Bull)
PRESS CONFERENCE
Q: It has been likened to a football match starting and then all the football players sitting down for the first 15 minutes. Flavio, I dont know what would happen at Queens Park Rangers but when we had the free practice this morning everyone stayed in the pits for the first half hour. We dont have any testing. Why doesnt everyone want to go out?
Flavio BRIATORE: I believe everybody was waiting for somebody to go out to clean the circuit. It looked like at one point that everybody would go out together. This is the reason.
Q: Do you think it is a waste of time, Christian?
Christian HORNER: I think the problem is we are tyre limited as well on a day like today. The amount of tyres that we have for the two sessions is not enough. If we had another couple of sets of tyres... But unfortunately we cannot afford to waste them and in the first half an hour when the circuit is very dusty or green you end up in that stand-off situation where everybody is waiting. I think a couple more sets of tyres would certainly help seeing more cars on track early.
Q: Stefano?
Stefano DOMENICALI: I totally agree with Christian and Flavio for sure. We have seen for example our situation. We went out and for a different reason we had a spin, so we destroyed a set of tyres for our drivers, so then we had to use only that in the morning.
Q: A question for Christian and Stefano about diffusers. When do you see your cars being able to run them and give us some idea about developments?
Domenicali: On our side we should be able to get ready with the first version of the diffuser at the next Grand Prix in Spain. For sure we have seen that in terms of development, lets say the situation gives you massive possibility for future development but it will take time. But at least for our side the first prototype should be ready for the next race.
Horner: We heard that Flavio has set up a business for diffusers with holes in. He is coming to the market very shortly with it, so I am sure we will be taking one very soon. No, in all seriousness, Adrian (Newey) has again stayed home this weekend to focus on integrating it onto our car. It is going to be one of the early European races, most probably Monaco. For us it is quite a big job because of the different back end solution that we have compared to our competitors.
Q: You had a problem with the drive shaft last weekend. Has that been solved? Will we see any evidence of it this weekend?
Horner: It was solved one hundred per cent. Going into the race we felt very confident in China. We believed that it was a batch problem. We had done over 6000km of racing and testing and there was no problem in the race on Sunday and no problems at all here, so it looks like a rogue batch.
Q: Lets go back five days. Fantastic win, your first ever. How were your feelings and how is the atmosphere within the team?
Horner: It was a fantastic result for the team, for Red Bull, for Mr Mateschitz who has put so much effort into the teams and into Formula One. It was a massive high. It was a monkey off our back to get the first pole, first win and a one-two. We have had great support from our partners. A quite good engine and I thank Flavio and Renault for that. It has just been a great week and the whole team in Milton Keynes have worked tremendously hard to achieve that result. We have just got to do it again now. We did not have long to enjoy it and we are focussed on the next one.
Q: Flavio, it is a point that your engine won but not your chassis. What makes the difference?
Briatore: The chassis.
Q: And where in the chassis? What part of the performance?
Briatore: Red Bull at this moment do a better job. We have no excuse. What we need is to improve the chassis and we have our first version of the diffuser which is not what we believe is the best but at least we have done something. In Barcelona we will have another step and I am sure in Monte Carlo we will have a big one. We started very late like everybody and we try to have the short cut and to be ready, at least in Monte Carlo, to be competitive and to fight for the podium and to win races.
Q: How do you feel about the performance of the two drivers for the start of the season?
Briatore: The problem is that in two races we were gambling and in the last race we made a mistake to call Fernando (Alonso) in too early. And this was our own mistake and after Fernando spun we did not finish in the points. With Piquet it is not possible to tell you he is happy as he is not. This is the first race that is normal if you want, with a normal situation, so lets see what happens. The performance of the team as well, we have not done well at all and it is quite frustrating. But we need to catch up. We need to catch up to Red Bull. Red Bull have the best car without a diffuser in the business at this moment and we need to catch quickly Brawn and all the hole people. We need to catch up these people.
Q: Stefano, I dont know how to describe it but you have had an awful start to the season.
Domenicali: It is easy to say. It is not difficult, I would say.
Q: What is the atmosphere within the team like?
Domenicali: Well, for sure we are not happy at all but that is the nature of the situation. It is obvious but what I can confirm to you is that all the people inside FIAT react to the negative start to the season with a positive attitude as that is the only way to do. If you go with the mistaken way of approaching things that have to do with emotions and with no rational idea it is even worse, so we understand the pressure is outside. It is part of the game and it is normal. But the only thing we have to do is work and react. We know that we have a lot of things to do in all the different areas and what I would say is disappointing is that for sure in the first three races, in the way that the situation has evolved, we should have taken some points even if we did not show the best package in terms of the car. That is the biggest disappointment that we have now.
Q: Do you understand now the problems you had with the engine in China?
Domenicali: It was not a problem with the engine. You mean with Felipe (Massa)?
Q: With Felipe and also Kimi (R§ikkonen) was complaining of a lack of power.
Domenicali: Kimi was complaining as sometimes when you are behind, in that condition when you have a lot of water and rain coming in, you may have one or two laps when the engine is misfiring a bit but then it cleans up and it is fine. For Felipe it was a problem with the ECU, on the software side, that caused the engine to stop.
QUESTIONS FROM THE FLOOR
Q: (Chris Lines - Associated Press) Can I ask all three of you what you think of the proposals for a budget cap. The FIA wants you to come back with an answer. Have you come back to them yet? And do you think it can work and will be a good thing for Formula One?
Domenicali: What we can say is that we have replied to the President of the FIA as FOTA that our intention is to discuss, for sure, this item in our next meeting and we will come back to him as soon as we have had this meeting. You know it is a very strategic point for the future of all the teams and for the future of all the constructors, so we need to detail all the points that are connected to the budget cut. In all fairness I think that you should already know that we as Ferrari, we really dont like completely the approach of the budget cuts as we feel that there are a couple of things that need to be addressed, that are difficult to manage and police and it is important to make sure that certain things are pretty well covered. But at the end of the day we agree with the Federation that we need to cut down costs and this is a job that we have already started to do with FOTA and we need to make sure that we are addressing the point of the cost cutting shortly. The other point connected to the budget cut situation is that I dont see how we can pass from one year to the other with a massive reduction as we have to consider that the constructor, at least with our situation, has a lot of things that he is doing and it is not possible to go straight away to certain figures.
Q: Christian?
Horner: I think Stefano raised some very good points. I think the most important thing is to get costs down in Formula One. The idea of a budget cap for an independent team is appealing but again, it is what the number will be and the devil is always in the detail with these things. The last thing we want is for the championship to be decided by accountants. It is important that we discuss it thoroughly within the association and work closely with the FIA on it but the crucial aspect is that we absolutely need to reduce costs.
Q: Flavio?
Briatore: Again the same line. We need to have a target for 2010, 2011, 2012. It is very difficult to cut it dramatically in one year but I am sure we are arriving in 2012 with the number that everybody will be happy. Again, like Ferrari for me the budget cut is very difficult to put in place. I believe what we need to do is have a clear rule like wind tunnel, like CFD, etc. as then the costs start from the beginning to the development of the car and to be sure the rule is black and white and everybody understands. If you are framing the rule, in a very tight frame, afterwards maybe it is possible to put the cut as well. But cut or whatever solution we find, it needs to be a dramatic and drastic reduction of the costs. With this we agree with the Federation and with Max Mosley and with everybody. This is what we are doing. But again, it is very difficult to do in one year. We need to have a target and after that we will work together with the Federation to achieve to control this target. But you know it is something we will have to see in what way we control this budget and in a way we have the rule for the future but it is not only 2012 as in 2012 the work is not finished. We will have to look at 2014, 2015 but it is absolutely mandatory to have a big cut with the budget and to arrive at least with a budget ... (becomes inaudible). This is what we are talking about and I think everybody agrees that we have a human team around a human number and we need to work with FOTA and with the Federation to achieve that.
Q: (Jonathan Legard - BBC) Flavio, how much confidence do you have in Nelson Piquet to perform as you want and as the team would like?
Briatore: This question is not really a great question. But you see the performance as well, everybody is watching TV, including me, and it is what you see. What can I say. It is a difficult moment for him and we need to support him and the situation is like everybody sees, difficult for him and in a moment like this you dont kill anybody. What you need is to support and hope he will get better. But like I said before this is the first race with the normal situation and lets see. Sunday or Monday maybe we have a different idea, I hope a better idea, of what is going on.
Q: (Bill Johnson - The National) Christian, you mention the monkey of the proverbial back. How important is it that you cement that first victory with another fairly soon?
Horner: I think our performances in the first two races have been very encouraging, even before the China result we had qualified in the top three in Melbourne and in Malaysia. We were unlucky not to get a podium in Melbourne, so the performance of the car had already been there. We knew through winter testing that we had a very good package. The challenge for us is to maintain the momentum against the bigger teams and keep the level of development which is going to be a big challenge but everybody is focussed on that back in the UK. The encouraging thing for us is that we know that we have performance still to come from the underbody of the car now that the regulations are clear regarding diffusers, so we have got that step to look forward to. But now the team is obviously very, very focussed on building what we have achieved. There is still a long way to go in the championship and these guys arent going to be hanging around. They are going to be coming back very soon.
Q: (Andrea Cremonesi - La Gazzetta dello Sport) I would like a clarification from Stefano on what we read on the web sites this morning about the answer that you made on Niki Lauda and Michael Schumacher. Could you clarify exactly what you said to our British colleagues?
Domenicali: I was just answering to a point that was some comment about the situation that we are in at the moment in Ferrari, that we are all Italians leading the team and I said that on my side its pretty clear, if you look back, thats not the case, so that was the reason why I asked that to reply in this way is the usual thing that is leading nowhere. With regard to Michael, I said that for sure, hes part of our team, hes working hard with the same rules that he was last year, very close to the team, and I didnt say anything negative on that subject at all.
Q: (James Allen - Financial Times) Flavio, youre in the process of looking for a new title sponsor for next year. How does talk of a budget cap affect that and if a budget cap does come in, does it bring down the rate card for that kind of thing?
Briatore: If the budget does come, it comes from everybody. I dont think its only coming for Renault. We are in a situation, we are cutting a lot of tests and what we need to do very quickly is to tackle the aerodynamics because if you look at the engine, I believe the engine now represents eight to ten percent of the total budget. Beforehand everybody was talking about engines. Now I believe that we are pretty much OK on engines. The cost of engines is really, really minimal with respect to the total budget. Again, everybody forgets that we need to tackle aerodynamics, as we promised Max. We tried to work on the budgets of aerodynamics but it was impossible. Our people came back and said it was very difficult. When you make a rule about the number of hours in the wind tunnel, numbers of teraflops in cfd, its what we need to do, and afterwards the budget would go down for Renault but if you have rules it would go down for everybody not just for Renault. I dont see just Renault effective about cutting the budget.
Q: (Alan Baldwin - Reuters) Flavio, on the question of budget cuts and reducing costs, there was a report in the Italian press that you yourself had taken a salary cut of twenty percent. Is that true and have you also asked your drivers to take pay cuts?
Briatore: I dont want to discuss about somebody who is not here. We are cutting the costs across the whole team, not only my salary but the top people: myself, Bob Bell and Pat Symonds have taken a cut of twenty percent. The second level have taken a cut of ten percent and everybody else has taken a cut of five percent.
Q: (Anne Giuntini - LEquipe) Regarding cost reductions, Flavio, Ive been told by several people who were attending some technical working group at the very beginning of the season that Ross Brawn, for example, made some proposals for reducing costs in aerodynamics quite quickly and the principal person who protested and asked to continue was one of your team, Pat Symonds. How can you explain that logic when you are always pushing for cost reduction?
Briatore: We started discussions about cost reduction many years ago when we were Benetton and I dont know who was in the meeting but somebody tells you, but I dont know, I never have the feeling that we have stopped pursuing cost reduction. I think that includes Ferrari as well and also Red Bull. I believe the first teams to be very aggressive about cost reduction were Renault and Ferrari together. I dont see Ross Brawn with 1200 people looking for cost reductions. Maybe we are talking about something else. I dont see this aggression at Honda last year regarding cost cutting, even though they have thirty or forty percent more people than us. I dont see this aggression from Ross Brawn. I saw that nothing happened at this moment. We had the meeting on the sixth when we just told everybody that we needed to move very quickly on aerodynamics because the engine looks like its pretty much under control but I didnt see Renault trying to stop cost reduction. Domenicali will confirm this. Last year we started with Rory (Byrne) and Pat Symonds doing a presentation for cost cutting and Red Bull was there as well. Were all working together and Ive never seen Pat Symonds stop or Ross trying to cut costs. Sometimes it seems the opposite.
Q: (Anne Giuntini - LEquipe) Why does it take so long to reduce costs on the aero side?
Briatore: Reducing costs it quite complicated because at one point I believe at FOTA we were looking for a unanimous agreement because I think it was a process we wanted to do together. The three teams you see here were really pushing for a very aggressive reduction of costs and some teams that are not here today were not part of the unanimous agreement. What we are doing now is just using a 70 per cent agreement in FOTA and I promise we will go very quickly.
Domenicali: If I may add something, the difficulties on that is that starting from the fact that all the teams have different structures, all the teams have made different investments in the past and to find unanimity when you have to really reconsider the strategic decisions that you have made in the past is not always easy, thats for sure.
Horner: And you end with a compromise position to accommodate everybody. For example, it doesnt save us, it costs us money to meet the lines. I think FOTA is going to need to be more aggressive in that area.
Q: (Joris Fioriti - AFP) I have a question for Stefano on a sporting level. Your performances went up down today, can you tell us what is the real level of your cars according to you?
Domenicali: Im glad that were going up and not only down. No, Im joking. For sure what we have done today is to prepare us as much as we can for the race. What we have done today is really mainly to test, to make a comparison between the two cars that are different solutions, one with KERS and the other without. And then try to see how the tyres are behaving in the two different conditions in race simulation, so that was the main activity of today and now our engineers will try to do the best evaluation to decide on the cars for tomorrow. We know that in terms of performance, the cars have not changed since a week ago, so we need to do the maximum from what we have now.
Q: (Giorgio Terruzzi - RTI) Its clear how strong Mr Mosley is. I want to know your feeling on how strong FOTA can or will be, thinking about what happened at your last meeting and today?
Briatore: This is not a question of the championship or a strong one. FOTA and the Federation are working together, this is absolutely sure. Its not a question of demonstrating who has more power, the question is to work together to achieve the target. Theres no question. Sure, Max is pushing very hard and we need to react but as Christian said before, and to answer your question, when we are talking about the complexity of the teams, somebody in the three or four years is investing in different wind tunnels for example, somebody investing in cfd. You dont want to penalise somebody because they make different investments but FOTA is together. We have a chairman in Luca (di Montezemolo) and we have a process to go through with 70 per cent of the vote. Its very difficult to be unanimous, we know that. We try very hard to have that at least with issues that are important but for the good of Formula One, its fundamental that the teams and Mr Mosley work together. We see already in 2009 nobody tells us that we are cutting the costs already, substantially. I think the teams and the federation really need to work together because in the end the rules determine the cost of your budget. An example is the diffuser. The diffuser will arrive in Barcelona. This is a rule that determines a cost for us. KERS, when we started KERS, nobody knew how much KERS would cost. Now we have KERS and maybe we use it for another one or two races, if everything goes well. We need to be very, very careful when we change the rules to see the consequences because every time you dont have stability it costs you but as Christian said, sometimes you spend more... you try to change something, we need to be very careful about this. We need the teams and the Federation to work together to achieve what everybody wants, to make Formula One a centre for profit not a centre for costs. This is possible, its very possible to have this in the future.
Horner: I think Flavio has summed it up very well. In Formula One you have three important parties: youve got the teams that are now working within FOTA, youve got the FIA and youve got the commercial rights holder and especially in challenging economic times it needs all three parties to work together very carefully and very closely. I think a lot of good work has already been done through FOTA working with the FIA, with cost reductions that weve already seen so far for this year. The engine cost reductions, the testing reductions just to name a couple, but its important to keep going because weve only just started and I think that the next couple of months are going to be crucial to really safeguard the future of Formula One, not just for 2010 but for the next five years.
Domenicali: Well, I think we should think of how many things have changed over the last year. If you look back, even if you look back even further, you see many times we have had to change the lines on what we wanted to do. For sure, this is not helping the situation. I know that we need to be pro-active and react to the general situation that we have, thats for sure, but we dont have to overreact when we change something. I think that this years situation - and I said that taking aside for one second our situation on performance, because its pretty clear otherwise to say 'listen, you have to take care of that... thats another story - what is not good in this situation is that we have too many things that are different from car to car and from team to team and its difficult from the outside to understand that we are doing the same championship and this is one fundamental point that we have to avoid for the future. I think on that, both the FIA and FOM and the teams should make sure that this is not going to happen in the future. We need to have stability, we need to have the same profile for everyone.
Q: (Andrea Cremonesi - La Gazzetta dello Sport) Stefano, are you changing the strategy on KERS? As Flavio said before, we will approach the use of KERS race by race. The second question is about the next Grand Prix. It could be the break point of the season for you. What are the criteria you will use to say 'OK, we will switch to next season?
Domenicali: The first question, the answer is yes, we are going to evaluate the situation and this is the reason why we are already starting some analysis on the performance of KERS. As I said, our project was born around KERS and it is very difficult to change the complete car, thinking that KERS is not there, so we need to find the best compromise. Second question: for sure its a very important Grand Prix. We know that we have done the maximum that we can in order to anticipate everything that we can but I do want to say that there will be a break point because we will not give up, we need to push up to the moment where really, mathematically its impossible because it is not the nature of the way that we normally work. We know that all our competitors are working flat out and we will see. The only thing that will be different is really now the rate of development. If we have a different slope with a higher corner, maybe we can catch up. If we are slower, for sure it will be very difficult.
Q: (Jonathan Legard - BBC) Question to all of you: the MotoGP recently had to be postponed by one day because of adverse weather. People keep talking about sand storms and so on. How should Formula One react on Sunday if the race could not take place? Do you want to go home or should we hang around until Monday?
Domenicali: I will push not to run and wait, to postpone, maybe to the end of the season, close to Abu Dhabi. Maybe we could be more competitive.
Horner: We were very good in the wet, so maybe we would be alright in the sand. Hopefully the weather forecast looks OK, I think the wind will get up a bit, maybe during tomorrow but the latest forecast that we had looked OK for Sunday, so I dont think it will be a problem.
Briatore: We dont care. Anything after Abu Dhabi. We are here already. We are preparing the car tonight for the sand on Sunday. Whatever happens happens. I believe in China it was already tragic with the weather situation. Lets see what happens.