Bahrain GP 2008
APRIL 6, 2008
Sunday Team Quotes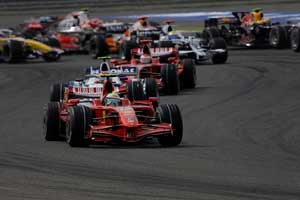 © The Cahier Archive
Ferrari
Felipe Massa (1st): "Sensational! Finally, after a start to the championship under dark clouds, I can see the sunshine again. We kept our concentration all weekend long and this is the result. We knew we could count on a great car and that certainly proved to be the case, given that I never had to push to the maximum once I was in the lead. I made a good start, managing to overtake Robert. Then, there were a few difficult laps because of oil on track between Turns 5 and 8, but I was always in control. Clearly, I always had in mind what happened in Malaysia and so I tried to pay attention all the time, to ensure I brought the car home. It is nice to be back in the winner's position here in Sakhir, a track I have always liked."
Kimi Raikkonen (2nd): "Second place was the best I could hope for on a weekend which was definitely not the best for me. These eight points move me into the lead of the championship and that is definitely a reason for me to leave Bahrain reasonably satisfied. I never found the ideal balance. Sometimes you get weekends like this but I am convinced that in Barcelona, the situation will be different. My first pit stop was not very quick because we had a problem with the lights, but it definitely did not affect the final result. Once I had consolidated my position, I managed the situation, trying not to push the car too much, knowing how important it is to always bring home the points."
Stefano Domenicali, Team Principal: "We are very happy about this wonderful one-two finish. After a bad start to the season, we have proved we know how to react with our actions, as usual. We worked well all weekend and the results therefore followed. Now we have to continue down this road, without allowing our absolute concentration to slip for a moment, because in a championship that looks like being very close, it takes almost nothing to lose precious points. Felipe was fantastic and Kimi also did a good job, as did the entire team, here at the track, but above all, those back home, because our success stems from everyone in Maranello. A one-two is the best possible way of celebrating a hundredth victory for Luca di Montezemolo as President of Ferrari. He has always supported us, especially in the most difficult times."
Luca Baldisserri, Head of Trackside Operations: "A great result which proves the worth of the F2008 and of our team. We worked well with the only glitch concerning the working of the lights at the pit stop. Once we had moved into the positions we wanted, we asked the drivers to manage the cars very carefully. There was no need to push, nor to take unnecessary risks. A special thanks to our technical partners, first and foremost Shell. It is also down to the engine oil we have introduced this year that we manage to pull off this sort of performance."
BMW Sauber
Robert Kubica (3rd): "I am happy with the result. This is my second consecutive podium and the team is leading the constructors' championship. Unfortunately I had massive wheel spin at the start and hit some debris in the first corner of the second lap. When I drove through the oil I was sure I had punctured my tyre as at that point I didn't have the information about the oil. But this was a great day for the team. I am now looking forward to Barcelona."
Nick Heidfeld (4th): "Now after the race I'm much happier than I was yesterday. Having finished fourth is a positive result after what was a difficult weekend for me. The car's balance on this track was just not how I wanted it to be. I hope I won't have such troubles again. Finishing the race just one position behind my team mate, who started from pole while I was sixth, is a good result. I enjoyed overtaking Jarno Trulli and Heikki Kovalainen. Once again for us in the team everything went smoothly."
Dr. Mario Theissen, BMW Motorsport Director: "The third podium in the third race - this was really a tailor made start to the season for our team. Finishing third and fourth in Bahrain with Robert and Nick was a very good result. Our performance gives everybody extra motivation for the coming weeks. Both drivers lost positions at the start, the reason may be technical and must be analysed. Later on both drove excellent races and the pit stops went perfectly. In the end the gap to the Ferraris was really small. The car still has more potential for us to exploit, and we shall continue to do this carefully one step at a time."
Willy Rampf, Technical Director: "Basically the race went as expected. We knew we could not match the pace of the Ferrari's here and planned our strategy accordingly. Robert and Nick made the most out of it by finishing in third and fourth. It was pleasing to see that in the end the gap to the front wasn't big, and there was no real pressure from behind. After three podiums in three races, we shall make the most of our strengths in the short break and be really motivated to close the gap even further."
Renault
Fernando Alonso (10th): "The race was difficult, as I had expected. Our qualifying yesterday in Q3 had been a big surprise, but we knew that our race pace would not allow us to do much better in the race. We are still missing some speed but we hope to improve in Barcelona."
Nelson Piquet (DNF, Gearbox): "I made a good start and the car was working well, then I suffered a gearbox problem. I tried to continue but it became dangerous and my engineers asked me to retire so that we would avoid a penalty in the next race. The result is not what we wanted, but I was able to learn a lot again this weekend and that is what I need to keep doing. I will now try to prepare as best I can for the next race, and try to make the most of the next test in Barcelona in ten days time."
Pat Symonds, Executive Director of Engineering: "This hasn't been a satisfactory race for the team, especially in terms of our reliability with Nelson retiring on lap 41 with a gearbox problem, although fortunately we will not incur a penalty at the next race. Fernando's race was difficult as he struggled with a damaged car after an incident with Hamilton early in the race. Our focus now is on the Spanish Grand Prix and the developments coming for the next test in Barcelona. We need to provide a better package for our drivers."
Flavio Briatore, Managing Director: "Fernando's race was compromised at the beginning when he was hit by Hamilton. After that he did all that he could, despite a damaged car. However, we are aware that we must improve our performance level. As for Nelson, he suffered with poor reliability, although he had a good start to the race. This is therefore a weekend to forget as far as we are concerned, and we must continue working hard with our intensive development programme at the next test in Barcelona."
Williams-Toyota
Nico Rosberg (8th): "In the final analysis I guess I should go home happy as we got a point, but I don't feel satisfied. We should have done better. However it was very difficult out there, the tyre performance was very changeable and the wind conditions were different to Friday when we set our gear ratios and in the end the car was just not good enough. So we have got some work to do before the Spanish GP. Historically Barcelona is a difficult track for us, but we have got some new developments for the car, so I hope this will help for the next race."
Kazuki Nakajima (14th): "It was not an easy day for me, I had a very bad start and then I had a spin on the oil on lap two before the high speed esses, so it couldn't have begun any worse. After that I managed to keep up a consistent pace, but it was difficult to make any more progress through the field than up to P14 from the back. I will see what lessons we can learn from here for the next race in Barcelona."
Sam Michael, Technical Director: "It's good to come away from the weekend with a point, but clearly we hoped to be fighting for more. On Nico's car, we weren't strong enough in the first stint and we made it difficult for ourselves with our strategy after we didn't qualify well enough. Unfortunately on Kazuki's car, the anti-stall kicked in on the start which dropped him to the back of the field and then he had a spin on the second lap, otherwise he probably should have made more progress on his one-stop strategy. Everything was solid today from a reliability point of view, but we do need to find more performance."
Red Bull-Renault
Mark Webber (7th): "The guys did a good job here all weekend. There were quite a few incidents in the first few laps, which we were able to capitalise on. The first lap went okay for us, but it was very tight on the track, you always have to be careful here on the first few corners. There was oil or something on the track too at the start, which made things difficult. After that I got my head down and spent the rest of the afternoon chasing Jarno (Trulli)."
David Coulthard (18th): "I didn't make the best of starts. I really just wanted to get through the first corner and stay out of trouble, but unfortunately I became a bit of a pin ball as a couple of cars bounced off either side of me. That caused some damage to my car; I got a puncture and had to make a pit stop. The car was quite slow after that, but I was battling for position with Jenson (Button), who was quicker. We got too close in one corner and had an incident, which took him out of the race and caused more damage to my car. I came in to the pits again and changed the front wing. That made the car feel a little bit better, but it wasn't a great race."
Christian Horner, Sporting Director: "Mark drove a very strong race today, complimented by good team work, strategically and throughout all the pit stops. After feeling slightly disappointed yesterday to qualify in eleventh place, Mark had a very good recovery to finish a competitive seventh. Unfortunately for David, things haven't gone his way this weekend. He got caught up in a first corner incident that damaged his car quite badly and compromised the rest of his race. Other than that his car ran reliably. We've now got a busy couple of weeks including a test, and the team will be working hard to try and close the gap to the car's ahead."
Fabrice Lom, Renault: "It was a good result. The car was much better during the race than in qualifying, as we expected. Mark did a good job and got two points, but it was a shame for David as an accident damaged his car, which meant he was unable to prove his pace. We were one of the best of the tight middle group today and we will work hard to catch our opponents ahead."
Toyota
Jarno Trulli (6th): "I'm delighted with another finish in the top six today - both for myself and for the team who worked very well and did a good job. We finished right behind the top three teams so that is the most we could expect from this weekend. I made a strong start and I was able to gain a couple of places into the first corner. I briefly came under pressure from Nico Rosberg early on but then I started to do my race. The car was well balanced, I knew I was quick and we had a good strategy so I just got my head down. The car's pace was very strong, both cars finished and we looked very competitive. This result gives us a boost for the future. We will now head to the test in Barcelona looking to build on this in preparation for the next race."
Timo Glock (9th): "That was a good race today and overall I was happy with the car. It was a big improvement for my driving style and I also made some small adjustments during the race which helped. The early laps were interesting with all the guys around me crashing into each other. That made it tricky with the oil in the first and middle sectors. We could have made the points but I lost speed when I was chasing Nico Rosberg in the middle of the race. It was quite hard to fend off Fernando Alonso after that but in the end I'm happy to have finished. The car was really good in terms of set-up, now we just have to keep working on improving the rest."
Tadashi Yamashina, Team Principal: "Both our drivers both did an excellent job today. I'm delighted that Jarno took three points and Timo completed the race so strongly. Going into today our main aim was to get away well from the line so it was good to see Jarno gain some places into the first corner. Then he raced hard all afternoon, the pit work was good and the race strategy was perfect on both cars. Timo also did a wonderful job today and he was very fast. Unfortunately we had a minor gearbox problem after his first stop and we were forced to put him on a back-up strategy. It's something we can fix for the next race but it cost him a well-deserved point. Still, we can now be confident heading to Barcelona. Jarno has again finished in the points and Timo will gain confidence from this performance."
Toro Rosso-Ferrari
Sebastien Bourdais (15th): "I did the best I could trying to drive as consistently as possible, making no mistakes. For a while I had a problem with the brakes. On the plus side, I have completed another race distance, feeling fine at the end of it, which is satisfying. But at the end of the day, I qualified fifteenth and finished fifteenth. Maybe we did not make the best tyre choice for the start as I was very slow, but as soon as we switched to the Option, it was much more competitive. A trouble free race, a race with not much excitement either, but a useful experience."
Sebastian Vettel (DNF, Accident): "I had a really good start this time after not so good ones in the previous two races. I was off like a rocket and I was able to pass two or three cars. Then going into first corner, when I was in the inside, I was blocked. We were really tight and I collided with a Force India. My front wing was a bit damaged but this was not the main problem, which came in Turn 4 when someone arriving from the inside hit me on the rear right, causing the big damage that forced me to retire. I do not know who he was and what he wanted to do. It's really disappointing as we could have had a good race, but we will try again next time."
Franz Tost, Team Principal: "Vettel got off the line well, but then had a collision at Turn 4 on the opening lap which meant his race was over. Bourdais drove a solid race, putting up quite a good performance. But when those ahead of us all finish we could not expect more. The team did a good job in that the car made it to the flag. The Spanish Grand Prix will be a tough weekend for us, but we are looking forward to testing our new car at the Barcelona test and then racing it in Istanbul."
Honda
Rubens Barrichello (11th): "It was a good race for us today in terms of the pace of the car. I didn't have a very good start and it was chaotic on the first lap with others going off the track. I was able to avoid any collisions but lost a few positions in the process. After that I was stuck behind Fisichella and lost a lot of time until the team did a great job with my first pit-stop to get me out ahead of him on the road. From then on, the car felt good and I could start closing the gap to the pack ahead. Overall we have had a very positive weekend in Bahrain. The car has shown the pace required to make Q3 and the lap times look good from the race today. I have successfully completed my third full race distance of the season which shows strong reliability. Unfortunately we lacked the straight-line speed necessary to overtake on the long straights here today which compromised our race. I'm confident that the developments that we have coming for the next few races will see us continue to improve and enable us to challenge for points."
Jenson Button (DNF, Damage): "I got a good start and was able to make up a couple of places off the line and then I'm not sure what happened into turn five. I was hit from behind, got a puncture and had to pit, which really ruined my race from the first lap. After we'd changed the tyres, the pace of the car was really good and I felt very comfortable with the balance. The lap times were very good for the car that we have at the moment so I was disappointed to be so far down the field following the first lap incident. I caught up with David quite quickly as he seemed to be struggling and I had a go at passing him down into turn eight. I committed early as he hit the brakes, when it was evident that there was a gap where I could get a huge run on him down into the apex. Unfortunately he moved back over to the racing line late in the braking zone and I had nowhere to go and couldn't slow the car down in time. We had to retire as there was significant damage to the rear of the car. It's a very frustrating way to end what could have been a really good race but we will take the positives from this weekend with our first top ten qualifying position and the pace of the car today. We now look ahead to Barcelona where we will have a lot of new developments and I'm confident that we will take a further step forward."
Ross Brawn, Team Principal: "Jenson got a great start but unfortunately the puncture put him out of contention. His early pace was very competitive though, matching the front runners. Rubens lost time following Fisichella but otherwise he had the pace to score points. Both our qualifying and race pace are gradually improving race by race as we continue to work on the set-up. We have a four-day test in Barcelona where we will evaluate our major aero upgrade. Obviously most teams will also be making improvements however we hope our step will be larger than most. We also have a straight-line test in Menorca to measure the new aero package full size."
Super Aguri-Honda
Anthony Davidson (16th): "It was an enjoyable race today. To come home with another two-car finish is great for the team. I had a bit of traffic for the first two stints of the race, but then once that cleared I was able to get into a good rhythm. It was another strong race for me and I would like to thank the team for all their hard work this weekend."
Takuma Sato (17th): "I had an eventful few opening laps and I really enjoyed going through the middle of the pack. I had a little bit of contact and possibly damaged the aero, but nevertheless I got up to 14th position and that was exciting. After the first lap there was quite a lot of oil on the track and that was a dangerous situation, but we got over it and I think that we had a good race. We had a problem in the second pitstop, which cost me position, but in the end it was very important that we finished the race here today and hopefully we can keep up the momentum."
Aguri Suzuki, Team Principal: "It was good for the team to have another two-car finish, but it is frustrating that we did not have more pace as the drivers did an excellent job. We have collected a good amount of data but shall have to work on improving our performance for the next grand prix in Barcelona."
Force India-Ferrari
Giancarlo Fisichella (12th): "I had a good start and I overtook some cars in turn one and then some more when some cars spun in turn seven. Our pace was consistent so I had a good race. In the middle stint there were some problems with the soft tyres and they did not seem to work as well as they could have, but at the end of the race the hard tyres were working well and I was comfortable. I am really happy about my race, the team has done a good job so far and we just need to improve the car a little bit more and then we will be there."
Adrian Sutil (19th): "An unlucky race for us. After quite a good start I had an accident in the first corner and lost my front wing and punctured my left tyre so I had to go into the pits. I managed to get back and change the nose and tyres so at least I could do a race distance. The race turned out quite OK without major incidents. The car felt much better but I had some problems with the radio so I came into too early for my second pit stop. The race was a bit messy from that point of view, but at least I could finish and collect some information for the next race."
Dr. Vijay Mallya, Chairman and Managing Director: "I am smiling after this race as we again stepped up our game here in Bahrain. We have performed well this weekend, with Giancarlo and Adrian just missing out on Q2 again by the smallest of margins and featuring well in practice. We have then achieved a double finish and were once more fighting for positions. Adrian was unlucky that his race was compromised at the first corner and he lost a lap, but he drove very well with an encouraging pace and secured his first finish of the year. He can use this as the start of his season and can move forward again in Spain. I was delighted with Giancarlo's race pace and proud to see a Force India again fighting with well-established and experienced teams and drivers. Going into the European season now we have a very strong foundation."
Mike Gascoyne, Chief Technical Officer: "A great race for the team and good to be racing again. Adrian's race was unfortunately compromised at the start when he lost his nose. Although we turned him around pretty quickly, he came out just in front of the pack, which meant he lost a lot of time with the blue flags. When he was on his own he was able to drive consistently and quickly and it is encouraging to see him get his first finish of the year. Giancarlo had a storming race and made up a lot of positions on the opening lap. It was a shame to lose out on the pit stops to Barrichello and then to get lapped just before the end, but apart from that it is promising for the team to finally be racing again. Well done to all who have worked hard to get this far."
McLaren-Mercedes
Heikki Kovalainen (5th): "Quite a tough race today. I made a great start and overtook Kimi coming into Turn Two but then out-braked myself in Turn Four and he regained his position. I then went in too deep at Turn Eight and flat-spotted my front right tyre which caused a lot of vibration. It vibrated so much that I was worried something would fall off the car. Things improved in the second stint and the car worked really well towards the end when we changed to the prime tyre. Fifth was the maximum I could do today. However we still scored points on a difficult day, and that is the main thing. I have total commitment to the team and a good car, and I know we will keep working hard to improve for the start of the European races."
Lewis Hamilton (13th): "I am really disappointed and feel like I let the team down today as I always am the first to blame myself. The whole weekend has not been ideal starting with the accident on Friday, but I will keep my chin up and bounce back at the next race. I messed up at the start as I didn't hit the switch early enough and therefore had not engaged the correct engine setting, and the anti stall kicked in. I lost a lot of places but things were still salvageable at that point. Then I had the incident with Fernando. I was behind him, and I moved to the right, and he moved to the right and that was it - a racing incident I guess. I am confident that we have the pace to be fighting at the front so the confidence is still there. I have had such a good run in Formula 1 until now, and it was almost inevitable that at some point things would go wrong. However there is a long way to go in the Championship and I intend to win it."
Ron Dennis, Team Principal: "Most of the teams used the same tyre strategy with the exception of those who went for a one-stop-strategy which we switched Lewis to following his incident with Fernando. Heikki's race was hampered by understeer which we systematically dialled out to a level which allowed him to set the fastest lap during the closing stages of the race. Lewis's bad start and the incident with Fernando, which extensively damaged his car, seriously hampered his pace, and we then took the early decision to save the engine for the next race in Barcelona. We will continue to work hard in Woking, Brixworth and Stuttgart to make sure we are well prepared for the start of the European races."
Norbert Haug, Mercedes Motorsport Director: "A day to forget. First Lewis lost seven positions at the start and then he lost his front wing in the rear end collision. As a consequence his car was damaged and technically handicapped he was without a chance to score points. Heikki had a reasonable speed only towards the end of the race. The only positive point after today's race is that the top five in the Drivers' Championship are within five points and the top three in the Constructors' ranking within two points. Congratulations to Ferrari on the first one-two victory and to BMW Sauber on their lead in the Championship. We will now focus on the start of the European season in Barcelona in three weeks time and will increase our efforts to be upfront there."