Bahrain GP 2008
APRIL 5, 2008
Saturday Team Quotes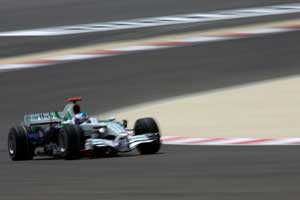 © The Cahier Archive
Ferrari
Felipe Massa (2nd, 1:33.123): "All things considered, I am still confident after this qualifying. We know we can count on a really good car, as we have seen so far here in Sakhir. In Q3, I always had a bit of traffic, but these things happen. We must remain concentrated and do the best job we can, making the most of all our resources. Congratulations to Robert, who really drove very well."
Kimi Raikkonen (4th, 1:33.418): "I'm not very happy with the way today went, but fourth place is still a good starting position for the race, given the potential we have. The balance of the car was not perfect right from this morning and I struggled a bit to be as quick as I would have liked to be and could have been. Now we have to look at the data to try and find out why. I think that tomorrow in the race, when points are up for grabs, I will be very strong. I think we might have made different choices in terms of strategy, but let's wait and see in the race if that's really the case."
Stefano Domenicali, Team Principal: "Obviously, we had hoped for a better result, but it's definitely not a case of bandaging your head before you've broken it! We have two cars on the front two rows and we have seen these past two days what potential we can rely on. Tomorrow, we will have to get a good start, try to manage our race as best as possible and, above all, to be reliable."
Luca Baldisserri, Head of Trackside Operations: "Today we weren't at the top of our game at the key moment, which means the final qualifying session. A shame, because up until them, it was clear we had everything in place to do well. All the same, it is as always the race that matters over a Grand Prix weekend, so better to wait until tomorrow before drawing conclusions. We know our car is very good over a long run and we must try and get the most out of it if we want to be ahead of our rivals."
BMW Sauber
Robert Kubica (1st, 1:33.096): "I am very happy. I missed the chance to take pole position in Australia, but this time it worked out well. My first run in Q3 was quite good, but I made a small mistake in the first corner. The second run was better, although I again made a small mistake in corner nine. We knew before the season that the car was good due to the results of the computer simulation and the wind tunnel work. Finally it has paid off that we never gave up working hard. I want to thank the entire team who have worked so hard over the last months. We will now study the data and prepare for tomorrow. A long race lies ahead of us."
Nick Heidfeld (6th, 1:33.737): "First of all I want to congratulate Robert. The first pole position for our team is a great success, and it is fantastic we have a car that enabled us to achieve this. In view of this, of course, I can't be satisfied with sixth. But after I had a lot of difficulties in the practice sessions getting the most out of the tyres and the grip for a single lap, it could have been a lot worse today. Since Friday we have changed the balance of the car and it is much better now. Anyway, on the long runs it was okay right from the beginning therefore I have no reason to hang my head down before the race."
Dr. Mario Theissen, BMW Motorsport Director: "This is a fantastic day for Robert and our young team. We really did not expect to be on pole position. We are only in our third season and are at the very top of the grid for the first time. It is another step up the ladder. On the pit wall I was told it took 256 races for Sauber to get there. Robert managed to do a perfect lap while Nick is not entirely happy here so far, but he also has good chances from the third row."
Willy Rampf, Technical Director: "This is a very special day for us because we have our first ever pole position as a team. We deserved it thanks to a good drive from Robert. A big compliment to him - not only for his final run as he has been very quick here since Friday morning. But Nick is also in a very good position for the race - we are really looking forward to it."
Renault
Fernando Alonso (10th, 1:35.115): "I am satisfied to have reached Q3 because I had some doubts that we would this morning. But we made several changes before qualifying and we felt they were an improvement after Q1, and that gave us the confidence to be more aggressive in Q2. Once we had qualified for Q3, we knew that it would be difficult to match the pace of the leading cars because we had already been pushing to the limit, so we took the decision to prepare for the race tomorrow. We will now see if we can get some points this weekend."
Nelson Piquet (14th, 1:32.790): "I am a bit disappointed because I had hoped to reach the final qualifying session today, even though I knew that it was going to be difficult. I did not do a perfect lap on my final run in Q2, but I hope that I will be able to reverse this tomorrow and that I can fight through the field. The race will be very competitive and we will have to fight hard, but I am determined to attack and to continue learning."
Pat Symonds, Executive Director of Engineering: "As we expected, the journey to Q3 was a difficult one and Nelson missed out. However, this is a circuit where the times are very close and his weekend has been positive up to this point. With Fernando we got through to Q3 and elected to use two sets of the harder tyres for the final runs, but unfortunately a mistake on the final run meant that he abandoned the lap and he therefore starts in tenth place."
Denis Chevrier, Engine Operations Manager: "That was a difficult qualifying session, as we thought it would be. One of our drivers made it, while the other missed out, which is probably a result of his lack of experience. For Nelson, he will need to fight hard in the race, especially in the first corner where he will be surrounded by several other rookies. Fernando tried his best this afternoon with the package he had available. Once he had made it through to the Q3, we took the decision to concentrate on the race, which will be very competitive tomorrow, but we hope we will be able to adapt our strategy to any incidents in the race and make the most of any opportunities."
Williams-Toyota
Nico Rosberg (8th, 1:34.015): "I am happy because we are back where we expected to be at the moment, which is behind the top three teams, so eighth position is more or less the best we can do. It would have been nice to be ahead of Jarno Trulli, but he was a little bit quicker than me overall. We have a good race car, possibly stronger than our qualifying car, so I think we are in a good position for the race and strategy is also on target. It's definitely all going in the right direction."
Kazuki Nakajima (16th, 1:32.943): "It was not a great qualifying session for me today. I made it into Q2 which was okay, but I wasn't able to get the most out of the car or the tyres, which cost me quite a lot. Here at least it is a circuit where overtaking is possible, which will be important tomorrow considering from where I am starting the race."
Sam Michael, Technical Director: "We had a better qualifying session than in Malaysia, but it was still a bit disappointing after the pace we showed in practice, but tomorrow will be an interesting race, especially with everyone managing tyre degradation. Nico is in a good position from where he can score points. Kazuki didn't qualify so well which makes his race difficult tomorrow, but he has shown that he can fight strongly and we expect to see that in the race. We'll look at any fine tuning we can do for the race overnight."
Red Bull-Renault
Mark Webber (11th, 1:32.371): "Qualifying went smoothly today, in the first session we elected to do the first lap on the hard tyre and we used two sets of options in Q2. We knew it was going to be very tight to get into Q3, which turned out to be the case. It was very tough against Fernando (Alonso) and Jenson (Button) today; we weren't quick enough to go through."
David Coulthard (17th, 1:33.433): "I never felt comfortable with the balance of the car today and on this track you've got to attack on the entries. I had two bad runs in Q1, on the prime tyre and the option. The option lap was good enough to get through to Q2, until the last two turns when I had oversteer on the entry to Turn thirteen. I moved the brake balance forward to try and push in the last corner, but I had the same situation and dropped a couple of tenths. That was enough to stop me getting through. Tomorrow's another day and each day the set up of the car changes on the track, but we've had a lot of oversteer on this circuit all weekend, so we'll see."
Christian Horner, Sporting Director: "With qualifying being so close here, it's disappointing for David to go out in the first round of qualifying and for Mark to miss Q3 by the narrowest of margins. We'll consider our strategies carefully tonight, as it's a circuit that you can overtake on quite easily. We'll be focusing on how to move up the order in tomorrow's race."
Fabrice Lom, Renault: "Both cars missed the next qualifying sessions by very small amounts, which is very frustrating, but it shows how tight it is this year. We have to push hard to make sure we're at the front of the tight middle group. Hopefully we can do better tomorrow."
Toyota
Jarno Trulli (7th, 1:33.994): "We are exactly where we wanted to be. Seventh is the best we could achieve in these conditions because we know that Ferrari, McLaren and BMW are still a little bit quicker. So I'm happy, particularly because we again easily made it into the top 10. Before Q3 our fuel rig had an electrical problem so we had to change the rig but it worked out in the end. The car seems well balanced and I am comfortable but obviously we all want a little bit more. We are catching up and we are getting closer to the front. Even if the race is tough with these windy conditions, I'm confident that I will be stronger in the race than in qualifying so we can definitely get points."
Timo Glock (13th, 1:32.528): "It was a bit difficult today, especially with the last set of tyres in Q2. On the first run I had confidence in the car and I knew that I could go quicker. But on the out lap for the last run I could feel that it wasn't working the same way. The wind also made it more difficult and the lap was not perfect so I couldn't improve my time. That took me out of the top ten so it just didn't happen this time. I'm disappointed because the last two Saturdays have been good for us and this makes it more difficult at the first corner tomorrow. Still, we will push hard to gain ground during the race."
Pascal Vasselon, Senior General Manager Chassis: "This weekend has been completely dominated by track conditions. When it's windy in Bahrain the track becomes dusty and sandy and that has determined the performance profile throughout the practice sessions. The wind and the dust leads to a contamination issue on the tyres which means you sometimes don't get the grip back from a given set. For us it has meant that the weekend has gone a little less smoothly than in Sepang, even if we seem to be operating at a similar level of competitiveness. In the end Jarno did a very good job and we took the place that we expected despite the problem with the fuel rig just before Q3. Timo also had the pace for Q3 but he didn't get his best lap time when it was important in Q2 and given how tight the midfield is he ended up outside the top ten. At least this means that we are free to choose his strategy tomorrow. Otherwise we are looking forward to the race because yesterday we were consistent on long runs."
Toro Rosso-Ferrari
Sebastien Bourdais (15th, 1:32.915): "My first time in Q2. We came close before and now we have made it. The cars we are racing against are in similar positions, so we could not really expect much more. I had hoped to be a contender for twelfth if we'd had a perfect qualifying but clearly the gap is too big. I think we did the best with what we had and the team worked well, worked really hard. We can take satisfaction from that, keep on working and wait for the new car. In race trim yesterday, the car was quite good over two long runs and its pace was fairly consistent. If we get to the finish and others have problems, maybe we can aim to be in the points."
Sebastian Vettel (19th, 1:33.562): "I am disappointed not to have got further than Q1. It has been difficult all weekend and yesterday we struggled to set up the car and we still haven't found the right set up. That made qualifying difficult as you need everything to be right on the car to produce one quick flying lap. We were not strong enough. Of course, it is partly down to me as I drive the car! Struggling with the set-up, I felt it was more a case of the car driving me than me driving the car."
Giorgio Ascanelli, Technical Director: "I am happy that Sebastien made his Q2 debut and pleased that he is not the last man in Q2. I am also pleased that we have done a lot of laps with both cars. I'd say our performance level is what it is on the screen."
Honda
Jenson Button (9th, 1:35.057): "I'm very pleased with our qualifying session today. To make it through to Q3 and be lining up on the clean side of the grid tomorrow in P9 is very satisfying for myself and the team. After struggling a little this morning, we were able to resolve the issues before qualifying and the car felt good this afternoon. We can have a strong race from here so I'm excited about the prospects for tomorrow. We haven't made any significant changes to the car since the first two races so really we are just working hard to optimise the current package. The car is still quite new to us as we only had the new aero package just before the first race of the season, so I'm happy with how this season is progressing. We're moving forward with each race and I'm confident that this will also be the case in Barcelona when our next upgrades arrive."
Rubens Barrichello (12th, 1:32.508): "I'm quite happy with qualifying today, particularly as we made a lot of improvements to the car since yesterday, so it was a very good job from our engineers overnight. Unfortunately we had a gearbox issue which interfered with my lap during Q2. Without that, I am confident that we could have had a place in the top ten. I enjoy this track and if the car is performing well again tomorrow, then I believe that we can be challenging for points here. A small mistake around this track can cost you a lot of time so the key is to keep focused and have confidence in your braking. If we can achieve this, then I'm expecting a good race."
Steve Clark, Head of Race & Test Engineering: "Obviously Jenson getting our first top ten qualifying of the season is very satisfying. He had no 'option' tyres left for the final session so we had no realistic chance to threaten the top half, although finishing ahead of Alonso is helpful for tomorrow. Rubens also had the pace to get to the last session but he had a gearbox problem on his last run which cost him that chance. Rubens was able to pass into Q2 with only one set of option tyres, so he has the advantage of a new set to start the race tomorrow. The wind could play a big part and we may see the track losing grip for the start of the race. We are running relatively high downforce here so we are hoping this will play into our hands. There is plenty of runoff at this circuit so I wouldn't expect many safety car events tomorrow; there has been just one in the past. There may well be plenty of overtaking, especially as the tyres start to give up grip. We were very happy with our race set-up from Friday and Jenson's car worked well with fuel in the final qualifying session."
Super Aguri-Honda
Anthony Davidson (21st, 1:34.140): "A good day's qualifying. I was happy with the balance of the car and I have always enjoyed the track here. Today it was good to us; we chased the car ahead closely right up until the end and there was only a few of tenths between me and Sutil. I really think that we have seen the limit of the car today, so we should all be pretty pleased."
Takuma Sato (22nd, 1:35.725): "We made good progress as a result of the overnight changes and the car came together during Free Practice this morning and I was happy with the balance. During qualifying my first run was a little bit slippery, but reasonable. I was much happier during my second run with the grip and I had a good feeling until the very last corner. Then I was touching on the outside kerb and the car ran wide and snapped quickly away from me. It is very disappointing that I could not complete qualifying, but hopefully we will show strong pace for the race tomorrow."
Graham Taylor, Sporting Director: "During free practice this morning both cars covered a good amount of work, especially for a race set-up, but we knew that we needed to work a little bit harder on the balance for qualifying, with one of the tyres giving us some issues. In qualifying everything was going according to plan, however, unfortunately Takuma was caught out at turn 15 and sustained some rear end damage, but Anthony did two very fine laps and we are looking forward to competing with the cars in front of us tomorrow."
Force India-Ferrari
Giancarlo Fisichella (18th, 1:33.501): "Malaysia was five hundredths away, here it was close again so it is really disappointing as we are almost there. We had a problem with the front brakes and especially with the front locking on both laps so it is a bit disappointing. It is important to be close and try to move up in the race."
Adrian Sutil (20th, 1:33.845): "The circumstances were quite difficult today and we just had four minutes left when the session restarted after the red flag so everybody went out to do a fast lap. It was very difficult to judge the traffic on the out lap and to find the space, but overall it was quite good. I feel better in the car than in the last races so we have made an improvement, but the field is very close and it is very hard to reach the top 16. We are close, but not quite there at the moment, but we will for sure improve for the next races."
Mike Gascoyne, Chief Technical Officer: "It was disappointing again to have missed out on Q2 by just under a tenth. Both drivers just missed out on their final laps, with both having a problem with locking brakes, but we know we have a competitive car for the race and we will have to look to pick up positions and get two cars to the finish tomorrow."
McLaren-Mercedes
Lewis Hamilton (3rd, 1:33.292): "My fastest lap in qualifying was okay, but not perfect. The balance of the car was good, and I think a better time and a position on the front row would have been possible, but the times were very close. Yesterday's accident was no problem for me, at turn five where it happened, I was faster today than Friday. It was just a matter of going for it. I know the guys worked until early this morning preparing the car after yesterday's accident, so a big thank you to them. I will now analyse the data together with my engineers and look forward to an interesting race tomorrow. We have a good strategy, and I am confident."
Heikki Kovalainen (5th, 1:33.488): "The car felt good, especially on the softer tyre, but the lap time was not quick enough to get higher up the grid. There was little more wind than yesterday, but I don't think that had any influence. All the times are extremely close. I am positive for tomorrow's race and believe we can improve some positions. We are close to the top guys and anything can happen tomorrow. I am confident that we have a good strategy, and the most important thing is to keep scoring the points as we have been doing in the first two races."
Ron Dennis, Team Principal: "A trouble free qualifying session for Lewis and Heikki who both did an excellent job. Also the team did a great job overnight in making the necessary repairs to Lewis' car. The times at the top were extremely close which bodes well for an exciting race. We will now see how the race unfolds and if our strategy will work out as we have planned."
Norbert Haug, Mercedes Motorsport Director: "We have achieved a good basis for the race with third and fifth positions on the better side of the track for the start. The mechanics did a super job last night to virtually build up a new chassis for Lewis which he drove to third place on the grid - less than two tenths from pole position. Heikki did a great job and has good chances for a podium position tomorrow with his fifth place. Congratulations to BMW and Robert Kubica for their first pole as BMW-Sauber, well done. We expect an exciting race."