Bahrain GP 2008
APRIL 4, 2008
Friday Team Quotes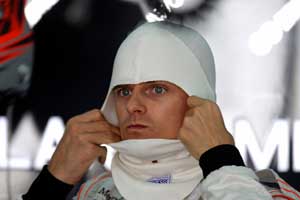 © The Cahier Archive
Ferrari
Felipe Massa (1st, 1:31.420): "I am pleased with this first day of free practice. Right from the start this morning, I found some good settings for the car and then, in the afternoon, the track conditions improved considerably. I think we are working in the right direction in terms of setting up the car and so I feel confident about the rest of the weekend. I like this track and think we will be very competitive. The wind is expected to be stronger tomorrow and on Sunday and that would make driving more difficult, but on the plus side, there will be more grip."
Kimi Raikkonen (2nd, 1:32.327): "All in all, I am happy with the way things went this morning and even more so with the afternoon. We tried various different set-ups, starting off with the settings we defined when testing here in February. We picked up a lot of data to work with for qualifying and the race. The car is going well and I think we will be competitive even if it is always difficult to say where we are compared to the others. The performance of both types of tyre is reasonably similar."
Stefano Domenicali, Team Principal: "It was a good day, but it's too early to draw any conclusions regarding the final outcome of this weekend. We worked well, without any particular niggles and now we must concentrate on preparation for qualifying and the race."
Luca Baldisserri, Head of Trackside Operations: "Track conditions this morning were rather difficult, because of all the sand blown onto the track by the strong winds that we had here over the past few days. In the afternoon, as the cars did more and more laps, the situation improved. We got through all our programme, working on finding the best set-up and on the comparison of the two types of tyre available to us. I reckon we can be satisfied with what we achieved in both these areas. Being able to refer to our February tests was definitely useful, but we have to bear in mind that the weather is different."
BMW Sauber
Robert Kubica (5th, 1:32.915): "I am happy with today's work. We managed to do quite a lot of laps and worked on the aerodynamic set-up of the F1.08. We consistently improved the car's balance. All in all, it was a very productive day."
Nick Heidfeld (17th, 1:34.023): "We have completed our programme as planned and had no technical issues at all. Sand isn't a problem either. For the long runs I'm already quite happy with the balance of the car, but I have some problems with its balance when it comes to doing a single fast lap. We will now look at the data and search for some improvements for tomorrow's qualifying."
Willy Rampf, Technical Director: "We are satisfied with the first practice day. We concentrated on race preparations and did the tyre comparison. Robert got used to the car right from the beginning, whereas Nick is not yet completely happy with the balance of his car. Now we shall concentrate on analysing the data, then the relevant changes will be adopted. We had no technical problems."
Renault
Nelson Piquet (10th, 1:33.247): "We made progress throughout the day and so it was a more productive afternoon. We spent a lot of time working on the brakes because they tend to suffer a lot here and by the second session the car was behaving well and I felt more comfortable on the track. It is clear that we must still improve our pace, but I am convinced this will be possible tomorrow and that we will have a good chance in qualifying."
Fernando Alonso (12th, 1:33.755): "It has not been an easy day for us. We concentrated on preparing a car that is suitable for the race, but we were not especially quick and it was not easy to get good traction on the circuit today, and this is something we need to focus on for tomorrow. We do need to find more speed and we will try and do this when we analyse the data tonight."
Pat Symonds, Executive Director of Engineering: "In spite of the windy conditions, the circuit was not in bad condition today and we were able to start our morning programme earlier than we had expected. We concentrated on running with high fuel, particularly as this circuit is so demanding on the brakes, but the track did not give up much grip and there is still a lot of work to do on the balance of the car. However, we have amassed a fair amount of data, which we will evaluate tonight to help us optimize the car for tomorrow."
Denis Chevrier, Engine Operations Manager: "That was a fairly normal day for both cars and we were able to work through our programme without any interruptions or incidents disturbing the session. This evening it is necessary once again to try to improve the car and to make the most of what we learnt today, especially concerning the tyres and the usage with the traction that we have here. There is certainly some room to progress tomorrow, but we must take into account that our competitors our likely to improve also."
Williams-Toyota
Nico Rosberg (6th, 1:33.022): "I am happier with the car here compared to the last race in Malaysia and I think we are back to normal now, which is encouraging. The circuit surface suits our car better, which in turn made it much more enjoyable to drive. Over the two sessions we made some very big set-up changes and I think we've gone into the right direction. It's getting very close with a lot of people in the midfield, but I think we have a good chance to do well this weekend. It was also productive to be reliable today which meant plenty of track time."
Kazuki Nakajima (8th, 1:33.098): "Today we didn't have any problems, so we could use all of the practice time which was great. Initially in the morning session, I struggled a bit, but in the afternoon, we made a big set-up change which was very positive. We have a bit more work to do tomorrow, but it is a good start."
Sam Michael, Technical Director: "We had a good first day's practice with no interruptions from a reliability point of view, and that enabled us to get through a full programme of set-up changes, tyre work and checking cooling and brakes. We will now work on qualifying performance for tomorrow."
Red Bull-Renault
David Coulthard (7th, 1:33.048): "I like this circuit. Today went quite well and we've gained some good information, but we've still got quite a challenge to improve traction and rear stability ahead of tomorrow."
Mark Webber (13th, 1:33.782): "We had a pretty good afternoon and the car ran reliably. We've got a lot of data to go through tonight, in terms of understanding the tyres. Hopefully we can have a good run tomorrow, which will put us in good shape for Sunday."
Toyota
Jarno Trulli (14th, 1:33.822): "That was a reasonable day of practice for us. The track surface was predictably dusty and slippery this morning. It was also quite windy today, with gusts from different directions in the two sessions. We were fighting with the wind and we still need to improve the car a bit in general. We tested here in February so things pretty much went as we expected today. This is a nice challenging track and I have always been pretty strong here so I am looking forward to this weekend. Our results show the car is much more competitive so it is important to keep developing it and to try to score as many points as possible."
Timo Glock (15th, 1:33.856): "It was a productive day and the second practice went much better than the first for me. In the morning we had some problems with stability under braking but over the break the track improved and we managed to develop the car and the set-up. The guys did a good job, we went in the right direction and the car felt better over a long run. The test here in February was positive for us. The question mark for the weekend is that it is likely to be windy. If the wind is very heavy it could be a problem, but it is the same for everyone."
Dieter Gass, Chief Race Engineer: "Overall we're happy with the day's work. We had only one minor problem on Timo's car early in the afternoon session which we were able to fix quickly. Apart from that we went through our programme. Concerning tyres, we have a clear picture on what we have to do even though we weren't supplied with the option compound during our winter test here. The conditions were also different today to what we saw in February. We expected the wind to be an issue and it is looking stronger for tomorrow and Sunday so that will have an effect. Nevertheless we will push hard as always to come away with another strong result."
Toro Rosso-Ferrari
Sebastien Bourdais (9th, 1:33.197): "I got into a good groove this morning with no real problems and we carried on the same way this afternoon. It meant I got quite a bit of running done which is a 'first' for a Friday this season for me. So, I'm happy about that. This is my first time at this track and I think it's quite nice, although the three slow corners are extremely slow and that does not seem to suit these cars. The track surface was actually in pretty good shape compared to what I had been expecting in terms of dirt and sand. They cleaned it very well and since the wind died down it greatly helped the situation. The wind is supposed to pick up again for tomorrow and Sunday so it could be a bit of an adventure into the unknown every time we go out."
Sebastian Vettel (20th, 1:34.787): "It was a tough day. On a track that does not see much running during the year, there is never much grip at first. I found it extremely difficult to drive in the morning and while the afternoon was a bit better, we are still a long way off where we want to be. To sum it up, we lacked grip and were too slow. Honestly, I am not sure which way to go to improve, but I am sure the situation will change after we study all the data before starting again tomorrow morning."
Honda
Jenson Button (11th, 1:33.710): "The track was fairly dirty this morning with a lot of sand having been blown onto the racing line over the past few days. We sat out the first half of the session until conditions improved, completing most of our mileage this afternoon. After the first few runners had been out in the second session, the track cleaned up quite nicely and continued to improve. It was a good day of testing today and we achieved some valuable tyre comparison work which will set us up nicely for the rest of the weekend. We do still have some set-up work to complete and we need to improve the balance, but overall it was a good start. We are hoping to break into the top ten qualifiers this weekend. It will be a tough challenge, and we will have a better idea of how our competitors are performing after tomorrow morning, but I'm confident we can give it a good shot."
Rubens Barrichello (16th, 1:33.966): "The first two races of the season in Australia and Malaysia were very hot, so we are certainly acclimatised to the temperatures we are seeing here. This is a dry heat which is not as physically demanding on the drivers. From a personal fitness perspective, I'm feeling good and having three races in just one month is the best training that you can have. I have no concerns about the car operating in these temperatures as the last two races have proved its reliability. The main challenge for me today has been with the brakes, which I struggled with for much of the two sessions. So our focus was on setting up the brakes and the car to satisfy the high braking demands of this circuit. Unfortunately by the end of the day, I was still having difficultly and losing time with the new tyres due to a lack of confidence getting on the brakes, so we have some further work to do on this tomorrow."
Steve Clark, Head of Race & Test Engineering: "There was very little grip for the start of P1, as expected and our program consisted only of rudimentary work in the first session. The track grip improves quickly here and the second session was very productive for us. The very fine and dusty sand can be damaging to internal components and is a particular challenge for the engine. The forecast is for strong winds for qualifying and the race. This will affect the top speed of the car as well as the cornering performance. We have to calculate this to decide the gear ratios and aero set-up. Today's practice went very well with both cars working towards a race setup, so we can think in terms of a potential top ten qualifying result."
Super Aguri-Honda
Takuma Sato (21st, 1:35.288): "It was not an easy day. We struggled to get the balance right in the car as through the laps the balance was changing quite a lot and we did not have enough time to complete our evaluations or to develop the set-up. We are working with a tyre one-step softer than last year, so the comparison was interesting between the medium and soft tyres today, and both are working well. However, we need to work hard to get the car balance right for tomorrow."
Anthony Davidson (22nd, 1:35.712): "It was quite a tough day for everyone out there today with the cross winds. We managed to find a good race balance on the car, but we still need to work on finding a good balance for qualifying tomorrow. I didn't get a clean run at all on any of my new tyre runs due to traffic, but that's not a worry at the moment."
Graham Taylor, Sporting Director: "We had to take a very controlled approach to this weekend which minimised our running in free practice one. The weather is good today; there is not much wind around and so the track cleaned up quite quickly, it would seem. In free practice two we attempted some longer runs to get a handle on the tyres, which I think we achieved, but we are far from happy with the handling of the car and there is a lot of work to do overnight, though we expect to be a little closer tomorrow. The drivers are really challenged by the 2008 regulations here."
Force India-Ferrari
Giancarlo Fisichella (18th, 1:34.388): "It was not so easy to find the right set-up today: we have understeer in some corners, but then oversteer in others. At the end of the afternoon when we were ready to try new tyres we had a problem on the rear wing and I just left the pits too late to get a good lap in, so we couldn't improve and do a good lap time. There are some small improvements with the new parts but we have some work to do overnight."
Adrian Sutil (19th, 1:34.405): "The morning session was not great as the harder tyre was very hard and with the green track conditions it was difficult to get a balance. In the afternoon it was much better with the softer tyre and for the first time I could feel a real difference between the two compounds, which was a definite improvement. I am quite happy as now we know we can work with the tyres, we can improve tomorrow. It was a shame in the last corner that there was that incident with Alonso, but it happens. It seemed he lost a bit of downforce under braking and locked up the rear but it wasn't really a problem."
Mike Gascoyne, Chief Technical Officer: "A productive day evaluating the tyres and working on the race set-up. Initially the balance wasn't great, but this afternoon it improved and the cars were reasonably consistent and the tyre picture is very clear. With the new parts we have made another step forward, with both drivers having very good pace over the longer runs. Unfortunately however neither was able to do a lap at the end of the day on new tyres. Nevertheless the cars look very competitive and I think we can have a good day tomorrow. Both drivers did a good job and Adrian in particular felt more comfortable in the car than he has done since the start of the season, which is very positive for both him and the team."
McLaren-Mercedes
Heikki Kovalainen (3rd, 1:32.752): "As this track is very hard on brakes this was the focus in the first session - just making sure we got as much data as possible and that everything was working well. The track was very dirty and there was hardly any grip to begin with so we decided there was no point in using more than one set of prime tyres. In the second session we could turn our attention to general set-up work and tyre evaluation. We ran both the option and the prime and there is not that much difference. I am comfortable in the car and looking forward to the rest of the weekend."
Lewis Hamilton (4th, 1:32.847): "It was a shame that I ended what had been a productive day going off the circuit and hitting the barriers at turn seven. I was just pushing and sometimes these things happen. I am absolutely fine, and hopefully the damage to the car is not too bad. We would have had to change our engine and gearbox anyway so hopefully I am not going to be too unpopular with the boys in the garage. In the first session we stayed on the same set of tyres throughout. I flat-spotted one of them early on but, as it was only practice one, we chose to save a set of tyres, however we monitored the vibrations closely to make sure that they didn't cause any damage to the car. The circuit was obviously very dirty and continued to evolve throughout both sessions."
Ron Dennis, Team Principal: "Apart from Lewis's off towards the end of the second session, a good start to our Bahrain Grand Prix weekend. The track continued to improve throughout both sessions and we gathered a lot of data. As Bahrain is one of the most demanding circuits on brakes we monitored and evaluated our brake performance throughout. We experienced no problems and look forward to the rest of the weekend."
Norbert Haug, Mercedes Motorsport Director: "We completed our preparation programme for Saturday and Sunday and the times in race trim are not looking bad. Lewis's crash luckily was not too hard - his team now have a lot of work ahead before Saturday but they will manage."