Austrian GP 2018
JULY 1, 2018
Sunday Team Quotes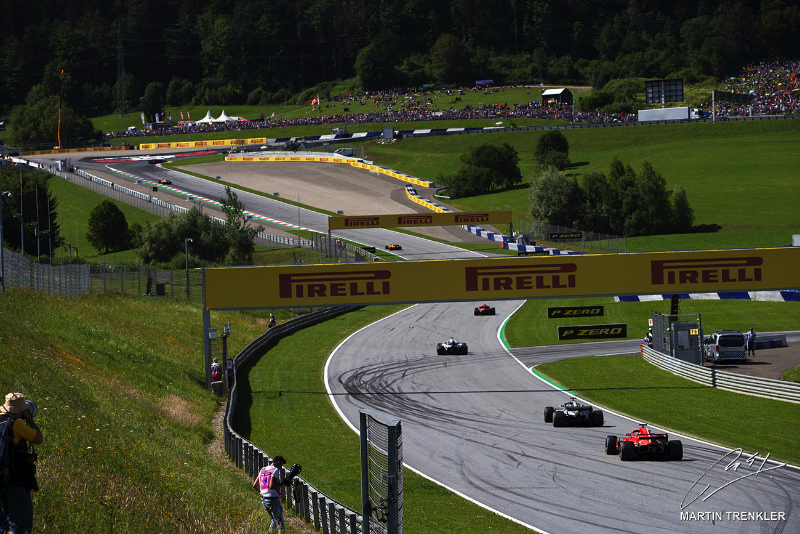 © Martin Trenkler
Mercedes AMG Petronas Motorsport
Lewis Hamilton (DNF, Fuel pressure): "This is definitely the worst weekend that I can remember for a long time. Everyone in the team will be feeling pain today, but we've got to take out the positives of the weekend. The car has been great all weekend, we were quickest and we've had such great reliability for so many years. So as painful as it is, we have to take the rough with the smooth. I have every confidence in my team that we will be able to bounce back. We can't throw away points, so we will have to find a bullet-proof method going forward. We will work on it and we will try to re-evaluate and come back stronger."
Valtteri Bottas (DNF, Gearbox): "The luck I'm having this year feels like a bit of a bad joke at the moment. My start was not ideal; I had quite a bit of wheel spin and there was less grip than we expected, so I dropped a few places. Going into Turn 3, I could recover two places and was back in second place. After that the car felt strong, we were running well, but then I suddenly experienced a loss of hydraulic pressure. There was nothing I could have done to prevent the DNF. We need to investigate and find the cause of the issues we had today, but I'm sure we will recover from this result. I guess it was just not meant to be today - but one day it will be."
Andrew Shovlin: "We don't have any excuses for today. We weren't reliable enough, we didn't make the right strategy call, our starts weren't good enough and we didn't manage the tyres as well as we could have done. We have a lot to improve by Silverstone and we need to put all our focus into remedying our weaknesses today. This is one of the hardest days at the race track that we have faced as a team but it's not the only difficult day that we have ever had. We know how to fix problems and we've always returned stronger than before. We have a few days to regroup and resolve these issues before Silverstone, where we will be looking to perform at the level we know we are capable of."
Toto Wolff: "For me and for the team, this is the most painful day of the last six years - to lose a possible 1-2 finish in this way, through our own mistakes and unreliability, just hurts so much. We had a spectacular first lap: a great getaway for Lewis and Valtteri battling back into P2 under braking for Turn 4. For the first 13 laps, it looked good, with both drivers in control and managing the pace well. The first blow was Valtteri's retirement after losing hydraulic pressure - this brought out the VSC. We decided to leave Lewis on track for one lap, because we thought it would take longer to clear the car from its position, and be able to react what the cars behind us did on the following lap. But the VSC cleared sooner than predicted; we simply made the wrong decision. That left Lewis with an uphill battle - we pitted soon after racing resumed, put him on the soft tyre, and he then had to try and make up the ground on track. In doing so, the rear tyres blistered, he lost position to Sebastian, then we decided to pit again as there was nothing to lose from doing so - but, shortly after, a loss of fuel pressure forced him to retire. A double retirement through reliability is hard to stomach but we know from bitter experience that the difficult days are when we learn the most. We will pick ourselves up in the next days, learn from our errors and go to Silverstone with our heads held high. It is a home race for the many team members in Brackley and Brixworth; we will be aiming to come back strong and make amends for our failures today."
Scuderia Ferrari
Kimi Raikkonen (2nd):
Sebastian Vettel (3rd):
Maurizio Arrivabene, Team Principal:
Aston Martin Red Bull Racing
Max Verstappen (1st): "I'm so happy to win at the Red Bull Ring, and with so many Dutch fans here. It was also so unexpected, and that makes it even better. An amazing weekend. If you want to win a race this is the perfect place, in a Red Bull car at the Red Bull Ring. For the race I was very happy in general with how the car was behaving but I always just try to do my best race possible; if that is going to be first, second, third, it's not in your hand. From my side I felt in control, I was driving to the best I could with the car I had and at the end we were struggling a little more than Ferrari with the tyre blistering but we managed to stay ahead. I knew that Daniel and Lewis had to pit again and I didn't want that scenario so I was not driving to the full limit of the car but just managing everything. It was tougher than perhaps it looked but I just needed to be on top of my tyres. I'm very thankful to the engineers for making that strategy call under the VSC and full complements to the team for that pitstop, because that definitely made our race. The fans in the grandstand were great, so many orange t-shirts there. My focus was always on the track but for the last few laps I could look a little bit to my left and they were really cheering me on, it was amazing."
Daniel Ricciardo (DNF, Exhaust): "I'm obviously disappointed with how the day went. At one stage it was looking like a one-two, but in all honesty as soon as we put the softs on it didn't feel like it gave me much. Even though we were able to get Kimi, I didn't feel like I was able to pull away and then I saw the tyre was getting torn apart. So we had to pit and that put us out of contention for the podium. Then we had what I think was a broken exhaust which put me out of the race. I could feel something was wrong down the back straight before the last sector, so I mentioned it and then tried to do a procedure but the call came for me to stop. I'm happy for Red Bull today, the team, the brand, the people, and happy for Max who has so many fans here. I saw Mr Mateschitz earlier and I can imagine what he is feeling right now. Obviously it's not my day but from the team's point of view, for the Austrians and for Max it's a big day for them, so I'm happy that some part of the team will be celebrating today. I don't think I'll celebrate too much for my birthday (today) but you know, maybe a cognac to get over these sniffles!"
Christian Horner, Sporting Director: "An unbelievable feeling. To win in a Red Bull car at the Red Bull Ring is something I never imagined would happen this morning. All credit to Max today, he drove a very, very mature race, managing a very tricky situation with the tyres and he completed a very controlled drive to win our first Austrian Grand Prix. It was a great shame not to have Daniel up on the podium as well, after running for many laps in P2, but then his rear tyre started to overheat which caused a second pit stop. Shortly after that we began to see an exhaust crack that was causing gearbox damage, forcing his retirement. A special word to our pit-crew, again executing a faultless stacked pit stop on our route to victory, as they had done previously this year in China. I have to also applaud our entire staff back at the factory and their commitment to produce a competitive race car. The day belongs to them, to Max, to the team, to Red Bull and particularly to Mr Mateschitz who has given so much to modern Formula One. We are all delighted for him."
Sahara Force India F1 Team
Esteban Ocon (6th): "I'm happy with this result and it's a very good day for the team. We can be really pleased with our performance today. We managed our tyres well and made the one-stop race work when others around us were struggling. We kept our tyres going until the end and we also showed great teamwork with Checo as we swapped places to chase Magnussen. I think we showed where this team is strong. Hopefully the next updates will keep bringing performance to the car and we can keep the momentum going. The championship battle in the midfield is going to be very close until the end of the season and we need to keep pushing."
Sergio Perez (7th): "It's been a really positive day for the team. We have come away with important points from a weekend that was quite challenging in the lead up to the race. Starting from P15 on the grid and finishing seventh is a great effort and we should be proud of this achievement. Yes, there were some cars that retired ahead of us, but we raced well and made our strategy work so that we could take advantage of these opportunities. We didn't pit under the Virtual Safety Car, like many others did, but the strategy we chose worked really well and I had strong pace all afternoon, especially in the closing laps. I wanted to chase down Magnussen at the end, but it just wasn't possible."
Otmar Szafnauer, Chief Operating Officer: "Today's result represents a very well executed race by the entire team. We kept out of trouble in the opening laps and then made some excellent calls from the pit wall to keep Esteban and Sergio in contention for points. The race pace was solid and Esteban and Sergio worked well together as we tried to chase down Magnussen. To score 14 points from a weekend where we didn't optimise our Friday and Saturday sessions helps make today's performance more satisfying and is a nice way to celebrate our 200th race as Force India."
Williams Martini Racing
Lance Stroll (13th): "I thought we could do better today. Looking where we were in qualifying, I hoped we could potentially fight with some of the other teams, but unfortunately today was kind of the same story but a different day. I had a decent start, gained some positions, but from there it was just survival and we were really slow to the end as we struggled with pace. We were struggling with tyres, temperatures and everything and couldn't really do anything with our strategy today."
Sergey Sirotkin (14th): "It was a very disappointing race. Straight away at the start I was doing so well, but every time I was on the inside and very close to the collisions. However, with traffic ahead I was always slowing down to not hit the cars in front. Instead of gaining the positions, I'm afraid I lost a bit. From then onwards, I was in clean air and everything looked ok and I was keeping a few cars behind me. We pitted early and tried to be quite aggressive and push hard straight away in the second stint, but, I ran out of tyres. So overall, a disappointing day."
Paddy Lowe, Chief Technical Officer: "It is good to get two cars home as many teams didn't manage that, but, having said that, overall it was a disappointing day for us. The expectations on pace were higher than we saw this afternoon, where, ultimately we weren't quick enough to get points on a day when a lot of points were on the table. We had a good one-stop strategy that would have worked until our pace fell apart. We then had enough of a gap for a free stop towards the end, and so pitted both cars again to protect against any tyre wear issues in the final laps."
Renault Sport Formula One Team
Carlos Sainz (12th): "We had a lot of blistering on our tyres today and we need to investigate why. They degraded massively and a problem in the second pit-stop didn't help either. We missed out on big points unfortunately. We have another opportunity next weekend to bounce back, and there will be a lot of preparation work in the build-up this week. There is no reason why we shouldn't be up in the top ten again so I'm very positive for Silverstone."
Nico Hulkenberg (DNF, Turbo): "Obviously it wasn't a great afternoon for the team. I suffered a loss of power and then the car went up in smoke and that was the end of our day. Carlos struggled as well, maybe because of the hotter temperatures today, and that made tyres hard to keep under control with a lot of blistering. It was a tough and disappointing afternoon, so we just refocus on Silverstone to make amends in a few days' time."
Cyril Abiteboul, Managing Director: "Over the course of a 21 race calendar, there will always be good and bad weekends. This one is certainly in the latter category. It was a very tough Austrian Grand Prix with a number of problems that we've had to face, especially today. Nico's retirement looks to be due to a turbo issue. We will have containment measures in the very near future. It brought Nico's race to a stop after a good start and he had been in the mix for what turned out to be an eventful race. Carlos made a decent start and we thought we had made the right decision stopping under the VSC. We were in the fight in the top ten when suddenly Carlos experienced massive blistering from his tyres and we were left with no option but to serve an extra stop delayed by some damage to his car. This degradation is something we hadn't seen on Friday, and we weren't the only team to suffer in this manner today, probably due to very different climatic conditions. Our tough weekend was lightened by Max Verstappen's win, in front of so many of his and Red Bull's fans. We must stay motivated and stay focused. There will be plenty of opportunities to recover from today provided we react appropriately."
Red Bull Toro Rosso Honda
Pierre Gasly (11th): "I think that was one of the most difficult races I've had. Stoffel and I had contact at Turn 3 on the first lap which caused heavy damage to my floor and after that the car was sliding everywhere. I gave it my best and we were running inside of the points, but it was super difficult to drive the car and in the end I had no grip left on my tyres. It's a shame to finish so close to the points. We brought an updated aero package to Austria this weekend, but with the damage I had on the floor, we lost a lot of downforce and we didn't get a clear read on it. Today there was a real opportunity to score points as we were running 8th with a few laps to go so it's a shame, but the potential is there. Now we have to focus on Silverstone next week and make a step forward."
Brendon Hartley (DNF, Mechanical): "We made a few changes to the aero balance compared to qualifying so I felt much better with the car today. In the first part of the race I seemed to struggle compared to the Saubers around me, but as the tyres got older, the car came alive and was getting stronger. Points were always going to be tough today, but I was battling with Ericsson and he finished 9th, so it's a bit disappointing to see that! We were clearly really strong on tyres today but then something failed on the rear of the car. Initially I thought it was a puncture because I could feel something moving on the rear, but I'm not entirely sure what the issue is. We'll look into the cause tonight and hopefully come back stronger next week in Silverstone."
Toyoharu Tanabe, Honda F1 Technical Director: "Brendon was running tenth, doing a good job of managing his tyres, when he had to stop with an issue not related to the PU and Pierre was comfortably in the points, until in the closing stages, his tyres went off and he slipped down to eleventh. It's a shame, but with another race weekend starting on Friday, we head to Silverstone to try again at what is something of a home race, as our European F1 base is just down the road in Milton Keynes."
Haas F1 Team
Romain Grosjean (4th): "It's a great day for all of us, the whole team. They deserve such a good result with the cars finishing fourth and fifth. It's incredible for our 50th grand prix. I'm so, so happy for all the guys. We've done an amazing job all weekend. We had some luck in the race with the Mercedes cars not finishing, but it's been a great weekend and we can really build on that. There are still a few things we can improve here and there, but I'm happy we managed to get that long stint on the tires. The last 20 laps were not fun - there were blisters on the rears - and I was afraid they were going to explode at any time. I am just so happy that we hung in there and finished fourth and fifth."
Kevin Magnussen (5th, 1:1): "We've had a very good weekend. To challenge for top-five, we didn't expect that. We finished both cars in the top-five, and that's an incredible job from the team and I'm really proud of the whole team. We were struggling with blistering on the tires - the whole of the soft stint. They blistered very badly. I managed that, and then had pressure from behind, so I had to push, but I had a good race. We've shown this weekend that we've got a good car. Actually, it's not only this weekend - we've shown all year that the car is very competitive. We've just got to keep going like this."
Guenther Steiner, Team Principal: "A fantastic weekend for the whole team. We can be proud of our workforce, for all the guys. It's just a great day, and on the 50th race, to finish fourth and fifth, what more can you wish for?"
McLaren F1 Team
Fernando Alonso (8th): "I'm very happy - we didn't expect points today, so that was a very nice surprise. It was a strange race. I started from the pit-lane, was then running 19th after the first laps, then I got stuck behind a group of cars and wasn't able to run at my proper pace. Also, the front wing we ran was last year's, so we didn't know exactly how it would behave with the rest of the aero package. The race was quite chaotic: the hot track temperatures caused a lot of blistering for everybody, but I was able to take care of them and capitalise on that. The points were a nice reward, but we need to keep improving. The next race is our home grand prix and we need to be more competitive there."
Stoffel Vandoorne (15th): "It was a normal racing incident on lap one: into Turn Three, there were three or four cars side by side, and that corner closes up at the apex and the exit. There was no way to avoid contact, unfortunately. After pitting for a new nose, I came back out in traffic, getting blue flags straight away as the leaders went past me. It was very frustrating to have to let all the cars through. Towards the end, I got some clear laps and managed to overtake some cars again. There was some pace in the car - if you look at the lap-times, we were much more competitive today than we were in qualifying. That's a plus. The team getting another few points is another positive to take away from a difficult weekend."
Eric Boullier, Racing Director: "Fernando's eighth-place finish was a fine example of his determination and never-say-die attitude. At the start of the race, when he was sat in his car in the garage, a points finish certainly didn't look likely - but he drove superbly, looked after his tyres, and really put the hammer down when it was critical. His pursuit and pass of Charles Leclerc also shows there's a bit more pace in the car on a Sunday than is usually evident on a Saturday. We'll keep working to further unlock that. Stoffel's race was always going to be difficult after his lap-one clash at Turn Three. It was just a racing incident - there were a lot of cars side by side - and he was unfortunate to lose out. The first half of his race was dictated by traffic; he had to keep letting the leader past and couldn't get into a rhythm. After a difficult couple of grands prix, we head to our home race at Silverstone hopeful of a more rewarding weekend."
Alfa Romeo Sauber F1 Team
Charles Leclerc (9th): "It was an exciting day. After advancing quite a bit at the start, I fell back after a few laps and had a tough job ahead of me to recover enough positions to score some points. There was a lot of action during the race, and some good overtakes, so I really enjoyed driving today. It is great for the team that both cars finished in the top 10. This is an extra boost of motivation for all of us ahead of the upcoming races, and I look forward to seeing what they will have in store for us."
Marcus Ericsson (10th): "It was a great race. I felt good in the car, and had strong pace right from the start of the race. Our strategy worked very well. We also had another fast pitstop from the mechanics and I am really proud of the crew. It is a great result for the team to have both cars finish in the points today, especially after the difficult qualifying yesterday. We can all be proud of how we bounced back. I am really happy for the team and myself. I look forward to Silverstone, one of my favourite tracks."
Frederic Vasseur, Team Principal: "It was a very good race for us. Both our drivers made a great recovery after starting from quite far back on the grid. To have two cars finish in the points today is an important achievement for the whole team, both at the track and in the factory. This is another sign for us that we are moving in the right direction. We have to keep our focus on continuing in this direction for the next few races to finish the first half of the season on a positive note."