Austrian GP 2018
JULY 2, 2018
Race Analysis - Orange eruption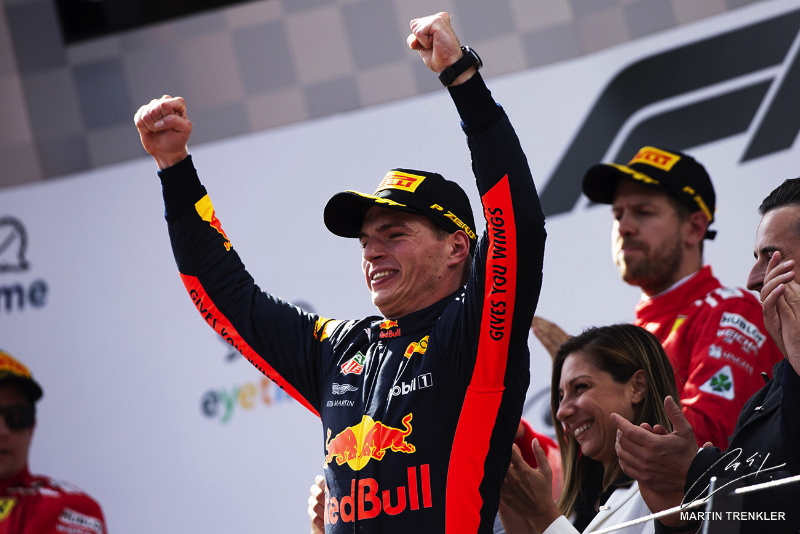 © Martin Trenkler
By Dan Knutson
Max Verstappen won the Austrian Grand Prix - much to the joy of some 20,000 orange-clad Verstappen fans who celebrated wildly - after a solid performance in his Red Bull over the 71-lap race in which Mercedes blew it and Ferrari floundered. Here's how his win unfolded.
UPDATING FASTER
Mercedes had had a power unit upgrade for the French Grand Prix a week earlier, and it brought a chassis upgrade to Austria. The updated car was fast indeed.
REPEAT
Like last year, Valtteri Bottas put his Mercedes on pole.
"Believe me, no one is hungrier than me to win," said the Finn.
BACK FOOT
Sebastian Vettel qualified third, but he started sixth after getting a three-place grid penalty for obstructing Carlos Sainz in qualifying. Thus he started the race on a back foot given that championship rival Lewis Hamilton was up there in second place on the grid.
SLOW GETAWAY
But Bottas had a slow getaway at the start of the race, briefly dropping back into fourth before rebounding into second behind teammate Hamilton who now led.
NO REPEAT
Bottas won in Austria last year, but there would be no repeat victory this year.
"My gearbox is gone," he radioed as he slowed on lap 14.
ORANGE JOY
Much to the joy of the orange-clad fans, Bottas' retirement elevated Verstappen into second place.
IRONIC STRATEGY
Bottas' stranded car caused a Virtual Safety Car period. Both Red Bulls and both Ferraris pitted for tires. Mercedes told Hamilton to stay out. That was a mistake. So, ironically, the Bottas problem created a situation that would cost Hamilton the lead.
"We decided to leave Lewis on track for one lap, because we thought it would take longer to clear the car from its position and be able to react what the cars behind us did on the following lap," said Mercedes boss Toto Wolff. "But the VSC cleared sooner than predicted; we simply made the wrong decision."
LOST LEAD
Hamilton pitted at the end of lap 25 of 71 and lost the lead to Verstappen.
ORANGE ERUPTION
Verstappen took the lead on lap 26. The orange-clad fans erupted in celebrations.
LOST GROUND
"We put him (Hamilton) on the soft tire," Wolff said, "and he then had to try and make up the ground on track. In doing so, the rear tires blistered, he lost position to Sebastian (Vettel), then we decided to pit again as there was nothing to lose from doing so."
LOST LEAD II
Hamilton lost fuel pressure and retired after 62 laps. It was his first retirement after finishing in the points for a record 33 races. In doing so, he lost the championship lead to Vettel.
"This is definitely the worst weekend that I can remember for a long time," Hamilton said. "Everyone in the team will be feeling pain today, but we've got to take out the positives of the weekend. The car has been great all weekend, we were quickest and we've had such great reliability for so many years. So as painful as it is, we have to take the rough with the smooth."
PERFECT MANAGEMENT
While some drivers had to pit twice because of blistering tires, Verstappen conserved his tires and did not have to pit again.
"We could see the start of blisters just starting to happen," Red Bull team boss Christian Horner said of Verstappen's tires. "But he was able to manage that. He was very much in control. He was getting the information from the pit wall, he was using the tools he had available to him. And a really very mature drive from him to make sure he had just enough left in the last 5, 10 laps, because Ferrari were probably better than us on tire deg today. We knew that they would come back on us at the end of the race. But he had enough in the tank to see off the challenge at the end of the race."
CLOSING IN
Raikkonen, who finished second, got within 1.5 seconds of Verstappen.
"The car came good but we just run out of the laps," Raikkonen said "I think we took it easily too long."
DAMAGE LIMITATION
Vettel went from sixth to third.
"Obviously it would have been nice to start further up," he said. "I tried to get some back at the start, in Turn 1, but it didn't quite work. I was left with no place to go and then lost momentum. And then it was the same thing a little bit in Turn 3. I had to fight with the Renaults and the Haas in the beginning of the race and I lost a little bit of ground. Obviously, we lost a little bit of time at the pit stop. So for us it was pretty much damage limitation."
THE PERFECT RED AND ORANGE

"I'm so happy to win at the Red Bull Ring and with so many Dutch fans here," Verstappen said. "It was also so unexpected, and that makes it even better. An amazing weekend. If you want to win a race this is the perfect place, in a Red Bull car at the Red Bull Ring. The fans in the grandstand were great, so many orange T shirts there. My focus was always on the track but for the last few laps I could look a little bit to my left and they were really cheering me on, it was amazing."