Australian GP 2013
MARCH 18, 2013
Race Report - The Iceman's easy win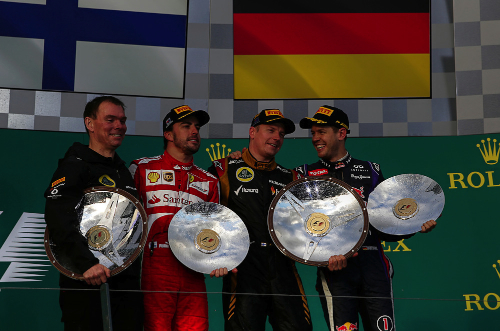 © The Cahier Archive
You would not expect a race that featured 10 lead changes between seven drivers to be easy to win, but that's exactly how Kimi Raikkonen described his win in the Australian Grand Prix.
The key to the Iceman's victory was that his Lotus is easy on its tires, and that allowed him to pit only twice for new Pirelli slicks while his competitors had to stop three times. Still, it was a venture into the unknown.
"It's the first race," Raikkonen said, "so you don't really know how it's going to go, how the tires are going to be. I didn't really do any long runs in the winter (testing.) I knew that I had a good car, so I had a feeling that it was going to be a good race but you have to get through the first laps and then go from there. The car has been very good all weekend and it was a pretty nice race, not so difficult."
It was Raikkonen's 20th F1 victory, his second in Australia and his second since he made his F1 comeback last year. He qualified back in seventh place but took the lead on lap 23 of 58 as the drivers in front cycled through their pit stops.
"Our plan was to do two-stop," he said, "and it's always difficult, especially the first races, to really know when to stop, and not doing it too early and not too late. We got it exactly right. The team worked very well and we had a good plan, and we followed the plan and it work out perfectly for us. I could save the tires and I could go fast if I needed and I could really drive very easily. One of the easiest races I've done to win the race. Hopefully we can have many more of this kind of races."
Pole sitter Vettel took the lead at the start, but his Red Bull, while fast in qualifying, was eating up its tires quicker in the race than the Ferrari and Lotus cars. He led for six laps and then pitted. He eventually finished third.
"I think first of all we can be happy with today," said the reigning world champion. "Obviously we wanted more. Clearly when you start from pole you want to win. I think we could see after a very good start, and a good first two or three laps, that the tires were falling apart and we couldn't go as long as other people. So congratulations to Lotus and especially to Kimi. I think they did the best job today."
The top 10 drivers had all qualified on the Pirelli super soft tire, and all headed for the pits in the early laps. Mercedes teammates Lewis Hamilton and Nico Rosberg stayed out the longest and pitted on laps 13 and 14 respectively.
After Vettel led six laps, Felipe Massa led lap 7 and then his Ferrari teammate Fernando Alonso led lap 8. Hamilton took over first place for laps nine to 12, and then Rosberg for lap 13.
Having qualified 12th and thus out of the top 10, Adrian Sutil could chose what tires he could fit for the start of the race. He went for a strategy of two long stints on the mediums and one short one on the super soft. It worked well because by lap 14 he was in first place in his Force India. He stayed there until lap 20.
Massa led laps 21 and 22, and then Raikkonen took over for laps 23 to 33. Alonso was next out front, leading laps 34 to 38. He finished second.
"It was not an easy race," Alonso said. "At the beginning traffic with Sebastian and Felipe, and then traffic with Sutil, some tricky moments. It was fantastic race with fighting all through the race. Big thanks to the fans all weekend. We felt sad yesterday when we postponed the qualifying until today because they were in the grandstands with the rain, the windy conditions and at the end we didn't run. So today we had to put on a good show for everybody and I think we did it, because the race was action every lap. I personally enjoyed it.
"At the end (I'm) extremely happy. We had a very difficult start to the season two years ago and last year as well and this year is very different. We feel much more optimistic. The car is responding well; we are competitive so we have a very interesting season ahead of us."
When Alonso pitted it allowed Sutil to retake first place and he held on to it from laps 39 to 42. Then Raikkonen passed him on the track and went on to lead laps 43 to 58.
"The pace was quick and the car felt very good on the medium tires," Sutil said, "so I was able to keep up with the guys in front of me who I knew were going to pit early. It was not long until I was leading the race - my first time leading in F1. After my second pit stop I was back in the lead once again, so I knew that it was possible to come away with a great result. My final stint on the super softs was much more difficult because the tires started graining and I lost a few places. I was thinking I might need to pit again, but fortunately the tires came back to me for the final few laps so I could save the seventh place."
Massa, who managed to stay ahead of Alonso in the early going, finished fourth.
"This is definitely a very positive start to the season, especially because this is a track where I have always suffered," Massa said. "We have shown that our car is competitive, with a good race pace and that is down to all the hard work done during winter testing. I had an attacking start to my race, in which I was immediately fighting for the top places. Maybe if we had brought forward the second stop, as Fernando did, the podium would have been within my grasp, but I am still very happy with my result. Definitely, we are at a good level, but now we must carefully analyze every smallest detail to try and improve our car."
Like the Red Bulls, the Mercedes cars were better in qualifying than in the race. Still, Hamilton was very happy to take fifth place in his first race with Mercedes.
"I think it's way better than we probably ever expected in the first race of the season so it's a good place to start," he said. "We didn't expect to have such a competitive car. Some people will be like, 'Oh, it wasn't great' but I think fifth's good. We're going to have to go back and try and figure out why we were losing time to other people but I think the guys have done a fantastic job for us to have the pace that we did. I just don't know where we lost out so we're going to have to go back and look at it."
Mark Webber's home grand prix curse continued. He qualified second, dropped to seventh on lap one, and eventually took sixth place.
"We had a few issues on the grid, getting the telemetry from the car to the pits, which wasn't ideal in terms of the guys knowing where to set everything up for the start," Webber said. "We lost KERS also for the first part of the race," he said. "It looked like we were quite heavy on the first set of tires and we weren't that quick to challenge for the win as a team today. We had a slow pit stop (due to a front jack failure) which put me behind Jenson Button.
"We salvaged something in the end, but that was Melbourne today and it was disappointing not to get more out of it. It was hard to fight against others on a two-stop."
Force India, meanwhile, was very pleased to have two drivers in the top 10 with Sutil seventh and Paul di Resta eighth. Romain Grosjean (Lotus) and Jenson Button (McLaren) rounded out the top 10.
"Having won the Australian Grand Prix three times so far in my career - in 2009, 2010 and 2012 - you'd have to say that today's ninth place isn't really much to write home about," Button said. "Having said that, I think we should be pretty satisfied with what we achieved here in Melbourne today. It was a tricky race, and our car isn't yet quick enough, so I think the team did a great job to achieve even as much as we did.
"As a result, I scored two world championship points today, which makes 1001 in my career I'm reliably informed, and to be honest I don't think I could have scored any more than that. But, although that's a nice stat, it doesn't ease the pain caused by the knowledge that our car still needs a lot of work done before it's properly competitive."
So Lotus and Raikkonen took first blood in the 19-race 2013 Formula One season. The Iceman isn't going to make any predictions for round two that takes place in steamy Malaysia.
"It's a difference place," Raikkonen said. "It's going to be much hotter there so it's very difficult to say how the cars will feel, who will be fastest after having just one race. I think we have to do two or three races before we really know who is where and what's going to happen. It's probably going to rain again in Malaysia at some point but it will be a different circuit, different conditions. Our car worked well here at least and usually - at least last year - in hot conditions it's been good for us so hopefully it will turn out to be a good weekend."