Australian GP 2012
MARCH 17, 2012
Qualifying Report - All McLaren front row for Australian GP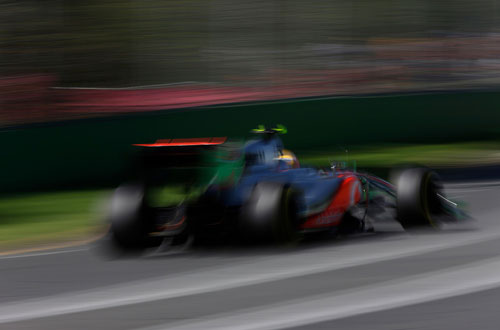 © The Cahier Archive
BY TONY DODGINS
Lewis Hamilton (1:24.922) and Jenson Button (1:25.074) served up the first all-McLaren front row since Valencia 09 when they proved the class of the field in qualifying for the season-opening Australian GP.
The good news for F1 is that there is every indication of a fascinating season in prospect as just one second covered the top eight drivers in five different chassis, with a sixth and seventh hot on their heels.
A fine third on the grid was Romain Grosjean (1:25.302) in the Renault, underlining the team's promising performances throughout winter testing. Team mate Kimi Raikkonen, meanwhile, failed to get out of Q1 after making a mistake on his first run and then suffering a communications problem that prevented him getting another lap in.
Michael Schumacher (1:25.336) starts fourth for Mercedes, with team mate Nico Rosberg (1:25.686) seventh, the silver arrows sandwiching defending champions Red Bull Racing, for who home hero Mark Webber (1:25.651) lines up fifth, with Sebastian Vettel (1:25.668) sixth.
There are those who feared that Red Bull would turn up in Australia and continue the domination shown in 2011. That wasn't the case, although it should be remembered that Albert Park is more about braking and traction than aero performance in long, fast turns. The shape of the competitive landscape could well change in Malaysia a week hence.
Webber's performance in outqualifying Vettel, albeit by a hundredth of a second, was impressive given that he got just the one Q3 run and had an inoperational KERS system, costing him about three tenths.
For the moment though, Lotus (nee Renault) and Mercedes appear to have made quantum leaps, not altogether surprising given that their 2011 cars were compromised in fundamental areas. Ferrari, by contrast, is in trouble, Fernando Alonso spinning out in Q2 and starting 12th, while Felipe Massa lines up 16th, the F2012 clearly difficult to drive.
The 0.35s gap separating Schumacher from Rosberg was often seen in the other direction last year. Schumacher claims to be more at one with the 2012 specification F1 car, without blown diffuser, a feeling echoed by Webber over at Red Bull, but there was also a mistake from Rosberg on his new tyre Q3 run to be factored in.
Behind Rosberg, Pastor Maldonado buoyed Williams spirits with eighth on the grid in the new Renault-powered FW34, ahead of a strong lap from Nico Hulkenberg (1:26.451) and a delighted Daniel Ricciardo, who made it through to Q3 and completed the top 10 for Toro Rosso in his first home grand prix start. The Australian pipped rookie team mate Jean-Eric Vergne to the final Q3 slot by just a tenth of a second.
At the tail of the field, the HRTs exceeded the 107% rule, with Pedro De la Rosa qualifying at 108.48% of the Q1 best and Narain Karthikeyan at 108.65%. A request to be allowed to start the race was turned down by race stewards.
Although McLaren look very strong, Hamilton emphasized that tyre usage will be key to the race result and nobody is ruling out Red Bull yet. The team still has a smaller capacity KERS, however, something that was no handicap last year when Vettel so often started from pole position and made an early break. Here and now though, it could leave them vulnerable.
Schumacher, meanwhile, is contemplating potentially his most competitive race since his return two years ago. The seven times champion says he is not considering victory but concedes that a podium may be realistic - something he has not achieved since coming back with Mercedes.