Australian GP 2012
MARCH 16, 2012
Friday Team Quotes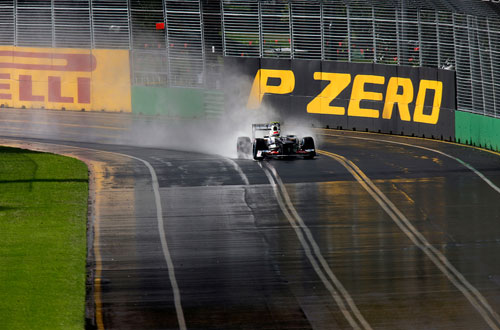 © The Cahier Archive
Red Bull-Renault
Sebastian Vettel (10th, 1:32.194): "I think obviously with the conditions it's difficult to get a lot of running, but it was the same for all of us. The little time we had in the car this afternoon was okay, but now we have to find the balance and learn a bit more about the car. The important thing now is to make a step overnight and go from there. Track time is important when the car is still young."
Mark Webber (11th, 1:32.296): "We did learn a little today - but after nine weeks of anxious waiting it was a shame with the weather. Mother Nature played a big role and it made it quite challenging for everyone. We got some dry running at the end of each session, which was good. The track was drying out reasonably quickly, but there were still a few sections at the end that were damp. In the end we got what we could out of it, but we still have some work to do. It was compromised running for everyone; I'm looking forward to coming back tomorrow."
McLaren-Mercedes
Jenson Button (15th, 1:33.039): "Even though it doesn't mean too much, it's always nice to start the season with the quickest time of the day. Our car feels very different compared with the last test - the circuit is different and the average corner speed is a lot lower, but the car is still working well for me. There are still a few areas where I think we can improve, and we didn't get as many laps in today as we'd have liked, but it's been a positive day. We did some set-up work this morning and then spent the afternoon understanding how the car reacts when running wet or intermediate tyres. The weather didn't help, but it's been the same for everyone. Overall, I think we're quite happy, but there'll be a lot of discussion tonight as we choose our direction for tomorrow."
Lewis Hamilton (16th, 1:33.252): "We spent the morning making sure we could switch the tyres on. Then, in the afternoon, we didn't do any running in the wet because the forecast says it's likely to be dry for the rest of the weekend. In those circumstances, it's important to remain calm, look after the car and make sure we focus on the rest of the weekend. Tomorrow, it'll be important to get out early in the session and maximise our dry running so that we can work on set-up and make sure our car is in the zone. Our car feels there or thereabouts but, as in testing, we don't know the fuel-loads the others were running: it still looks close between ourselves, Red Bull and Mercedes. It's going to be interesting tomorrow - we'll get a better understanding of who's going to be quick. I'm massively excited to see how the rest of the weekend goes."
Martin Whitmarsh, Team Principal: "After so many weeks of testing and talking, it's exciting finally to get the season underway. As usual, Friday practice didn't provide the answers many people were seeking - and, if anything, today's changeable conditions meant the timesheets probably threw up a few more questions than answers - but it was nonetheless pleasing to get some productive running under our belts. With drier weather forecast for the remainder of the weekend, the focus now shifts to our engineers, who'll be working hard to analyse the data in order to provide us with the best possible performance platform for tomorrow's programme. If the showers hold off, it'll be very important to hit the ground running in P3 tomorrow as a strong session will put us in a good position for tomorrow's qualifying session. Despite the damp weather, today was a positive start to our weekend."
Ferrari
Fernando Alonso (4th, 1:30.341): "It is always a pleasure to be back at a Grand Prix after the winter break: everyone is out on track together and there's the crowd, so it is always a nice feeling. It was a bit complicated trying to work through the programme we had planned for this Friday because of the weather. Therefore there is still a bit of work to do tomorrow before qualifying, but I think the others are in a similar position. I am reasonably satisfied with the car: the initial feeling as to its balance is positive. However, we have not done the usual comparison between the two types of tyre, because we ran mainly on the intermediates and the Mediums and these seem to be behaving quite well, as far as degradation is concerned. It was important to have everything working perfectly - from the KERS to the engine, from the power steering to the gearbox and everything else, as is always the case on the opening day of the season - and that's how it went. There's no point looking at the time sheet from today with a view to making predictions for qualifying. Tomorrow I expect to see a very mixed up grid because there are so many teams that have done a good job over the winter. We will try and do our best, putting together the best elements we have tried in the past weeks, including a few details we brought here. However, my opinion has not changed: we wait for tomorrow to see where we are compared to the others. But if I was to give some sort of opinion on the day, I would say it's been positive. We did the important things, the balance is good and the car responds well to changes."
Felipe Massa (7th, 1:31.505): "After over three months, finally we are back to what we drivers like best, namely racing. However, today was a rather difficult first day back, because we could not do as many laps as we had planned. The rain complicated matters in both the first and the second session. In the first one, I also went off track, which cost me a bit of time: as I was braking, I got the left rear wheel on the grass and the car took off on its own, only stopping in the gravel on the escape road. In the second session, the rain meant the track was wet for a long time and only towards the end was I able to fit the dry tyres. All things considered, it wasn't really possible to understand much as to where we are compared to the others. I did too few laps to say if the car has changed since the last day of the Barcelona test. Tomorrow afternoon, in qualifying we will all run in the same conditions so we will finally understand something!"
Pat Fry: "Today was even harder than usual to interpret because of the weather. The track conditions changed very rapidly, making it very difficult to work through the programme we had set ourselves. Furthermore, as this is the first race, we chose to save a handful of kilometres on the engine. The opportunity to use one of the sets of tyres available today in the third session, will allow us to recover at least part of the programme tomorrow. Honestly, it's impossible to give any sort of assessment of the performance of the F2012 and on the prospects for this weekend. We had said we must wait until tomorrow's qualifying to know more, so you need to be patient for a further 24 hours! We too are very curious to know where we stand compared to the competition..."
Mercedes GP
Michael Schumacher (1st, 1:29.183): "Today was a nice start into a hopefully exciting season, and certainly two promising sessions for us. However, I would not go so far as to speak about being confident, as the weather conditions were too mixed to gain a clear picture. We know what Friday sessions are for and don't know what fuel loads others were running. On the other hand, it is good to see that we were competitive in different circumstances today and that the car provides good handling - I just feel it."
Nico Rosberg (9th, 1:32.184): "I'm pleased with the start to our weekend today in these mixed conditions. We learned a lot for the race here in Melbourne over the two sessions, so it was a very productive day. I feel very comfortable in the car which is the most important thing for me today. So all went well and we had no surprises, however to find out where we really are compared to the others was impossible in these conditions. So I'm really looking forward to the next two days here."
Ross Brawn, Team Principal: "It's obviously been a patchy day with the weather conditions, however we have achieved a reasonable amount of work on varying fuel levels. Whilst the overall picture is still not clear, Michael and Nico seem quite happy with the cars at the end of today's two practice sessions. Tomorrow should see a dry morning, and we will start to get a better perspective. Everything ran smoothly today which is a tribute to the team, and everyone at our factories in Brackley and Brixworth has done a very good job to prepare for this first race. So far at least, it's going well."
Norbert Haug, Mercedes Motorsport Director: "A decent start for us on this first Friday of the new Formula One season. Michael felt well in our new car, as did Nico. Both drivers concentrated on race simulations with different programmes, and both were on the medium tyres as the team took the decision to save a set of options for the better track conditions tomorrow. Our team worked perfectly today which gave us a good start into the new season."
Lotus-Renault
Romain Grosjean (14th, 1:32.822): "We waited to be able to go out on slick tyres, as we expect it to be dry for the rest of the weekend; there's no point taking any unnecessary risks. The E20 feels very good and I'm happy with the balance of the car. I've been learning the track this afternoon and I've been focusing on improving my lap times as the day went on. We had to be patient, but we managed to get some decent laps in at the end and these were valuable. It's a fantastic track and the changing scenery as you drive through the park is incredible. I feel comfortable and confident in the car and am really looking forward to qualifying."
Kimi Raikkonen (18th, 1:34.275): "We didn't really learn much from today due to the weather, but it's the same for everyone. We tried a different steering rack in the first session. It would have been fine to run, but we knew that the base system would be better. The setup we have now is working well, it may take a while before we get it perfect but we'll make the best of it. Hopefully the weather will be better tomorrow and we'll be happier after qualifying. I didn't push too hard today; if it's dry tomorrow we'll have a better idea of what we need to do."
James Allison, Technical Director: "It was a day dominated by the weather. At this time of year your cupboards are not overflowing with spare parts so it would be foolhardy to risk damaging anything unnecessarily. The rest of the weekend is predicted to be dry, so discretion was the better part of valour. This meant we stayed in the box for most of the day. When it did look sensible to venture out on track we did so with both drivers and the E20 looked solid in the second session with a high fuel load. We have a baseline steering set-up for Kimi which works, but we tried a different option at the start of FP1. He wasn't convinced by it so we went back to our baseline. As the conditions were not conducive to running we didn't miss an undue amount of track time. Romain's rear suspension set-up was not working as it should in the first session. We were able to rectify it for the second, and he was immediately happy with the car."
Force India-Mercedes
Nico Hulkenberg (2nd, 1:29.292): "Both FP1 and FP2 had mixed conditions, especially FP2 with the heavy rain, which arrived just before the start of the session. But we made the best of it and I ran on the full wets, the intermediates and the soft tyres when the track had dried out. It's difficult to read much from the times because not everyone ran the soft tyres and there were lots of different fuel loads, but the main thing for me is that I have a good feeling with the car already."
Paul di Resta (6th, 1:31.466): "Difficult to say too much about the first or second session because the conditions were so inconsistent with the rain showers. Even so, we made the best of it and focussed on assessing the aero package we have here and managed to learn a few things. We also made some set-up changes between the two sessions and the car felt better in the evening, so that was positive. The difficult thing is that we didn't really get an impression of where everybody is in terms of performance, so there are still lots of unknowns going into tomorrow."
Jakob Andreasen, Chief Engineer: "On days like this you just have to be patient and wait for the right opportunities, but it's better to play the waiting game than run when the conditions are not ideal. Overall I think we were on track at the right times and on the right tyres, and it's always worth going out even if there's just a small thing you can learn. When we were on track we did some work evaluating our aero package and got some useful data. The most important thing is that we made the most of the dry periods to get the drivers into the rhythm of the track."
Sauber-Ferrari
Sergio Perez (3rd, 1:30.199): "We made a good improvement from the first to the second session, but it is extremely difficult to deal with today's information as the conditions were not at all consistent. The third free practice tomorrow will be very important. We have to watch how the conditions develop and then really get everything right for qualifying."
Kamui Kobayashi (5th, 1:30.709): "I am pretty happy, and I think overall the day went smoothly for us. We used intermediate and rain tyres as well as the medium compound of the slicks. Because of the changing track conditions, it was obviously not easy to learn much from today, so now we have to decide what to do and think carefully about the next steps for tomorrow."
Giampaolo Dall'Ara, Head of Track Engineering: "After all the speculation in recent weeks it was good to drive the first two practice sessions of the 2012 season. The target today was to prepare for the race. However, due to the changing weather conditions this was quite difficult. The positive aspect of this situation was we were able to run tyres which we didn't run in testing - the intermediate and the rain tyres. This might not help for the race, because the forecast predicts dry weather. Nevertheless it was good to gather some data with these tyres. We had to wait for the right moments to have some dry conditions. However, on the mainly wet track it was not possible to learn a lot about tyre degradation, so it was good that Kamui was driving in race set-up at the end of free practice one. Also positive to mention is the fact there were no reliability issues on the car, so we are really looking forward to the remainder of the weekend."
Toro Rosso-Ferrari
Jean-Eric Vergne (20th, 1:34.485): "My first Friday as a Formula 1 driver was a good feeling. Being the first driver out on track this morning was something special, but after that it was time to get on with all the usual work with the engineers and you forget about that side of it. This morning, we did not manage to complete all our programme, partly because of the rain. That made life difficult, but you know, it was really good fun, as I've never driven on rain tyres, which meant I did almost everything you could do today, in terms of trying tyres. I also did a long run, which was useful in terms of learning the circuit and there are still plenty of little details where I need to improve. But overall, I would say it was a positive first day and what I must do tomorrow is push more."
Daniel Ricciardo (21st, 1:34.604): "All the hype this week has made it feel as though this is my first F1 race again, but it's not and I've just got to get on with things. It was a great feeling being back out on track here in Australia and I really enjoyed it. This morning went pretty well, very good even, while the afternoon was a bit mixed because of the weather. All the same, we managed to try most of the tyre compounds apart from the Option. The changing track conditions made it a bit 'cat and mouse': you'd go out on one tyre, then come in and wait for it to dry a bit and you had to be patient. This afternoon, I did a long run and I think we can still gain some more race pace and the good thing is I know what we have to do to achieve that. This track is very different to the two circuits where we tested this winter, but it looked positive, so I'm hoping to get a good grid position tomorrow. We'll see what the weather does, but even if it rains, I expect there'll be a big crowd to cheer us on."
Laurent Mekies, Chief Engineer: "Overall this was a good day for us, with everyone happy to be racing here again. With the rain and changing conditions, it was not the ideal scenario for two young drivers to start their first race of the season and for one of them, Jean-Eric, his first real race weekend ever. But I don't think we can complain about these conditions as it's better to deal with them on a Friday than in the race. Daniel and Jean-Eric did a very good job to get as many laps under their belt as possible. They tried the Extreme wets, the Intermediates and the Mediums and our weekend has got off on the right foot."
Williams-Renault
Pastor Maldonado (17th, 1:34.108): "We completed the majority of our programme and did a longer run this afternoon. The car is performing well and we're going in the right direction, but tomorrow we will see when we finally get into qualifying."
Bruno Senna (19th, 1:34.312): "The conditions today cut our running a little, but it was the same for everybody. This afternoon we completed some simulations to gain a greater understanding of what the car is doing and we are still learning. In terms of pace, we will see what we can achieve tomorrow afternoon."
Mark Gillan, Chief Operations Engineer: "The weather dominated both sessions, with each session being declared wet and thereby limiting the base programme. Both the drivers and the team performed well and we completed the day's running without issue. Despite the conditions, we learned quite a lot today, and look forward to what should be dry running throughout the rest of the weekend."
Caterham-Renault
Heikki Kovalainen (8th, 1:31.932): "The car felt good from the first proper run this morning and we found that the baseline we had set over the winter carried over exactly as we had planned into today's practice sessions. It's a shame that the conditions today meant that we couldn't test the tyres more, but that's the same for everyone, so the main thing was that we had a good balance all day, and kept improving the setup in both sessions. It's also good to see that the new spec front wing that we ran both this morning and this afternoon is giving more grip overall, so that's another positive step forward and puts us in good shape for tomorrow."
Vitaly Petrov (13th, 1:32.767): "That was a reasonable day for me. The weather meant we weren't able to try too much with the setups and we had a small problem this morning that cut short the final run, but one of the main things for me today is that I feel very comfortable with the team. We're quickly building up a good relationship between me and the engineers and the mechanics, so as that keeps growing we'll be able to get more out of the car and keep finding the pace that we know this car has."
Riad Asmat, Chief Executive Officer: "It's good to be back racing, and I think we can be pleased with the job we did today in pretty tricky conditions. We had a small issue with Vitaly's car at the end of FP1 that the team worked very well on to fix in time for FP2 and I'm pleased that both drivers did exactly what we asked of them today - making no mistakes and getting as much out of their cars as they could without pushing too hard and putting themselves in a potentially difficult situation. We obviously can't tell too much from the times today but it is encouraging to see that we are lapping consistently in the sort of times we have been aiming to. Now the focus turns to tomorrow when we will hopefully have more dry running and find out just where all the hard work over the winter has put us."
Mike Gascoyne, Technical Director: "Obviously the weather today made it a potentially difficult first day, but we got through most of what we had planned and it's good to see that Vitaly was comfortable in the car from the first laps this morning. We ran all the tyre compounds bar the options today so we have some useful data to go through tonight and overall I think we look ok. It does look like the midfield group is going to be very tightly packed and I hope we can have a dry qualifying session tomorrow to find out just how competitive we can be."
HRT-Cosworth
Narain Karthikeyan (23rd, 1:42.627): "Today we ran with a new car in mixed conditions, so tomorrow will be like starting all over again because it looks like conditions will be dry. With few laps and a new car, we were unable to assess the balance of the car. But it was important to do some mileage and we completed 19 laps which isn't too bad, but we still have a long way to go. As for the new car, these problems are common, they tend to happen in preseason testing and this is our testing."
Pedro de la Rosa (24th, No Time): "We managed to complete our installation lap in order to check the systems, but afterwards we detected a problem with the hydraulic system which forced us to stop. This is all part of the learning process, we've arrived here with a new car and just to have been able to get out for the second session was a feat, but we would have liked to have done more and learnt more. The last parts of the car arrived late and thanks to the brutal effort put in by the whole team, we were at least able to complete the installation lap and, thanks to this, we know where the problem is for tomorrow and can fix it. We start tomorrow with one problem less, and will surely run into another one, but that is part of the learning process. We knew that this Grand Prix would be difficult so we need to be patient."
Luis Perez-Sala, Team Principal: "It's been a complicated day but we knew what we were in for. The fact that we haven't done pre-season testing means that we must get things right, not get ahead of ourselves and detect problems in order to fix them. What the majority of teams have done during winter, we have to do here. Narain was able to complete 19 laps and accumulate certain information. Pedro could only get through one lap, but it was an important one because the team has worked non-stop to make sure the car was finished on time for today, and they achieved it. Tomorrow we will continue to progress."
Marussia-Cosworth
Timo Glock (12th, 1:32.632): "I think it has been a difficult start to the weekend due to the weather conditions and we had to be a bit careful. For everyone it has been great to see the car out there and performing well at the moment. P1 I had already quite a good feeling but we were a bit unlucky at the end because we could only do one timed lap. In P2 difficult again at the start but in dry conditions I was feeling very positive and it was good to be able to follow Red Bull for more than three laps! When I got back to the garage I was a bit surprised to see myself in P12, which doesn't mean anything at this stage, but equally it means a lot to everyone who has worked so hard through the winter and had a difficult time. There are a few smiles in the garage, which is nice to see. Let's see what the rest of the weekend brings now."
Charles Pic (22nd, 1:34.770): "We have a lot to learn with the new car, so today was always going to be a challenging way to open my first season. The rain really frustrated our plans but we got some dry running and that means we have a feeling for the car and some data to start working with. My first impressions of the car are positive. We need as much running as possible and we didn't get as many laps as I would have liked, but we did enough to highlight any problems with the car and there are none so far, so that is positive. A good start and I'm quite happy."
John Booth, Team Principal: "It's a little early to be getting carried away with ourselves but equally we couldn't have wished for a better start to our 2012 campaign. On a day when everything could have gone wrong for us - and the weather certainly did - we managed to give everyone in the team something to smile about after a pretty challenging few months back at base. P2 was a very changeable session, and so is the order, but we were all pleased to see us posting a time that was in the midfield and it will provide a great boost to the team. Considering where he started the day, with very little experience of the car and some hair-raising track conditions, Charles conducted himself perfectly. It has been a tough test of his mettle and there is obviously plenty more in the tank, which we look forward to nurturing. We are obviously mindful of the fact that the conditions have been as they have today and we have only managed one set-up change, so we are desperately hoping for a dry FP3 tomorrow to give us the best possible run at qualifying and the race."