Australian GP 2010
MARCH 27, 2010
Saturday Team Quotes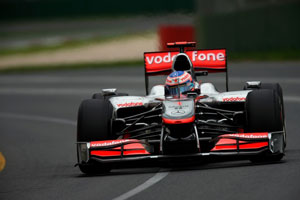 © The Cahier Archive
McLaren-Mercedes
Jenson Button (4th, 1:24.675): "After our strong performance yesterday, this morning the car didn't work as well as we'd expected. We lacked grip, and it looks as though the cars ahead of us here have more downforce. Nevertheless, qualifying this afternoon was good. I felt pleased with the car on every lap except the final one in Q3. I don't know whether it was the wind picking up, but I didn't feel the car was working quite as well as it had in the first two sessions. I didn't have the balance I'd had previously - there was a lot more understeer in the car - but it only cost me a tenth or two. So, the best lap we probably could have done was a 1m24.4s - which is still half a second off the pacesetters. We're not there yet, but this is an improvement because we're a lot closer to the front than we were in Bahrain. I'm happy with the performance of the team this weekend. We pretty much got the best out of the package we have at the moment."
Lewis Hamilton (11th, 1:25.184): "Today was a surprise - I wasn't expecting to be out in Q2. I felt I got as much as I could out of the car, but I just couldn't get the grip from the tyres. On my first run in Q2, I was held up by traffic, so I wasn't able to do a quick lap. I pitted early, got a clear lap, but still struggled to find time in the final sector - even with new tyres. I don't know what the reason for that was. So I didn't have a great day, but it's encouraging to see Jenson doing such a good job. Hopefully, we'll both have a good race tomorrow."
Martin Whitmarsh, Team Principal: "Jenson performed strongly in qualifying this afternoon, and a second-row grid position is the result. With good race pace, he ought to be able to score reasonably heavily tomorrow. Lewis put in a decent lap in Q1, but never felt comfortable with his car in Q2 and consequently failed narrowly to squeeze into Q3. That was a bit of a surprise to all of us, Lewis included, but we know what a competitive individual he is and there's therefore no reason why he, too, shouldn't have a good race tomorrow."
Mercedes GP
Nico Rosberg (6th, 1:24.884): "It was a disappointing qualifying today as I had made really good progress during practice with my engineers but didn't do the best job when it mattered. I made a couple of mistakes on my best lap on the option tyres which cost me three or four tenths. There was more in the car today so it's always frustrating when you don't get the most out of it. It's not typical for me to make such mistakes in qualifying. But that's the way it goes sometimes and sixth position is still a good place to start. We should be stronger in the race and anything can happen tomorrow."
Michael Schumacher (7th, 1:24.927): "We had a reasonable qualifying session today and I am ok with the outcome even if I was a bit handicapped by traffic, especially on my final quick lap. We made some changes with the car after practice this morning which did not work out perfectly. But in general I would guess the ranking that we see now reflects the situation well and our performance is probably the maximum for our car at the moment. Anyhow, we still have a lot in hand for tomorrow's race, and I am on the clean side of the grid for the start. As we all know, a lot can happen over the course of a race."
Ross Brawn, Team Principal: "Whilst we weren't necessarily able to compete with the top three, I thought we might have done a bit better today, and certainly be fighting for fourth and fifth places. We didn't really seem to get smooth runs and whilst it's the same for everybody with the conditions and traffic, the little things just didn't quite come together for us today. The car is good so we're a little disappointed but we know what we've got to do. We've got to find some time to compete with the guys in the top two or three positions and that's our objective."
Norbert Haug, Mercedes Motorsport Director: "It was not quite the optimum result that we could have achieved today but better than fourth place would not have been possible. We know that there is more work to be done in order to improve our technical package and catch up to the Red Bulls and Alonso's Ferrari which were out of reach. This will happen step by step and it will take some time. Nico and Michael did a good job within the possibilities that we currently have and are split by less than half a tenth of a second. We will try to do a better job tomorrow and improve our positions during the race."
Red Bull-Renault
Sebastian Vettel (1st, 1:23.919): "A great result for the team. It's obviously Mark's home race here - but he got pole in Germany, so it's kind of a revenge (laughs)! But, it's a long race tomorrow. I think we made a good step with the car ahead of today's qualifying. The final session was all about if it would rain or not, so we waited a little bit at the start. My first lap in Q3 was the quickest and it was spot on until the last three corners. I was on the edge through Turn 14, but then I lost a little bit in last corner going on to the main straight. It was a very good lap up until that point though and the result says it all. I'm looking forward to tomorrow."
Mark Webber (2nd, 1:24.035): "I would prefer to be on pole position of course, but second is still a good result and it's great for the team to have a one-two. It would be nice to be one place further up, but Seb did a good job. It was a good battle - with about 800ths between us in the end. I wasn't mega-concerned about the weather today, as it's the same for everyone and whatever happens, happens! I think tomorrow will be enjoyable - but I would prefer a dry race, as the track can get slippery with intermittent conditions."
Christian Horner, Sporting Director: "It was a brilliant team qualifying performance today with great laps from both drivers to secure the front row. Sebastian also set a new track record for pole position. Inclement weather looks as if it's looming for tomorrow afternoon, but there's no better place to start the race than from the front. Our strategy was slightly different to the other teams with our tyre choice in Q1 and Q2, but both drivers did excellent jobs and we're in good shape for Sunday."
Fabrice Lom, Renault: "A super result, in fact the perfect one for qualifying. It was a very good performance, we have a fast car and good drivers. We're really happy, but as we can see from the last race, the most important thing is to finish tomorrow with no problems. We let Red Bull down at the last race with engine problems on both cars, so we will only enjoy it if we have no problems tomorrow and finish the race in the same positions."
Ferrari
Fernando Alonso (3rd, 1:24.111): "I am pleased with the way qualifying went. You always want to be on pole, but third place is still a good result. We knew the Red Bulls were very strong, but we are close to them and can count on having a good race pace. Our aim is to get to the finish, not making any mistakes and getting a good result, maybe making it to the podium. Of course I want to fight for the win but it is not worth taking risks as it is too important to bring home points. After yesterday's free practice, we were not worried because we knew our work had only focussed on being ready for Sunday's race. Anything can happen here and we must be ready for any eventuality. A new engine? Yes, it brings luck to change it¦But joking apart, it was part of our engine management plan to have a new unit for this race."
Felipe Massa (5th, 1:24.837): "Not the qualifying I was expecting, going into this Grand Prix. Ever since the temperature dropped, I have always struggled to find the best way of getting the tyres up to temperature, while yesterday morning for example, when it was hotter, the situation was much better. With today's temperatures, I had no grip, which is not particularly encouraging. Let's hope it's a bit warmer tomorrow. In FP3 I really found it difficult, but come the end of qualifying I still managed to get a reasonable result. It's definitely not ideal in terms of looking for a win, but all the same, I will try and bring home a good number of points. This race is very tough, partly because, as we have often seen in the past, anything can happen here."
Stefano Domenicali, Team Principal: "We are satisfied with this result. We knew the Red Bulls were very quick, but we are not far off them. Fernando really drove a great qualifying, getting the most out of the car. Felipe struggled a bit to get the tyres working properly, but all the same he managed to get a good place. Tomorrow's race looks like being very unpredictable. Traditionally at this track, the safety-car very often plays its part and I don't think tomorrow's race will be an exception to this rule. We will therefore need to be ready to deal with any eventuality. Furthermore, there is a question mark over the weather. For our part, we will try and bring home the best result we can: in a long and closely contested championship like this one, the key is to always score points."
Chris Dyer: "We are quite pleased with this result, given that we came pretty close to getting the most out of the potential of our package. We still lack a little bit of performance to be ahead of the two Red Bulls, but nevertheless, we are in a good position for tomorrow's race. After the difficulty in the last free practice session, Felipe did a good job in qualifying, managing to get a good position on the grid. Both cars will be starting from the clean side of the track, which could be an advantage. At the moment, the weather forecast for tomorrow is dry for the race, but we saw both yesterday and today that there is real chance of short showers. We must therefore be ready to deal with this eventuality, as well as making the most of any opportunities that might arise during a race that traditionally seems plenty of action."
Williams-Cosworth
Rubens Barrichello (8th, 1:25.217): "Qualifying went quite well for me and I'm happy with the way things went. We went through Q1 and then I put a good lap in during Q2. I was pleased with my lap in Q3 but there was a bit more there which we missed out on due to traffic. I think we can achieve a better result tomorrow than we did in Bahrain. Eighth is a nice result, but I know everyone in the team aims a lot higher. I'm sure we will get there, but right now that is the limit of the car."
Nico Hulkenberg (15th, 1:25.748): "I'm disappointed with qualifying and expected more. The target was obviously to get into the top ten, but I didn't get the lap together and this is the result. This is my first qualifying here; it's not an easy circuit to learn and it's very narrow and quite bumpy. It will be difficult to get into the points tomorrow from P15, but you never know what could happen if the weather turns."
Sam Michael, Technical Director: "That was a good effort from Rubens today to qualify in P8, even if he lost time in traffic on his fastest lap. We only had enough tyres for one run in Q3 and decided to send Rubens out early to avoid any potential rain. Nico struggled to manage the traffic during Q2 so he wasn't able to put in an ultimate lap. We're looking forward to a strong race tomorrow, regardless of the weather."
Renault
Robert Kubica (9th, 1:25.372): "I think I got the maximum that was possible from qualifying today. I had to push hard because the car was not easy to drive and I think we lost some performance in the colder conditions. For the race tomorrow the weather could play a big role, but I don't care if it's wet or dry. Hopefully we can fight for some good points."
Vitaly Petrov (18th, 1:26.471): "I'm disappointed not to make it out of Q1 because the car has been competitive all weekend. Qualifying is a new experience for me and I'm still learning: it's very busy out on track, it was difficult to get a clear lap and I didn't put my three best sectors together when it counted on my final run. The times show I had the pace to be in Q2, so of course I'm disappointed not to have reached my potential. The car didn't not feel as well balanced today, either, in the different track conditions. It will be a tough race starting so far down the field and the track is narrow so it's difficult to overtake, but I will try my best to get a good result tomorrow."
Eric Boullier, Team Principal: "After a promising practice yesterday, today did not go as we expected, which is partly down to the cooler conditions. It's disappointing for Vitaly who is still learning about F1 even though he has shown that he has the speed. He was on a different tyre choice to Robert in Q1 and had good pace, but at the end of the lap he was losing grip and made a mistake. Robert's car was not as competitive as yesterday, but he got the most from it to make it into the top ten, which is a good result. We hope there will be a lot of action in the race and we know that our car can be competitive in the damp. So anything can happen."
Alan Permane, Chief Race Engineer: "Robert's ninth place was as good as we could hope for from today's qualifying session after a difficult practice session this morning. We seem to have lost some of our competitiveness overnight with both drivers feeling the cars had less grip and more oversteer than yesterday. Robert did a credible job to qualify ninth and had a fairly straightforward session. Vitaly made a small mistake on his second run in Q1 and unfortunately didn't make it through to Q2."
Force India-Mercedes
Adrian Sutil (10th, 1:26.036): "It's not disappointing to start tenth but it's not entirely satisfying either as I felt we could have done better. All the same we made it through to Q3, which was another great effort from the team, and we got the maximum we could have in the earlier sessions. I made two runs in Q3 and neither were particularly great as the soft tyres didn't seem to get up to temperature. We've had a good pace through the weekend so we have a strong platform to go from but let's see what will happen on Sunday. At this stage I don't want to make any predictions."
Vitantonio Liuzzi (13th, 1:25.743): "Really disappointing today. There was so much traffic - it was just impossible. Pretty much every lap I had some problem, particularly with the Williams of Hulkenberg and the Sauber of de la Rosa who don't seem to be able to use their rear view mirrors. In all the sessions, on all of my runs, I struggled to finish a proper lap. I had green on the first two sectors but then got held up in the last sector, sometimes in the last corner. It's a shame as I definitely think the pace was there to make it through to the top ten. I think we n eed to find a solution to this as there are so many cars and too many different speeds. If it's like this here, I don't know what it will be like in Monte Carlo, which is even tighter."
Dr. Vijay Mallya, Team Principal: "I think it shows a lot that our drivers are disappointed with these positions. Last year we would have been delighted, but this year we expect more. Tonio got caught in traffic on every lap and without this I think we could have been in Q3 with two cars. Adrian was not entirely satisfied with tenth but nevertheless we can look to build on this tomorrow. Overall though a great effort from the team and the drivers to maintain the form we showed in Bahrain."
Toro Rosso-Ferrari
Sebastien Buemi (12th, 1:25.638): "I am reasonably happy with today's performance as I don't think I could have done much more and I was unable to improve on my second set of soft tyres. I am very happy to be twelfth as eleventh was too far out of my reach as I was about five tenths off Hamilton. I hope we can come up with a good strategy for tomorrow, because if we do, then hopefully, I can finish in the points."
Jaime Alguersuari (17th, 1:26.089): "I think my performance was quite okay, especially with the harder tyre. Maybe if I had got more out of the soft tyre I could have improved a place or two. But because the track is not so long, the times are all very close. I am quite happy with what I did today, as I am getting closer to my team-mate's performance which is one of my objectives. But there is still plenty of room for improvement."
Giorgio Ascanelli, Technical Director: "Both drivers did a good job, even if Jaime made a mistake at Turn 14, which he is unhappy about, but I'm happy that he's unhappy about it! We have introduced a few changes to the car since the last race and it has made a difference today. It is too early to talk about an improving trend, but if we can repeat this type of qualifying performance in Malaysia, then that would be a confirmation that we are moving forward. And what a fantastic lap from Vettel in the Red Bull!"
Lotus-Cosworth
Heikki Kovalainen (19th, 1:28.797): "It was a good run this afternoon. I got a good lap out of the car and out of the tyres and in general the car feels much better than it did in Bahrain. We have progressed with the set up, and as a team we are really stepping forward. Our aim for tomorrow is to make sure we stay ahead of the other new teams, and finish the race with both cars. I'm so happy with Lotus, and feel I have the chance to show what I can really do."
Jarno Trulli (20th, 1:29.111): "I had a problem with the seat which meant it wasn't easy to drive, bouncing around in the car, so it was a difficult qualifying session. I'm pleased for the team though, as both cars are ahead of the new teams and we're performing really well. It's good to see that we have quite a big gap to the other new teams on this track and we're very satisfied with that - we're confident for tomorrow and we'll do our best to try and finish the race again."
Tony Fernandes, Team Principal: "Once again Lotus Racing has done us proud. Consistency and reliability are still our key aims, and the whole team has successfully maintained our quiet progress. Next step is to take the fight to Toro Rosso and BMW Sauber and we'll keep on fighting to achieve that. As you know Australia is an important place for me, and I - along with all our fans and Clive's lucky cap - am very much looking forward to seeing Lotus once again on the grid in Melbourne."
Mike Gascoyne, Technical Director: "It was a good solid job in qualifying, both drivers did very well and got the most out of the cars, and I'm very happy with the whole team. Apologies to Jarno for the seat problem, which must have hindered him. One area we're very pleased with is the growing relationship with Cosworth from whom we've had excellent reliability to date."
HRT-Cosworth
Bruno Senna (23rd, 1:30.526): "It's been a bit of a difficult day, stopping on the circuit this morning with an hydraulic problem after we solved yesterday's fuel pressure problem and then we did a good job with the team. We continue to learn how the car reacts to set up changes. We left early in the session as we were afraid that it would just start to rain. To finish where we are on the grid is okay in the circumstances, and the goal is to make it through the race tomorrow."
Karun Chandhok (24th, 1:30.613): "I was one of the early starters and joined track with a set of soft tyres. I wanted to make it through Q1 and I did. I am very pleased with this result for our second Grand Prix. We are not too far from the top runners.I haven't made any significant errors. It's a great way to start my F1 career!"
Colin Kolles, Team Principal: "To have both cars go through the Q1 session is a good result. After the hard work we have been doing, it is nice that we can focus on finer details now. Both drivers did a good job in this second qualifying and handled all the pressure extremely well. Congratulations to the whole team for a great job."
BMW Sauber-Ferrari
Pedro de la Rosa (14th, 1:25.747): "We are still a step away from Q3 but we were closer than in Bahrain. We will keep working hard and further improve the car for the future, and tomorrow we will go and fight for points. This is what I really want - finishing a good race and score. I was pushing hard in qualifying and basically I'm happy with my fastest lap. In the traffic it was very difficult to get in a clear lap, especially in Q1 we obviously had many cars and on different speeds. I tried my best to stay out of everybody's way but it doesn't always work although I'm very well informed from the pit lane about which car is close to me."
Kamui Kobayashi (16th, 1:25.777): "I expected to finish qualifying a bit higher up because the speed in the third free practice was encouraging. I pushed very hard and nearly lost the car, but we didn't make it into Q3. Nevertheless we definitely improved compared to Bahrain. Although the positions are the same the gap is smaller. I'm quite confident for the race."
Peter Sauber, Team Principal: "P14 and P16 in qualifying don't meet our expectations, therefore we cannot be satisfied. I think that today we didn't really exploit the full potential of the car."
Willy Rampf, Technical Director: "It was a qualifying without any particular problems, but our grid positions are quite disappointing. We are not fast enough for Q3, but nevertheless we expected to be further up the grid. There is a pack of cars in the midfield where the gaps are very close, and where you can win or lose positions with just a small time difference. On the positive side, the balance of the car was definitely better here than in Bahrain, but we have to further improve the overall performance."
Virgin-Cosworth
Timo Glock (21st, 1:29.592): "We had another tough morning so all I could do is try to get the best out of the car in Qualifying. We were carrying more fuel than we would have liked because of a pick-up problem, otherwise I think we would have been able to have more of a fight with Lotus. Anyway, we'll do what we can to prepare for tomorrow and see what the race brings."
Lucas di Grassi (22nd, 1:30.185): "Free practice was okay for me and the car was feeling quite good. I was certainly feeling some improvement. I didn't manage to maximise the performance of the car in qualifying as I made a mistake on my quick lap. I'm looking forward to the race as the car is behaving quite well with heavy fuel."
Nick Wirth, Technical Director: "Lucas had a trouble-free morning although he had an unexpected low fuel pick-up problem, which ultimately badly affected both himself and Timo in Qualifying. Timo had another blocked gearbox filter, which meant he went into Qualifying having not tried the option tyre and with a similar fuel pick-up issue. So in the end I think both guys did a good job in Qualifying considering the extra fuel they were carrying and the lack of practice time during the weekend. Sometimes it may not seem like it, but we are getting on top of the issues as they arise and we'll see if we can make further progress in the race tomorrow."