Australian GP 2009
MARCH 29, 2009
Race Notes - Jenson Button wins Australian GP in Brawn GP 1-2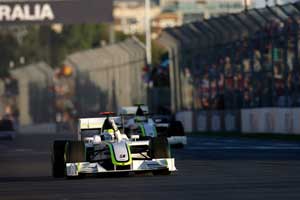 © The Cahier Archive
Jenson Button won the Australian Grand Prix, leading home his team mate Rubens Barrichello in a Brawn GP 1-2. Third place went to Jarno Trulli in the Toyota - who started from the pitlane.
Polesitter Button commanded the race from start to finish, while his team mate Barrichello had to recover after stalling at the start, and having two collisions, and changing his damaged nose at the first pitstop.
After the race, Trulli was penalised 25 seconds for passing during the final safety car period, promoting Lewis Hamilton to third place, and demoting Trulli to 12th place.
The race finished under the safety car after Sebastian Vettel and Robert Kubica crashed into each other while battling over second place with only a handful of laps remaining. Vettel was later penalised 10 grid positions for the upcoming Malaysian GP.
Lewis Hamilton in the McLaren-Mercedes was third (after the stewards decision), followed by Timo Glock in the second Toyota in four, Fernando Alonso in the Renault in fifth, Nico Rosberg in the Williams-Toyota in sixth, Sebastien Buemi in the Toro Rosso-Ferrari scoring two points in the first start for the rookie and Sebastien Bourdais scored the final point in eighth place.
Before the start, Lewis Hamilton is sent to the back of the grid for a gearbox change, while the two Toyotas of Glock and Jarno Trulli are sent behind the World Champion when their qualifying times were cancelled for a rear wing rule infringement - and then started from the pitlane.
At the start Jenson Button took the lead into the first corner, while Rubens Barrichello from second made a slow start when his car momentarily stalled and was enveloped by the field. Coming to the first corner Heikki Kovalainen hit the rear of Barrichello, causing a chain reaction into Mark Webber and Nick Heidfeld - at the end of the first lap Heidfeld, Adian Sutil, Webber and Kovalainen pit with damage, Kovalainen retiring.
At the end of the first lap Button led Vettel by 3.9 seconds, followed by Felipe Massa, Kubica, Kimi Raikkonen, Rosberg, Barrichello, Kazuki Nakajima, Nelson Piquet and Buemi in 10th.
On lap 3 Hamilton passes Giancarlo Fisichella for 11th, and Buemi for 10th the next lap.
On lap 5 Hamilton is battling Piquet for 9th position, getting past the Brazilian on lap 7.
At the front, the gap between Button and Vettel has stabilized at around four seconds, the two trading fastest laps.
On lap 10 Rosberg passes Raikkonen for 5th place, then Barrichello dives down the inside of Raikkonen, the two make slight contact and Barrichello goes ahead into 6th place - Raikkonen then pits.
On lap 12 Massa pits from third place, Kubica pitting from 3rd the next lap.
At lap 15, Button leads Vettel by 4.1 seconds followed by Rosberg in third place, 31.7 seconds behind the lead, Barrichello (40.1s), Nakajima (41.1s), Piquet (50.2s), Buemi (51.0s), Fisichella (53.1s), Alonso (53.6s) and Glock (54.2s) in tenth place.
On lap 17 Vettel pits from second place, while Rosberg pits from third - while Button sets another fast lap.
On lap 18 Nakajima loses the rear end of his car over a kerb, and crashes at the exit of turn 4, nosing into the barrier - Barrichello (receiving a new nose), Buemi and Glock dive into the pits, and then race leader Button pits as well - finally the Safety Car is deployed. Piquet, Fisichella, Alonso and Heidfeld pit - Fisichella missing his pit and needs to be pushed into the correct position.
At lap 20, under the Safety Car, Button leads Vettel, Massa, Kubica, Raikkonen, Rosberg, Piquet, Trulli, Buemi and Barrichello in tenth place, with all the drivers having made their first stop.
At the end of lap 24 the Safety Car dives to the pits, Button resuming in the lead. On the run down to the first corner Rosberg and Piquet battle, with Piquet spinning under braking and ends his day in the gravel trap.
On lap 25 Hamilton passes Glock for 10th, and then Alonso passes Glock for 11th, while Button pulls out to a 2 second lead over Vettel.
On lap 29 Sutil passes his team mate Fisichella for 13th place.
At lap 30, Button leads Vettel by 3.9 seconds, followed by Massa (6.2s) in third, Kubica (7.3s), Raikkonen (8.7s), Trulli (9.4s), Barrichello (12.0s), Buemi (15.8s), Rosberg (16.4s) and Hamilton (17.6s) in tenth place.
On lap 32 Massa pits, the first driver to make his second stop, rejoining in 14th.
On lap 34 Trulli pits from sixth place, followed the next lap by Sutil, and then Webber on lap 36.
On lap 39 Kubica and Raikkonen pit from 3rd and 4th places.
On lap 40 Glock spins and Raikkonen passes him as he recovers.
At lap 40, Button leads Vettel by 4.7 seconds followed by Barrichello (23.9s) in third, Buemi (27.0s), Rosberg (27.6s), Hamilton (29.1s), Kubica (30.3s), Alonso (34.0s), Raikkonen (37.6s) and Glock (37.9s) in tenth.
On lap 42 Buemi makes his second stop from 4th place.
On lap 44 Hamilton makes his second pitstop, while Raikkonen makes his third stop, Rosberg pitting on the next lap. Vettel pitting from second place on lap 46.
On lap 45 Raikkonen runs wide and brushes a wall, but continues.
On lap 47 Massa slows on the track and then retires to the pitlane, while Button makes his final pitstop - rejoining in the lead.
On lap 50 Fisichella pits, while Glock pits on the next lap, rejoins in front of Buemi, the two battle, but Glock keeps the position.
On lap 52 Barrichello and Alonso make their final stops, Barrichello rejoining in 5th, just behind Rosberg
At lap 52, Button continues to lead Vettel by 1.8 seconds, followed by Kubica (4.4s), Rosberg (27.1s), Barrichello (27.6s), Trulli (30.9s), Hamilton (34.1s), Glock (38.5s), Alonso (40.8s) and Buemi (44.6s) in tenth place.
On lap 54 Kubica closes on Vettel in second place, while Barrichello passes Rosberg, who is slowing, for 4th place, then Trulli and Hamilton pass Rosberg. The next lap Glock and Alonso pass Rosberg as well.
On lap 56 Kubica attacks Vettel for second place, the two battle and make contact, Kubica rotating around the front of Vettel and the two collide - the two cars are damaged and both crash off at the next corner.
The Safety Car is deployed while Vettel limps around the track on three wheels and then retires out on the circuit.
On lap 58 Raikkonen retires - both Ferraris are out.
The race ends under the Safety Car, Button winning, followed by Barrichello, Trulli, Hamilton, Glock, Alonso, Rosberg, Buemi, Bourdais, Sutil, Heidfeld, Fisichella and Webber in 13th place - the last car running.