Australian GP 2009
MARCH 28, 2009
Qualifying Report - The dream start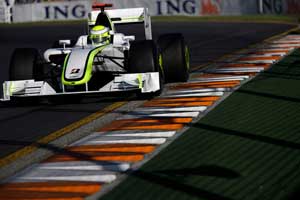 © The Cahier Archive
Brawn Grand Prix made the perfect start in Formula 1 in qualifying in Melbourne with a 1-2 on the grid at Albert Park. After practice had been dominated by Nico Rosberg in his Williams-Toyota, the Brawn-Mercedes came to the fore in the Q1 session with Rubens Barrichello ahead of Jenson Button. Mark Webber surprised with the third fastest time in his Red Bull-Renault, ahead of the Toyota of Timo Glock.
McLaren struggled as expected and Lewis Hamilton was on the bubble in 15th place at the end of the Q1 session. Knocked out at that point were Sebastien Buemi, Nelson Piquet, Giancarlo Fisichella, Adrian Sutil and Sebastien Bourdais.
The Q2 session was a similar story with Barrichello again ahead of Button, while Sebastian Vettel put his Red Bull-Renault in third, underlining Webber's earlier promise.
Rosberg was fourth and Robert Kubica fifth but BMW Sauber suffered the loss of Nick Heidfeld, who ended the session 11th fastest. Also out were Fernando Alonso, Kazuki Nakajima (who surprisingly slow in his Williams) and the two McLarens of Heikki Kovalainen and Lewis Hamilton.
Into the Q3 session and suddenly it was Button who led the way again from Button and Webber and with two minutes to go the final runs began. It was clear that the Brawns were not going to be beaten and Button emerged on pole with a lap of 1m26.202s, three-tenths ahead of Barrichello, who complained about a little understeer.
Vettel was three-tenths behind in the Red Bull, while Robert Kubica sprung a surprise and took fourth from Rosberg, Glock, Felipe Massa, Jarno Trulli, Kimi Raikkonen and Mark Webbber
The big question is who is on what strategy and tyre management is going to be a big part of the race on Sunday.
"This is just amazing," said Button. "You have got to give it to the team; to Ross and Nick for making it happen. I did not really know what the other people were doing but they seemed a little closer than I thought theyy would be. I was struggling a bit on low fuel but with fuel onboard was a bit more normal.