Australian GP 2009
MARCH 27, 2009
Practice 1 Report - A Williams 1-2!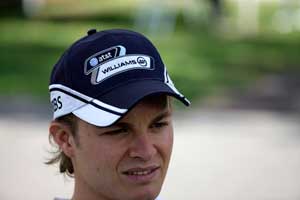 © The Cahier Archive
The opening session of practice for the Australian Grand Prix will have warmed the hearts of the folks inthe Oxford area as Williams F1 ended the 90 minute session first and second on the timesheets. Nico Rosberg was just a fraction faster than team-mate Kazuki Nakajima, but both were ahead of the Ferrari of Kimi Raikkonen.
The Brawn-Mercedes was quick as expected with Rubens Barrichello fourth and Jenson Button sixth, the pair being split by the McLaren-Mercedes of Heikki Kovalainen. Felipe Massa was seventh in his Ferrari, the last man to be under a second from the fastest time.
The Toyota of Timo Glock was next up with Adrian Sutil ninth in his Force India and Fernando Alonso finishing off the top 10 for Renault. Next up was Nick Heidfeld in his BMW Sauber followed by Jarno Trulli's Toyota, Robert Kubica's BMW, Giancarlo Fisichella in his Force India and the fastest of the Red Bull cars, the Toro Rosso of new boy Sebastien Buemi.
Lewis Hamilton was 16th ahead of Mark Webber 17th, Nelson Piquet 18th, Sebastien Bourdais 19th and Sebastian Vettel 20th, although the German stopped out on the track after just a few laps.
It was an interesting start to the season, but we still need to see more before forming any definitive conclusions about the year ahead.