Australian GP 2008
MARCH 16, 2008
Race Incidents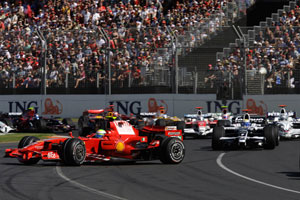 © The Cahier Archive
Lap 1: On pole position for the seventh time in his Formula One career, Lewis Hamilton makes a clean start to lead Robert Kubica and Heikki Kovalainen into Turn One. Felipe Massa spins out of fourth and hits the wall. He rejoins and pits at the end of the lap. Nico Rosberg makes a good start to lie fourth, from Nick Heidfeld and Jarno Trulli. Sebastian Vettel and Giancarlo Fisichella tangle at the first turn - both drivers retire immediately. Jenson Button and Anthony Davidson drop out after banging wheels - and local hero Mark Webber also sustains terminal damage in the opening-lap joust. The Safety Car is deployed. Behind Trulli, Rubens Barrichello lies seventh from Kimi Raikkonen (up from 15th), Fernando Alonso, David Coulthard, Takuma Sato, Nelson Piquet, Timo Glock, Sebastien Bourdais and Adrian Sutil (who started from the pits after switching to a back-up engine and chassis). Kazuki Nakajima pits for repairs at the end of the lap and rejoins.
Lap 2: Massa pits again.
Lap 3: A fine restart by Hamilton. Sutil passes Bourdais.
Lap 4: Hamilton laps in 1m28.614s: he leads by 2.2s.
Lap 5: Hamilton ups his pace: a 1m28.556s puts him 2.6s clear. Piquet loses positions to Glock, Sutil and Bourdais.
Lap 6: Hamilton: 1m28.513s. Lead: 3.1s.
Lap 7: The leader goes faster again: 1m28.412s. He is 4.3s clear of Kubica.
Lap 9: Sutil pits and goes no further.
Lap 10: Hamilton leads Kubica by 7.6s. Kovalainen is a lonely third, from Rosberg, Heidfeld, Trulli, Barrichello, the close-following Raikkonen, Coulthard and Alonso.
Lap 13: Hamilton posts a 1m28.007s to stretch his lead to 9.4s. Massa passes Piquet for 15th.
Lap 14: Hamilton dips into the 1m27s.
Lap 15: And again: 1m27.750s. Glock passes Sato.
Lap 16: Hamilton laps in 1m27.590s. Kubica pits.
Lap 17: Hamilton (1m27.484s) leads Kovalainen by 14.7s. Massa passes Nakajima.
Lap 18: Hamilton pits and rejoins fourth, behind Heidfeld. Kovalainen leads.
Lap 19: Raikkonen passes Barrichello for sixth. Bourdais pits.
Lap 20: Raikkonen - who started on the softer option tyres - starts setting personal bests. Trulli pits to retire. Massa passes Sato.
Lap 21: Rosberg and Heidfeld pit from second and third. They rejoin almost as one but Heidfeld gains a place. He also puts Alonso between himself and Rosberg.
Lap 22: Kovalainen pits. Hamilton leads again. Coulthard pits.
Lap 23: Hamilton leads Kovalainen by 11.7s. Barrichello pits.
Lap 25: Sato pits.
Lap 26: Massa and Coulthard collide at Turn One. The Scot retires on the spot. With debris on the track, the Safety Car is deployed. Raikkonen dives towards the pit lane but realises in time that it isn't yet open.
Lap 28: Bourdais pits.
Lap 29: Kubica, Alonso, Nakajima and Glock all pit.
Lap 30: Massa pulls off to retire.
Lap 31: Restart. Raikkonen attacks Kovalainen and sails past... but slithers through the gravel at Turn Three. He pits at the lap's end. Piquet stops and retires.
Lap 33: Hamilton leads by 3.4s. Sato pulls off to retire.
Lap 39: Hamilton sets a new fastest lap: 1m27.452s. He leads by 6.4s. The closest fight is for sixth, where Bourdais has Kubica and Alonso in his immediate slipstream.
Lap 43: Hamilton and Rosberg pit. Kovalainen leads and sets a new fastest lap - 1m27.418s. Raikkonen loses more time when he spins on his own.
Lap 44: Heidfeld pits. Glock crashes heavily. The Safety Car is deployed.
Lap 45: Barrichello refuels before the pit lane opens. Honda's refueller is sent flying as the Brazilian rejoins prematurely.
Lap 47: Kovalainen pits, as does Alonso. Hamilton leads from Heidfeld, Barrichello, Rosberg, Bourdais, Kubica, Nakajima and Raikkonen.
Lap 48: Kubica and Nakajima pit. Only Nakajima rejoins.
Lap 49: Restart. Barrichello is given a 10 second penalty for refuelling before the pit lane was open. Kovalainen passes Raikkonen and Alonso passes both of them.
Lap 51: Hamilton leads Heidfeld by 3.5s. Raikkonen loses five seconds in the final sector.
Lap 52: Another very slow lap from Raikkonen - he is about five seconds off the pace.
Lap 54: Raikkonen crawls into the pits and stops.
Lap 56: Bourdais pulls off after his engine emits a plume of smoke.
Lap 57: Kovalainen passes Alonso but the Spaniard recovers fourth spot of the finishing straight.
Lap 58: Hamilton records his fifth Formula One win by 5.4s, with Heidfeld second from Rosberg, Alonso, Kovalainen, Barrichello (subsequently excluded for exiting the pit lane when the pit exit lights were red), Nakajima and Bourdais.