Abu Dhabi GP 2012
NOVEMBER 5, 2012
Race Report - Vettel's damage limitation as Raikkonen wins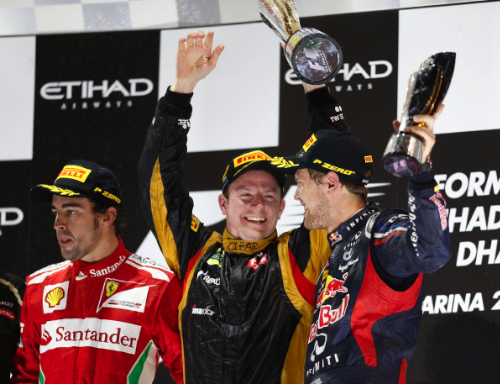 © Active Pictures
Kimi Raikkonen scored his first Grand Prix victory since the 2009 Belgian GP after a fine drive followed a start that took him from fifth on the grid into second place at Turn 1. He benefited when race leader Lewis Hamilton was forced out 20 laps into the 55-lap race with a fuel pump failure.
Pumping fuel, or an inability to pump out quite enough of it for a one litre sample, was the fate that had befallen Red Bull and Sebastian Vettel post-qualifying, relegating the double champion to the back of the grid, which the team elected to translate into a pit lane start.
From there, damage limitation was the order of the day and Vettel produced a superb drive to finish third, which allowed second-placed Fernando Alonso to reduce his 13-point championship lead by just three points. It was a great escape.
Hamilton's blistering practice pace could have been the catalyst for Red Bull's drama. Vettel had missed all but the final few minutes of the Saturday morning practice session and Hamilton had been half a second quicker. Red Bull knew that to fight Lewis for pole, they needed to take things right to the limit.
But Vettel did not get his qualifying lap together and so it was Hamilton and Mark Webber who shared the front row. Vettel's car was stopped on the slowdown lap after a command from engine supplier Renault.
After lengthy deliberations until almost midnight on Saturday, race stewards accepted that stopping the car had been a case of force majeure, but an attempt to take the requisite 1-litre fuel sample resulted in only 850ml being pumped out. As Vettel later pointed out, it made less difference than whether or not he went to the loo before climbing into the car, but Red Bull had infringed Article 6.6.2 of the regulations and Vettel would start from the back.
The decision to pull the car out of parc ferme and start him from the pitlane was taken largely so that Red Bull could change the car to better enable overtaking.
"Mentally, Sebastian is incredibly strong," team principal Christian Horner said. "Before the race I went to see him in his room to wish him good luck and he was in there playing a drum kit with his trainer. He just said, 'See you on the podium!'
"In the briefing room the rest of us were ready to slit our wrists and he was the one guy for whom it wasn't an issue. He was convinced we could do it."
Vettel was right but it wasn't straightforward. He suffered front wing damage in an early contact with Bruno Senna but it wasn't too bad. He was up to 13th when the first of two Safety Cars appeared after a nasty looking accident involving Nico Rosberg and Narain Karthikeyan on lap 9.
Karthikeyan had just lost his steering due to a hydraulic problem and backed off, catching Rosberg by surprised. The Mercedes was launched over the HRT but thankfully Rosberg landed on his wheels and was able to climb straight out and hear Karthikeyan's explanation.
Running behind the Safety Car, Vettel was also caught out when Daniel Ricciardo slowed more than expected, Vettel jinked right to avoid the Toro Rosso and wrecked his front wing by hitting a polystyrene marker board. He dived straight in for a new nose and set of option tyres and had the hard work to do all over again.
When the Safety Car pulled in Vettel was quickly on it again but was forced to give Grosjean a place back when he crossed a white line to pass the Lotus.
"We were paranoid about that kind of thing having already been penalised for it once this year (in Germany)," Horner explained.
On the 20th lap Hamilton ground to a halt having been 3.5s clear of Raikkonen's sister Lotus, but not before he had led McLaren's 50,000th km in world championship grands prix. Some achievement by the team.
Lewis's demise promoted Pastor Maldonado's Williams to second but the Venezuelan was soon passed by Alonso's Ferrari. Fernando, from sixth on the grid, had beaten Button off the line then battled his way past Mark Webber's Red Bull on the opening lap and was now looking good.
Webber had a nightmare afternoon. Also trying to go around the outside of Maldonado at Turn 11 he made contact with the Williams and spun. Later he made contact with Massa's Ferrari in a similar move.
Vettel, by this stage, was almost upon his team mate with the benefit of the switch option tyres. By the time the leaders had made their stops in what was expected to be a one-stop race, Vettel was second only to Raikkonen, just 1.5s down.
Vettel's early stop meant that he would have to eke 40 plus laps out of a set of options to get to the end but was challenging the Red Bull pit wall to consider the gamble.
The team decided that with Alonso on course to net a decent haul of points, discretion was the better part of valour. "We could also see the wear on Sebastian's first set of tyres and we saw no reason to risk it," Horner confirmed.
Once Vettel had a big enough margin over fifth-placed Grosjean to make a second stop, they brought him in for another set of options and he resumed still in fourth position.
Just over a lap later Vettel got a great break when Perez turned in on Grosjean while fighting Paul Di Resta. Webber was left with nowhere to go and collected the Lotus, bringing out the second Safety Car.
It meant that Vettel closed up all his lost second pit stop time and looked to be in superb shape. Raikkonen, Alonso and Button were all just ahead of him on the prime tyre with the Red Bull on newer option Pirellis.
"You start to get carried away a little bit and entertain thoughts of winning it from the pitlane!" Horner said, "but Jenson was always going to be a difficult man to pass, he places the car so well."
But pass him Vettel did, with four laps to go. Alonso's Ferrari was 4s further up the road and on seeing Vettel in his mirrors, Fernando redoubled valiant efforts to get within DRS range of Raikkonen.
Kimi though, had been in control all afternoon and was not about to panic now. There had been some priceless radio exchanges as Raikkonen responded to radio instructions to keep his brake and tyre temperatures alive during the Safety Car periods.
"Yes, yes, I know what I'm doing." was the irritable response.
Kimi was a little bit sheepish about it afterwards, but only a little bit...
"For sure they're just trying to help you," he ackowledged , "but if you keep saying the same things two times a minute, I'm not so stupid that I cannot remember what I'm doing."
It was Raikkonen's 19th F1 victory but the first for 'Lotus' since Ayrton Senna won in Detroit 25 years ago. For the Enstone-based team in its various guises, it was a first win since Fernando Alonso's Renault success in Japan four years ago.
Vettel's podium, among his greatest, could prove key to his hopes of joining Juan Manuel Fangio and Michael Schumacher as the only racing drivers to achieve three successive world titles.
"That," Horner said, "was one of the best drives of Sebastian's career." He could clinch that third title a fortnight hence in Austin.