Abu Dhabi GP 2012
NOVEMBER 3, 2012
Qualifying Report - Hamilton takes Abu Dhabi pole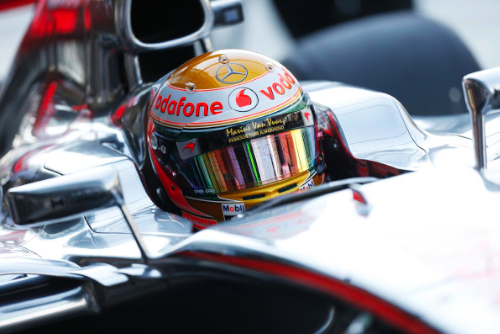 © Active Pictures
Lewis Hamilton (1:40.630) once again proved unbeatable around Yas Marina when he took pole position for the Abu Dhabi Grand Prix by 0.34s from Mark Webber's Red Bull (1:40.978). That, by 2012 standards, is a wide margin.
"I don't know why the car seems so well suited here but I'm just massively focused," Hamilton said.
Webber did a fine job to knock his team mate into third spot -- the first time that an Abu Dhabi GP will start with other than Vettel/Hamilton occupying the front row. But, despite protestations that he will drive 'flat out' the Australian is bound to have to defer to Vettel so long as Alonso is still in the race.
Ferrari, again, seems to be struggling for qualifying speed. Alonso (1:41.582) will have to start seventh on the grid, separated from his title rival by Pastor Maldonado's Williams (1:41.226), Kimi Raikkonen's Lotus (1:41.260) and Jenson Button's McLaren (1:41.290).
Alonso knows all about frustrating afternoons spent behind slower cars in Abu Dhabi. He will just have to hope that the DRS zones are enough to allow him to utilise race pace which is sure to be better than his qualifying speed.
Vettel had a troubled day, missing out on almost the entire final session of practice on Saturday morning with a long brake pedal. The upshot was that he was playing catch-up throughout qualifying. He uncharacteristically clipped a wall in Q1, and was unable to match Webber in Q2 or Q3.
The Red Bull then came to a stop before it had completed the slowdown lap after its final run, after an instruction from the pit wall, with race stewards currently investigating the reason at the time of writing.
Providing that he starts the race from third on the grid, Vettel could afford to adopt a cautious approach. With a 13 point advantage over Alonso in the championship, all he really needs to to is to keep the Ferrari behind him. He seems to have stronger ambitions, however.
"You don't need to be Einstein to work out that it is better to have him behind me than in front," Vettel smiled, "but you can't race watching just one man. Lewis is ahead of us but we will hunt him down!"
Nico Rosberg (1:41.603) did a strong job to haul a hitherto recalcitrant Mercedes into the top eight, while Felipe Massa (1:41.723) and Romain Grosjean (1:41.778) completed those that made it through to Q3.
Low tyre degradation is not going to make Alonso's task any easier, taking the strategy of choice in the direction of a one-stop race.
"The strategic choices are much more limited," he acknowleges, "and so, too, the opportunities to make up places. We know that in the three remaining races we must score 14 points more than Vettel and that is our one and only objective."