Abu Dhabi GP 2009
OCTOBER 30, 2009
Friday Team Quotes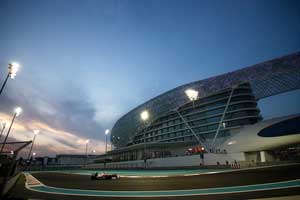 © The Cahier Archive
McLaren-Mercedes
Heikki Kovalainen (1st, 1:41.307): "The whole day was pretty good. We'd already done some good work in Woking preparing for this circuit, so we had a good balance right from the start this morning. However, we had a brake issue during first practice which we couldn't sort out during the session. This afternoon, we got it sorted and were able to improve considerably, with both tyres working well. The circuit is cool - it's very smooth with good grip and the kerbs are nice. Turns Two and Three are not easy-flat, but, with the good balance of the car, they're fun. On the straight, KERS gives us an additional benefit. We can use it for maximum performance and it's worth three-and-a-half to four tenths. The light is no problem with our slightly tinted tear-off visors, which we could remove once the sun had set."
Lewis Hamilton (2nd, 1:41.504): "It looks like we might be quite competitive here - our long runs appear to be good, the car feels great and the track is great - it's quite interesting coming from daylight into nighttime, you don't notice the difference through the twilight. They've done an incredible job here. It's a really nice circuit to drive - there are a lot of technical corners, where braking stability is important. It's a great track and I really enjoy driving it. The only bit I don't like is the tunnel - but it's a challenge! We'll have to see what happens tomorrow, because the track conditions are always changing, but we feel quite comfortable with the pace we have. Our car seems to behave quite well over the kerbs, we've got the balance feeling quite good today. Our car is probably driving better than it has all year - it's just been getting better and better. In a way, it's been an excellent year: it's a bit like a race when you start from the back of the field and fight back to the front - that's what our season has been like. And I'm extremely proud of everyone in our team, they've done a fantastic job all year and I'd like to finish on a high for all of them."
Martin Whitmarsh, Team Principal: "I think everybody in the Formula 1 paddock has been overwhelmed by the scale and ambition of the Yas Marina circuit - it sets standards within our sport that I think will be almost impossible to eclipse. It is a truly fantastic facility, and a fine testament to the incredible vision of our hosts here in Abu Dhabi, who have treated everyone in our team with enormous warmth and hospitality. To finish the second practice session in first and second positions on the timesheets is, of course, highly encouraging, but we are aware that there are a number of closely matched teams who will be working hard to win this race. Both Heikki and Lewis did a fantastic job today. Now, our efforts will shift towards maximising our performance and ensuring we are fully prepared for a thrilling qualifying session tomorrow."
Norbert Haug, Mercedes Motorsport Director: "An exceptional new racetrack with fantastic facilities. Sincere compliments to the hosts in Abu Dhabi for establishing the new benchmark of new grand prix racetracks. The atmosphere here - especially at night - is absolutely fascinating, and I am sure this will become even better during tomorrow's qualifying and Sunday's race. Our performance on this new track was very good today. Both Lewis and Heikki posted very competitive lap times during their race simulation long runs on both tyre compounds. I guess this was our most competitive Friday performance of the whole season."
Ferrari
Kimi Raikkonen (10th, 1:41.987): "I'd say this Friday was not too different to others we have experienced this season, especially in recent races. It's all very close so it will only take a small step forward to climb back up the order, but we are definitely facing a difficult weekend. The tyres suffered with a bit of graining, which made itself felt especially in the second sector, but I believe that, as often happens here, once the track rubbers in, the situation will improve."
Giancarlo Fisichella (17th, 1:42.932): "Eighteenth and twentieth places in FP2 is not a result we can be happy about but, to use a footballing expression, it's all looking very tight, as it has been in fact for much of the year. On top of that, we are also working a lot for 2010 which makes it even harder to understand precisely where we stand compared to the others. We are really struggling in the second sector, where what counts the most is aerodynamic downforce, an area in which the F60 does not really excel. Tomorrow, it will be vital not to make the slightest mistake to try and get a good qualifying result: here it will only take a tenth or even less to fail to make it past Q1."
Stefano Domenicali, Team Principal: "Clearly, we cannot be satisfied with the way things went today. We definitely have a lot of work to do to try and improve the set-up of the car within the limitations of what we have to work with. However, we should also take into account how close the times are, with all twenty drivers out on track this afternoon setting times within the same second. It takes almost nothing to make the difference between being at the front or at the back of the pack. This means that everyone, drivers and team, will have to carry out their work perfectly if we aspire to getting a good result this weekend, starting with tomorrow afternoon's qualifying."
Chris Dyer: "It was a pretty difficult Friday, with very changeable weather, which prevented us from getting through all our planned programme. Furthermore, we had a problem with Fisichella that prevented him from doing his final planned run in FP2. There's a lot of work to do to try and improve the car, which lacks grip, which is particularly noticeable in the second sector, where we are not really competitive. We were also experimenting with some mechanical elements aimed at next season: without any winter testing available before the new car makes its debut, we have to exploit every opportunity, especially given the situation in the championship."
BMW Sauber
Nick Heidfeld (13th, 1:42.278): "The track offers everything you can ask for. The tarmac is good and the lay-out is quite good with the first sector having the fast corners, the second sector providing this endless straight and a possibility for overtaking, and the third one being rather narrow and windy, but flowing nicely. I'm not happy with the car's set-up and balance yet. This is especially for a single quick lap as on the long runs the lap times were improving. The visibility during sunset and twilight wasn't an issue today. I hope this doesn't change if we get more dust in the air. In respect of the total darkness and floodlighting, I have the feeling it was brighter in Singapore."
Robert Kubica (20th, 1:43.708): "The track is quite interesting, although there are not a lot of high speed corners and most are quite short. The final sector of the track reminds me of Singapore. We were just starting to work on the set-up and the tyre evaluation in the second free practice session when I had an engine failure. Now the track conditions are improving with each lap, this is a big loss and I lost nearly one hour of valuable track time."
Willy Rampf, Technical Director: "At the beginning of the first free practice we realized we had been quite accurate with what we expected from the track based on our simulations. However, it's not easy to assess our own performance after day one. We have worked on race preparation, as usual. Obviously, the engine failure on Robert's car cost us time working on the set-up. However, I believe we have enough data available to draw the right conclusions for the remainder of the weekend."
Renault
Fernando Alonso (16th, 1:42.782): "Today we experienced Yas Marina for the first time so we had to learn the circuit and work out the best way to set the car up. We tried a lot of different things and made some good progress by concentrating on getting good grip and traction in the low-speed corners. As we expected, the track was a bit dirty to begin with, but when more rubber was laid down I started to get a good feeling for the circuit and the car. We have a lot of information to look over tonight so that we can make some changes in the morning to find some more performance from the car before qualifying."
Romain Grosjean (18th, 1:43.021): "The circuit is very nice and it feels like there are two different parts. The first part is like a 'normal' track and the second part, including the third sector, has a lot of 90-degree corners that are very challenging. I quite like sectors one and two, but not sector three as you cannot afford to make any mistakes there. These very different sectors are a challenge when it comes to setting up the car. Also, the temperature difference between the sessions played a relatively big role in today's programme as we ran on the track during the day and the night, which allowed us to see what it will be like for the race. Now I'm look forward to tomorrow and building on today's work."
Bob Bell, Team Principal: "It was an interesting first day in Abu Dhabi. Coming here we thought we would struggle more with the track, but it was cleaner than we expected. For us the day was mainly about the tyres, and in both sessions our main issue was with drop-off in rear tyre performance, particularly in the low-speed corners, which caused the cars to oversteer. In the high-speed corners the cars had a better balance with a bit of understeer. By the end of the day we had made good progress and have a good idea of how to move forward tomorrow."
Toyota
Kamui Kobayashi (5th, 1:41.636): "Today went well and it was interesting to drive on this track for the first time; it is a fantastic venue. This is the second time in two weeks I have had to learn a new circuit so it is becoming a familiar experience. I learnt a lot from the Brazil weekend which has already helped me here in Abu Dhabi. It will also be helpful to have a completely dry weekend so I can really become familiar with the car and tyres on this track; that didn't happen in Brazil but I am confident it will this weekend! We have quite a lot of data from today and that will allow us to find areas to improve. I believe we can make another step in terms of performance before qualifying and then I will do my best to start as high as possible."

Jarno Trulli (14th, 1:42.409): "I must say that was an enjoyable day for me and it was interesting to drive on the new track for the first time. It was good fun and I am looking forward to racing here. They have done a great job with the facilities and the track is really well built, so I am impressed. The first laps were difficult because there was just no grip, but that is normal for a new circuit like this and as the day went on the situation improved. Driving during twilight was a new experience for me and the view does change a little, with some shadows, but generally it is similar to Singapore so it's not a problem. All in all, the car seemed competitive and well-balanced so if we can improve again tomorrow we can have another strong weekend."

Dieter Gass, Chief Engineer Race and Test: "First of all, big congratulations to the organisers who have created a really extraordinary and exciting facility here at Yas Marina. It is a pleasure to see the cars running around this track. For us it was pretty much a trouble-free day during which we focused initially on getting all the necessary information on the new track and allowing the drivers to get used to it. Everything went well and we also did some aerodynamic comparisons, mainly in the first session. In the evening session we looked more at the tyres and the results were largely as we expected; both compounds seem to be in a workable range so we can expect a consistent race. In terms of performance, as usual it is difficult to evaluate on a Friday but that is particularly true here because the effect of carrying more or less fuel is quite pronounced."

n
Toro Rosso-Ferrari
Sebastien Buemi (6th, 1:41.683): "This new circuit has some interesting features which we are not used to, like the tunnel and it's a nice feeling to start running in daylight and going into the dark. This morning was a bit difficult, but we improved the car quite a lot in the afternoon, so I am not unhappy. You have to consider that there is a huge difference in the track between the first session and the second, as it is a lot quicker in the evening when it's cooler. It was a bit difficult to get the tyres working properly, especially the Option, but apart from that, the car is not too bad. Now we have to see what we can do for tomorrow, when it will be important to qualify well."
Jaime Alguersuari (19th, 1:43.022): "I have enjoyed driving this new circuit. It has nothing particularly tricky about it and it reminds me in parts of Valencia. This morning I was learning the track and I also had to get used to an F1 car again, as last weekend, I was racing in the World Series. The first session went pretty well and so did the afternoon, apart from a small problem on the car towards the end. Degradation does not seem to be an issue with the tyres and they are lasting well. In FP2 the track of course had more grip and was generally faster, helped by the fact it was cooler in the dark."
Red Bull-Renault
Sebastian Vettel (4th, 1:41.591): "So, that was the last Friday practice of this year. I'd like to say thanks to Renault - many people didn't believe that we'd succeed without having to change an engine, but here we are having completed a lot of miles on another Friday without a single problem. Abu Dhabi is a new circuit, so new conditions - including starting driving in the daylight and finishing the session at night, which is quite exciting. Obviously, the circuit was very green and slippery to begin with, but overall it's quite a thrill to drive, with some good corners. It's also pretty special to go under a hotel! Performance wise, we're looking quite good. We didn't know what to expect around here, but it seems as though we're quite competitive, although we will have to wait to see how competitive. Even though it's a new track, it was a normal Friday practice and we were testing which tyre works best."
Mark Webber (7th, 1:41.684): "A productive first day at a new track. We had an engine change between P1 and P2 - the guys did a brilliant job to get the car turned around in time. Other than that, we got on with the normal tyre comparisons and other tests we do on a Friday - so, although a new track, a normal Friday. The track's pretty good - it's not Spa, but it's also not Bahrain! It's not bad. There was a difference in clarity between driving in the afternoon for P1 and in the early evening during P2 - it's a different atmosphere when the lights are on, but we're used to that from Singapore."
Williams-Toyota
Nico Rosberg (9th, 1:41.931): "I enjoyed driving the track for the first time today. It was dirty to begin with and then of course in the second session we were interested in the artificial lighting conditions in the dark and the effect on the tyres of the temperature dropping. Visibility-wise it was fine in the second practice session and again, the temperature change didn't seem to have too big an effect on us. The more unknown element is the choice of tyre and it is hard to say which is better. In terms of set-up, we have definitely found a direction especially on the mechanical side. All in all, a good day which has given me confidence that we can score some points here this weekend."
Kazuki Nakajima (12th, 1:42.245): "It was an interesting day, running P1 in the daylight and P2 in the evening. The track has improved a lot and we have spent a useful day finding a set-up direction. The tyre selection is quite tricky, which will be the key factor we will look at tomorrow."
Rod Nelson, Chief Operations Engineer: "As with any new circuit, it is very important to get out for maximum track time. The circuit is very professional and immaculately presented, however, being near the desert, it is sandy which possibly coloured the times we saw today. Looking at our tyre tests, we have plenty to think about overnight. It will be interesting to see what condition the track starts in tomorrow as it certainly improved significantly over the course of today."
Force India-Mercedes
Adrian Sutil (11th, 1:42.180): "The car was performing well today, although we still have some work to do to get the balance right. We are missing a little grip on the harder tyre but it's going well with the softer compound, although we are struggling with warm up on both. We lost a little time with a brake problem in the morning but it didn't affect our programme too much as the grip was not really there at the start. At the end of the first I was still able to do 25 mins and two runs and got a good position in FP1 and could follow it up in the second practice too. The circuit is OK, but I miss some of the high speed sections you find in other tracks. There are a lot of second gear slow sections and the flow is not really there, but it's still a big challenge as it's very slippery so you are always fighting with oversteer. There wasn't a problem with the changing light as the lighting is very good: you still know it's at night but you can really see clearly. Driving into the sunset was OK - I don't think there will be a problem on Sunday."
Vitantonio Liuzzi (15th, 1:42.530): "It's a great facility here, still quite slippery with the dust but it was very interesting to drive in such different light conditions over the day. It went quite well today. I think we are very competitive and have a very strong car on higher fuel loads. We still need to work a lot on the low fuel conditions as we are not spot on but I think we are going in the right direction with the car and can be happy with the progress we made today. We knew it would be hard but it's not easy for anybody with this high temperature to find a balance but I am positive for tomorrow."
Dominic Harlow, Chief Race Engineer: "Today's objectives were to allow the drivers to familiarise themselves with the circuit in the real world rather than on the simulator, ensure our cooling and brake system fundamentals were suitable, validate our wing level selection and understand the tyre behaviour as usual. We completed these steps and will review the results overnight. Adrian lost a bit of track time in both sessions with some minor issues, but this hasn't caused any setback. What is clear without needing to look at any data however, is that this is a world-class race track and will definitely deliver an excellent event this weekend."
Brawn-Mercedes
Jenson Button (3rd, 1:41.541): "The Yas Marina circuit is certainly an interesting one. When you look at the layout, it doesn't seem that exciting but when you actually drive it, it's fantastic. The track has a bit of everything with high and low speed corners, positive and negative camber and the walls are pretty close to you most of the way round. We had a good first day of practice here with just a few balance issues to work on overnight."
Rubens Barrichello (8th, 1:41.831): "First of all, I'm really pleased with the new track here in Abu Dhabi. The venue looks sensational and it's quite challenging to drive which is makes it a lot more fun for the drivers. The car felt good here over the two sessions and we were able to make several improvements over the course of the day. I'm quite happy with the balance and looking forward to tomorrow."
Ross Brawn, Team Principal: "The Yas Marina Circuit is a stunning facility and a massive credit to Abu Dhabi, Bernie, Philippe Gurdjian and the team behind it. The track layout is very interesting with some good combinations and quite challenging for the drivers. They seem to be enjoying the experience. We are pleased with how our practice programme went today. The track was very dirty at the start of the first session with high track temperatures but it was a good opportunity for the drivers to familiarise themselves with the new track. The temperatures fell dramatically going into the second session which is consistent with what we expect to see in qualifying and into the race so we worked through our usual Friday programme with the tyres and aerodynamic set-up collecting some good data."