SEPTEMBER 27, 2013
Ferrari sends Webber bill for Singapore taxi ride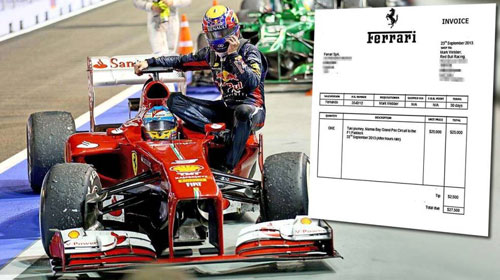 Ferrari joined the 'taxi ride' fun after the recent Singapore grand prix, sending Mark Webber a hefty bill for hitching a ride back to the pits with Fernando Alonso - or that is what the internet practical joke implied

Webber, who will serve a ten-place grid penalty in Korea next weekend, angrily slammed the stewards' decision to reprimand him after breaking down towards the end of last Sunday's race.

Spaniard Alonso, however, saw the funny side, posting on Twitter a photoshopped image of a film poster depicting himself and Webber in a taxi.

Internet jokers then said that Ferrari joined the fun, as the German newspaper Bild published a joke invoice that was said to be sent from the team's Maranello headquarters to Australian Webber.

The bill, listing the salesperson as 'Fernando', charged Webber a whopping $27,500 - including a $2,500 'tip' - for the 'after hours' taxi service.

Jokes aside, F1 legend Niki Lauda backed the FIA's decision to penalise Webber.

"Yes," he told Osterreich newspaper, "because it's against the rules, it's damn dangerous and because it was always punished with a warning."