MARCH 16, 2013
Qualifying Report - Rain postpones qualifying to Sunday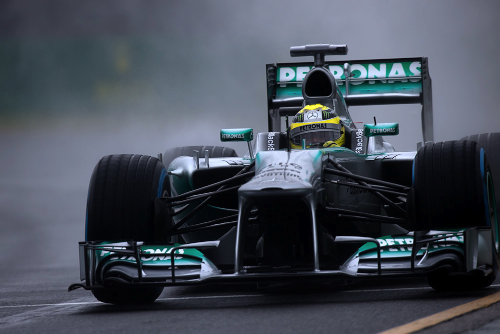 Qualifying 1
A steady rain fell as the first qualifying session of the season was due to get underway at Melbourne's Albert Park circuit. Officials delayed the start of Q1 by 10 minutes so that the corner marshals could use brooms to try and sweep away some of the deeper puddles forming on the track.
The start was then delayed another 10 minutes as the rain increased. And then by a further 10 minutes. Finally, after a 30 minute delay, the session began and a long line of cars headed out onto the soaking track.
Guido van der Garde was the first to hit trouble as he knocked the front wing off his Lotus. Then Lewis Hamilton spun his Mercedes but avoided the walls. He got stuck on the grass verge and had to reverse back onto the track. His rear wing was damaged but he did not pit.
There was a lot of jockeying for position as drivers tried to get a gap in the traffic and out of the spray of other cars.
Felipe Massa was the next to spin, and he clobbered the wall in his Ferrari. Mark Webber went off on the grass in his Red Bull. Sergio Perez spun his McLaren but didn't hit anything. Other drivers, including Esteban Gutierrez (Sauber), Paul di Resta (Force India) and Pastor Maldonado (Williams) had wild rides as well.
With five minutes to go, some drivers pitted to switch from extreme wet tires to Pirelli's intermediates as the racing line began to dry on the track. Jenson Button (McLaren) was one of them and immediately set the fastest time. Fernando Alonso (Ferrari) then topped that only for Nico Rosberg (Mercedes) to go even faster.
In the final minutes Charles Pic crashed his Caterham and Gutierrez hit the wall as well.
When the chaos ended, Charles Pic (Caterham) 1:50.626; Guido van der Garde (Caterham) 1:49.519; Max Chilton (Marussia) 1:48.909; Jules Bianchi (Force India) 1:48.147; Esteban Gutierrez (Sauber) 1:47.776 and Pastor Maldonado (Williams) 1:47.614 were the six slowest drivers and were therefore not allowed to continue to Q2.
Nico Rosberg (Mercedes) 1:43.380; Fernando Alonso (Ferrari) 1:43.850; Romain Grosjean (Lotus) 1:44.284; Sergio Perez (McLaren) 1:44.300; Mark Webber (Red Bull) 1:44.472; and Felipe Massa (Ferrari) 1:44.635 topped the times in Q1.
Qualifying 2
The rain, which had eased off as Q1 ended, intensified before Q2 began and officials delayed the start of Q2 by 10 minutes. Then they delayed it by a further 20 minutes. The start time was now 6:30 p.m., which was 30 minutes after the entire qualifying session should have ended. Sunset was at 7:38 p.m.
Race director Charlie Whiting said that if there were any further delays past 6:30 p.m. then the visibility might be too bad for the sessions to continue. This would mean Q2 and Q3 would have to be run on Sunday.
But then a notice was posted that Q2 would now start at 6:50 p.m. It was getting murkier and murkier and the visibility deteriorated.
Finally, at 6:47 p.m. officials announced that Q2 and Q3 would be postponed until 11:00 a.m. Sunday. The race start time on Sunday is 5:00 p.m.