JANUARY 31, 2013
McLaren unveils MP4-28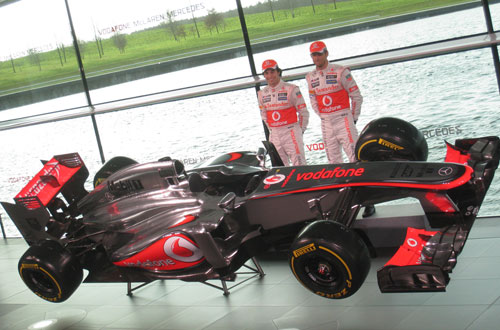 McLaren today unveiled their 2013 Formula 1 challenger, the McLaren-Mercedes MP4-28, at a launch at the McLaren Technology Centre in Woking.

The event also celebrated McLaren's 50th anniversary, and featured former McLaren race winning cars, including title winning chassis from Lewis Hamilton, Mika Hakkinen, Ayrton Senna and Emerson Fittipaldi.

Driver Jenson Button has been with McLaren for three seasons, and after the departure last fall of Lewis Hamilton to Mercedes GP, he is joined by Mexican Serio Perez.

Outwardly the MP4-28 looks similar to last year's fast but unreliable car, Jenson Button saying, "It is exactly the same colour scheme and I think it looks similar to last year, but it is completely different to last year under the skin. We know the regulations haven't changed much since 2012 but it's enough to make a difference."

Jenson Button said, "I'm going into my fourth season as a Vodafone McLaren Mercedes driver and, more than ever, I know and understand the strengths and abilities of this team. This year is really about continuity and consolidation."

"Obviously, the biggest change for 2013 is my new team-mate, Checo. It's always interesting and inspiring to begin working with a new face, and it already feels like a very positive working relationship."

"I know from personal experience that it can feel initially daunting when you walk into the McLaren Technology Centre for the very first time, but I also remember how quickly I was made to feel at home and how welcoming I found the whole McLaren family. I'm sure Checo already feels very much at ease here."

"We were extremely strong throughout the whole of the 2012 season, but, for one reason or another, we couldn't quite pull it all together to challenge for the championships. That's something we want to address for 2013. I've seen just how closely everybody has been working together on this car, and I think we've got the basis for a very strong season."

"We'll be working extremely hard during the pre-season to ensure we go to the first race with bulletproof reliability. Operationally, too, I think we've learned and developed from last year, and that will help us run a much smoother and stronger campaign."

"I also want to say that today's demonstration of some classic McLarens makes me feel incredibly proud to be a Vodafone McLaren Mercedes driver. I don't think anybody with a love for motorsport could fail to be moved by sound and fury of the cars we saw here today - they'll always make the hairs on the back of your neck stand up."

"This year's car is the best we've ever made - I know the engineers have left absolutely no stone unturned in wringing every ounce of performance from every available area. I cannot wait to get behind the wheel and attempt to carry forward the incredible legacy that lives beneath the skin of every single man and woman who works at McLaren."

Sergio Perez said, "For me, this is a great day. In fact, every day this year has been great: I've been working hard with my new team to get everything ready for the start of the 2013 season - and it's been an incredible journey to get to know this incredible organisation."

"I'm incredibly proud to be a Vodafone McLaren Mercedes driver. Seeing such famous cars brought to life today, and knowing that I'm driving for the team on it's 50th anniversary - that's such a special feeling."

"Of course, I am fully aware of the steep slope ahead of me: it has already been an intense couple of weeks, getting to grips with a new team, meeting my engineers and mechanics, learning new ways of working and, of course, learning all about a brand new car - something I'll need to do with just six days of on-track testing. It's a big challenge."

"But it's definitely going to be an exciting few weeks: although I've been racing in Formula 1 for the past two seasons, every racing car is different and it always takes a little time to adjust. Firstly, I'll need to understand the different characteristics of the car; secondly, I'll learn how to best work with my engineers to make the car suit my personal driving style. It's going to be an interesting and exciting journey."

"But I'm more prepared than I've ever been for the start of a new season. I feel extremely fit, focused and refreshed - there's still a lot to do, but my aims are to feel confident, comfortable and ready to race by the time I land in Australia in just a few weeks' time."

Team Principal Martin Whitmarsh said, "The launch of a new Formula 1 car is always an exciting and slightly nerve-wracking occasion. Today's parade of some of our greatest and most significant cars was a thrilling way to kick off our 50th anniversary celebrations and also our 2013 campaign - but it's a reminder of the tremendous responsibility everyone within the McLaren Technology Centre shares to uphold the legacy began by Bruce McLaren and taken on by Teddy Mayer and Ron Dennis."

"It's fully appropriate that the echoes of the past should be made to reverberate around the glass walls of a thoroughly modern building like the McLaren Technology Centre. Equally, however, we've never lost sight of the fact that we'll always be linked to that fearless band of enterprising pioneers who came together to form Bruce McLaren Motor Racing Ltd in the autumn of 1963. Like Bruce and his closest friends, we still have the belief that we can go out into the world, risk everything and emerge victorious. That, ultimately, is the spirit that drives this organisation."

"For 2013, of course, we go racing to win. With Jenson and Checo, and this fantastic-looking new car, I believe we're extremely well prepared for another competitive season. Jenson is driving better than ever - he's the most experienced driver in Formula 1, but he makes every ounce of that experience count: he's peerless in his ability to read a race and one of the very fastest drivers out there. He's a consummate professional, too, and will revel in working hard to drive this team through the year."

"Checo joins us after a sensational 2012 season and he's immediately proved that he's intelligent, modest, hard-working and, make no mistake; very, very quick. Of course, there'll be a learning curve to overcome as he gets used to our organisation, particularly during the hustle and bustle of the early-season race weekends, but he understands that we are placing no pressure on him."

"This is an exciting time for the whole team. In our 50th anniversary season, I want Vodafone McLaren Mercedes to underline why we are the finest grand prix team in the world."